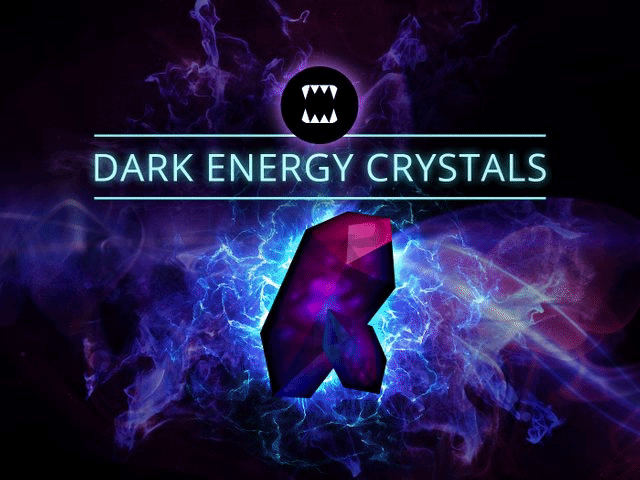 Few days ago @steemmonsters introduced DEC UPDATE!! Easily Buy DEC From the Market! , really it's awesome to have this kind of feature to buy tokens in a short time . Today i am going to talk about a Discord bot BDExchange , by using that bot you can buy not only DEC but also all other Steem-Engine Tokens .
BDExchange is another discord Bot of our BDCommunity. Developed by @reazuliqbal. It has various features which give lots of support to making transactions easily in short time. I don't even need to go to the browser without publishing my posts. My all work I can do by the BDExchange.
BDExchange premium version has new features brings more advantage for members with previous facilities. You can manage your Steem and Steem-engine wallets from Discords . I am going to show you guys how can you buy DEC or any other tokens buy using our @BDExchange Discord bot .

STEP 1 :

To use that bot you must need to join our Discord server , where we are running it . You are warm welcome to our Discord :

STEP 2 :

For use that bot you need to do subscribe , which is 2 steem/month. But before long drive everyone love to do test drive , thats why we offer 2 days trail subscribe for free . The subscribe procedure described on this post How to subscribe to BDExchange bot & All Features of BDExchange.
STEP 3 :

For buy any Tokens you must need to have Steemp [Steem Pegged Token] , so check you SE balance by simple command ..se-balance <yourusername> , if you don't have enough Steemp on your balance then Deposit by using command ..se-deposit <amount> Steem . Lets see some screen shot which will clear it more .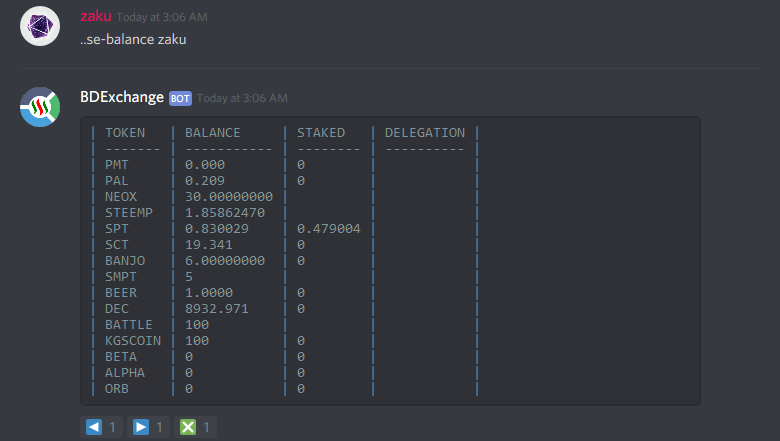 As you can see i don't have enough Steemp on my SE balance so i am going to deposit 100 Steem to SE.


It will create a custom link, you need to click on that link


On the next page it will give you 2 choice to confirm your deposit transaction, if you want to confirm through Steem Keychain then click on that or you can confirm through Steemconnect. I am going to use Steem Keychain .
---
Steem keychain extention pop-up will be showed up , confirm the transaction.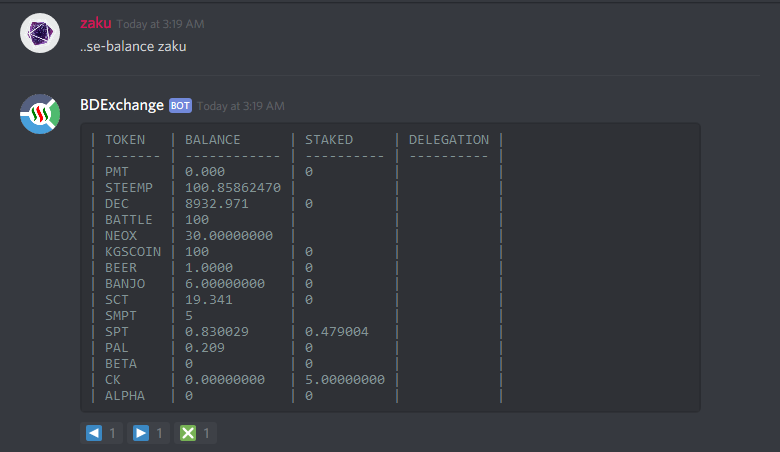 Now again check your SE balance to see it added or not . As you can my balance added
STEP 4 :

Now you need to check the market orders of the token you want to buy & the command is ..se-market <token name>. I want to buy DEC so let's check DEC market orders.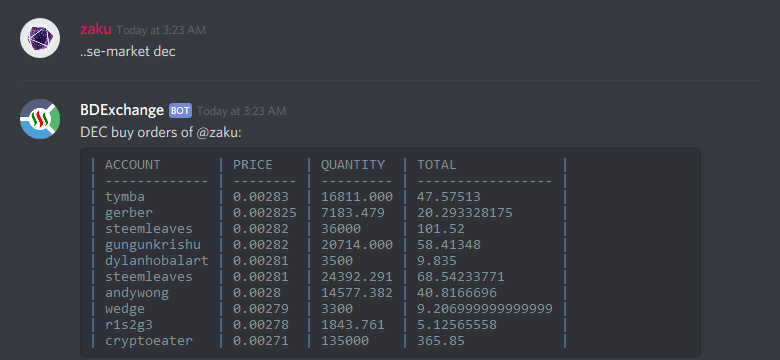 As you can see it will show the Accounts name,Price of each token , Quantity available at the price & how much Steemp need to buy that amount of DEC. You can see any other SE tokens market orders just like that.
---
Also you can check other tokens price , just by .. se-price <amount><token>


Here i wanted to know 1000 leo price , the price showing that according the lowest sell order on SE atm
STEP 5 :

I want to buy so i need to look at the sell orders . on this chart showing that the cheapest sell order is 0.00285 steem/DEC and the quantity is 15600 . So i will go for that & the command will be ..se-buy <quantity><token name><asking price of each token> . Not only buy you can sell your tokens just by using command .. se-sell <amount><token><price>


As you can see i just placed buy order at 0.00285 Steemp/DEC where 15600 DEC available & and i want to buy them all . Bot will again generate a customize link to confirm the transaction . Confirm it like STEP 3 .


This is the example of sell order , i just placed a sell order where i am asking 0.00289 Steem/DEC . Bot will again generate a customize link to confirm the transaction . Confirm it like STEP 3 .


So my sell order successfully placed on market place.
If you want to placed your buy order at low or sell order at high you can do it like this , the orders will be pending until someone fill that. So if you want to check your Open orders then you can put command ..se-orders <token name> . It will show your Buy and Sell order both . So if you want to cancel the order you can do it by .. se-cancel <type><order_id> . On up i showed i placed sell order , i am going to cancel that order .


As you can see here i don't have any pending buy orders buy have pending sell order . So i am going to cancle it.


so you need to copy the Order Id and place it into cancel command . Bot will again generate a customize link to confirm the transaction . Confirm it like before.
You guys can transfer any SE tokens to other users , the command is .. se-transfer <amount><token><steem_username> [MEMO] & also you can withdraw your Steemp from SE to your Steem wallet , the command is .. se-withdraw <amount> steemp


Transfered 2705 SPT to my #spt curation account @zaku-spt and used memo Going to stake all my SPT


Withdrawn 1 steemp to my steem wallet[after 1% fee cut]
Also if you guys want to check metrics about any token the command is .. se-metrics <token>


Checked Neoxian Gold Token metrics [NEOX] , which is 28.57% up from yesterday price and the reason you will get by visiting @neoxian blog ;)

That's all for now . If you have any suggestions or if any inconveniences happen, feel free to ask the developer `reazuliqbal#1149` on Discord or you can mention him @reazuliqbal .

@bdcommunity is an initiative on the steem blockchain trying to help all Bangladeshi standard authors and share their work and knowledge, to improve their skills. We curate grade contents to encourage hard-work and support originality. We are also arranging contest among Bangladeshi steemians and rewarding selected quality work. We also feature important updates from Steem Inc. and witnesses. We believe an organized and effective communication within the community can determine the success. So we build up the communication on our Discord server and happy to show off our various features of the bot. On there you just need to pass command for check out your account information, balance, market rate and also you can exchange coin, buy upvote, transfer balance through the registration of bdexchange.

JOIN US ON
**Hopefully, our community program will make a significant contribution!
Love from Bangladesh!!**