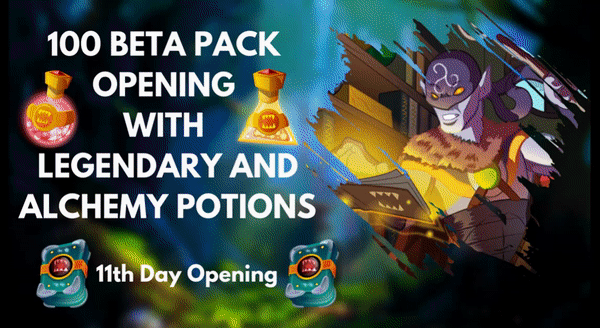 Good evening @splinterlands warriors, This is my 11th pack opening post. On my previous opening was profitable, but the profit ROI was only 7% still better than negative ROI [10th Pack Opening: 100 BETA PACKS OPENING AND PROFIT/LOSS CALCULATION (107%Return on investment, 7% Profit)](https://www.splintertalk.io/spt/@zaku-spt/10th-pack-opening-100-beta-packs-opening-and-profit-loss-calculation-107-return-on-investment-7-profit). Let's see what I got from my 11th opening. All statics and price I am showing honestly and I am counting some bulk price as average, so the total price of those cards can be less/higher than my calculation.

100 PACK'S OPENING

---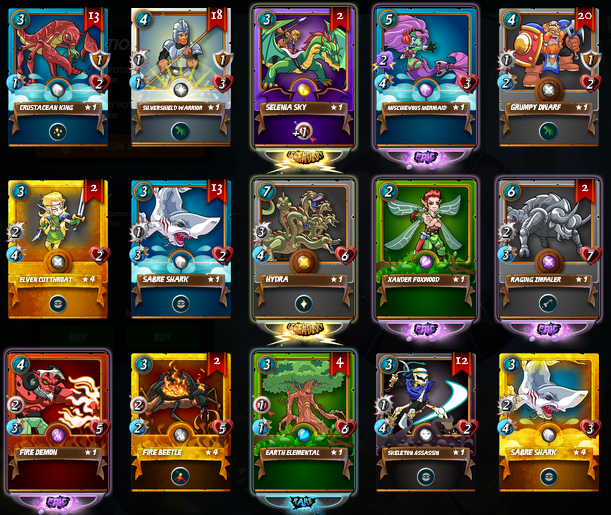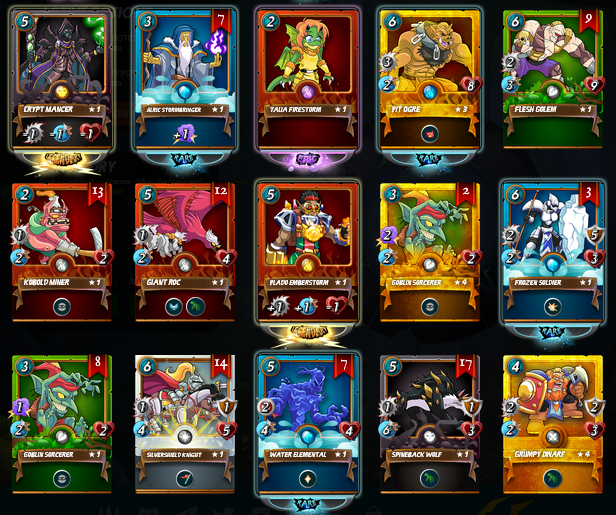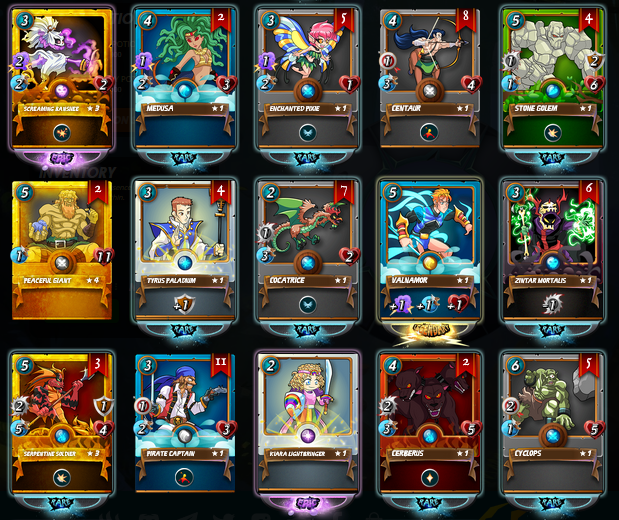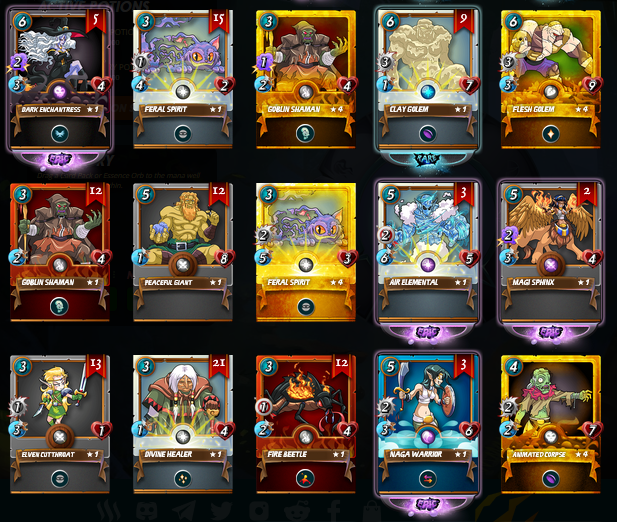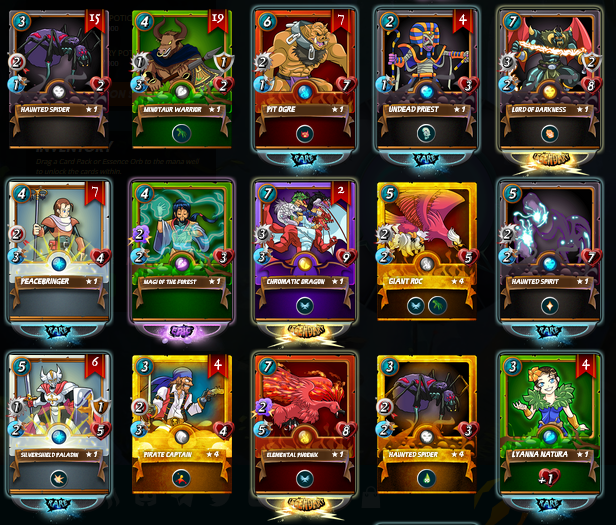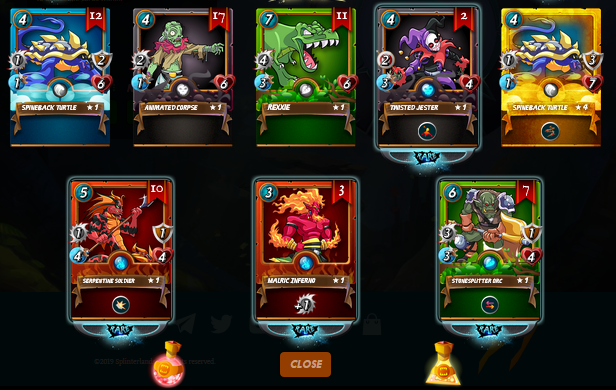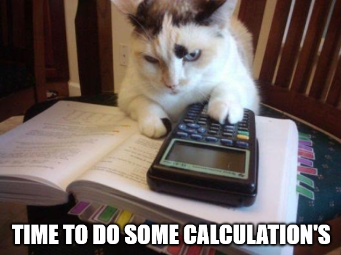 Finally my 100 Packs opened and 500 Cards received ( 100 Packs with potions ). 167$ for packs(Affiliate bonus cut) and 40$ for potions, Total 207$ invested. Let's see how much I got from those ...
----
Normal Common Cards : 327 x 0.05$(Average) = 16.35$ Normal Rare Cards : 118 x 0.30$(Average) = 35.4$ Normal Epic Cards : 21 x 1.00$(Average) = 21$ Normal Legendary Cards : 4 x 3$(Average) = 12$ Hydra Legendary Card : 1 x 11$(Market Low) = 11$ Selenia Legendary Summoner : 2 x 11$(Market Low = 22$ Legendary Summoner(except Prince ) : 3 x 11$(Market Low) = 33$ Gold Foil Common Cards : 19 x 1$(Average) = 19$ Gold Foil Rare Cards : 4 x 3$ (Average) = 12$ Gold Foil Epic Cards : 1 x 16.5$(Average) = 16.50$
---
Total: 198.25$ worth cards from 207$ investment. 8.75$ loss from 100 packs, which is 4.2% loss(approx).

Well, that opening was rough, didn't expect that. But still, the loss ROI was little. My 10th opening was 7% profit and this 11th opening 4.2% loss. 10th opening was EPIC opening because of 5 gold foil epic cards, though on that opening didn't get much legendary. But, on this opening got only one gold foil epic total legendary card was 10, still a loss. So, not always legendary cards can make you happy. BTW overall I am happy with my openings. Beta packs almost going to end what are you doing? planing to buy more? I am putting all my money into steemmonsters, especially on beta packs. Today I bought 500 more packs. Even at this steem price, I am making good money from @steemmonsters. People say's Don't put all egg on the same basket maybe it's true. But if you believe in that basket then there is no problem to put your eggs on the same basket. That's all for today will share my next opening soon, Let's make @splinterlands great again. Thanks to @aggroed @yabapmatt for giving us this amazing opportunity to earn and play at the same time, also want to thanks @clove71 for her amazing communication skills towards the @steemmonsters community.

---
MY PREVIOUS OPENING RESULT'S
| RNG | POST LINK | PACK'S OPENED | TOTAL CARDS | INVESTMENT | RETURN | PROFIT/ LOSS ROI |
| --- | --- | --- | --- | --- | --- | --- |
| 1st | POST LINK | 110 | 550 | 240$ | 423.50$ | + 76.5% |
| 2nd | POST LINK | 110 | 550 | 240$ | 178$ | - 26% |
| 3rd | POST LINK | 110 | 550 | 240$ | 183.36$ | - 24% |
| 4th | POST LINK | 100 | 500 | 222$ | 263$ | + 19% |
| 5th | POST LINK | 110 | 550 | 240$ | 235$ | - 2% |
| 6th | POST LINK | 200 | 1000 | 443$ | 626$ | + 41% |
| 7th | POST LINK | 100 | 500 | 221$ | 260$ | + 18% |
| 8th | POST LINK | 100 | 500 | 221$ | 185$ | - 16% |
| 9th | POST LINK | 100 | 500 | 207$ | 272$ | + 31% |
| 10th | POST LINK | 100 | 500 | 207$ | 221$ | + 7% |