Las Vegas holds equal amounts of both glamour, and mystique. While most people see it as the city for entertainment and culture, it also serves another function, by being the venue for one of the world's largest technology exhibits, hosting more than 170,000 attendees from over 160 different countries, and having hosted countless technological milestones since June 1967.
Throughout history, the Consumer Electronics Show, or CES, has become the beacon for companies to showcase their cutting edge, and revolutionary technology to the public, where one can peek into a window where the future has no boundaries. CES hosts a wide variety of technology, with any flavour imaginable, from industrial manufacturing, personal health, handheld gadgets, automobiles, and so forth.
Credits to: GIPHY

*
The exciting new world of technology.
While perusing through the swath of new announcements and reveals at CES 2020, here's my list for the most exciting and interesting tech announced so far, split into 3 convenient parts for your indulgence…
Contents:
For content creators & consumers:
Asus ROG G14 gaming laptop
Asus ROG Swift 360Hz gaming monitor
Origin Big O
Acer ConceptD 7 professional workstation, Wacom One
Business-minded devices:
Lenovo Thinkpad X1 Fold
Lenovo Thinkbook Plus
HP Elite Dragonfly G2, Dell XPS 13, Dell XPS 13 2-in-1
Cool concepts:
Dell/Alienware Concept UFO
OnePlus Concept One
For the techie at heart, and mind.
Starting off on a strong, and heartful footing, we'll begin first with technology aimed for the enthusiasts, for content-consumers, and for content-creators.
The New Republic.
A proclamation from the Republic of Gamers reads, that the coming of a new gaming laptop is nigh. This gaming laptop is called the Zephyrus G14, and Asus' gaming division aims to have this laptop quite literally outshine its competitors. The new G14 is a thin & light gaming notebook, with a preview on ROG's new design language, encapsulating elegance and an air of understatement.
Now, you can carry a laptop with gaming credentials, while still being able to present it comfortably in public, without having to shed embarrassment or explanations as to your gaudy lighting and tacky stickers. The design, apart from being pretty, is also seemingly well built, with a honeycomb structure weaved into its aluminium body to keep minimal flex, whether you're gaming or working.
And as for any gaming laptop, it certainly does not lack in power. The G14 can be specified with your choice of AMD's new 4th-generation Ryzen 7 CPUs, putting within its small chassis an amazing 7-nanometer architecture, with 8-cores and 16 threads. Conjoining with the processor, the G14 can be optioned up to an NVIDIA Geforce RTX 2060, 32GB of DDR4 memory, and 1TB NVME M.2 SSD, options which are more than enough for a small notebook.
Going back to the subject of shining, the G14 has a couple of neat tricks. The first trick is something that you will spend most of the time looking at, which is the display - where its 14-inch IPS display, with a resolution up to WQHD (1440p), hosts a refresh rate of up to 120Hz (most displays currently have 60Hz at best ), ensuring that your viewing pleasure is smooth as silk. For the second trick, this is something which you may not have the chance to see often, but it's certainly a conversation starter for others who may have a glance at it.
On the G14's lid is its pièce de résistance - 6,536 precise, CNC-milled perforations, making up a dot-matrix display where 1,215 mini-LEDs are placed, all with 256-levels of brightness control. This "AniMe " display allows you to properly personalise your notebook, for better or worse, where you may input creative images, text, or GIFs on the back of your laptop, for the entire world to see, though note that this dot-matrix display is an optional extra.
Credits to: Asus ROG, Engadget
*
Going fast.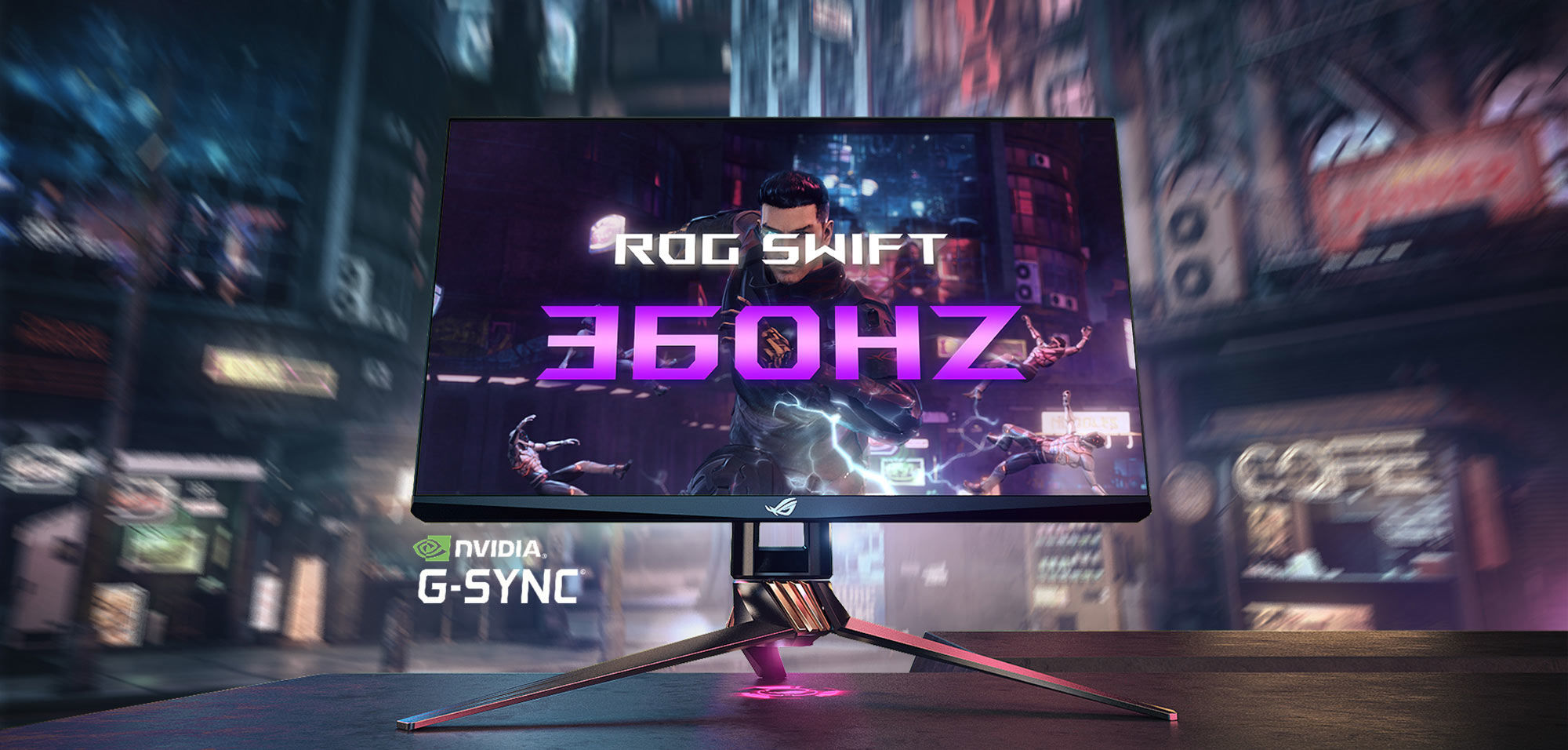 Following my recent post on "bendable " and "foldable " displays, I'm left intrigued as to how far screen technology will keep going. While some consumers may wish to have those cutting-edge technologies, I believe most people will stick to good ol' "flat " displays in the near future. Not content with curvy screens getting all the attention, Asus ROG revealed the world's first 360Hz monitor.
The ROG Swift, adequately named, is designed primarily for e-sports tournaments and the competitive gaming sector, where millions of dollars are paid out for prizes, and a market where a high-refresh rate display could give a practical edge against ones opponents. According to ROG, some popular e-sports titles such as Counter Strike: Global Offensive and Overwatch, benefit hugely from high-refresh rates, where the player can optimise their positioning and movement, and be able to react faster than their rivals.
This comes not too long after ROG's spate of 240Hz monitors reached the market last year, and their very own 300Hz-equipped gaming laptop. The Swift is sized modestly, at 24.5-inches diagonally, and comes equipped with NVIDIA's G-Sync technology, which aims to help manufacturers unlock and best optimise refresh rates greater than 60Hz. Inside the monitor, it even comes with a proprietary G-Sync processor. While this comes as a rather niche sector, its technology, paired with smoothness and responsiveness, could trickle its way down to more mainstream devices.
Credits to: Asus ROG
*
All for one, one for all.
If you've ever worried about space in your gaming room, then Origin has the answer. The boutique manufacturer has just announced that the "Big O ", conceived first in celebration of Origin's 10th anniversary, can now be purchased. Previewed last year, the Big O was an audacious one-off concept, combining a full Windows 10 gaming PC with 3 gaming consoles into a single system - an Xbox One X, PS4 Pro, and a Nintendo Switch.
In its production form, the Big O is more sensible, letting customers to specify the componentry in their gaming PC, while also allowing them to choose either a more recent Xbox One S, or a PS4 Pro, but not both. While it only has two systems (a PC, and a console ), rather than four, the Big O is still fairly large. While it will save some shelf space, its Corsair-designed case will require quite the table to support its heft.
The Big O also has separate power plugs and HDMI outputs, thus giving the user the option of having to power either the PC, or console at a time, or even both at once. According to Origin, the Big O marks as the perfect streaming setup, where you could game on the console, to then output and process the stream on the PC, without hassle or the unsightly cables going across the room. For some extra money, Origin will also integrate a built-in Elgato capture card to make your recording sessions that much easier.
Credits to: Origin PC, Origin PC - YT
*
An artistry in motion.
We've seen many great content creators on Steem, from artists, animators, designers, and so forth. It's always intriguing to know more about the tools which they've used to create their masterpieces, and this segment is dedicated to them, as CES 2020 has a slate of new devices which targets the content creation market.
First, we have quite an interesting development from Acer, which released the ConceptD 7 Ezel, and ConceptD 7 Ezel Pro respectively, which are smaller versions of last year's ConceptD 9 - a rather hefty beast for content creators on the go. Now, the ConceptD 7 has a 15.6-inch 4K UHD (2160p) Corning Gorilla Glass 6 display, and crucially - the display is rated for 100% Adobe RGB colour gamut, and it has a colour accuracy of Delta E <2 - with anti-glare coating for those sunny, outdoor sketching sessions.
The display itself is mounted on Acer's Ezel hinge, which is named after, and replicates and old-fashioned easel. The hinge provides 5 different articulations and configurations for the user to sketch, preview, or present their work. Powering the ConceptD 7 Ezel Pro and Ezel, is a choice of Intel XEON or 10th-generation processors, NVIDIA's Quadro RTX or Geforce RTX, and between enterprise-grade ECC memory or regular DDR4 sticks, respectively.
Considering the specifications, Acer is clearly targeting a rather broad demographic of professional creators, from 2D artists, all the way to industrial applicators, such as CAD designers and engineers. As for sketching on the ConceptD 7, it comes equipped with Wacom's latest EMR (electro-magnetic resonance) pen, which aims to deliver digital sketches with the feeling of natural pen and paper, and you don't need any batteries for it either.
And speaking of Wacom, the foremost ubiquitous tool for artists, they announced the launch of the Wacom One, a budget-conscious tool for creators who are just starting out, and it will be available for purchase soon, at just $399. The device itself works as with any traditional Wacom tablet, and is able to connect to either a Windows PC, or a Mac. However, what makes it special is the One's compatibility with Android.
Now, Android users can have access to the Apple Pencil experience, without having to be confined to Apple's costly, and arguably walled-off ecosystem. Presently, there aren't too many great professional-grade applications on the Google Play Store, but I imagine Wacom's backing could entice better services to come along soon. The One is also fairly portable, with its 13-inch Full HD matte display possibly fitting well into a backpack. Although the actual motion of getting it up and started may prove to be a hassle, with its many dongles required for the One to work, as with most Wacoms, and it may not be most elegant display when you're setting up at a coffee shop.
Credits to: Acer, Acer - YT, The Verge
New tech for the office.
Now we move ahead to discussing more serious tech, for professionals in suit and tie, with more down-to-earth devices ready for purchase soon, including some interesting concepts.
A new member to the family.
Reading my recent post on new and upcoming display technology, you'll know that many companies are starting to leverage new form factors and designs en masse, which is prominently on show at CES 2020. Among the companies most keen to show off their abilities, is Lenovo.
Within the famed X1 family of Thinkpad laptops, known for their durability and do-anything attitude, Lenovo has added a new member, the X1 Fold - a laptop-sized device, which carries a "bendable " screen technology, rather than a "foldable " form factor. This allows the X1 Fold to morph into a variety of different configurations, whether you're using it as a traditional laptop, or as a separate monitor. From my previous article, I stated that larger, more productivity-oriented devices such as laptops or tablets, would probably benefit more from a "foldable" form factor, as the more conventional displays are more focused and reliable.
However, I still believe that the added advantages will be subjective in nature, depending on what you're doing, and what you're accustomed to. With Thinkpads having long been the ubiquitous standard for productivity and getting work done, tweaks were made to the X1 Fold, ensuring that it meets all the requirements expected of a professional device. The biggest unknown, and possibly the most fragile, is the display, in itself is a 13.3-inch OLED screen, with a 4:3 aspect ratio, and was jointly developed with LG.
Here, Lenovo has put the X1 Fold through the basic testing which all Thinkpads go through, that stresses all parts of the laptop, to make certain that it'll perform in every condition reliably, even borrowing the same hinge design which was previewed in the Lenovo-owned Motorola Razr (which I also covered in my previous blog ;-) ). Just as the display must stand strong, the X1 Fold's body is made from a combination of lightweight alloys and carbon-fibre, allowing the device to weigh less than 1kg, while still remaining rigid.
The downside, is that the X1 Fold seems rather thick, despite its lightness. That said, it comes included with a bluetooth-enabled keyboard, which snaps magnetically onto the device, and charges wirelessly. Little was dispensed by Lenovo regarding the X1 Fold's specifications, but it will come with optional 5G-connectivity and will launch with Windows 10 in mid-2020 - alongside a hefty price tag of $2,499.
*
A step forward.
Perhaps not content with letting Asus ROG put a dot-matrix display on a laptop's lid, Lenovo has decided to take it a step further, by putting an entire screen instead. Lenovo's new Thinkbook Plus adds to their portfolio of business laptops, by providing the user two separate displays to work with, either using the main 13.3-inch FHD display, or a 10.8-inch e-ink screen on the lid.
Crafted out of aluminium, the Thinkbook Plus appears to be a rather conventional clamshell design in most aspects. Lenovo has envisioned it to be used primarily for the workplace, where optimising ones productivity, and saving excess time is key. Supposedly, a worker may use the Plus ordinarily upon most circumstances, as with most laptops. However, when they are required to jot down notes, peek through their daily schedules and notifications, or to read-through a document, then they could do so quickly and conveniently on the e-ink display instead.
The rear e-ink display could also be used while the laptop's lid is closed, making it a useful tablet, or e-reader when needed, and your sketching can be done with Lenovo's included stylus. As with the X1 Fold, little information was given by Lenovo, but the Thinkbook Plus will be ready for purchase starting March 2020, starting at $1,199. Personally, I'm intrigued by its concept, although I'm not convinced that it'll be a mass-selling, trend-shattering device.
Credits to: Mr. Mobile, Lenovo
*
A Boardroom Shuffle.
If you're not too keen on quirky and conceptual tech, then worry not, as there has been a flurry of more traditional devices that was announced under the radar at CES 2020. Among the prettier devices revealed on the show floor was the HP Elite Dragonfly G2, a slightly updated version of last year's model. The Dragonfly was released last year as a small, svelte 13.3-inch convertible laptop for professionals on-the-go. The iridescent blue shell certainly attracts attention, especially when sitting in a boardroom swarmed with silver, and black notebooks.
For the updated G2 model, it now sports a power bump from the previous G1, including the latest 10th-generation Intel Core processors, with a 6-core CPU available as an option. The G2 also has optional 5G-connectivity, for anyone looking at a secure, fast, and convenient networking experience. The other big change from the G1, is the addition of Tile tracking support. Unlike most devices, where you are forced to stick an unsightly Tile tracker on your laptop, the G2 is the first laptop with a built-in tracker, tucked away in the laptops innards. So, if you ever lose your laptop, and all the potentially sensitive data within, then having this feature could be life saver.
As with last year, the Elite Dragonfly G2 is a business-grade laptop, so it might be harder for most, regular consumers to purchase one, assuming we'd be able to afford the high price tag. However, assuming that the Dragonfly may not suite your tastes, and you're looking for another contender in the small, svelte ultrabook segment, then Dell has also shown off an updated version of their XPS 13, and 13 2-in-1 convertible.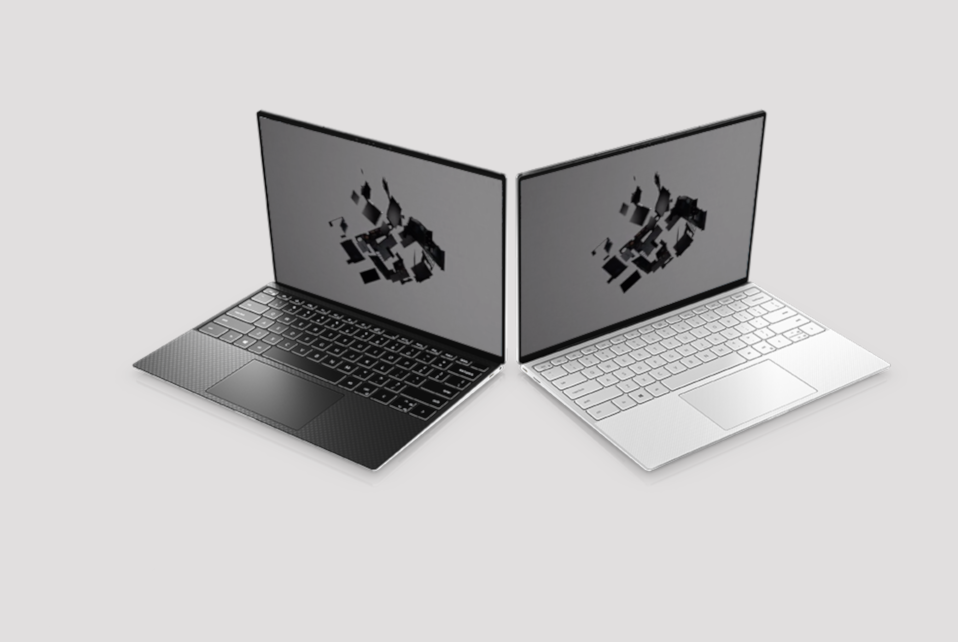 Unlike HP's Dragonfly, Dell's famous XPS line has had some significant changes from the previous generation. The shell itself has been updated slightly, with the device being smaller and thinner than the previous XPS, using a machined aluminium chassis, mixed with carbon-fibre, and woven glass-fibre, all to give it a more premium look and feel.
The screen, as with most things at CES 2020, is the highlight of the new XPS 13s, with what Dell calls, their "InfinityEdge " display, where all 4 corners of the laptop's monitor now has minimal bezels. They now have taller 16:10 aspect ratios, with higher brightness, and the small bezels have allowed Dell to put a 13.4-inch display into an 11-inch form factor. Another upside, is that Dell has finally moved the webcam from the bottom, where your chin and nose-hairs become the subject of every Skype call, to the top of the laptop where it belongs, despite the minimal amount of spacing available.
Accordingly with the stretched out display, the new XPS 13s also sport a new keyboard design. An evolution over previous, already good XPS keyboards, the new one is stretched out all the way to the edges, possibly affording the user a more comfortable typing experience. And just like the Dragonfly, the new XPS 13s are specified with the latest 10th-gen Intel Core CPUs, with 6-cores also available as an option. Moreover, if you, or your profession requires something other than Windows, then Dell also sells a Developer Edition of the XPS 13, where you can get Ubuntu instead.
Credits to: HP, The Verge, Dell
The creations that will never be.
Now for the last segment, we'll take a look into the more conceptual tech announcements, and while it may never see the light of day, we should be glad they still exist.
Take me to your leader.
Among the more interesting reveals was the Concept UFO from Alienware, Dell's in-house gaming division. The idea, was to have a full Windows PC gaming experience, but in a portable form factor. Thus, the Concept UFO was born, taking inspiration from the Nintendo Switch, almost entirely in its physical state, but the UFO runs a full Windows OS, allowing the user to play heavy, AAA gaming titles that may be restricted to the PC.
As for the UFO's likeness to a Nintendo Switch, it has an 8-inch display in the middle, and flanked by two, removable controllers on either side. According to press reports, the bulkier and shapelier body, no doubt a consequence of having powerful hardware underneath, means that it's more comfortable to hold when compared to a Switch. Moreover, while it is a prototype, the press seem rather surprised at how well the UFO ran games, with it being able to be played as a portable console, detached, or docked onto an external display.
However, Dell was rather tight-lipped on what powers the UFO, with no details pertaining as to what processor it hides. Some press reports have claimed that the UFO runs on an Intel CPU, and all the graphics are being rendered by a internal-GPU (iGPU), rather than a dedicated unit. Owing to the secrecies and complexities of how the UFO was designed, it's likely that it may never see production soon, but fingers crossed that it will.
Credits to: Engadget, Ars Technica *
A disappearing magic trick.
Another intriguing CES 2020 concept comes from the flagship killers at OnePlus, with the rather nonchalant name of Concept One. This was a smartphone concept which was teased prior to CES, with the idea being borne out of finding ways to hide "ugly " smartphone cameras, which may prove necessary, as manufacturers are seemingly adding ever more cameras with each passing year.
Taking an unlikely inspiration from its unlikely partners, McLaren, OnePlus is using EC (electrochromic) glass, the same used by McLaren's 720S, for its magic trick. Simply, a small current is charged through the EC glass, thus changing its opacity, from transparent to dim, and vice versa. The trick, is to dim the rear-glass protecting the cameras when not in use, which will make the phone appear as if it has no cameras at all - so clearly, a gimmick.
However, on a McLaren 720s, the EC glass is rather thick, and it takes time to change opacity. As a result, OnePlus had to go through all the trouble to manufacture thinner EC glass, which can accommodate a smartphone's form factor, while also making it change opacity faster, assuring that users won't have to miss taking their perfect photos. Another neat trick for the EC glass, is by acting as a built-in ND (neutral-density) filter, so you could have more variability in smartphone photography.
Personally, I'm more intrigued by the design language which OnePlus has shown. The Concept One is a concept, and its creation may not translate to other OnePlus devices, but it does allow us to see how creative smartphones can be, rather than simply being rectangular, glass bricks. The Concept One has a neat leather-stitched back, with McLaren's signature colour, Papaya Orange, with even the Concept One's aluminium body having been PVD-treated along the sides, giving it a shiny, precious look.
Credits to: The Verge
Final thoughts.
The Consumer Electronics Show (CES) has always captivated audiences with new technology for the present, and the future. It not only shows the advancements made in human ingenuity from yesteryear, but it has also given us a glance into the crystal ball of what may be possible if we keep innovating.
With CES 2020 at its peak, there is still some time for more announcements soon before its closure, and if so, I'll be sure to give my thoughts on the most interesting revelations. In any case, with most of the big announcements wrapping up already, one can only wonder what will be shown at the next, big technology fair.
Credits to: GIPHY

*
Thanks for reading! What's your favourite piece of gadgetry, or technological trends shown at CES 2020? Share with me your thoughts in the comments below. While you're at it, following along @zacknorman97 for more, coming soon :-)