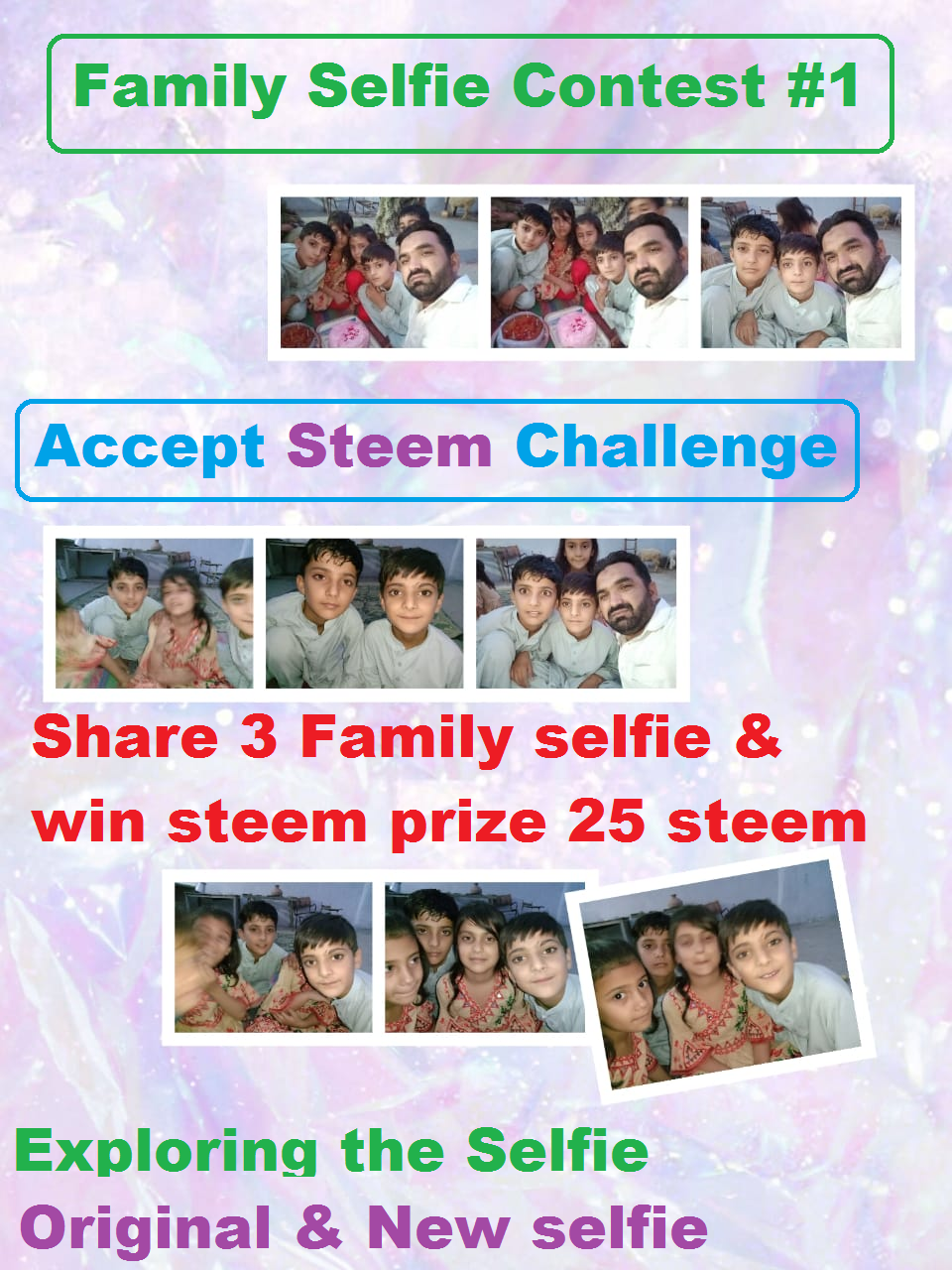 ---
Aslam-mu-alakum!
How are you all friends and I hope you will all be very happy. From today a very interesting and beautiful contest is starting in the steem challenge community which is called family sefie contest.
Then you are all ready to participate in this contest. Make three beautiful selfies with your family and join this exploring family selfie contest. If you accept the steem challenge exploring family selfie ,are you ready dear ?,
I will tell you a very simple rule of this contest which are very simple.
[Entry Rules]()
Don't be worry there are no tough rules to follow only
Important All contest posts should be posted in the community steem challenge .
Your post must be original.
At least 50 words minimum.
Plagiarism will not be tolerated.
Invite at least three of your friends to the contest.
Use at least 3 family selfie ,of your own.[new selfie ]
Leave a link to your participation in the comments of this post.
Any Language is welcome.
Add tags #steemchallenge #steemchallenge-sc1 #selfiecontest-week1 #yourcountry. and #steemexclusive in your contest posts.
Do tag me in your posts @yousafharoonkhan so that i can easily find your post.
Important :contest duration one week from 7 july to 13 july 2021
---
Prize Pool
1st Place - 6 Steem
2nd place - 5 Steem
3rd Place - 4 Steem
4th Place - 3 Steem
5th Place - 2 Steem
6th place - 1 Steem
7th place - 1 Steem
8th place - 1 Steem
9th place - 1 Steem
10th place -1 Steem
---
---
Special Request to @steemcurator01 and @steemitblog we want your support on this contests series as this contest will run in a series and our purpose is to increase the engagement of the people in the community.
Special mentions to @pennsif
Waiting for your Awesome entries..
Thanks you very much for your time..
Regards
yousafharoonkhan
country representative pakistan
Steem on
---
My invitation to all following come , take participate
@janemorane
@amazing-grace
@irsaumar
@jibrankhaan
@supreme-o
@malikking
@ahsansharif
@saharsaqi
@faisalniazi7
@patrick201
@fruityapple00
@teretiti
@ahtishamghumman5
@yahnel
@arslanaj
@disconnect
@ramzanbaow
@dawngrapher
@mariangelcamelia
@brahmaputra
@luisaromeroc
@avibauza
@wander98
@sohaibal
@drhuma
@lhorgic
@ijelady
@yasin120
@haider4213
@muhammadsameer
@jun.imaginer
@michelleee
@mkashifalicom
@drhira
@poenbit
@sidrashareef
@alirazaop
thank