Hello, eSTEEMed friends, lovers of art and creativity...
In spite of the fact that in Venezuela not only have electrical service failures not ceased but also have increased and the connection to the Internet is more and more complicated, here I am creating art again.

In recent days I've found a group of X-rays lying around. I also found an old window frame painted white. Without thinking much, and letting everything flow, I was making very spontaneous and improvised graphic compositions which I recorded photographically.
One of those photos served me as a starting point...
I have titled the artwork you can see at the beginning of this post Green on X Rays films which I made with the various effects offered by the free software https://FireAlpaca.

#
I really tell you that you have a free desk waiting for you in the first row of our CONTEMPORARY ART SCHOOL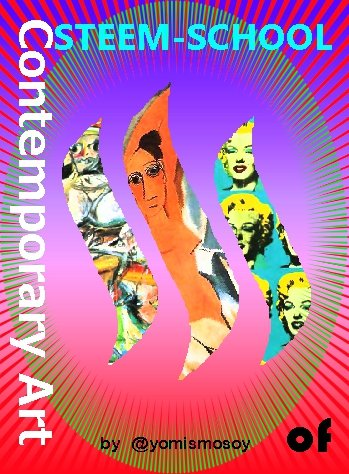 I take this opportunity to inform you that I have published
#
THE FIRST LESSON: Bauhaus, one hundred years of a great creative explosion that changed our lives
THE SECOND LESSON: The aesthetic evolution of Bauhaus, from expressionism to neoplasticism
and THE THIRD LESSON: Impressionism. The culmination of illusionist painting and the beginning of modernity in art
100% 🅾🆁🅸🅶🅸🅽🅰🅻 🅲🅾🅽🆃🅴🅽🆃
Texts and images - except where specified - are my own intellectual property.


100% 🅲🅾🅽🆃🅴🅽🅸🅳🅾 🅾🆁🅸🅶🅸🅽🅰🅻

Textos e imágenes -salvo que se indique- son de mi propiedad intelectual.

♥ It would be a great pleasure for me if you visited my blog ♥
♥ 𝚂𝚎𝚛á 𝚞𝚗 𝚙𝚕𝚊𝚌𝚎𝚛 𝚙𝚊𝚛𝚊 𝚖í 𝚚𝚞𝚎 𝚟𝚒𝚜𝚒𝚝𝚎𝚜 𝚖𝚒 𝚋𝚕𝚘𝚐♥
@yomismosoy
---
𝒜𝒫💗𝒴𝒜 𝒜 𝐿☯𝒮 𝒮𝒯𝐸𝐸𝑀𝐼𝒜𝒩🍩𝒮
𝒱𝐸𝒩𝐸𝒵☯𝐿𝒜𝒩🍬𝒮
¡𝐄𝐧𝐟𝐫𝐞𝐧𝐭𝐚𝐦𝐨𝐬 𝐮𝐧𝐚 𝐠𝐫𝐚𝐧 𝐜𝐫𝐢𝐬𝐢𝐬 𝐡𝐮𝐦𝐚𝐧𝐢𝐭𝐚𝐫𝐢𝐚!
𝒮𝒰𝒫𝒫💙𝑅𝒯 𝒱𝐸𝒩𝐸𝒵𝒰𝐸𝐿𝒜𝒩 𝒮𝒯𝐸𝐸𝑀𝐼𝒜𝒩𝒮
𝐖𝐞 𝐚𝐫𝐞 𝐟𝐚𝐜𝐢𝐧𝐠 𝐚 𝐦𝐚𝐣𝐨𝐫 𝐡𝐮𝐦𝐚𝐧𝐢𝐭𝐚𝐫𝐢𝐚𝐧 𝐜𝐫𝐢𝐬𝐢𝐬!