In many sports, some sports are not only sports, but also art. They are excellent performances.
Figure skating, synchronized swimming and diving are all so elegant, with gorgeous dancing postures to make sports so beautiful.
In particular, diving is not only beautiful, but also an excellent way to liberate the heat. The diver is like a little dolphin jumping up and ready to plunge into the water again. Splashed water is as pure and beautiful as white snowflakes.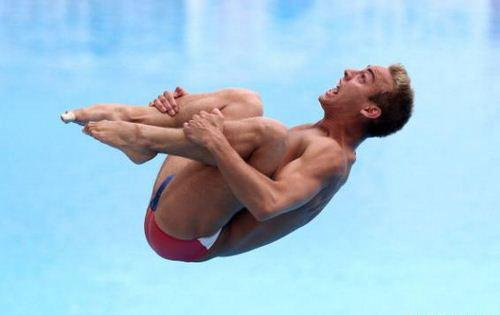 Diving, like the name, needs to jump from high, or jump down with the aid of diving equipment, and complete all kinds of graceful movements throughout the diving process, and then insert into the water.
In diving, especially in competitions, there are different platforms, which are mainly distinguished by the height of the platforms. They are 1m, 3m, 5m, 7.5m and 10m respectively. At the beginning of the term, divers start training from 1m, and then gradually increase the difficulty of training.
In diving competitions, the main criteria are take-off of diving, difficulty of aerial movement and splash after entering the water. Especially the last item can decide the score of the players. Generally, the splash is small, and the splash is beautiful. In addition, the movement in mid-air is very difficult and graceful, and it is easier to get high scores.
What I prefer is the graceful movements of divers as they plunge down from the platform or springboard, especially when some divers hold their legs in mid-air to rotate. It's very difficult, but it's very wonderful. You have to spread your body into the water at the best time.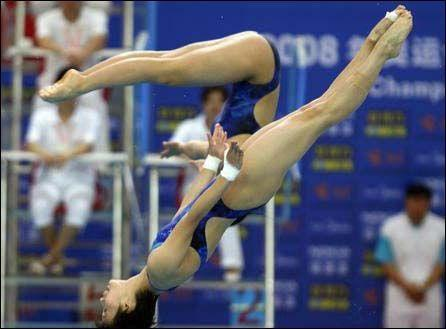 Although diving is very beautiful, it has both advantages and disadvantages.
Diving, like swimming, can enhance cardiopulmonary function and physical fitness. But diving always does harm to ears and eyes.
Because of inertia, every time a diver plunges into the water, the force of the water on the body will hurt the ears and eyes. In fact, many divers have poor hearing, and often have tinnitus.
In terms of vision, diving is not very good, because long-term inertia has made their eyes not so sharp.
As a sport, it's really rare that it can bring the audience such a beautiful performance.
Love life, love sports.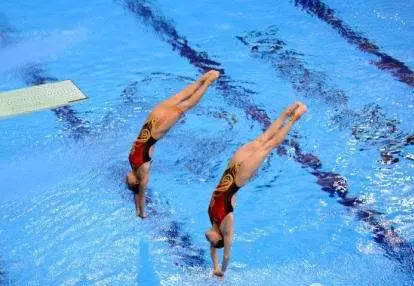 在很多的体育运动中,一部分体育运动不简简单单只是体育运动了,它们更应该说是艺术,是一场精妙绝伦的艺术演出。
花样滑冰运动、花样游泳运动、跳水运动都是那么的优雅,用着华丽的舞姿让体育运动变的如此美丽。
特别是跳水运动,不仅是美丽的,也是解放炎热的绝佳方式。跳水运动员就像一头头跃起的小海豚一般准备再一次插入水中。溅起的水花犹如一朵朵白色的雪花那般纯洁美丽。
跳水运动,就如同名字一样,需要从高出跳下,也可以借助跳水器材往下跳,并在整个跳水过程完成各种有优美的动作,然后插入水中。
在跳水运动中,特别是在比赛中,有着不同的跳台,主要是以跳台的高度作为区分。分别为1m,3m,5m,7.5m,10m,期初跳水运动员都是由1m开始训练,然后逐步增加训练难度。
在跳水比赛中,主要是以跳水运动水的起跳、空中动作难度、入水后溅起的水花作为评判标准。特别是最后一项,可以决定选手的得分高低。一般溅起的水花小,且水花美丽,再加上在半空中的动作难度大优美,更容易获得高分。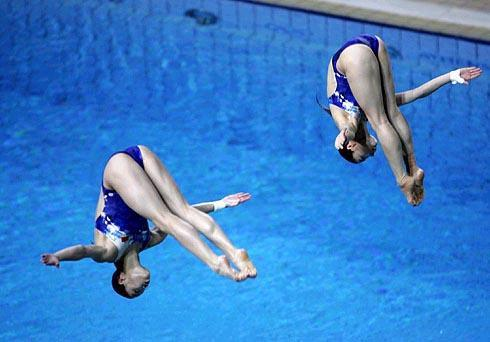 我比较喜欢的是跳水运动员从跳台或者跳板上纵身而下时展现的各种优美的动作,特别是有些跳水运动员会在半空中抱住双腿进行旋转。这样的动作难度非常大,但是却十分的精彩,必须在最佳时刻展开身躯插入水中。
跳水运动虽然十分的优美,但是有利也有弊... ...
跳水运动和游泳运动一样,可以很好地增强心肺功能,增强体质。但是跳水运动对耳朵和眼睛总是会带来一定的伤害。
因为惯性的缘故,每当跳水运动员插入水中的时候,水对身体的作用力就会伤害到耳朵以及眼睛。其实很多的跳水运动员听觉都有点差,经常会出现耳鸣的现象。
在视觉方面,跳水运动也不算太好,因为长期惯性落水,已经让他们的眼睛不是那么的利索了。
作为一项体育运动,能带给观众那么优美地演出,这真的非常难得。
热爱生活,热爱体育运动。
---