Hello everyone! Today I am going to share a painting of a teacup. This was a fun painting that was relaxing. This is the video that inspired me to paint this artwork.
Tools and Materials
A good quality artblock that can absorb water
Buncho poster colours
Round paint brushes
A container of water
A tissue paper to absorb excess paint / water
Method
These are all the tools and materials that I used. I did not draw an outline beforehand so I used a light blue to draw the basic shape of a teacup first.
Then, I mixed some light blue and a light green to create a slightly warmer shade and painted it on almost all of the teacup.
After that, I added some tea into my cup by painting some brown. I also painted the surface on which the teacup was placed.
I painted some red roses on the surface of the teacup. This must be done after the previous layer of paint dries off. Otherwise, you might end up creating purple as the colours may mix.
I mixed some brown to added some dimension to the roses.
I painted some dark blue on the saucer of the teacup to add some depth to it. I also painted some outline at the edges of the saucer.
While the other surfaces dry, I added more brown to my tea to make it darker. Then, I painted some leaves around the roses.
I added a darker shade of green to the leaves. I also adjusted the shape of some of the leaves using the lifting technique. I used a clean brush and picked up some water. Then, I painted it over the parts that I didn't want or adjusted. After that I quickly used a tissue paper to absorb the paint on the areas. In order for this to work, the previous layers must be completely dry. Similarly, I also used the lifting technique to create an outline around the top of edge of the cup to add some highlights.
I used the lifting technique again to add some highlights to the cup holder. Then, I painted some outline around it. I also added more dark blue on the middle area of the saucer to add more depth. After that, I increased the ground surface level by painting more diluted brown colour at the bottom. So now the teacup doesn't look like it is floating.
There was a spot on the top area of the cup that I adjusted by adding some diluted blue. The painting is done. I finished the painting yesterday night but I felt that the pictures that I snapped did not do justice to the painting as it looked duller due to lack of proper lighting. Then, I took this picture on the next day which is today, under natural light which is why it looks better.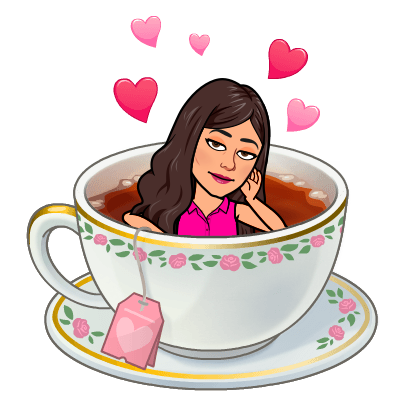 Thank you for reading my post and I hope that you enjoyed it. Have a great day/evening ahead! ☺☺☺