Saigon Breaks
photo by @needapencil
Over @needapencil, we were talking about illustration, art, painting, music and dance. Since we were dancing on her parquet floor, and I was freestyling a Vietnamese dish, I decided to give it this title.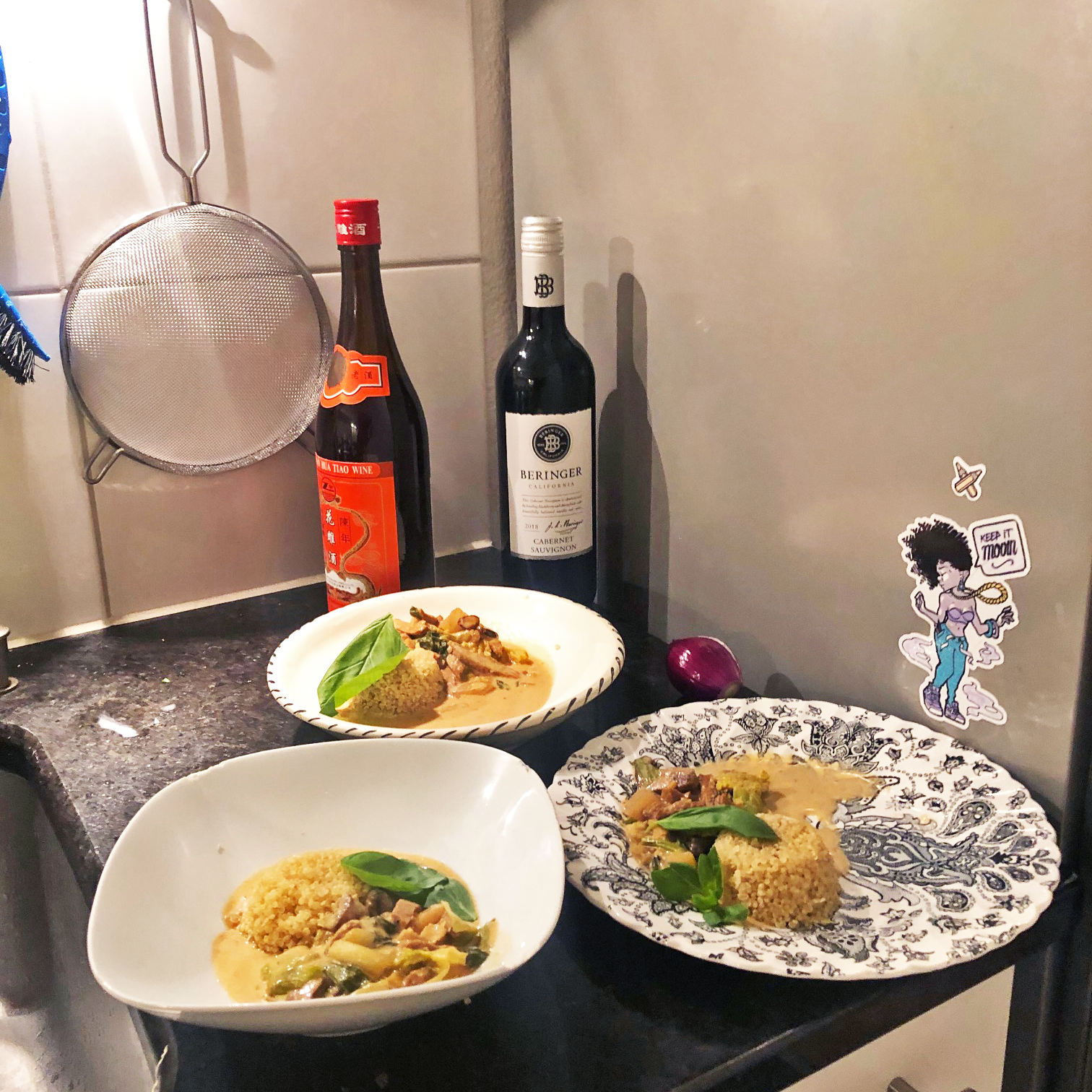 Lately Asian Foods like saté and mushroom sauces, cooking with rice vinegar and veggies have just been cravings and phantasies of mine that I needed to turn reality. What a better opportunity than to just drop for a session at one of my favourite graphic designer's @needapencil for a Saigon cypher. Dance sessions included.
Groceries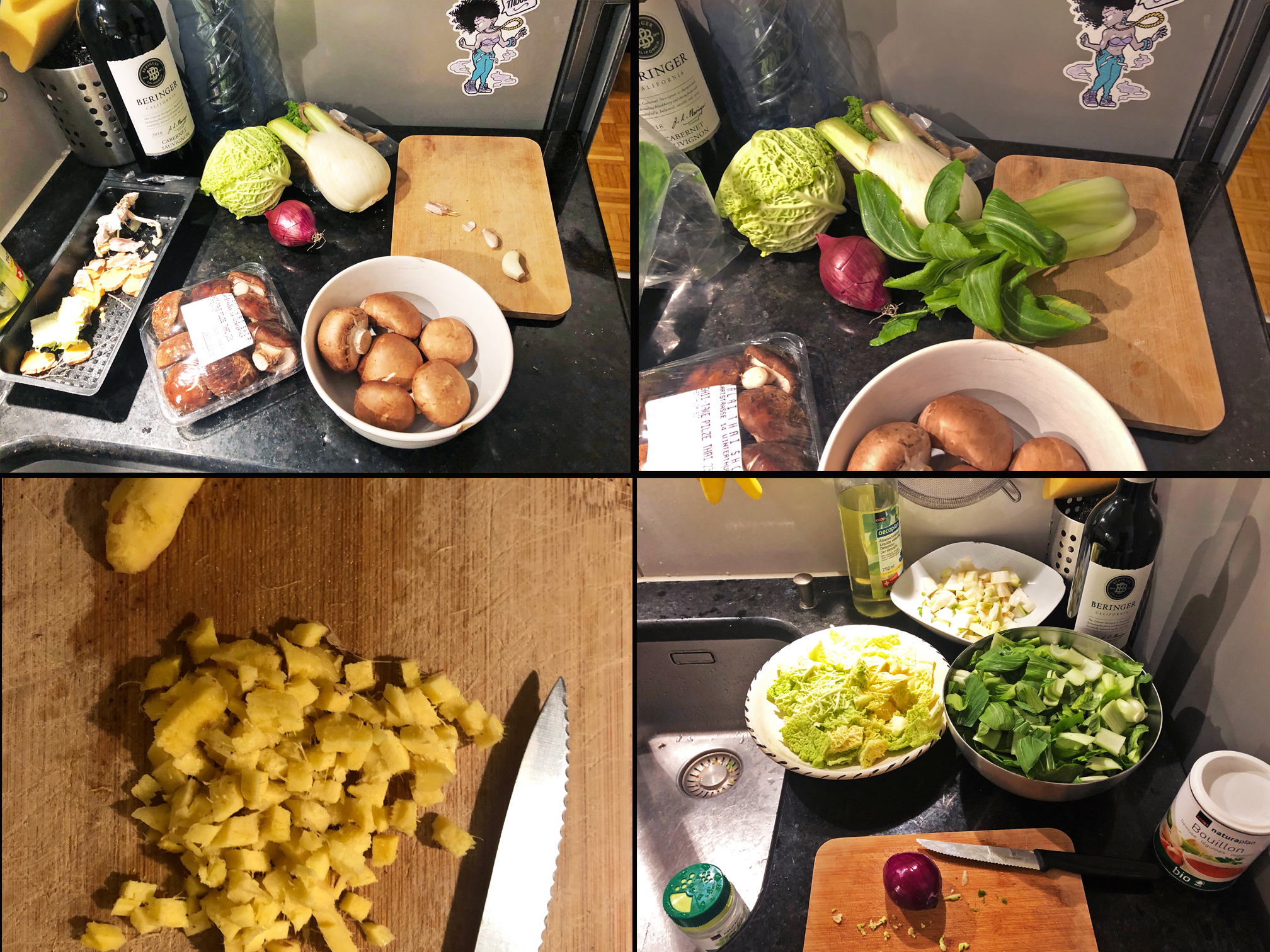 Ingredients:
* Spelt Seitan
* Shiitatake Mushrooms
* Champignions (Button Mushrooms)
* Garlic
* Ginger
* Onion
* Fennel
* Savoy Cabbage
* Bok Choy (Pak Choy or Brassica rapa)
* Savoy Cabbage
* Rice Wine / Rice Wine Vinegar
* Soy Sauce
* Mushroom Sauce
* Soy Sauce (make sure you use a nicely fermented one with less preservatives like Tamari - makes a difference)
* Peanut Oil / Coconut Oil / Olive l
* NuNutritional Yeast/ Regular Yeast/ Home Made Yeast (optional)
* Tamarind Concentrated Paste (optional)
* Coconut Milk / Coconut Cream
* Bouillon
* Quinoa
* Flour (Whole Wheat, Buckwheat) / Any that suits your preference
Preparation:
Firstly you need a Frying Pan, a pan for a Sauce or Fond and one for the Quinoa.

Cut Fennel, Savoy Cabbage and Pak Choi mire poix and slice Shiitake.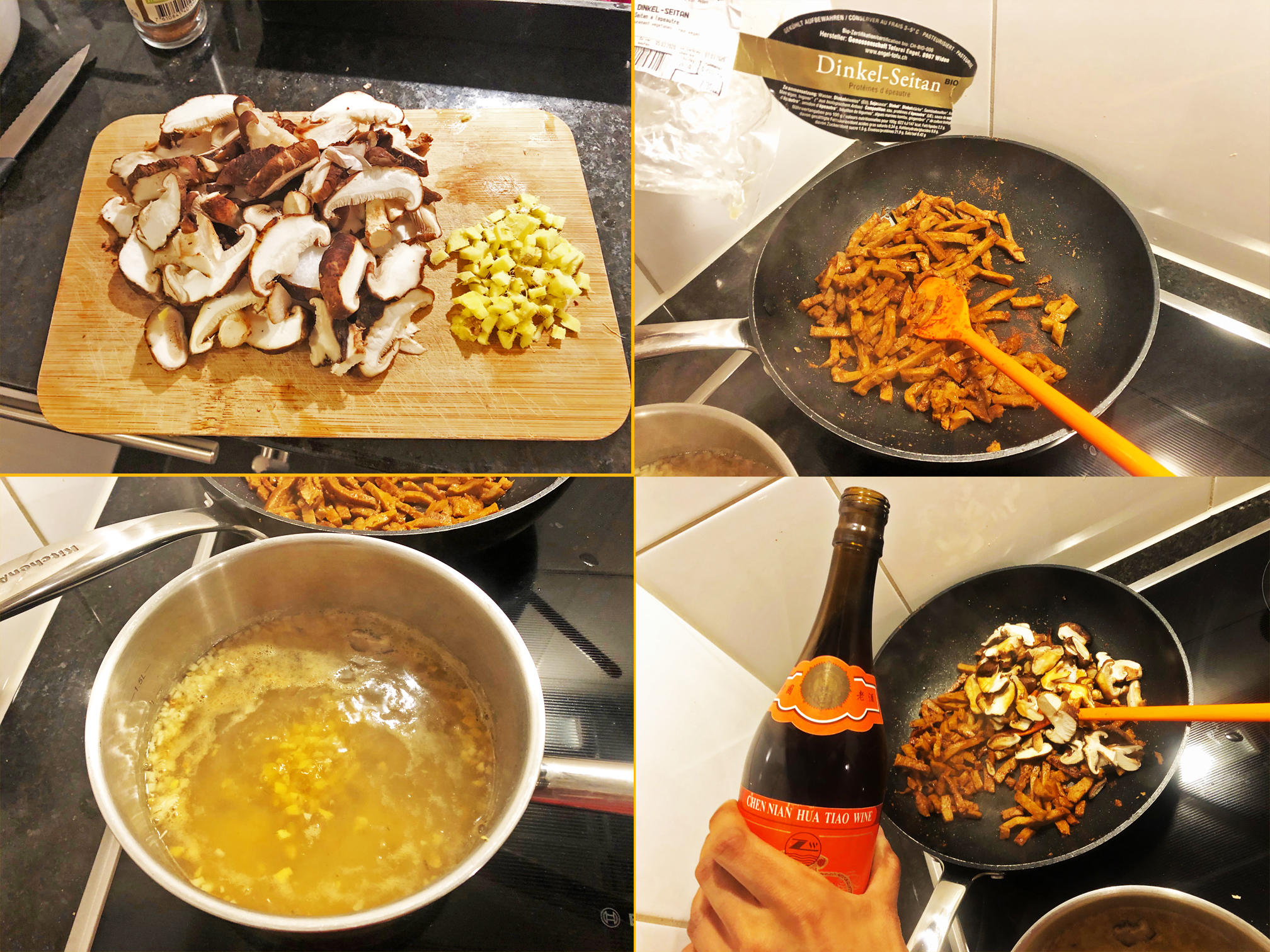 Chop Garlic and Ginger Brunoise, then add 1 Liter of Water and add to a pan and bring to boil. I also added a bit of bouillon.

Add Seitan to Frying pan and fry in a bit of oil, Soy Sauce and Cayenne Pepper/Powder.

Chop Shiitake into slices and add to Seitan and keep frying on low flame and keep adding soy sauce and when it gets too hot, cool off with a tiny bit of rice wine or rice wine vinegar.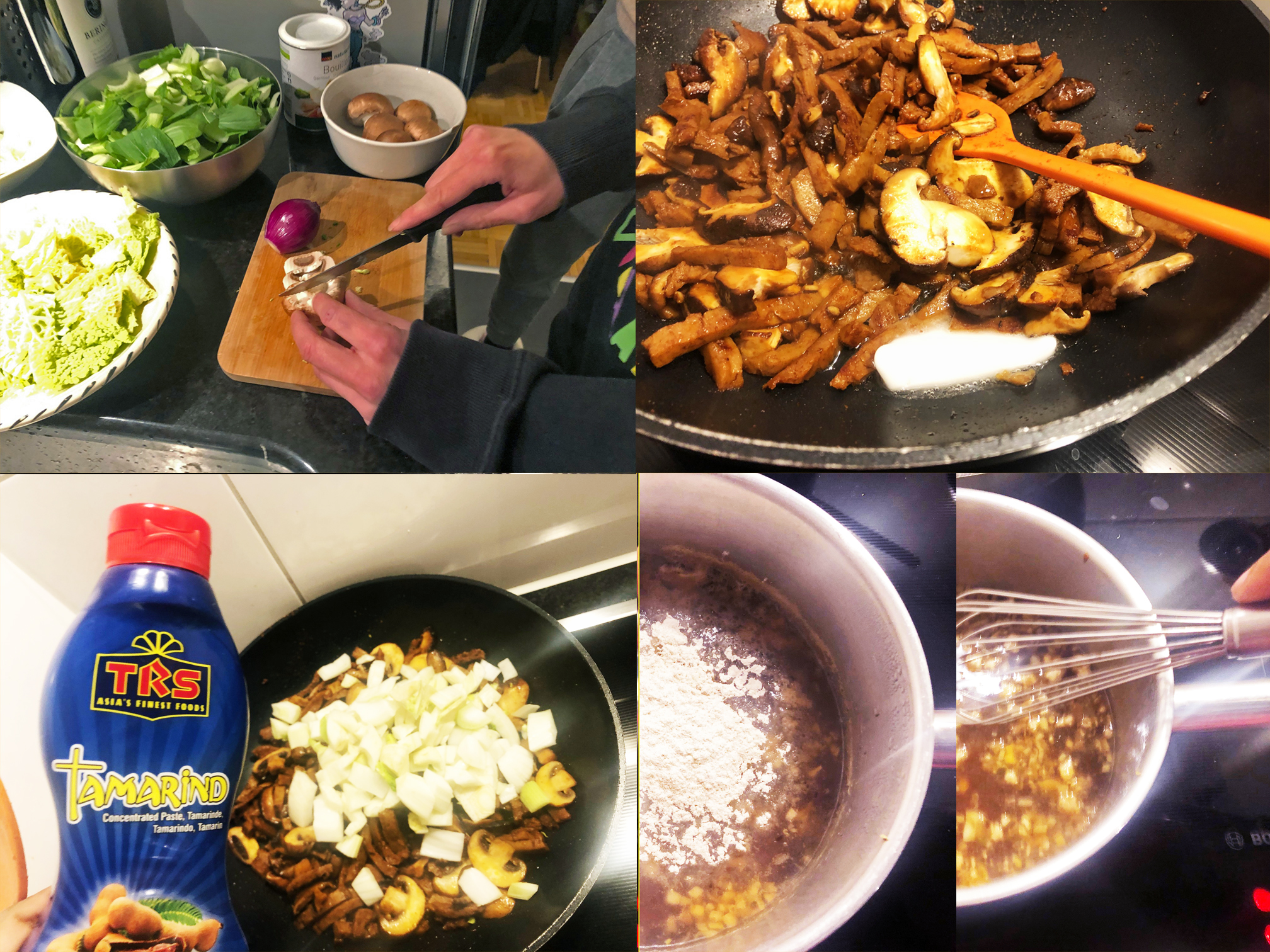 Cut Mushrooms and add to Seitan and Shiitake frying pan

Add a pinch of tamarind concentrate(optional)

Add some flour to the Fond and mix using a whisker.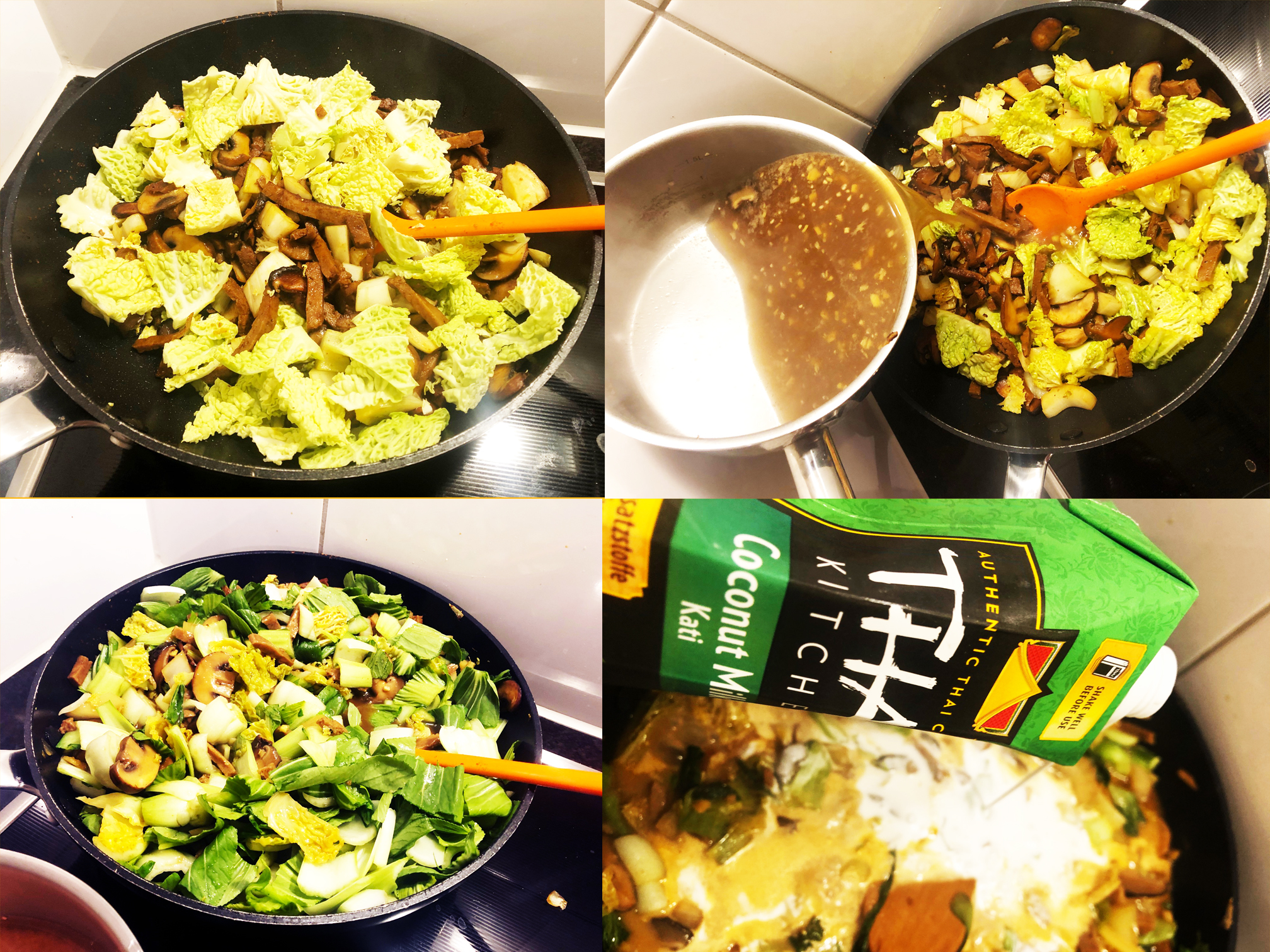 Add Savoy Cabbage and fry for a bit.

Add more soy sauce to the fond and after the cabbage looks a bit glassy, fried and steamed slightly, add the Fond to the frying pan.

After cooking the Cabbage a bit more in the mix, add the Pak Choi to the frying pan.

Make sure you start making the Quinoa now.

Finally add Coconut Cream to the frying pan, some black pepper and chilli powder.
Now Enjoy!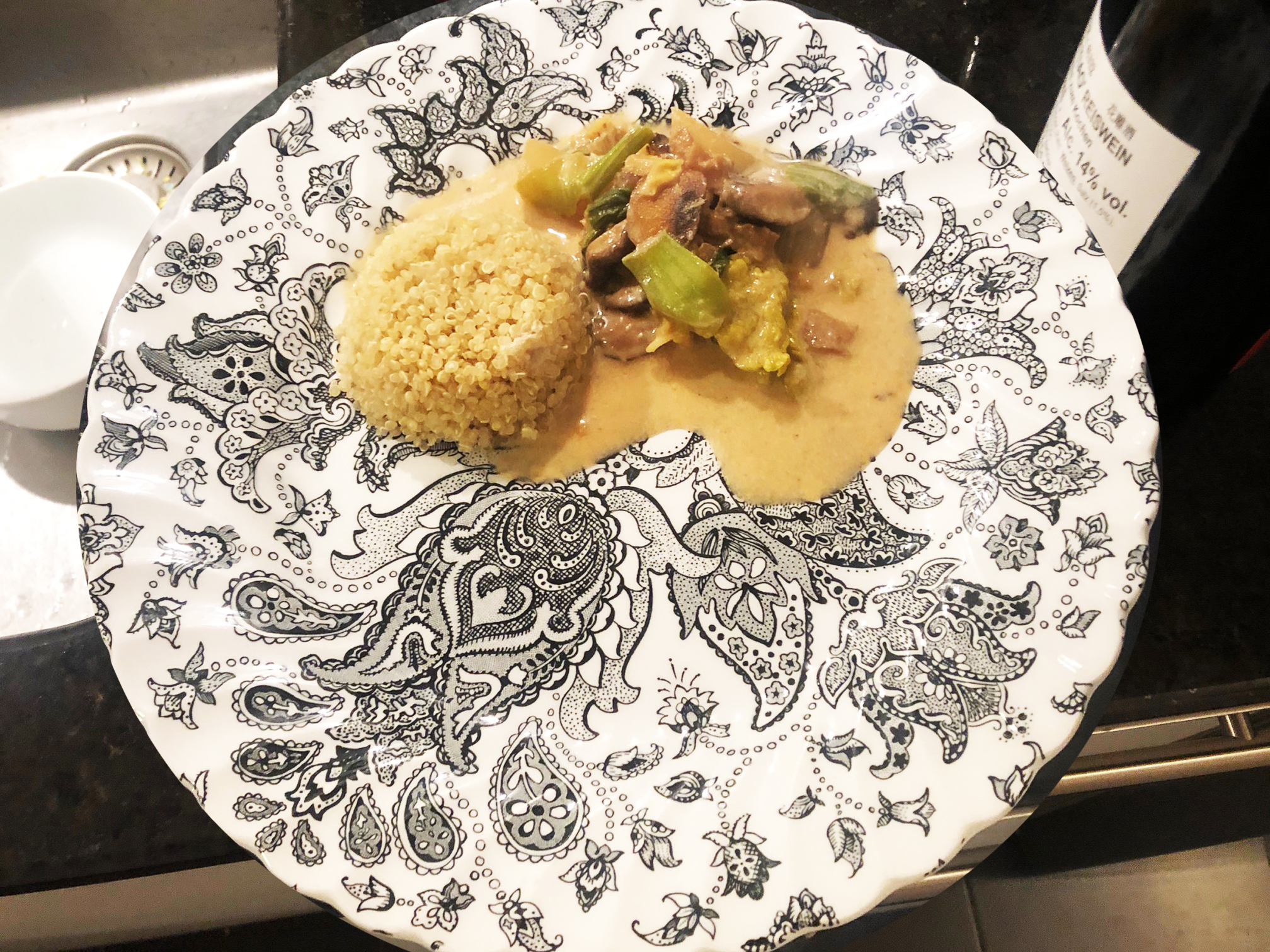 Here are all my previous recipes, in case you feel like trying something else:
* Vegan Ch**se (made from Sunflower Seeds)
* Chard Recipe (Simple, Vegan)
* Quick Veggies (vegan)(Pragmatic)
* Vegan Bolognese (asian style)(Pragmatic)
* Tarte à la Tomate et à la Moutarde(Pragmatic)
* Spinach, Tofu and Sweet Potato Fries Recipe
* Chocolate Cake Recipe(Pragmatic)
Thanks for stopping by and i'm looking forward to reading your recipes and to posting more simple and effective plant based recipes.

No matter how dark, no matter how many around you give up and disbelieve. There is always a light of hope at the end of the tunnel. It's not always about you or your ego, but about what you can do to ke others see thahat light and for all mankind to to reach that illumination... - Soan Shinobi a @yangyanje original
[ NOTE: #vegansofsteemit, #food, #creativecoin, #naturalmedicine, #vegan, #palnet, #marlians, #neoxian, #health, #asian, #tasty, #recipe, #veggies . Photos: iphone 8 only]
Join Steemians that meditate together:
![2gsjgna1uruvCMJTX7owXd26zXYjZqAJUBTewkwpoEFuRzL1nF22iUyCz7hkxfhsQrDgonprnwfGXowsrcVzbbsJkmBMBPWKVRFvJvpZAh22Ht9AE1.gif](https://cdn.steemitimages.com/DQmPoMkC68uyhwVdcx5eGcf5SxeLupL3xbgnZ6eaRZuUe6d/2gsjgna1uruvCMJTX7owXd26zXYjZqAJUBTewkwpoEFuRzL1nF22iUyCz7hkxfhsQrDgonprnwfGXowsrcVzbbsJkmBMBPWKVRFvJvpZAh22Ht9AE1.gif)

![yang.gif](https://cdn.steemitimages.com/DQmahX77Zq29EBKuWycjc193HMa7jTTZgPZ5zMq1FR3RLem/yang.gif)