Cabbage Breaks
@needapencil was throwing a B-Day Party. I on boarded @needapencil, showed various steem front ends like #appics, explained feeds and a few basics quite recently. Only a handful of creatives I encouraged to publish, have actually used Steem so far. I figured that one legion will joined the bandwagon effortlessly, while others might need more aspiration for their first post. Immersed in a world where communities unfold in an effort liberate humanity from corporate monopolies and oligarchic lobbyism, steemians share a very positive prospective vision for the future. How could dapps and published content in respective domains not be the solution to subjective mass consumerism in an age where humans on assembly lines are already the numb submissive sheep's of yesterday? There is no other place where creatives are that appreciated and encouraged by other creatives with the right vision for a better tomorrow. They Salsa Chorizo (Vegan), in case you wanted to just focus on the cabbage veggie dish.
Ingredients:
Salsa Chorizo

* Tomato Pilati
* Spelt Seitan
* Chorizo Seitan (Wheaty Spacebars)
* Onions
* Garlic
* Oregano
* Red Wine
* Soy Sauce
* Boullion
* Cayenne Pepper or Chili Powder
* Paprika (Smoked) - Optional
Cabbage White Sauce

* White Wine
* Velvet Pioppini Mushrooms
* Carrots (Purple ones too)
* Garlic
* Oregano
* Onion
* Kale
* Soy Sauce
* Mushroom Sauce
* Soy Sauce (make sure you use a nicely fermented one with less preservatives like Tamari - makes a difference)
* Peanut Oil / Coconut Oil / Olive Oil
* Nutritional Yeast/ Regular Yeast/ Home Made Yeast (optional)
* Coconut Milk / Coconut Cream
* Bouillon
* Pasta Noodles (Shell)
* Flour (Whole Wheat, Buckwheat) / Any that suits your preference
Preparation:
Firstly you need a Frying Pan, which I also used for a Sauce or Fond of the White Sauce.

Secondly we need a pan to heat up the Sugo with just garlic, Bouillon and a few drops of Soy Sauce.

We also need to keep in mind that we need another Pan for the Shell Pasta Noodles.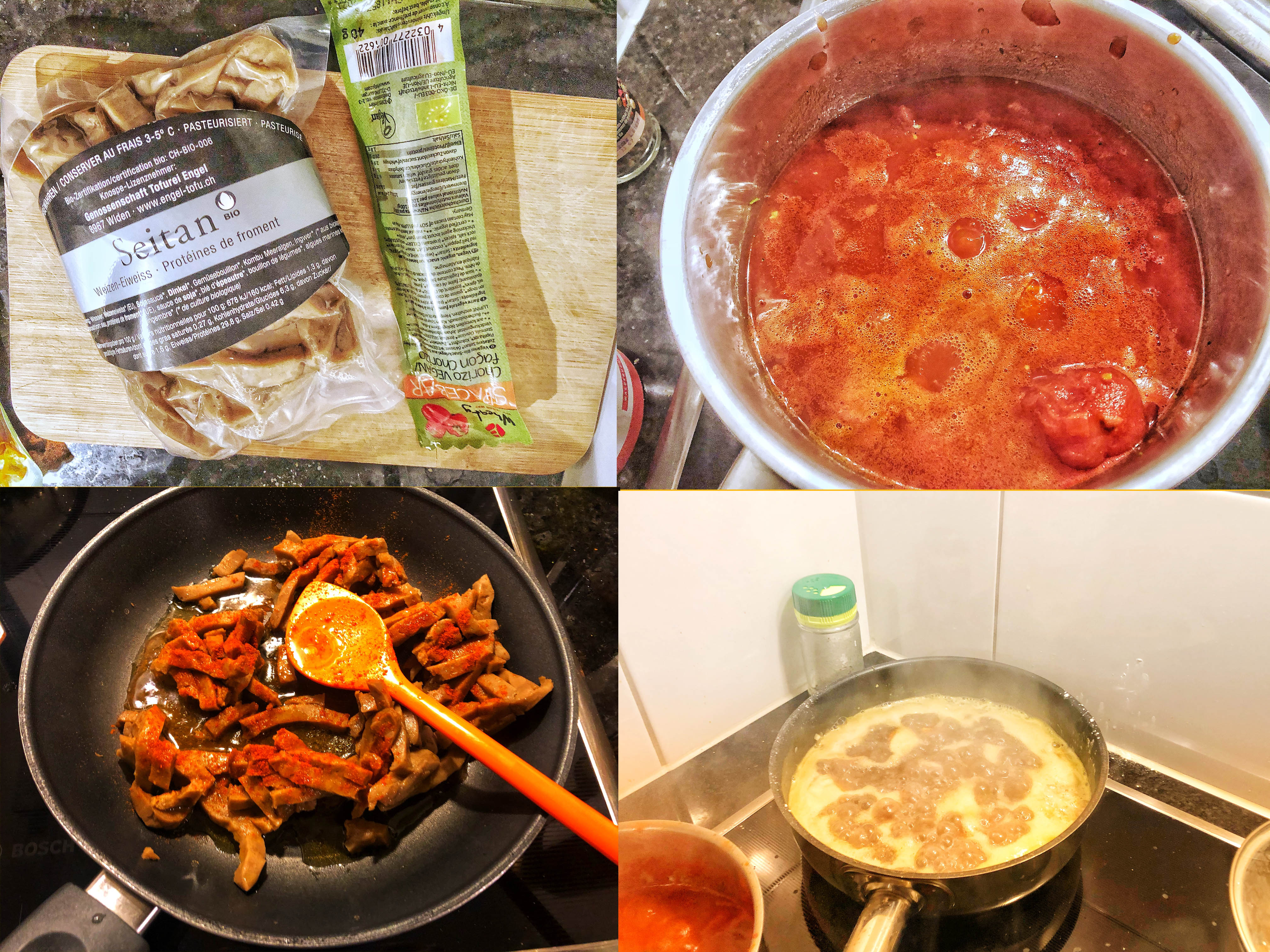 Heat up Tomatoes in Pan with Bouillon and add Garlic throughout

Add Spelt Seitan to Frying pan and fry in a bit of oil, Soy Sauce and Cayenne Pepper/Powder.

Put ca. 1 Liter of Water into frying pan, add Mushroom Sauce, Garlic and a bit of flour and Bouillon.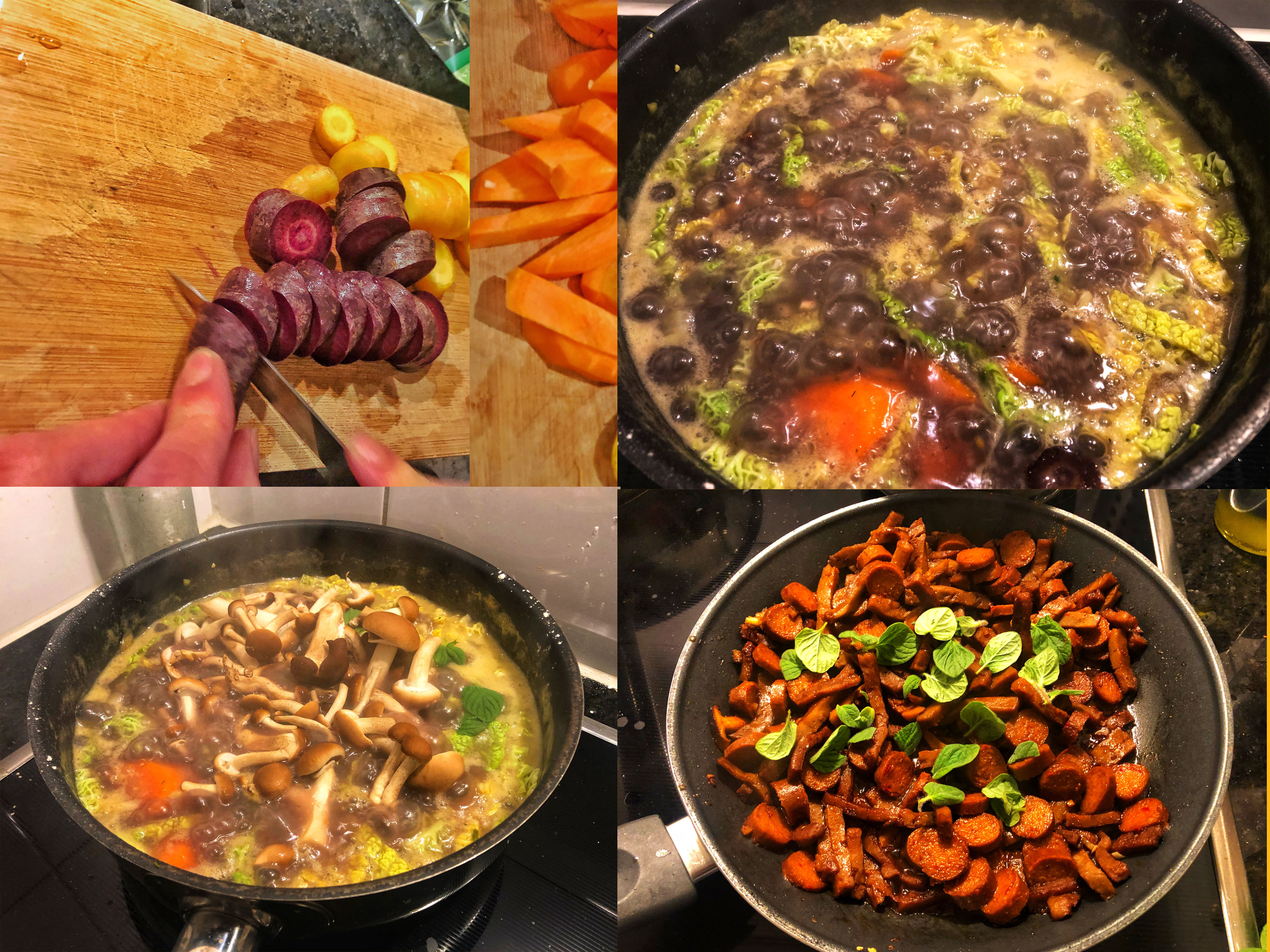 Cut Carrots, add to frying pan. Wait a bit and then add the Savoy Cabbage and later the Mushrooms

Add Vegan Chorizo Sausages to Seitan, some vinegar and keep deglazing with Soy Sauce

Add Oregano to both dishes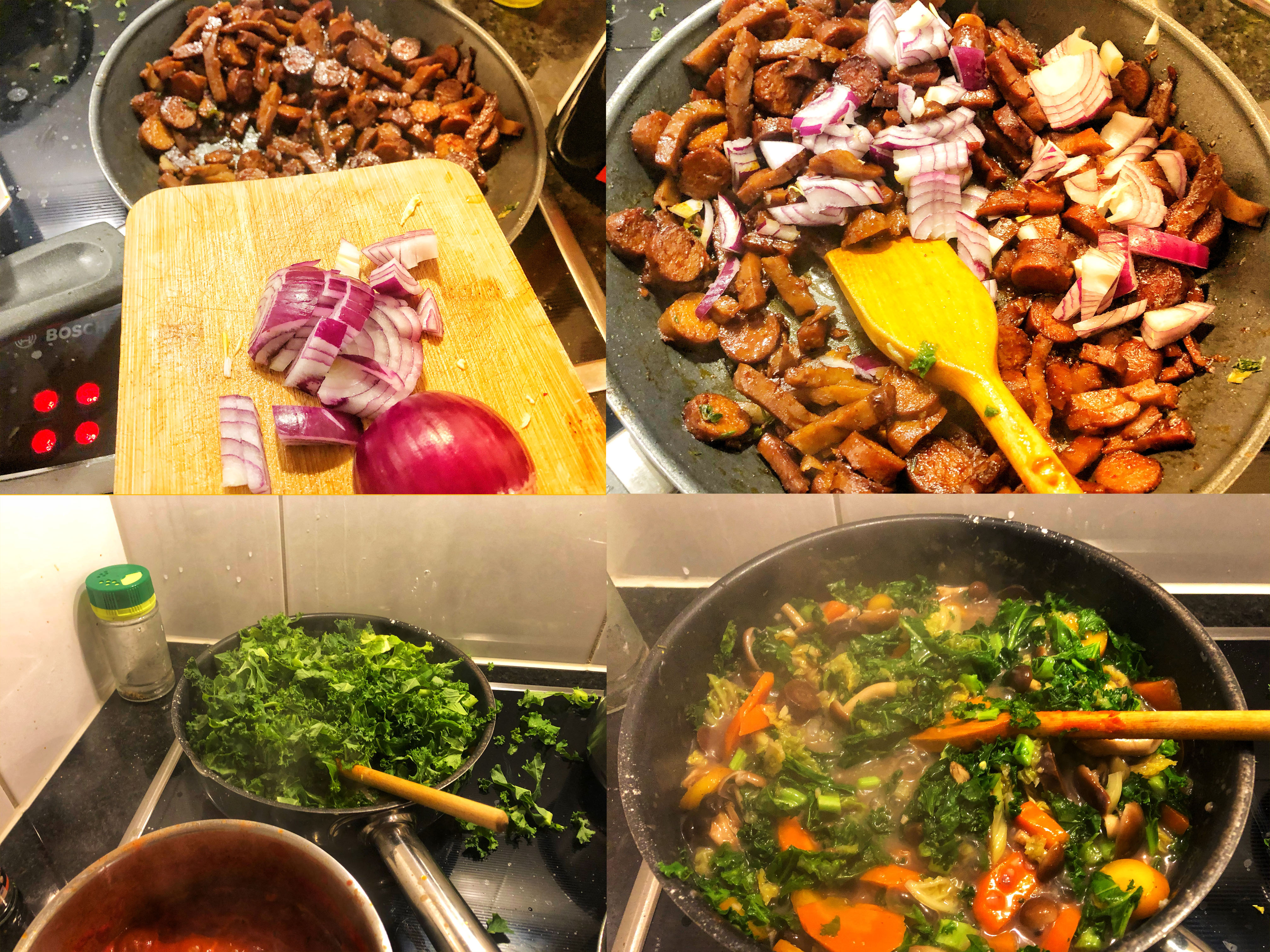 Cut Onions Mire Poix and add to Seitan .

Add Kale to Veggies and mix . You can also add the onions now.(Sliced looks nice)

Add Red Wine to Tomato Sauce and cook until it thickens slightly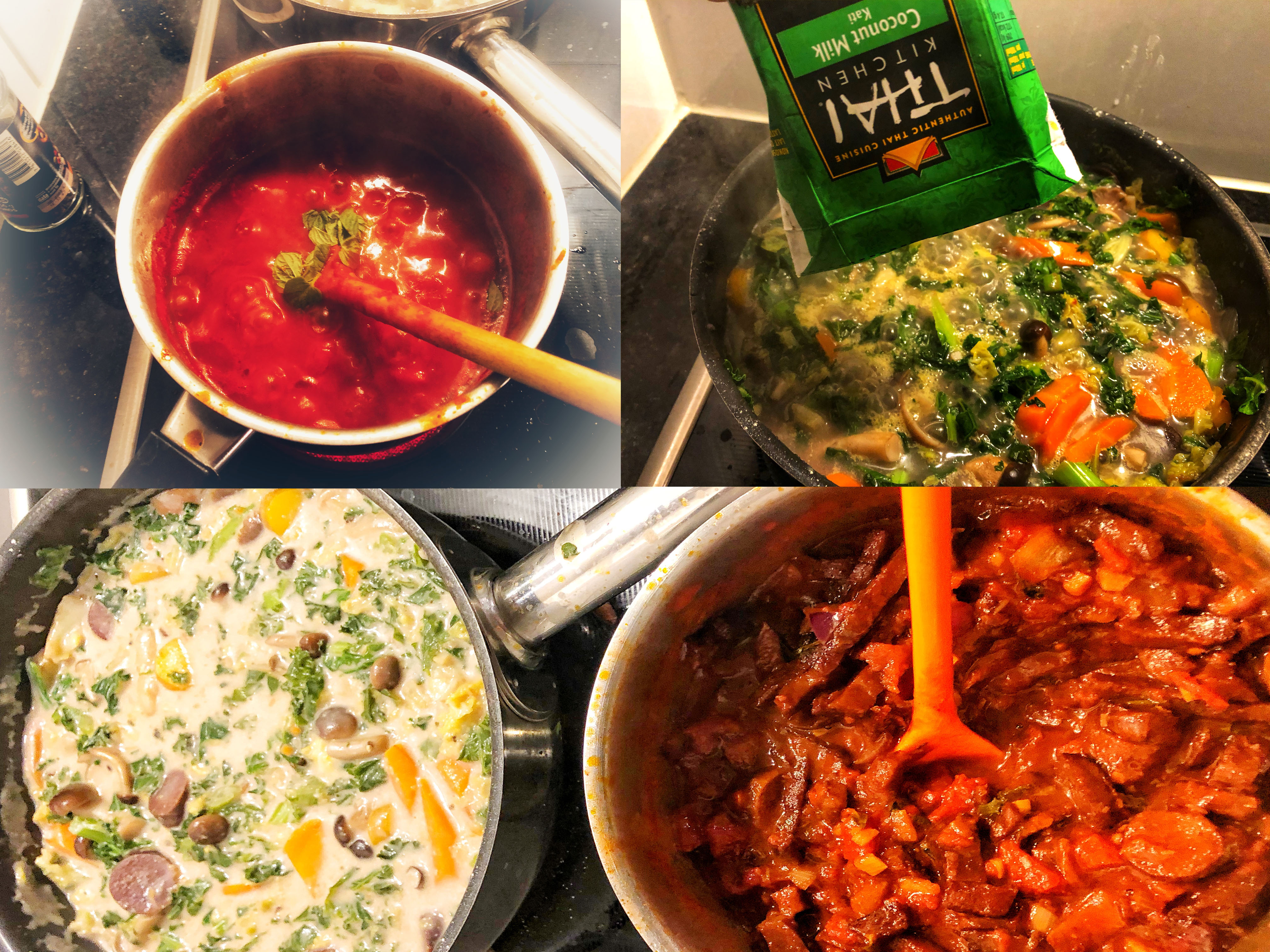 Add Coconut Milk

Add Seitan and Vegan Chorizo Sausages to Tomato Sauce

Ready to Break!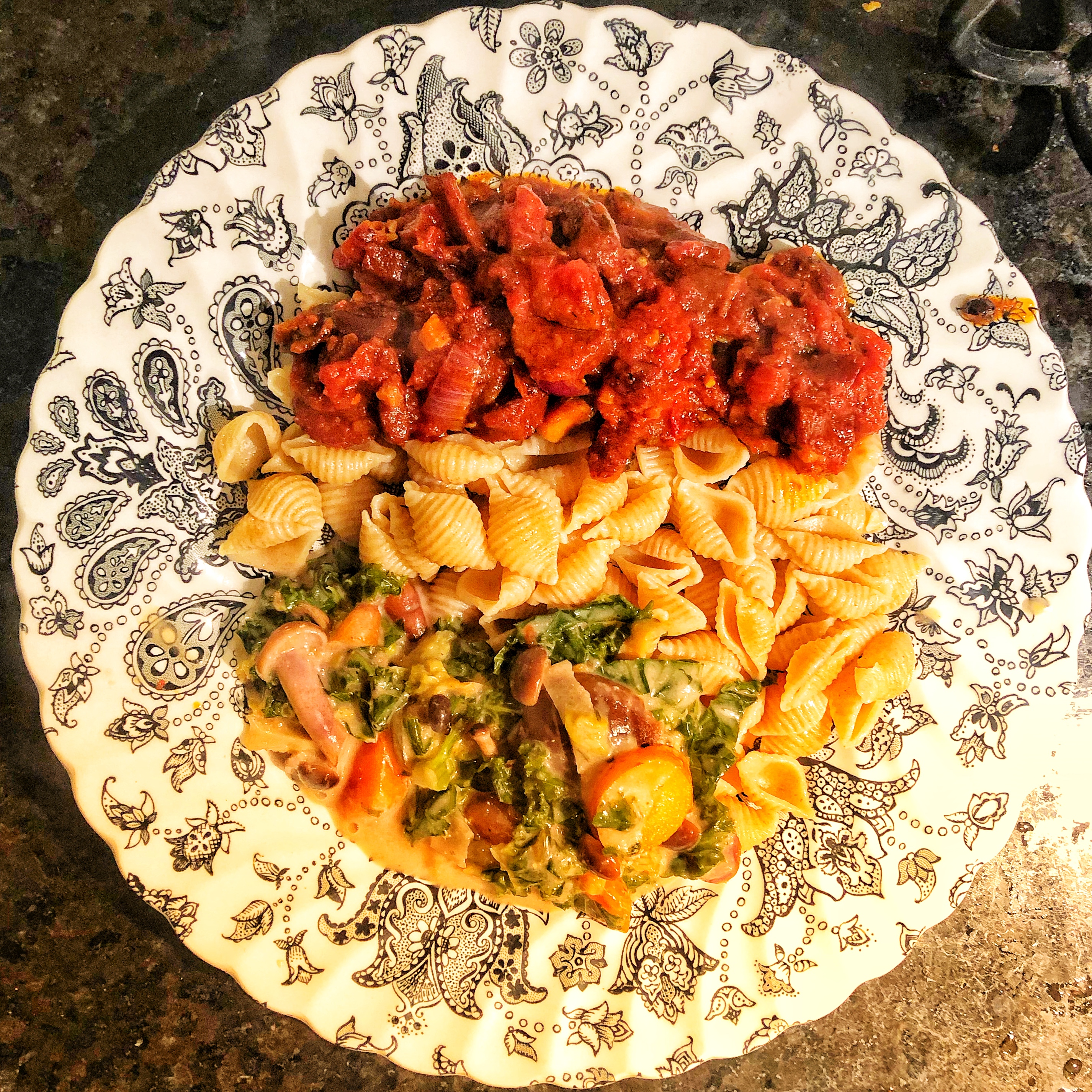 Bonus Recipe
Break the Jack
I thought I should share my last session with @needapencil with y'all. I basically knew she had lentils and brought some Jackfruit with me. Cooked it in a fond and added a Tomato Sauce. The Jackfruit recipe is also in my list, but this one basically differs because I added lentils in the fond.
This is a picture from just before I make the Sauce. The fond is already cooked and took around 45-50min.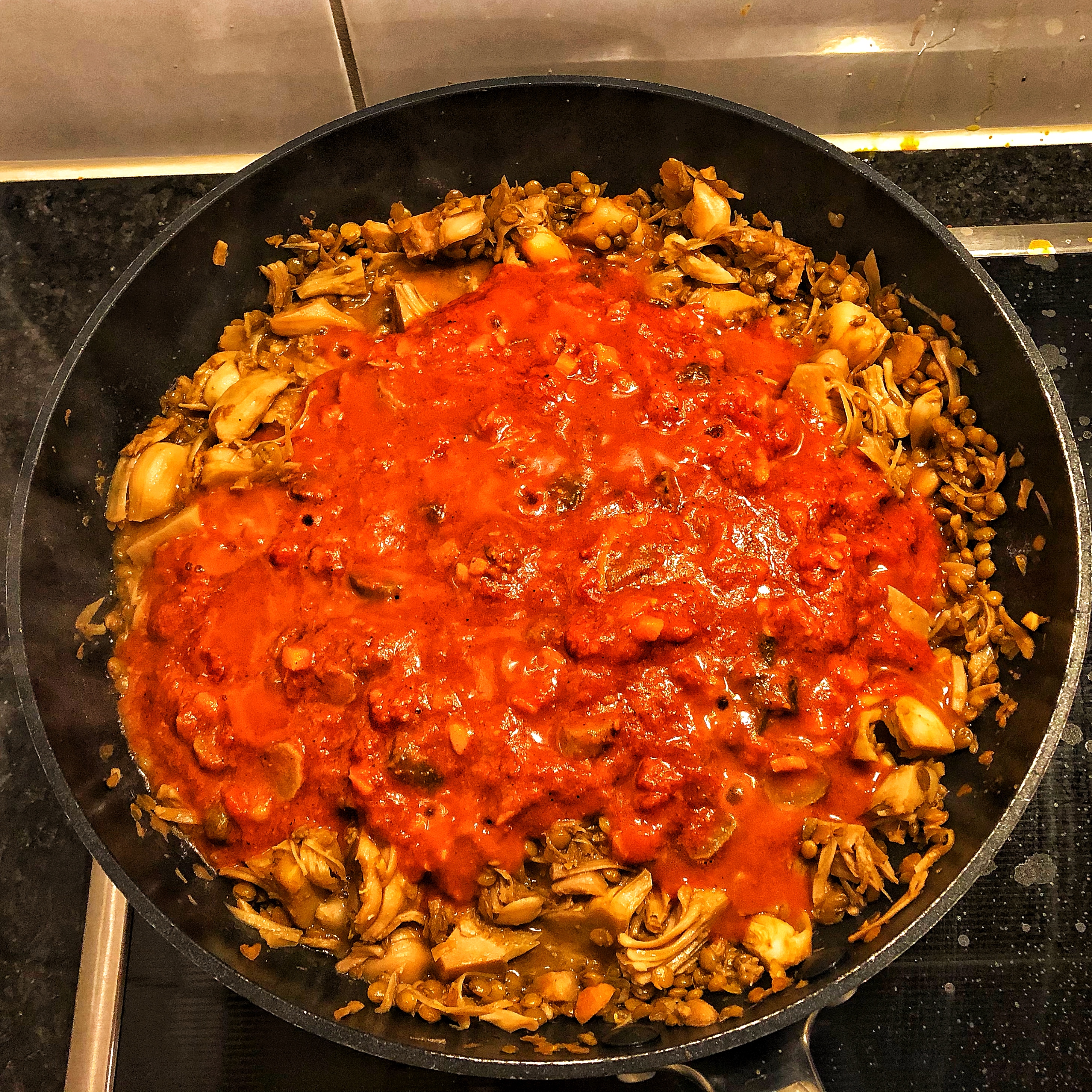 Here I added the Sugo with ginger, Garlic and Onions to the Jackfruit after slightly heating it up in a bit of olive oil.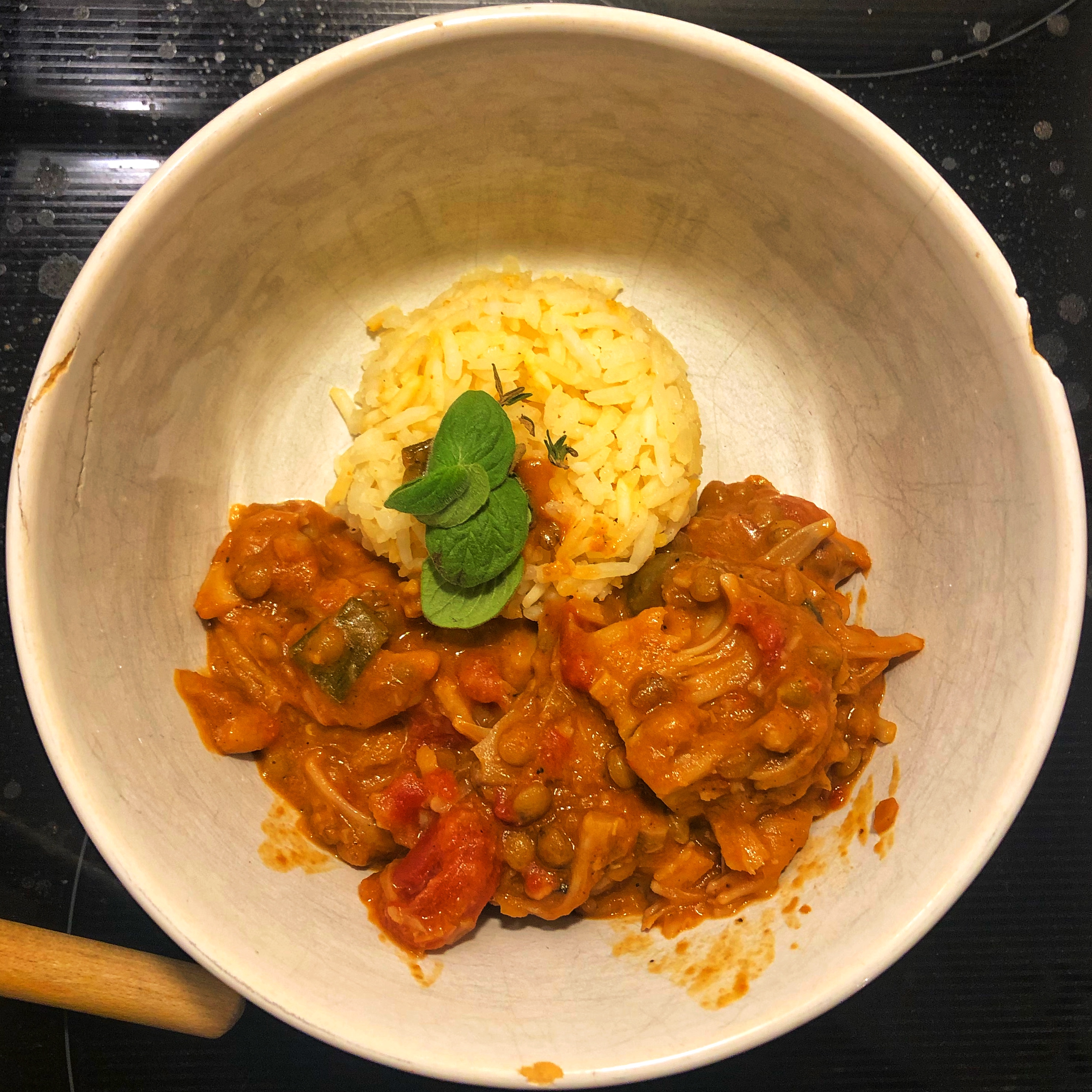 Et Voila!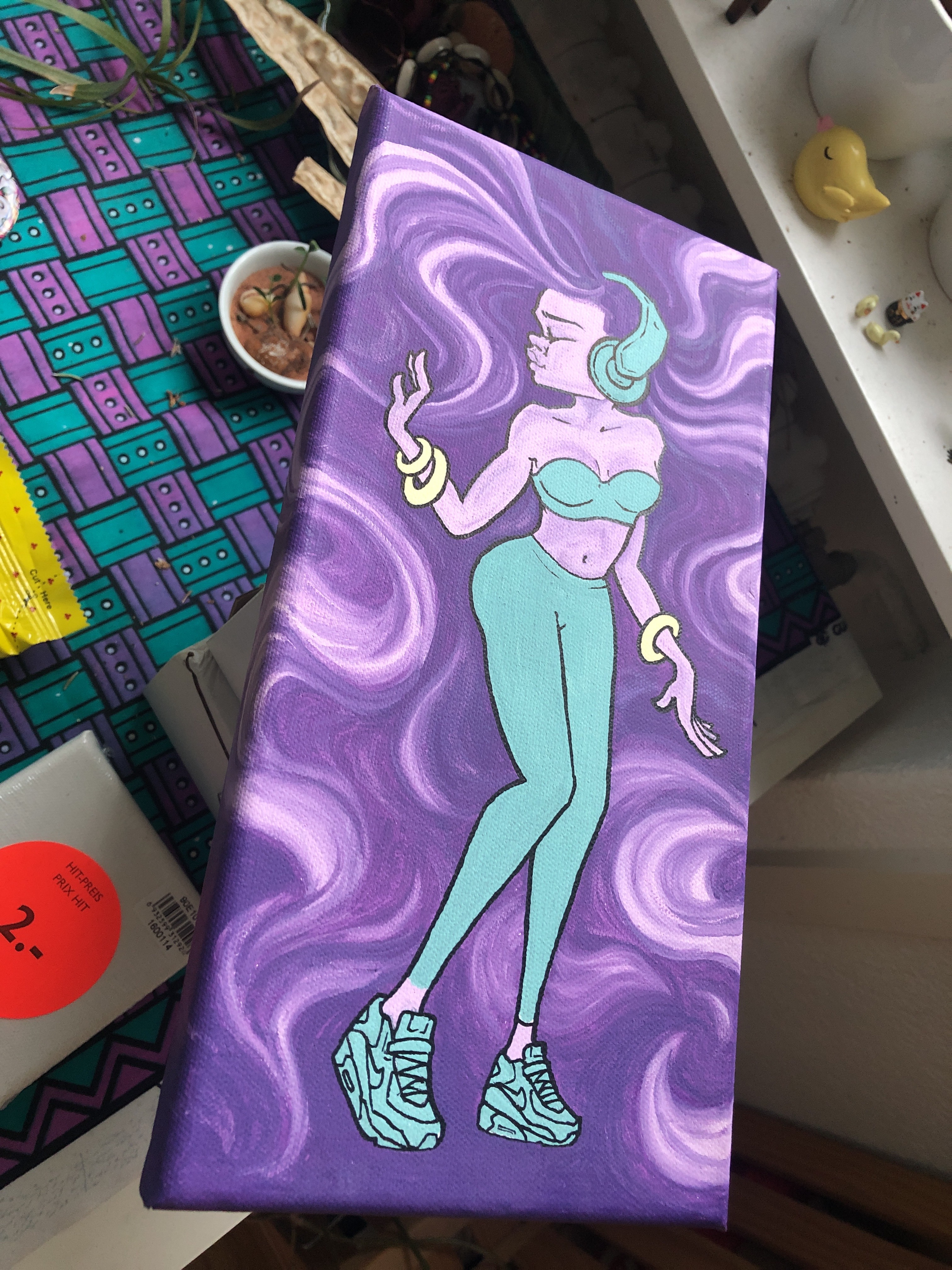 On a Birthday, you'd normally bring a gift. @needapencil gave me a Canvas to choose from, which literally almost made me weep because I was so touched.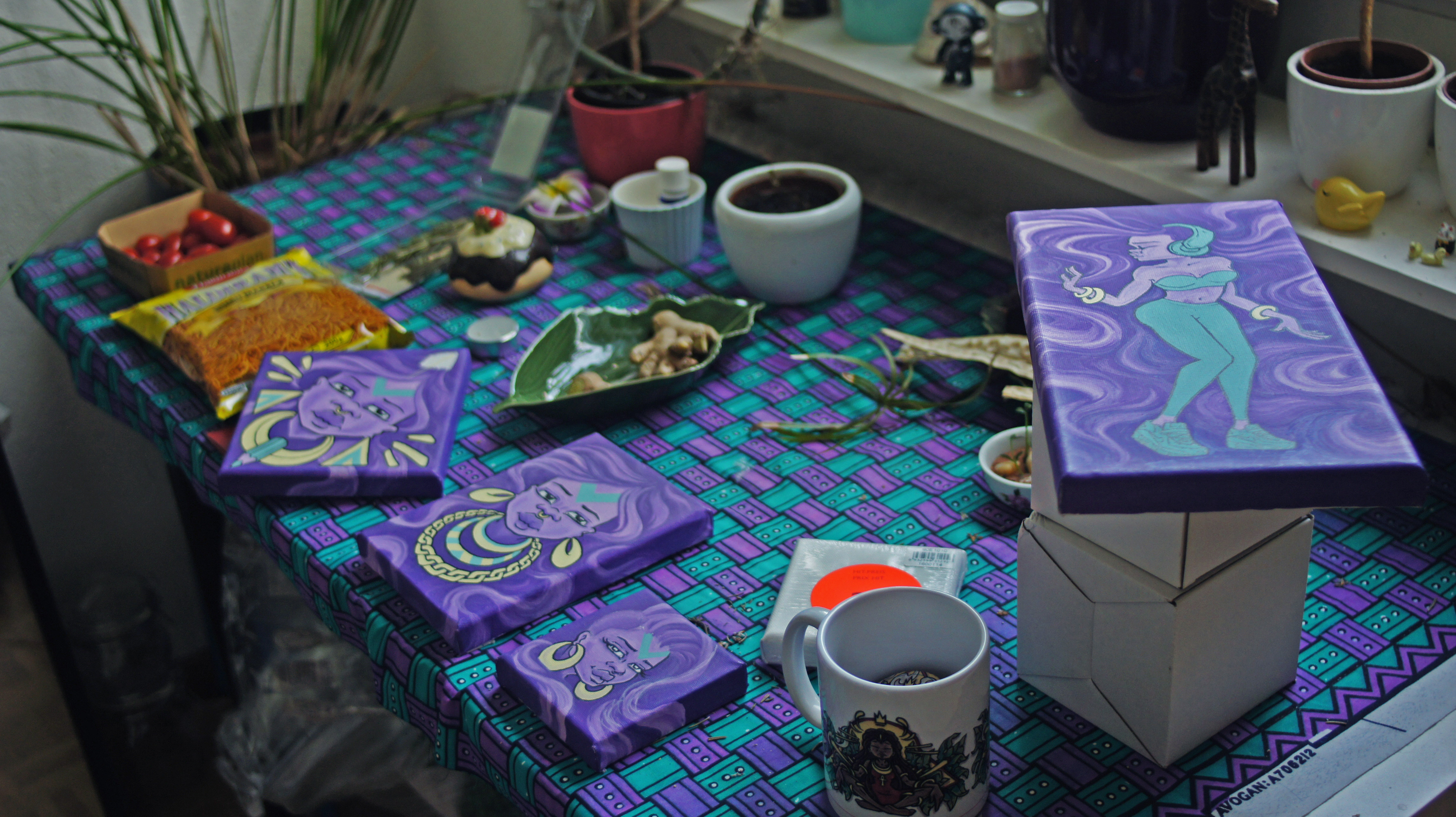 If anyone else was willing to show up, she was armed and ready with giveaways such as Hand Painted Canvases and other awesome merch like magnets, stickers tea cups etc.
Here are all my previous recipes, in case you feel like trying something else:
* Vegan Ch**se (made from Sunflower Seeds)
* Chard Recipe (Simple, Vegan)
* Quick Veggies (vegan)(Pragmatic)
* Vegan Bolognese (asian style)(Pragmatic)
* Tarte à la Tomate et à la Moutarde(Pragmatic)
* Spinach, Tofu and Sweet Potato Fries Recipe
* Chocolate Cake Recipe(Pragmatic)
Thanks for stopping by. and i'm looking forward to reading your recipes and to posting more simple and effective plant based recipes.

Sometimes asking people a series of moral question beyond their comprehension can cause them to rethink their actions. They also might relieve you or any judgement or accusations if they consider your moral standpoint to be more evolved. It's not called manipulation - Soan Shinobi a @yangyanje original
[ NOTE: #vegansofsteemit, #food, #creativecoin, #naturalmedicine, #vegan, #palnet, #marlians, #neoxian, #health, #asian, #tasty, #recipe, #veggies, #oc, . Photos: iphone 8 and sony nex vg-10]
Join Steemians that meditate together:
![2gsjgna1uruvCMJTX7owXd26zXYjZqAJUBTewkwpoEFuRzL1nF22iUyCz7hkxfhsQrDgonprnwfGXowsrcVzbbsJkmBMBPWKVRFvJvpZAh22Ht9AE1.gif](https://cdn.steemitimages.com/DQmPoMkC68uyhwVdcx5eGcf5SxeLupL3xbgnZ6eaRZuUe6d/2gsjgna1uruvCMJTX7owXd26zXYjZqAJUBTewkwpoEFuRzL1nF22iUyCz7hkxfhsQrDgonprnwfGXowsrcVzbbsJkmBMBPWKVRFvJvpZAh22Ht9AE1.gif)

![yang.gif](https://cdn.steemitimages.com/DQmahX77Zq29EBKuWycjc193HMa7jTTZgPZ5zMq1FR3RLem/yang.gif)