---
---
Hello my loves! I hope you are very well! ♡♡♡
I have a few days absent and I do not know until when I am because I have serious problems with the Internet, a few days ago I was relieved because it was only for my house, and I could publish if I left, but now I do not have many hopes since in the whole city It is the same, many problems with the telephone signals that are the same of the Internet.
I hope I can be here again soon.
Oh God! Why does it have to be so difficult?.
I have worked on some sketches, some crazy ideas that I have in moments. Some drawings that I could not upload. Since I am drawing drawings with the chalk, I have not made a person because I do not know how to work well with the colors that I have available and I do not know which ones would be suitable for use, so I did a skin tone test. I do not have so many chalks, a pack of 24 and others I think they are 12 but you could use them for the skin I think they are about 3 according to the result, I made a sketch in the notebook of one eye and decided to start with that.
I hope you like
---
---
My sketch in the notebook was small, I made it larger on the chalk canvas, of the idea I had.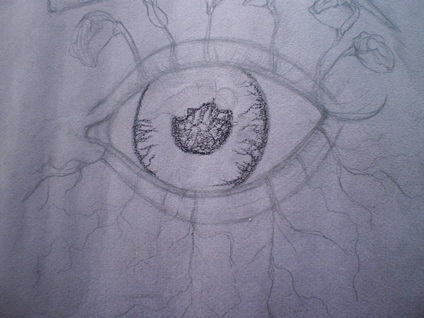 Then I was blindly choosing the colors that I believe could be used to make the skin of my eye.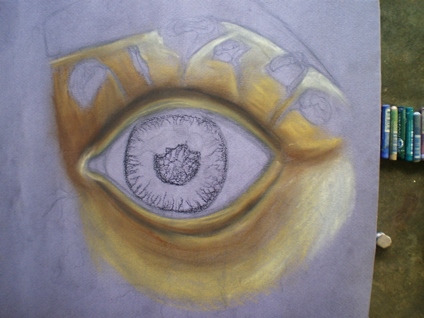 To make the iris I combined several blue and even green tones, I liked the details lol.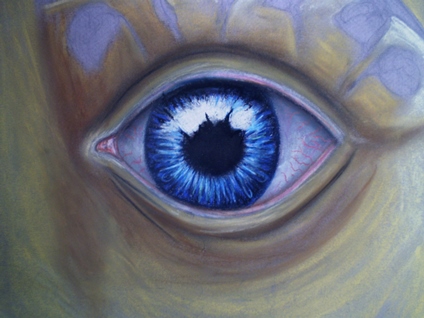 Of course it is not a realistic eye, but I tried to make several details in it, so that it was not so false, it was something big and allowed me to do it with the chalks without using the colored pencils for small areas.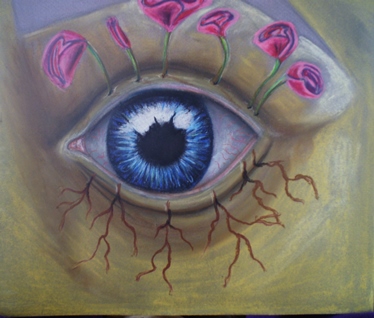 Tell me what do you think about skin color?
###

FINAL RESULT
---
---
MATERIALS USED:
Pastel Chalks.
Canvas for pastel Chalks.
Camera.
And I as a mode, sorry if I scared you lol.
---
---
Grateful to all of you for seeing and supporting my new work, I would be very happy if you leave me in the comments your opinions and criticisms regarding this style or my work. His criticisms help me to grow and encourage me to work harder to improve my art.
---
---
See you soon dear community, thank you for viewing and supporting my publications. 😜
Copyright @yanes94 - All rights reserved.