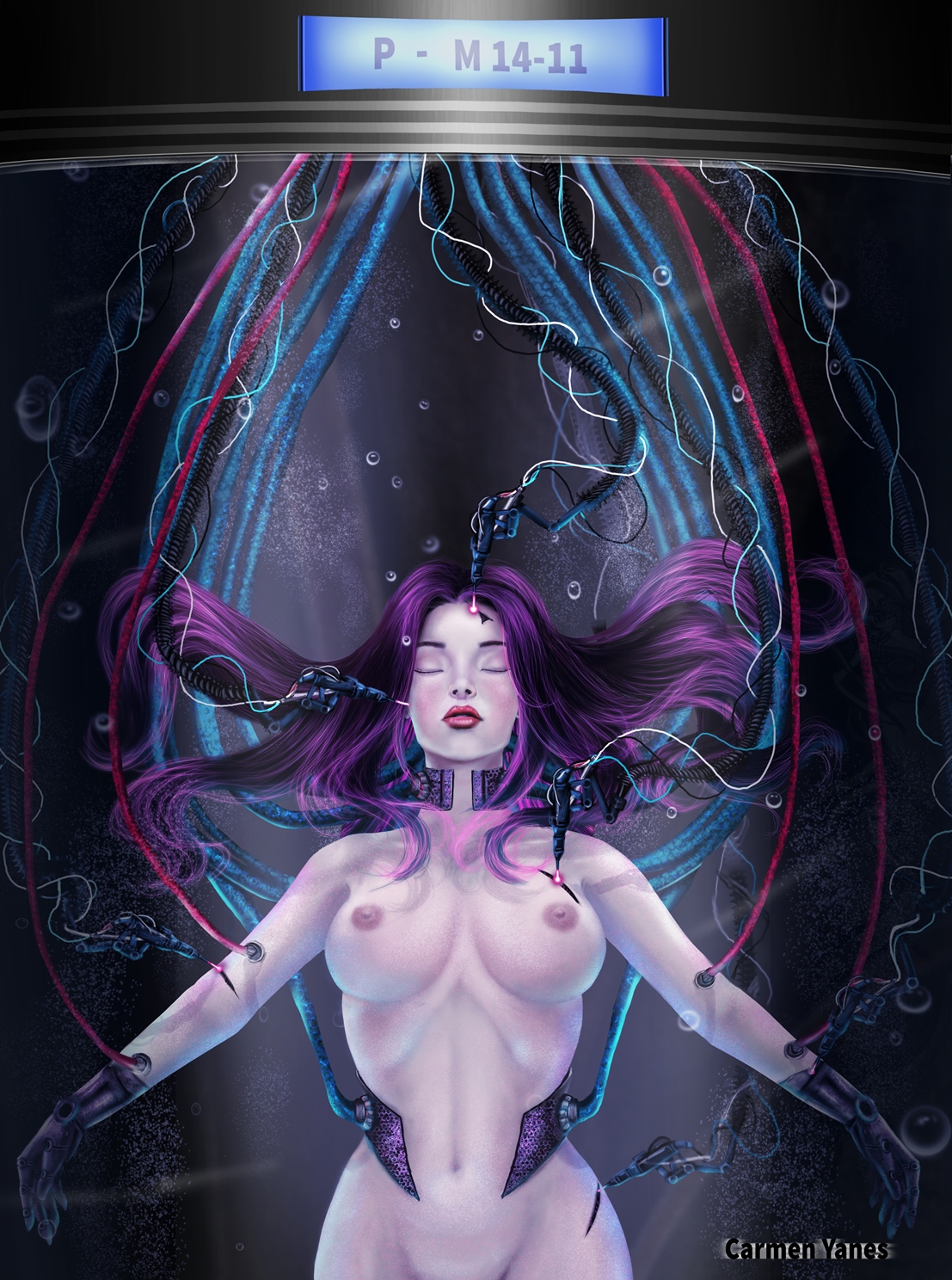 Happy weekend friends Steemians!!!
I already feel a little better from muscle aches and fever that I began to feel on Wednesday, so, I started working full hard in my participation for the @juliakponsford contest and thus being able to complete it and publish it today.
The theme for the contest this time is about - Artificial Intelligence - here you can read the contest rules if you wish to participate: https://steemit.com/@juliakponsford/art-explosion-week-79-theme-artificial-intelligence-20-steem-pal-and-ccc-in-prizes
On Tuesday I was thinking and erasing a lot for this topic, nothing concrete came to my mind about what I could do for my participation... after a while I got tired and went to do some shopping and in the afternoon I started thinking about my idea, in the end, it occurred to me to make a prototype, this IA would be designed for military affairs, would be able to hack any satellite in the world in addition to stealing nuclear launch codes... her skin is designed with high technology which allows her regenerate and not suffer any damage "if it occurs to someone to attack." But, is so much technology good for humanity?

Well, this girl's sketch was a bit simple, more striped than usual lol.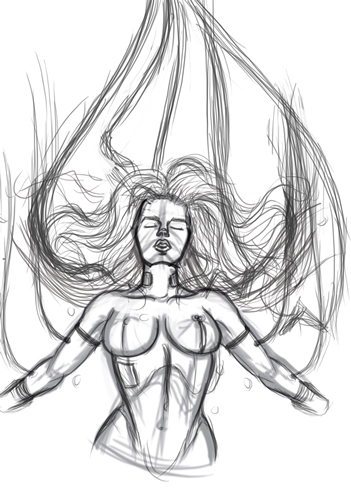 In this step I placed some colors, at first I wanted the skin a bit bluish, but then I decided on a more "natural" skin.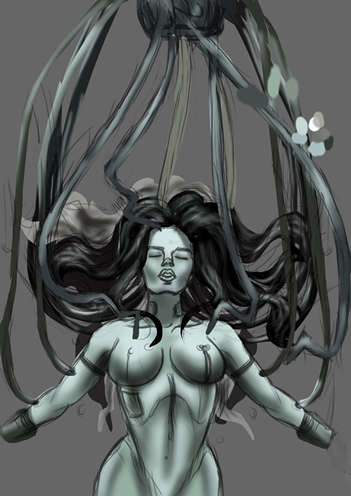 The first thing I did was the skin and the amount of cables it has holding it, in fact I did not focus much on the face at the beginning since I had vast details to do apart from the body [which was the easiest part]. The "Lasers" I made several attempts, are a bit simple but they worked for me.
In this part I already had most of the connections and cables ready, the laser guns improved a bit and I also had changes in her hair, before it seemed a bit exaggerated. He had so much hair that he couldn't fight well, then he was going to look like rapunzel lol.
FINAL RESULT
For the end if I focused on the body and the face, more than anything I changed the position since it was very upwards also I removed the spots of the brusher a little, I added several lights so that it did not look so boring. I also did what was going to be where I was, which is like a cylinder and I added several details, the truth is that this drawing has so many layers [Hmmmm I think it was more than eighty] but hey, the case is that I tried to make the effect that she is in and not out of the water... I hope to improve that later.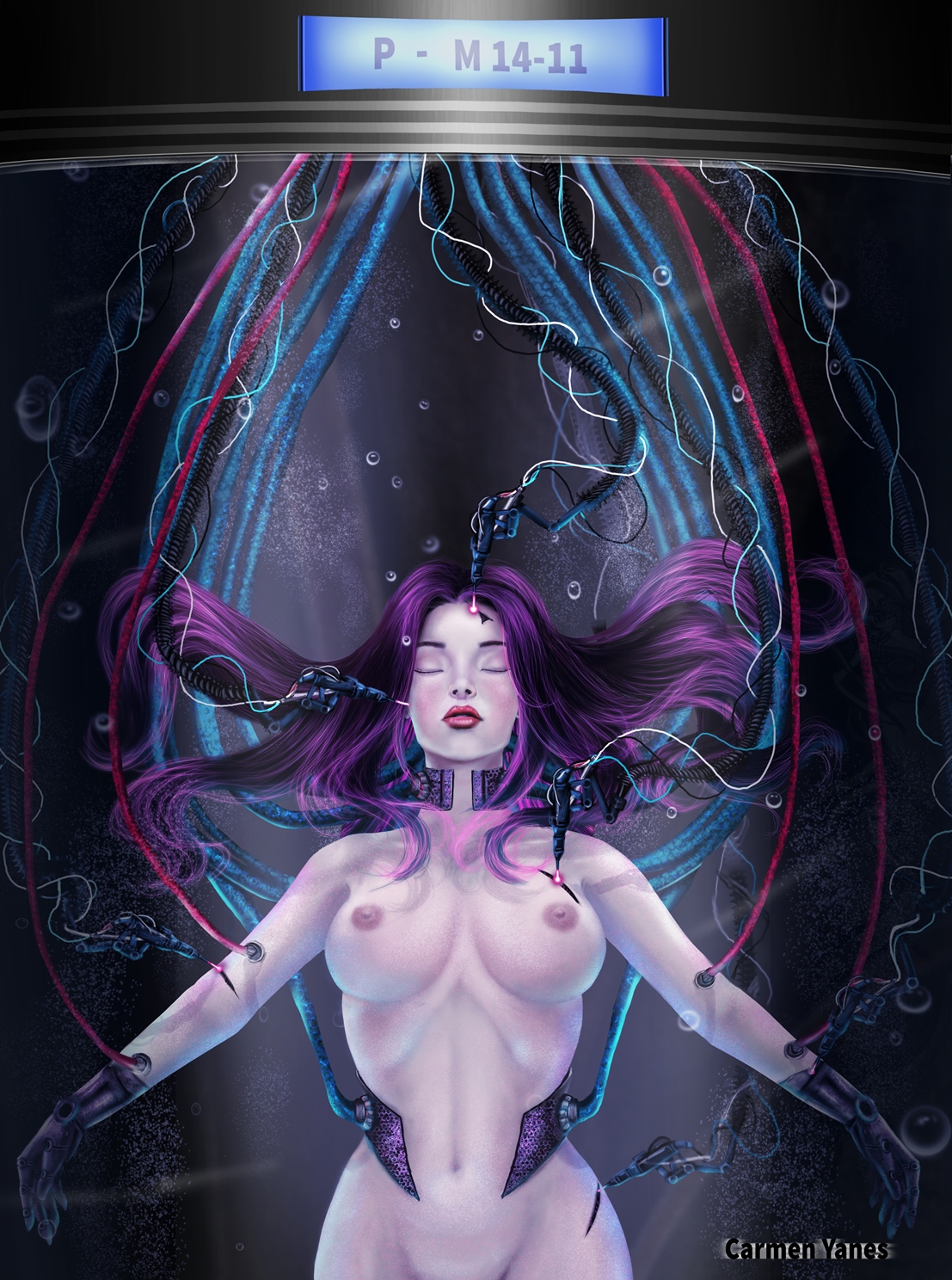 MATERIALS USED:
Laptop
Photoshop
Bamboo Tablet

Grateful to all of you for seeing and supporting my new work, I would be very happy if you leave me in the comments your opinions and criticisms regarding this style or my work. His criticisms help me to grow and encourage me to work harder to improve my art.

See you soon dear community, thank you for viewing and supporting my publications. 😜
Copyright @yanes94 - All rights reserved.