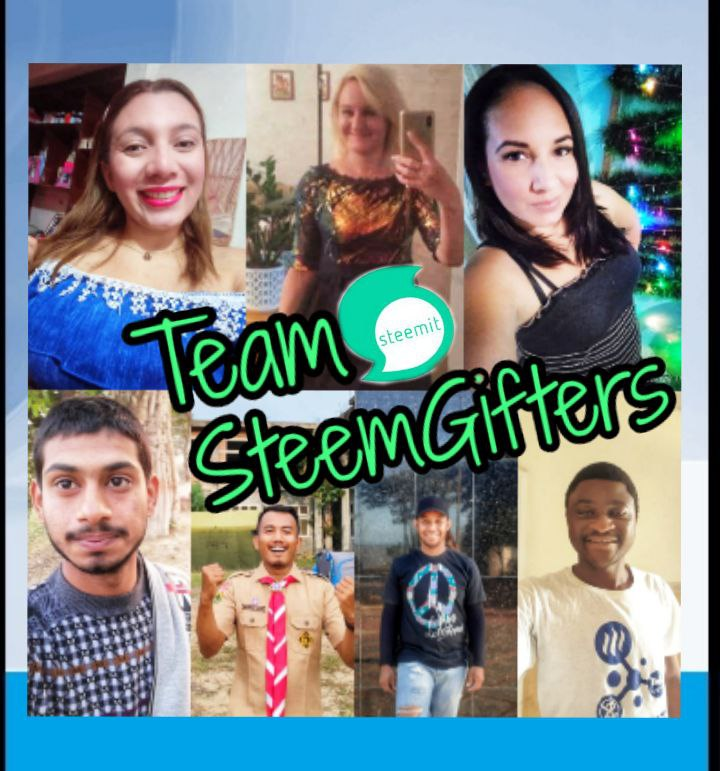 Hello, @steemitblog
Here we are! Ready to start.
We are 7 charismatic young people of different nationalities, ready to work as a team to help strengthen our platform, we believe and trust in the new dynamics and strategies that are being generated inside steemit, because the world is constantly evolving and we can't be left behind.
Once we consolidated the team, we started communicating and we realized that we have common interests to cure contents related to:
Lifestyle - health, fitness, sport, leisure, food, gardening, travel.
And so it can be seen in the description of each of the members "SteemGifters".
My name is Bang Mimi. I Live in Indonesia.
I am an Indonesia Promoter and already have legality in the PromoSteem community and Business Promoters in the Business Activity community.
As an active Steemit user, I actively promote youth and community leaders in Indonesia. Then I was also entrusted as a coordinator at the weekly PromoSteem Learn With Steem "Go Around to Caffe and Resto" event in Indonesia. I work with promoters around the world.
My Name is Abdul Qayyum Rajpoo. I live in pakistan.
I'm 21 years old.my education is IT (Information Technology). I'm since oct , 2017 active member of steemit platform.I'm admin of steem lifes community. Iam also working as a active member in many communities. I am a #club75 #club5050 members of steemit.
I am very happy that I am now a part of this team and will work hard. I am also pro comers on newcomers community. And I also work as a logo designer of my job.
I am Adean Garcia:
I want you to see what I am, and what I intend to be in steemit, I am passionate, with a sense of belonging, I give all of me to receive the same in return, my little way on the platform has been great but I want it to be super cool, I am MOD in @steem.sport, I know what healing means, I am a collaborator in @scouts and I know what loyalty means, I am starting in the Steem Brotherhood community because I know how much it fills the heart to help others, so I hope you trust me and my team.
I am on the platform since April 2021 , I currently have a little over 1600SP and a reputation of 64.6, numbers that represent my humble walk through this ecosystem. Thanks for the opportunity.
It´s a pleasure to greet everyone, and have the opportunity to introduce myself as a member of this great team that applies to be part of the community curators. My name is Isgledys Duarte studied Bachelor of Mathematics Education mention in Computer Science I am from Venezuela part of the Steemit family since January 2018. I have two girls of 13 and 4 years, currently an active member of the Steemit cryptoacademy and participate in the activities organized in the different communities that make up the platform, especially on issues related to writing, recreation and food. In addition to being part of the kindness activities and Meet up in my hometown with peers from my state.
I am an automotive engineer, but my current job is steemit. I belong to the new generation of the platform committed to its growth, is one of the reasons why I think that our union is a strength to be taken into account as curators, we all fulfill this premise.
I lead Contest - "Object of the Week", Heading "Handmade", Steemit-quiz "Guess the Movie", and I'm happy that I am already a Dolphin.
Hello friends, it is a pleasure to be part of this wonderful team that is applying for Community Curators, this would be a great opportunity for all of us who believe and trust in the steemit platform that with it we have had a better life.
My name Alba Andreina in steemit @albaandreina I am 31 years old by profession Bachelor of Gerontology, Master in Public Health Management, Speaker and yoga instructor.
I came to this platform in 2018 and I really fell in love, I have focused on the topics of health, fitness, recreation and the diary game.
Today I am the leader of the Falcón Region in the #scout community and I have also entered and instructed many people in steemit.
Hello @steemitblog, I am so glad to have gotten the information that the Curators are back, it also gladdens my heart to know that opportunity is opened for anybody who wants to apply as far as they meet up with the requirement.
While contemplating on who to contact in other to form a team, @yancar contacted me through telegram and requested that I should join him with other members to form a curation team.
Here is a brief description of myself:
My name is UbongUdofot, but I answer @ubongudofot on the steemit platform. I am From Nigeria and I have been on steemit since May 2021 till date. I have been supporting @worldsmileproject, @adollaraday, and @steem.welding and I belong to both of those charity project teams.
I believe in teamwork.
As you may realize these names may not be as familiar as others but we are active steemians in our different communities, always looking for the future of the platform from different points of view, through exclusive and quality publications, promoting steemit in our communities attracting people and instructing them, performing acts of kindness and charity towards the needy and last but not least being constant, disciplined and organized people always leaving constructive messages to our fellow steemians this is what makes us a good team.
It should be noted that we are people with all the willingness to work as community curators, with experience to carry out this great task, we consider ourselves a people capable of achieving every challenge we face, that is to say "We are the size of the challenge we set ourselves" which is a strength since the renewal of strategies combine perfectly with new faces, coupled with the fact that this will make us work in a committed and effective way to achieve the primary objective which is the greatest coverage of users with equal opportunities for all.
In this sense, schedules will be established according to the time zone of each member of the team, in order to carry out the curation and specifically taking care of the voting power of the curator account; each user will have a schedule between 3 and 6 hours to make the selection of content, verification of plagiarism and then the vote of the account. For this purpose, we have proposed the strategy that each member of the team will work one day whit the curatorial account, as follows.
This strategy can be changed or adjusted in order to optimize results.
Proper compliance with the rules, use of tags, markdown, participation in club5050, club7575 and club100 will be taken into account, this will encourage the creation of quality content and we will have zero tolerance for plagiarism.
There are many tools to detect plagiarism such as Duplichecker, Quetext and Antiplagiarism, which will facilitate the detection of plagiarism, likewise we are open to new suggestions on this topic.
Without further ado, we would like to thank you for the opportunity you have given us and we trust in your selection criteria for the election of the community curators.
Let's keep growing together.