Mom, daughter, and myself (behind the camera).
Today was a very busy day. We were up by 430 am and headed out the door by 5 heading into town for a quick breakfast of coffee, sausage and egg then on to drop me off at my mother's house. I snuck in as quietly as I could and snuggled up on the couch with her cat and some YouTube videos. Around 8am I was woke up by an alarm to wake Mom up.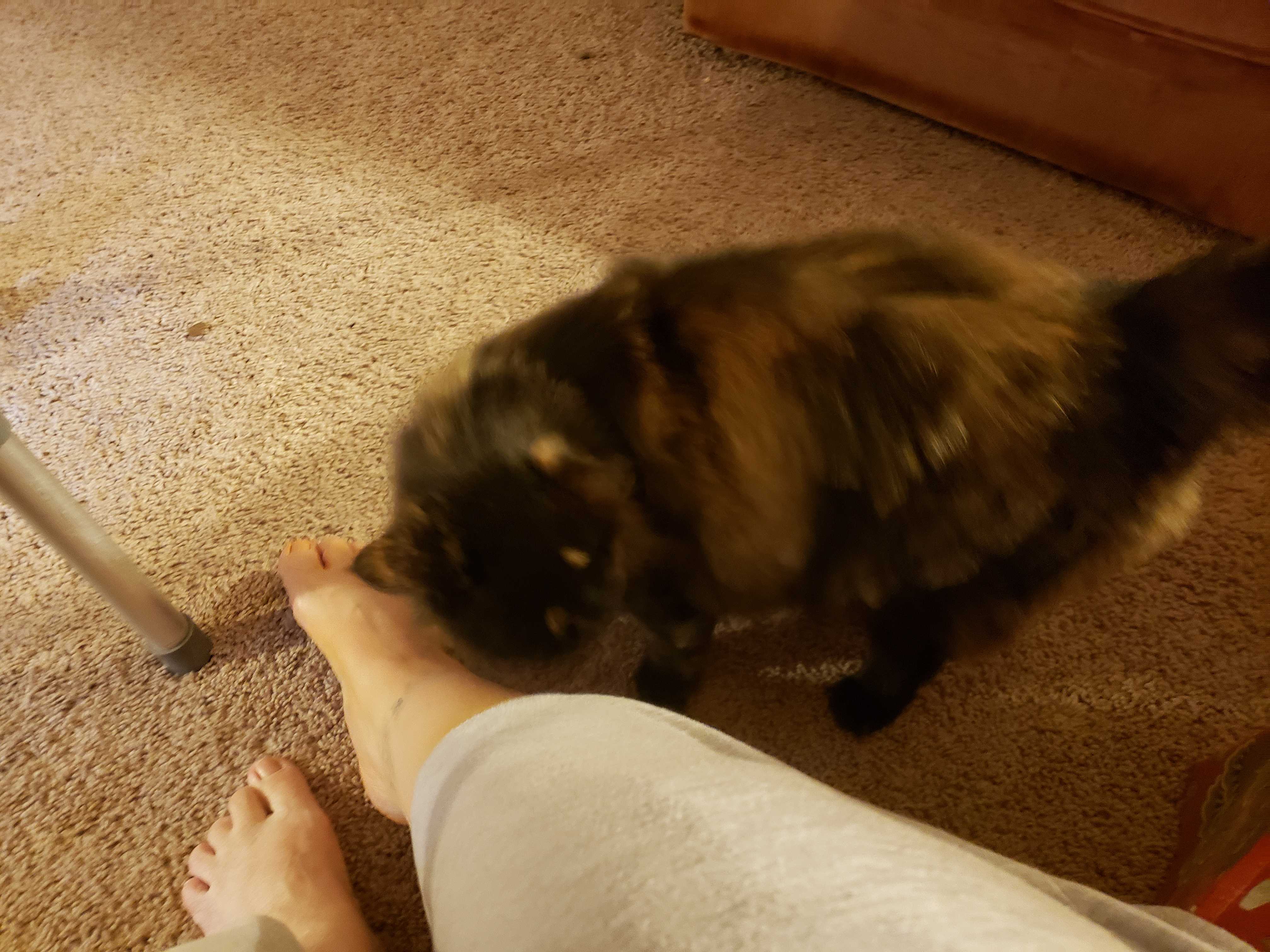 Mom's cat Ash not liking me taking her photo.
The alarm kept sounding and it had been about five minutes. Fearfully, I walked into Mom's room as quietly as I could. She has diabetes and I worried something might have gone wrong; how could anyone sleep through that alarm? When I turned off the alarm she did not stir. Now I was very worried so I called her name; no response. I called it a second time; still no response. So I reached out and touched her shoulder. Suddenly her eyes flew open and she sat up screaming causing me to scream in total shock. We both looked at each other and screamed some more. It was not what I was expecting this morning and, most definitely, not what Mom had planned.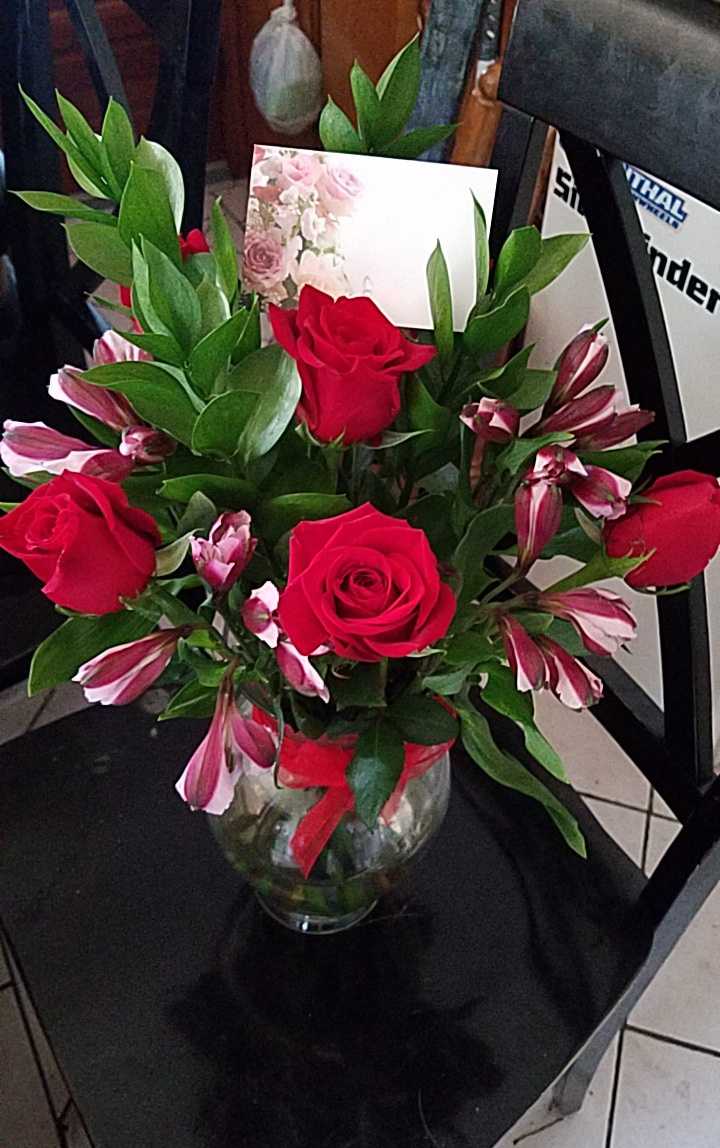 The rose's from Daddy.
The one thing Daddy asked me to continue doing for for Mom was to make sure she had Rose's for their anniversary and her birthday. Thanks to my daughters we were able to get her the flowers and surprise her. She was so happy and thanked us all for honoring his wishes. It was the least we could do. Amber (my oldest and the one here in town) brought the roses and spent a major part of the day with Mom and me. We told Mom it was her day and so she got to do whatever she wanted. She wanted to go to On The Border and eat then share a dessert with her. How could we refuse this request?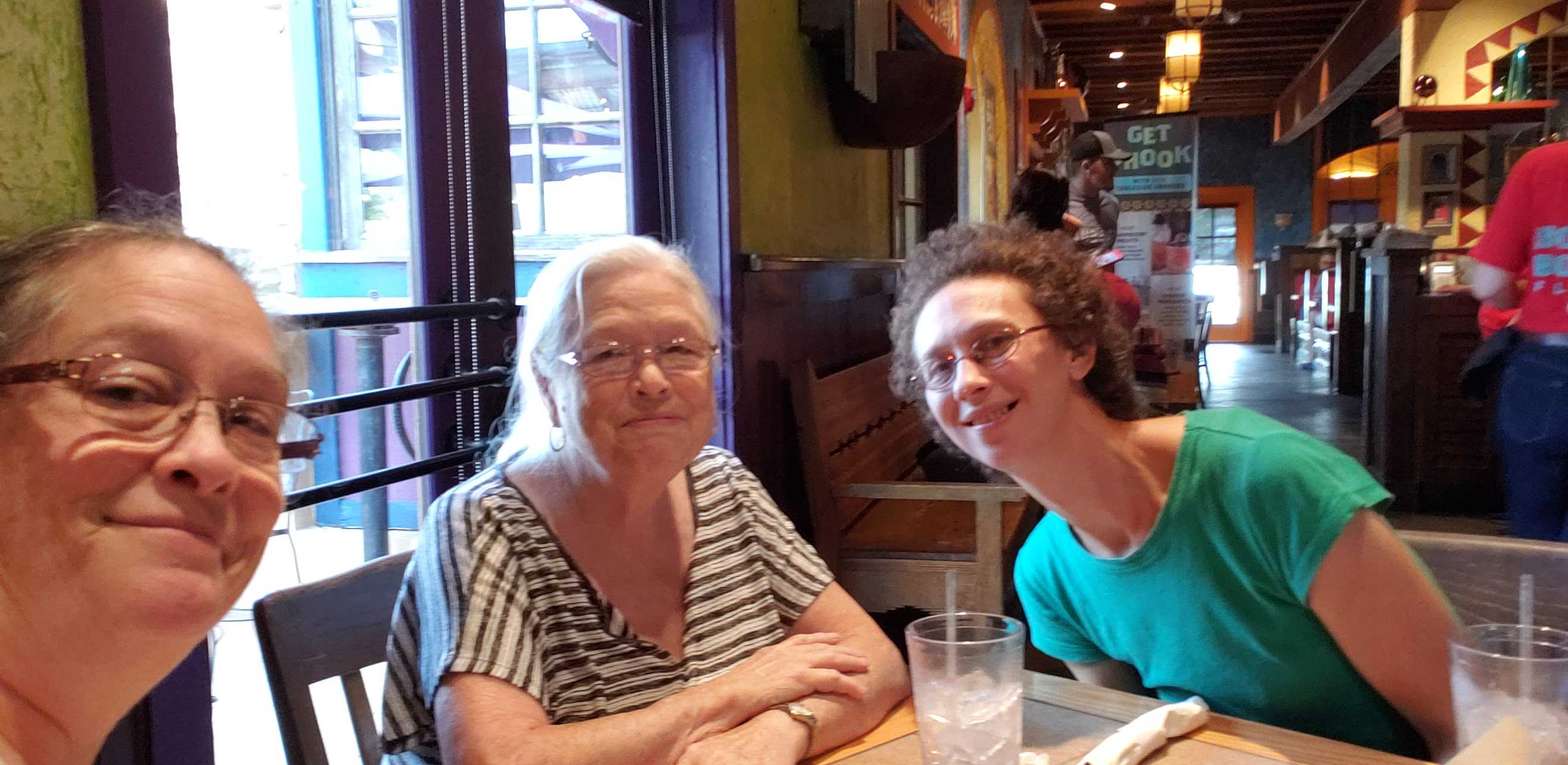 The three of us enjoying a little fun.
I have not seen my mom laugh so hard and just have some fun in a long time. The past two years have been extremely difficult, but we are starting to see her change and grow as an independent person. She was smiling again and enjoying life. It truly warmed my soul. Then she dumped a full glass of ice water into my lap. I'm not sure who laughed harder, my mom or my daughter.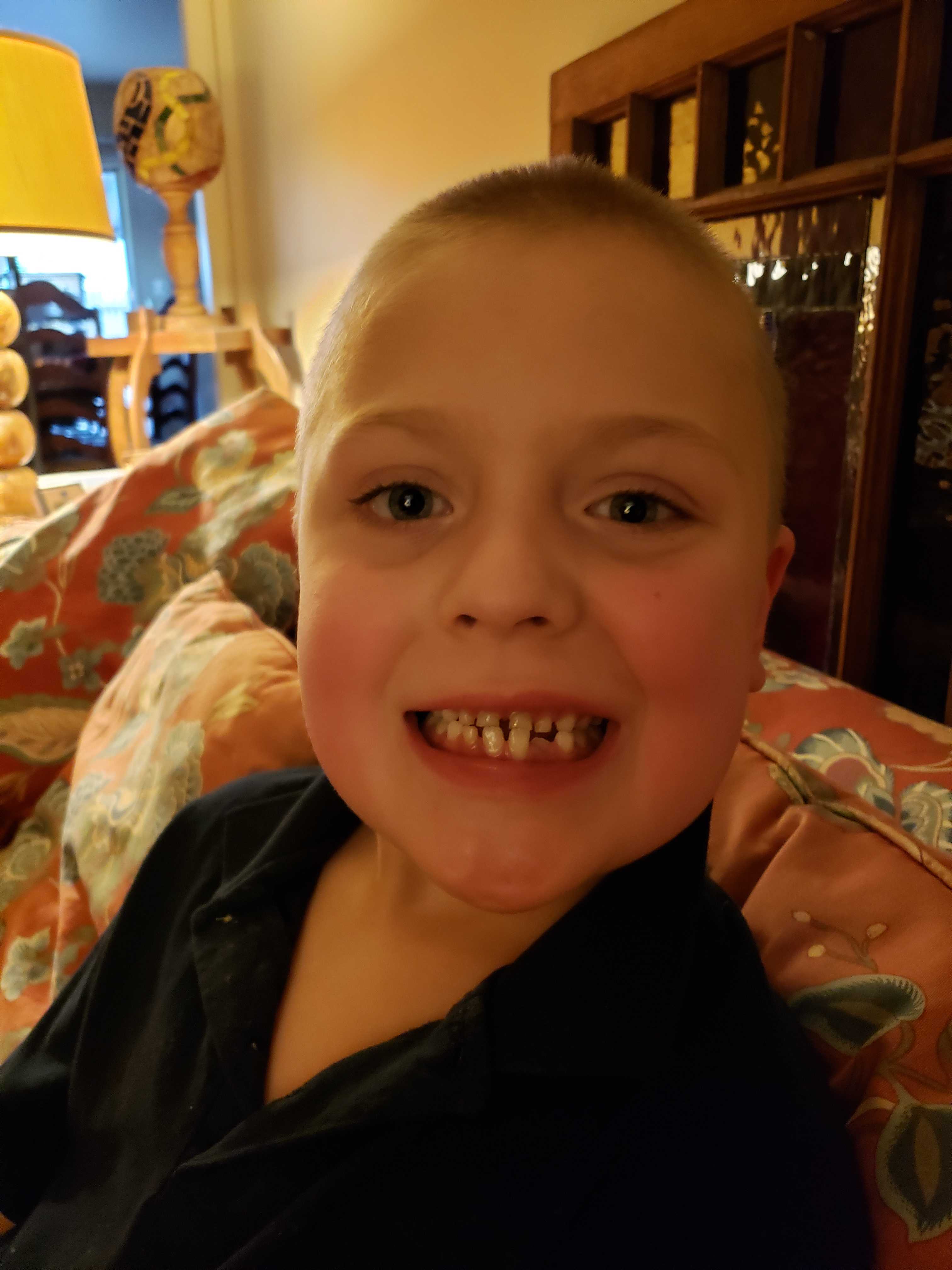 Grand George the Fourth and his snaggled toothness.
Mom picks up my grandson to help my daughter with her school pick up schedule so I was able to spend a fun few hours with Grand George the Third. We sang, watched music videos and danced. It was such amazing fun. Mom was all smiles and singing right along with us. She was happy.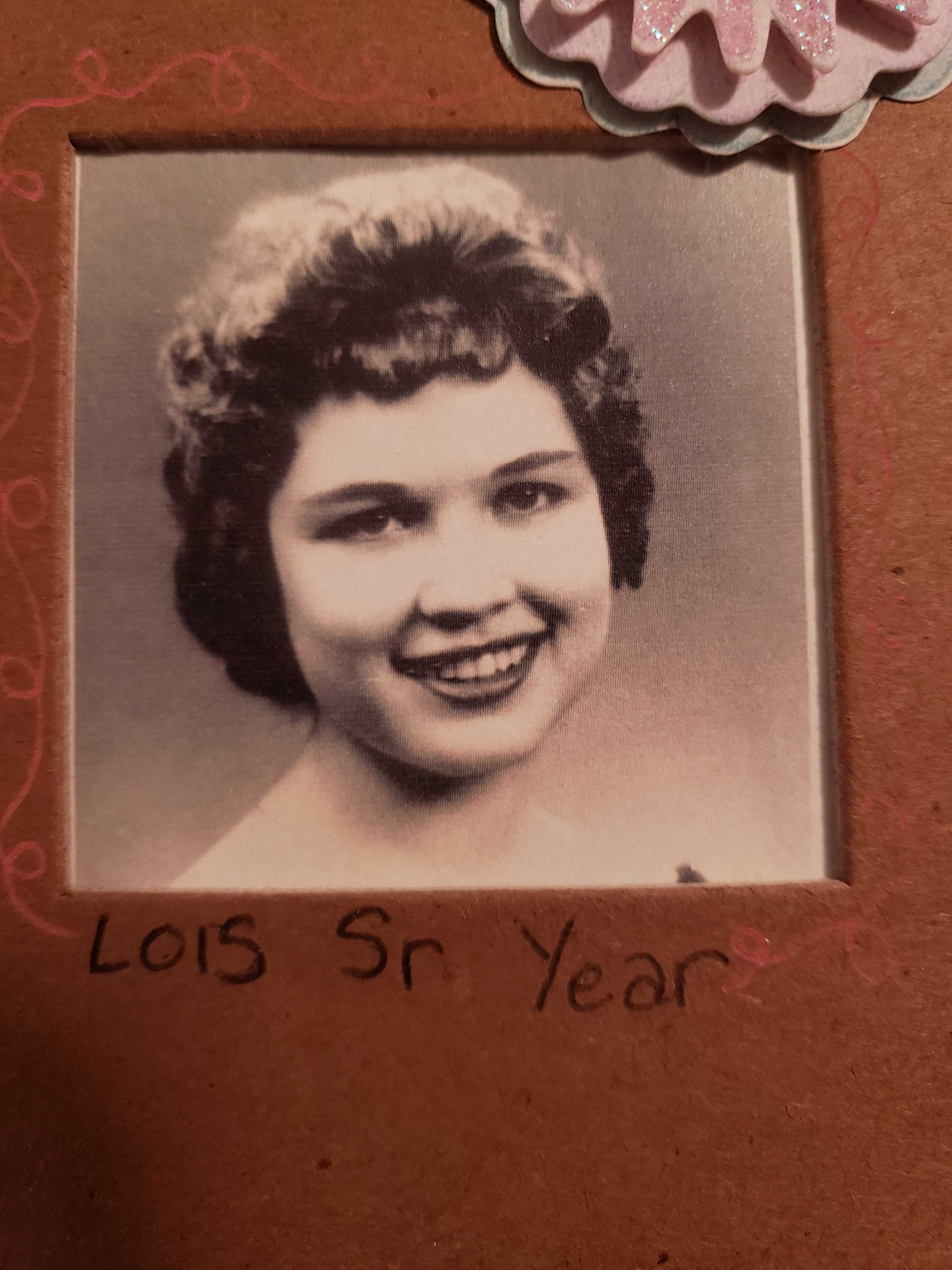 Mom at 18 years old.
My parents were married 58 years and in that time there was happiness, anger, friendship, forgiveness, and mostly love. When dad passed away last March I was very worried about Mom. She was being strong and had a brave face on, but I could see she was very sad and missed Daddy very much. I guess this is normal, but it still broke my heart. As the days went on thought, I have seen her heal and she is coming out of the sadness and we are beginning to see a new person. Mom is finding her way and that is what was so wonderful about today. We walked, danced, and truly enjoyed being happy together. What a great way to celebrate two people who loved eached other very much.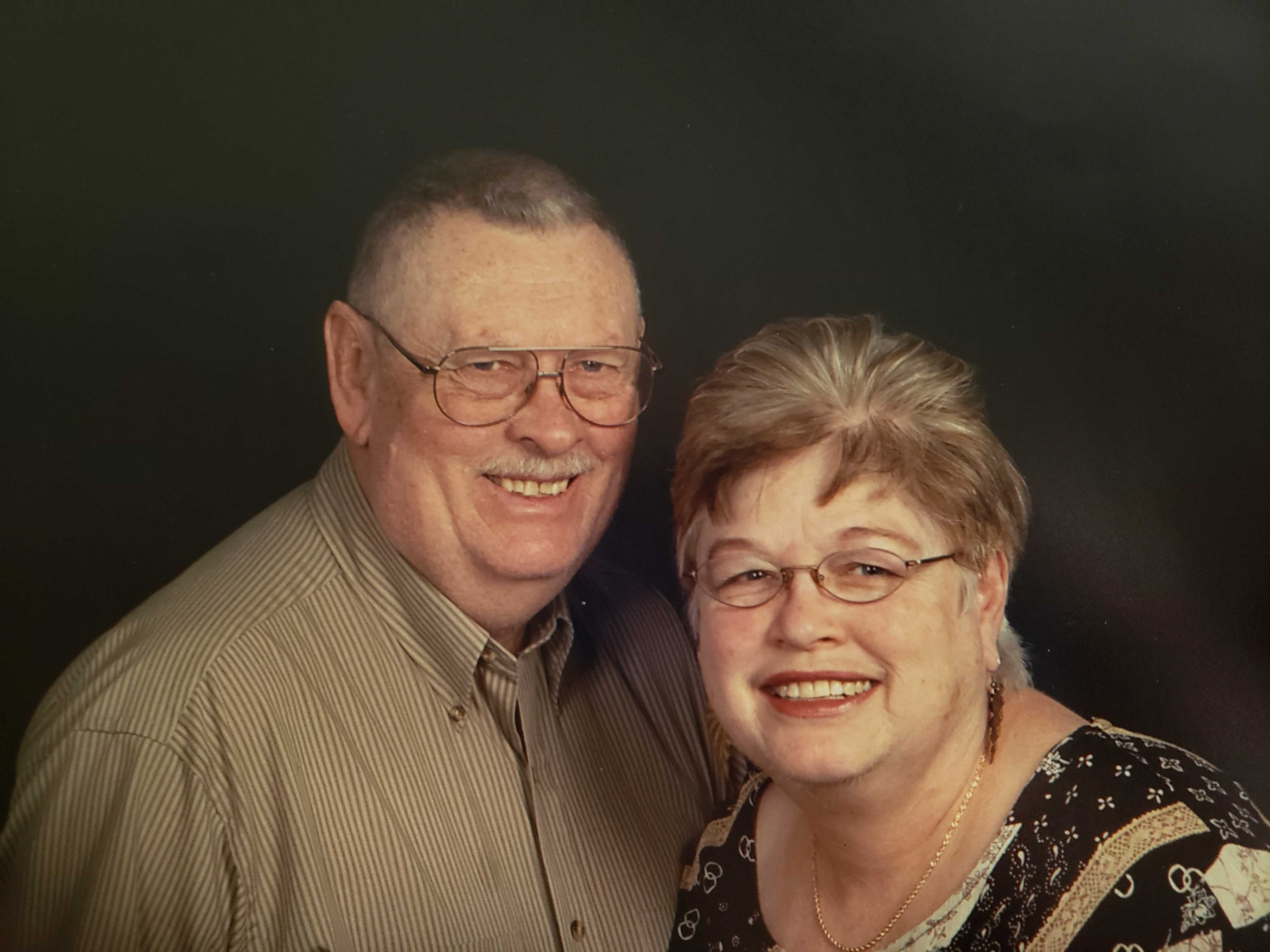 Mom and Dad.
Thanks for spending time with me and see you tomorrow.
Ren

2582
Dancing