Have you been afraid of the dark? If you are one of those people who are afraid of the dark, do not be ashamed, you are not the only one. Many people tend to leave a light on at night, a light that removes darkness from the house but is not annoying enough to prevent you from sleeping well.

Sometimes the electric street light pole is located in front of our house, its light enters through the windows, illuminating our home in a dim way during the dark night when we all go to sleep. Having the light pole in front of the house is very flattering apart from saving money on the electricity bill of our home, we can get up in the middle of the night without tripping over the furniture and the presence of light provides us with security and calm.
I remember the year 2019 when the whole country was in complete darkness, some regions for more than 15 days while others including mine only for a few days, the darkness like that I had never experienced were so dense that no object could be distinguished of the house, you literally had to walk around everything to be able to move very carefully inside the house.
They were very hard days that took us by surprise, we were not prepared for something like that, there were no candles or lanterns ready, you could not listen to the radio, watch television or use the cell phone, the anguish due to misinformation grew together with sadness upon arrival. the dark night, not to mention that we could not buy food or refrigerate.
The need for light and its importance was made aware in many of us, we have the tendency to not give importance to the daily things that we enjoy such as light, psychologically its absence causes a negative effect to the point that it depletes the spirit and forces of all quickly, I lived it, we lived it.
In the aspect of spiritual life, the light of God that we find in his word has the same importance in us as the light produced by electricity, to illuminate our inner house made up of the soul and thoughts, removing the darkness that causes fear of the unknown. and to the future.
We can turn on the light of faith and let it shine within us so that we can move without the fear of tripping over objects around us, the darkness can gradually clear until it is completely dissipated when we trust in the light of God.
The problems of life need the ray of light from the word of God to be dealt with in such a way that they lose the power to cause us fear or despair, becoming aware of the power of the light of God in me must drive away fear to live with a feeling of security and trust.
The path of learning to live with God is long and lasts a lifetime, sometimes we firmly believe, others we falter and fall from the podium of faith, but while we are in this life we ​​continue to look at the invisible because it is he who gives the strength to maintain us. together with him.
This is a clear example of the light of God that we must turn on. The Bible says in 1 Kings 5: 4 Now Jehovah my God has given me peace everywhere; for there are neither adversaries nor evil to fear.
God help us to believe in his word by trusting and waiting on him.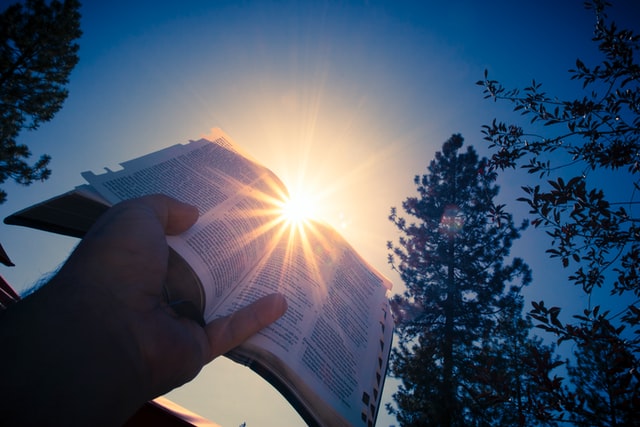 Photo Free by Timothy Eberly on Unsplash
- HeartChurch International Christian Ministry
https://www.heart-church.org/#
- Heart Farms, virtual land game
https://farm.heart-church.org/live/
- HeartChurch Community on Steemit
https://goldvoice.club/steem/@sc-v/posts
A percentage of what this publication obtains will be donated to the account @steemchurch in support of the Bread From Heaven social program, which is food for poor children in Anzoátegui Venezuela.
Proverbs 22: 9 The generous will be blessed because he gives of his bread to the poor. The Bible.
Until next time,
Victoria
Spanish
¿Has sentido miedo a la oscuridad? si eres de las personas que sentimos miedo a la oscuridad, no te averguences no eres el único. Muchas personas acostumbran a dejar encendida una luz durante la noche, una luz que aleje la oscuridad de la casa pero que no sea molesta como para no dejarte dormir bien.
Algunas veces el poste de alumbrado eléctrico de la calle esta ubicado frente a nuestra casa, su luz entra por las ventanas alumbrando de forma tenue nuestro hogar durante la noche oscura cuando todos nos vamos a dormir. Contar con el poste de luz frente a la casa es muy favorecedor aparte de ahorrar dinero en la cuenta de la electricidad de nuestra morada, podemos levantarnos en medio de la noche sin tropezar con los muebles y la presencia de luz nos proporciona seguridad y calma.
Recuerdo el año 2019 cuando todo el país se quedo en completa oscuridad, algunas regiones por más de 15 días mientras que otras incluyendo la mía solo por unos cuantos días, la oscuridad así nunca la había vivido eran tan densa que no se podía distinguir ningun objeto de la casa, literalmente había que andar palpaldo todo para poder con mucho cuidado moverse dentro de la casa.
Fueron días muy duros que nos tomo por sorpresa, no estabamos preparados para algo así no habían velas o linternas alistadas, no se podía escuchar radio, ver la televisión o usar el teléfono celular, la angustia por la desinformación crecía aunado a la tristeza al llegar la noche oscura, eso sin contar que no podiamos comprar alimentos o refrigerar.
La necesidad de la luz y su importancia fue concientizada en muchos de nosotros, tenemos la tendencia a no dar importancia a las cosas cotidianas que disfrutamos como la luz, en lo psicológico su ausencia causa un efecto negativo al punto que agota el ánimo y las fuerzas de todos rapidamente, yo lo viví, nosotros lo vivimos.
En el aspecto de la vida espiritual la luz de Dios que encontramos en su palabra tiene en nosotros la misma importancia que la luz producto de la eléctricidad, alumbrar nuestra casa interior compuesta por el alma y los pensamientos alejando la oscuridad que causa miedo a lo desconocido y al futuro.
Podemos encender la luz de la fe y dejar que brille dentro de nosotros y así poder movermos sin el temor a tropezar con los objetos alrededor, las tinieblas pueden aclararse poco a poco hasta ser disipadas por completo cuando confiamos en la luz de Dios.
Los problemas de la vida necesitan del rayo de luz de la palabra de Dios para ser tratos de manera que pierdan el poder de causarnos miedo o desesperación, tomar conciencia del poder de la luz de Dios en mi debe alejar el miedo para vivir con un sentimiento de seguridad y confianza.
El camino de aprender a vivir con Dios es largo y dura toda la vida, a veces creemos con firmeza otras flaqueamos y caemos del podio de la fe, pero mientras estemos en esta vida continuamos mirando al invisible porque es él quien da la fortaleza para mantenernos junto a él.
Este es un claro ejemplo de la luz de Dios que debemos encender La Biblia dice en 1 Reyes 5:4 Ahora Jehová mi Dios me ha dado paz por todas partes; pues ni hay adversarios, ni mal que temer.
Dios nos ayude a creer en su palabra confiando y esperando en él.
- Ministerio Cristiano Internacional HeartChurch
https://www.heart-church.org/#
- Heart Farms, juego de tierras virtuales
https://farm.heart-church.org/live/
- Comunidad HeartChurch en Steemit
https://goldvoice.club/steem/@sc-v/posts
Un porcentaje de lo que esta publicación obtenga será donado a la cuenta @steemchurch en apoyo al programa social Bread From Heaven, el cual es alimento para niños pobres en Anzoátegui Venezuela.
Proverbios 22:9 El generoso será bendito porque da de su pan al pobre. La Biblia.
Hasta la próxima,
Victoria