Some years ago I have heard the word change in different speeches but I have never associated the relationship between change and advance. I have the desire to move from where I am to a new and better level, place, territory, condition etc, this desire has been in me for a long time.

I have been opposing change because there is always anguish to what the unknown will bring, opposing me limits me and makes me lose the beautiful surprises that God has, those things that he has determined to give me, that he has put my name on and they are prepared for me but Because of my resistance, I close the door preventing them from coming, then I feel frustrated because what I expect does not come and I think that my prayers are not heard, then the problem is not that God does not hear me but that I do not align myself to accept the change and what it brings.
Studying the book It is not by sight by Pastor Cash Luna opened my eyes to change my prayer about the things related to the advancement that I want, preparing myself mentally to accept change without negative, understanding that it opens the door to opportunity and when it occurs it is the moment to snatch her without fear or doubt. If God gives the opportunity, he will also give everything necessary to enjoy and maintain the good that it brings.
You should see change for what it is, something natural that is present in everyone's life and in all things, nothing stays the same for long, nature is renewed, animals die and reproduce just like the human being, Jobs come and go, money the same, life, health, we move house, we start new things and we finish others. Life is full of changes, so why is change so terrifying? I do not know exactly but I recognize that it is necessary to modify the thought.
I want to move forward and progress brings changes, I want to leave behind what does not please me and move to better conditions for a continuous delight, I also have to bear in mind that not everything will always be like the pink light in Paris.
It's all about trusting God!
John 15: 5 He who abides in me and I in him, he is the one who bears much fruit. The Bible.
- HeartChurch International Christian Ministry
https://www.heart-church.org
Heart Farms, virtual land game
https://farm.heart-church.org/live/
- HeartChurch Community on Steemit
https://goldvoice.club/steem/@sc-v/posts
- Diary Telos
https://goldsmith.money/daily-telos/
A percentage of what this publication obtains will be donated to the account @steemchurch in support of the Bread From Heaven social program, which is food for poor children in Anzoátegui Venezuela.
Proverbs 22: 9 The generous will be blessed because he gives of his bread to the poor. The Bible.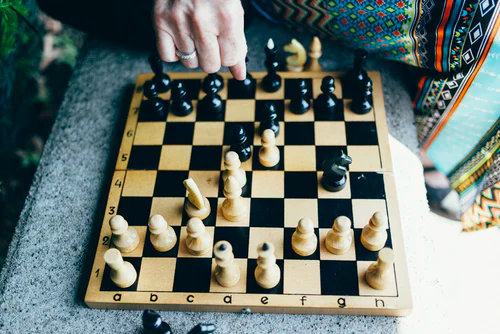 Photo Free by Chase Clark on Unsplash

How good it is to write, until next time.

Victoria


Own screenshot
Spanish
Cambiar para avanzar
Hace algunos años he escuchado la palabra cambio en direfentes discursos pero nunca había asociado la relación que existe entre cambiar y avanzar. Tengo el deseo de avanzar de donde estoy hacia un nuevo y mejor nivel, lugar, territorio, condición etc, este deseo está en mi desde hace mucho tiempo.
He estado oponiéndome al cambio porque siempre hay angustia a lo que traerá lo desconocido, oponerme me limita y hace que pierda las sorpresas bonitas que Dios tiene, esas cosas que él ha determinado darme, que le ha puesto mi nombre y están preparadas para mí pero que por mi resistencia cierro la puerta impidiendo que lleguen, entonces luego me siento frustrada porque no llega lo que espero y pienso que mis oraciones no son oídas, luego el problema no es que Dios no me oye sino que yo no me alíneo para aceptar el cambio y lo que traiga.
Estudiar el libro No es por vista del Pastor Cash Luna abrió mis ojos para cambiar mi oración sobre las cosas relacionadas al avance que deseo preparándome mentalmente para aceptar el cambio sin negativa, entendiéndo que abre la puerta a la oportunidad y cuando se presente es el momento de arrebatarla sin temor ni dudas. Si Dios da la oportunidad también dará todo lo necesario para disfrutar y mantener el bien que la misma trae.
Debería ver el cambio como lo que es, algo natural que está presente en la vida de todos y en todas las cosas, nada permanece igual por mucho tiempo, la naturaleza se renueva, los animales mueren y se reproducen al igual que el ser humano, los trabajos llegan y se van, el dinero igual, la vida, la salud, nos mudamos de casa, empezamos cosas nuevas y terminamos otras. La vida esta llena de cambios, entonces ¿por qué aterra tanto cambiar? No lo se con exactitud pero reconozco que es menester modificar el pensamiento.
Quiero avanzar y los avances traen cambios, quiero dejar atrás lo que no me complace y moverme a mejores condiciones para un continuo deleite, también tengo que tener en cuenta que no todo siempre será como la luz rosa en París.
¡Todo se trata de confiar en Dios!
Juan 15:5 Aquél que permanece en mí y yo en él, ése es el que da mucho fruto. La Biblia.
- Ministerio Cristiano Internacional HeartChurch
https://www.heart-church.org
Heart Farms, juego de tierras virtuales
https://farm.heart-church.org/live/
- Comunidad HeartChurch en Steemit
https://goldvoice.club/steem/@sc-v/posts
- Diario Telos
https://goldsmith.money/daily-telos/
Un porcentaje de lo que esta publicación obtenga será donado a la cuenta @steemchurch en apoyo al programa social Bread From Heaven, el cual es alimento para niños pobres en Anzoátegui Venezuela.
Proverbios 22:9 El generoso será bendito porque da de su pan al pobre. La Biblia.
Que bien me hace escribir, hasta la próxima.
Victoria