Greetings to the entire community. After a few days without uploading new content, today I bring you another animated portrait, this time it is a former colleague, after so much insistence to make a design and due to the time I have left over from this quarantine I decided to make a portrait, resulting in a better drawing than I expected, here I present the work, and remember do not leave your homes, for the good of all, take care and bless you all.
I hope it's to your liking!
Saludos a toda la comunidad. Después de algunos días sin subir contenido nuevo, hoy les traigo otro retrato animado, esta vez se trata de una ex compañera de trabajo, después de tanta insistencia por realizarle un diseño y debido al tiempo de sobra que tengo producto de esta cuarentena me decidí a retratarla, resultando un dibujo mejor de lo que esperaba, acá les presento el trabajo, y recuerden no salgan de sus casas, por el bien de todos, cuídense y bendiciones a todos.
¡Espero sea de su agrado!
Drawing development / Desarrollo ✏️
---
The general technique of this drawing is composed of multiple layers of shadows and brightness with different opacities and mixing modes, between normal, multiply darkness and add luminosity, layers of patterns and the use of different filters.
La técnica general de este dibujo está compuesta de múltiples capas de sombras y brillos con diferentes opacidades y modos de mezclas, entre normales, oscuridad multiplicar y luminosidad añadir, capas de patrones y el uso de diferentes filtros.
Time interval / Intervalo de tiempo ⏳
---
Below is a series of images where you can see the progress of the drawing with their respective duration. Execution time of 4 hours. Each section of the drawing took an average of 40 minutes to complete.
A continuación, se muestra una serie de imágenes donde se puede observar el avance del dibujo con su respectiva duración. Tiempo de ejecución comprendido de 4 horas. Cada sección del dibujo tomo un promedio de 40 minutos en completarse.
| ✴Time: 40min | |
| --- | --- |
| | ✴Time: 80min |
| --- | --- |
| ✴Time: 120min | |
| --- | --- |
| | ✴Time: 160min |
| --- | --- |
| ✴Time: 200min | |
| --- | --- |
| | ✴Time: 240min |
| --- | --- |
| ✴Post-edition | |
| --- | --- |
| | ✴Reference |
| --- | --- |
Gif layers / Gif capas ❐
---
The design of the drawing consists of a total of 7 layers, these are distributed in sections following an order or hierarchy for proper visualization. The following images show a summary of them grouped according to similar characteristics.
El diseño del dibujo consta de un total de 7 capas, estas están distribuidas en secciones siguiendo un orden o jerarquía para su correcta visualización. En las siguientes imagenes se muestra un resumen de las mismas agrupadas según características similares.
Used tools / Herramientas usadas📌
---
Programs: Imovie
Procreate
SketchBook
Giphy
Tablet: Ipad Pro
Apple Pencil
Brushes: Airbrush
Pencil
Felt-tip pen
Skin brush
Canvas size: 3000*3000 Px
Past drawings / Dibujos pasados 🔙
---
Thank you for your attention. We'll see you again in the next post, don't miss it.
Gracias por la atención prestada. Nos veremos de nuevo en el proximo post, no se lo pierdan.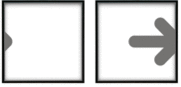 Copyright © @victartex - All Rights Reserved. Design and editing by own authorship.
El punto de partida de todo logro es el deseo.
Napoleon Hill