The Yak
So about 6 weeks ago I picked up my first kayak, I have wanted one of these for a long time and now I have a place of my own to store it and a steady job I decided to grab one.
For those who are interested it's a viper 12 pro fishing kayak made by surge kayaks, they go for $900 AUD but I got mine for $750 on special with a discounted PFD.
Specs:
dimensions: 3630cm L x 780 cm W x 350 cm H
weight: 31 kgs
recommended max weight capacity: 180 kgs (more than enough for my heavy ass and all my gear)
material: LDPE
Some of the accessories include:
2 rod holders out the back for trolling
1 rod holder center mount for fishing
carry handles all over
center live well, with plenty of mounting options on the lid which clips on
rear tank well, with bungee cord for holding gear in place
storage well which is sealed and can hold a tonne of gear
rudder system for easy manuverability (I have already tried it and it works a treat)
Here are a few pics of it :)
I already have taken it for a test run and it's smooth as, glides across the water.
Eventually I will look at getting a small rechargeable deep cycle battery, fish finder and lights for it but for now it's a daytime only rig.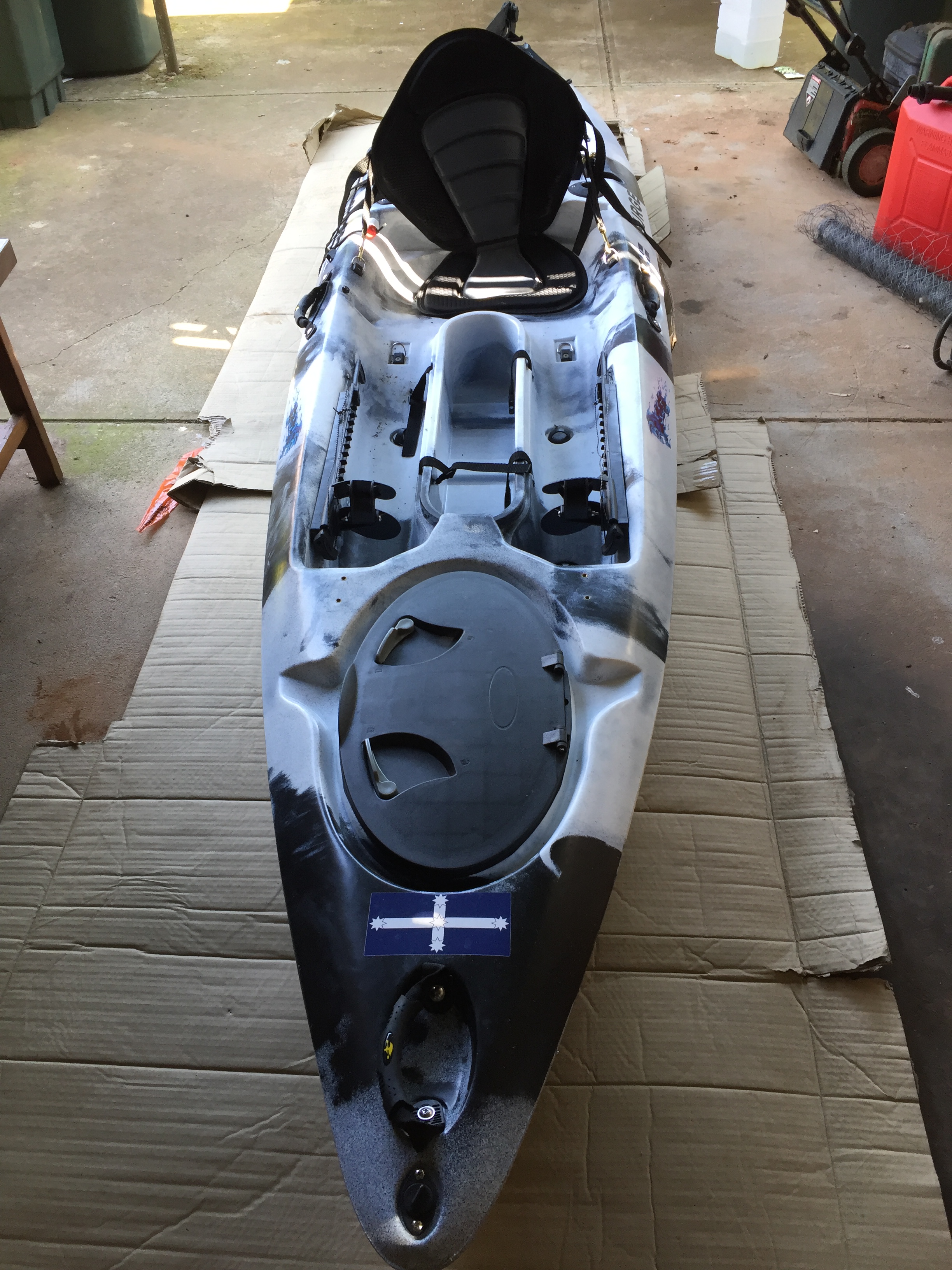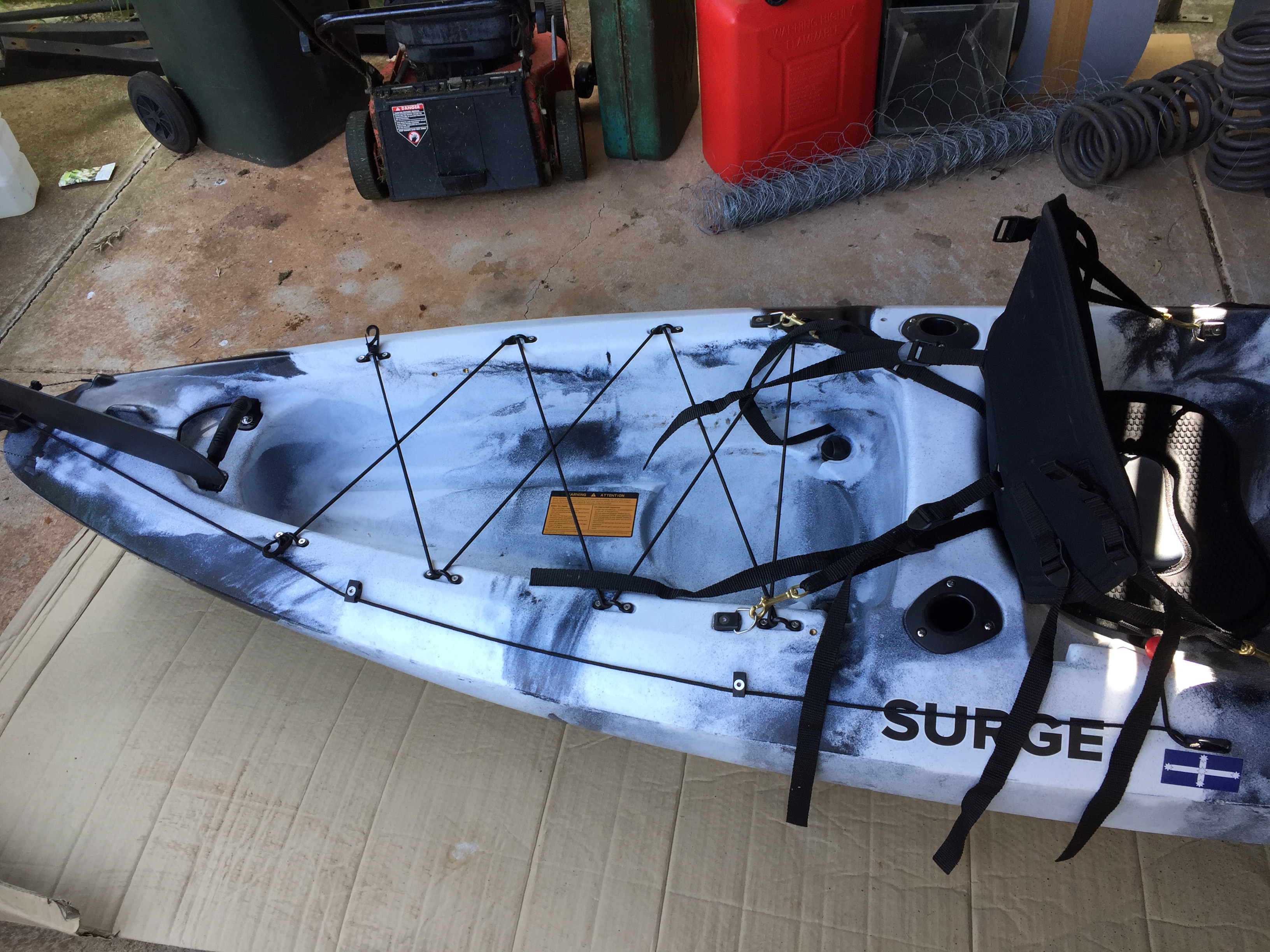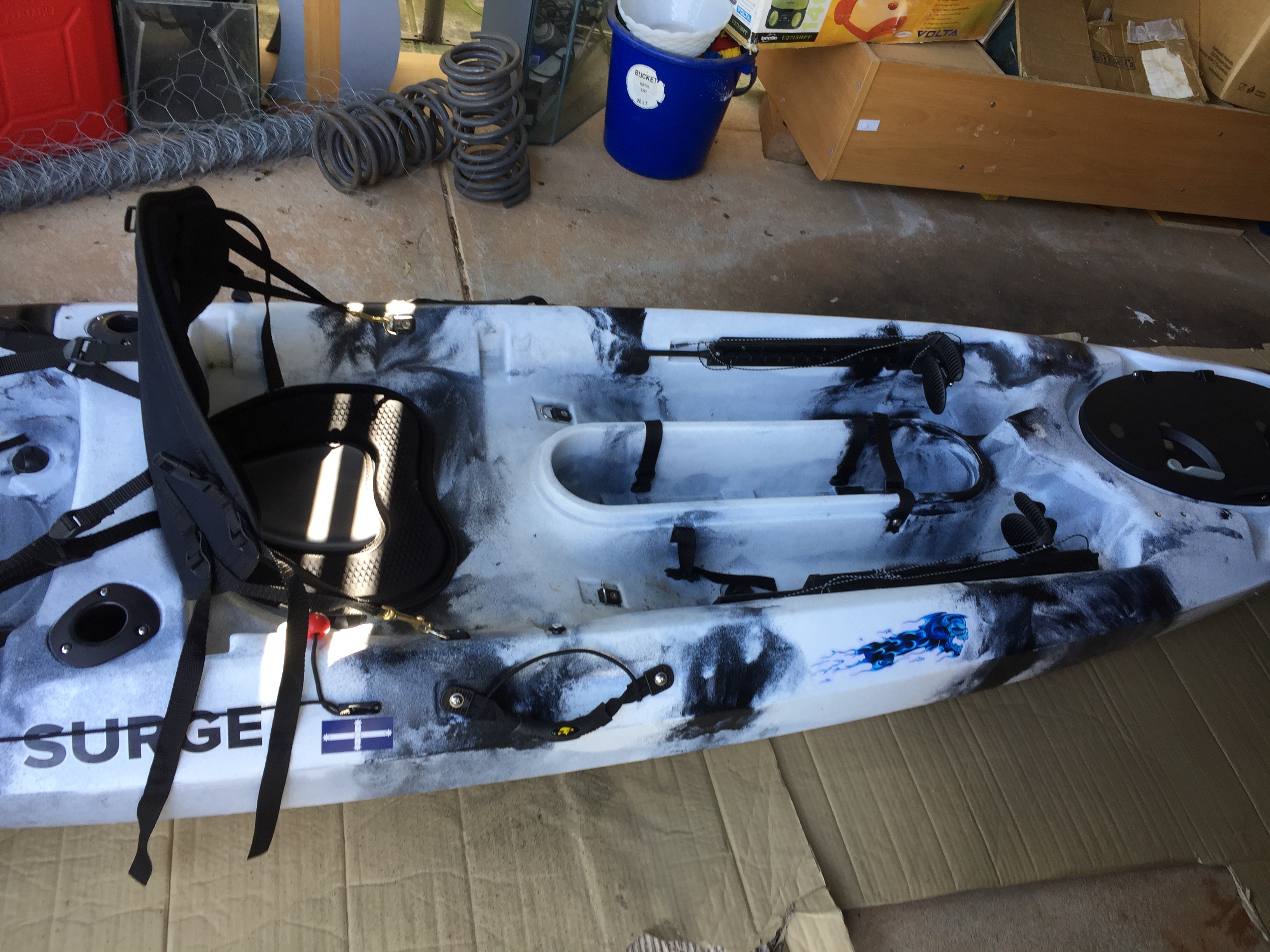 The Location
For my trip I will be going to the Chowilla Game Reserve just outside of Renmark on the Murray River.
Chowilla is a massive 17000 hectare nature reserve which is full of canoe trails. you could come here 20 times and not do the same run.
I have planned a 3 day trip, which will add up to about 40 - 50 kms.
This is going to be quite a taxing trip on my poor broken body, but I'm not going to let it stop me from doing this trip. I expect day 2 and 3 I'm going to have to rely on some pain killers to get me through, as my back will be killing me to the point where I can hardly walk.
Most people with a back as bad as mine would never do something like this, but I'm cut from a different cloth.
Here is a map of the reserve, there are a lot of creeks which go further past the right of this map, but I'm not concerned about this this time.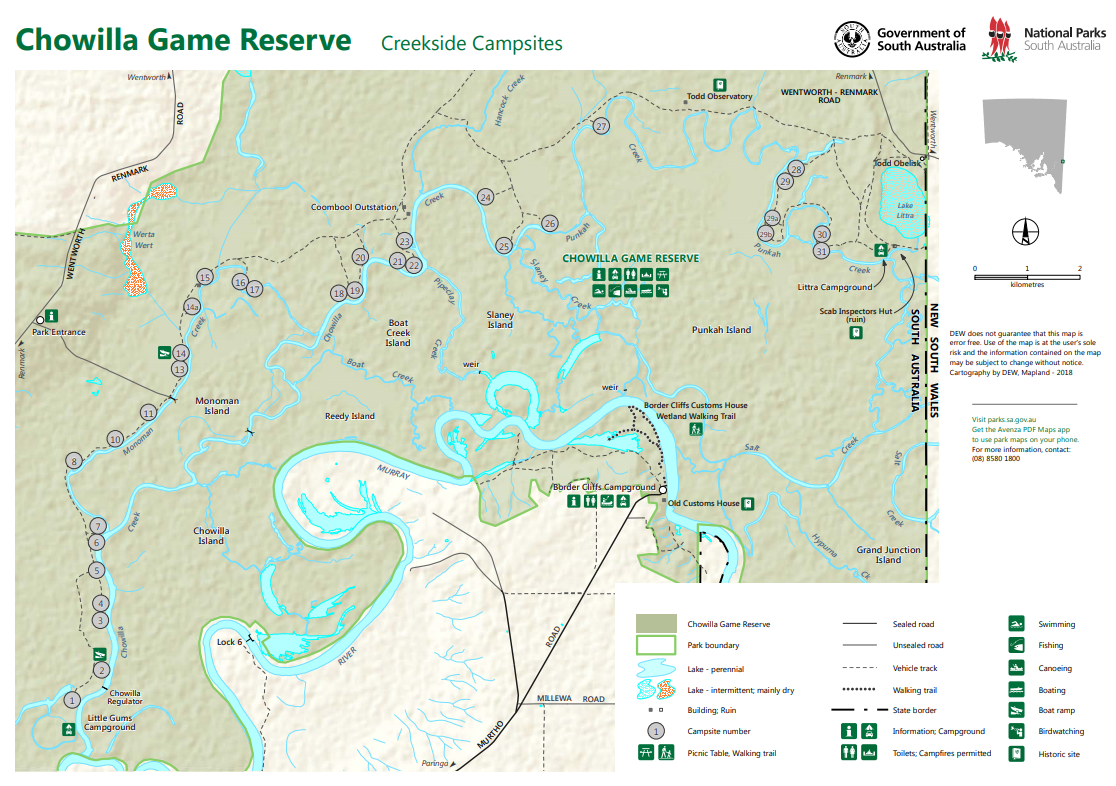 src
I'm only concerned about the right half of the map.
I have cropped it and highlighted the route I will be taking, and marked the start point. From the start point I will be going right and working my way in an anti clockwise loop back to the start point.
As you can see it's a rather winding route, which will be great.
This route takes me from the Murray river along Salt Creek, then up on to Punkah Creek and finally I will be taking Slaney Creek back to the Murray river.
I might check out Lake Littra as it's only around the corner so I wont have to go far out my way.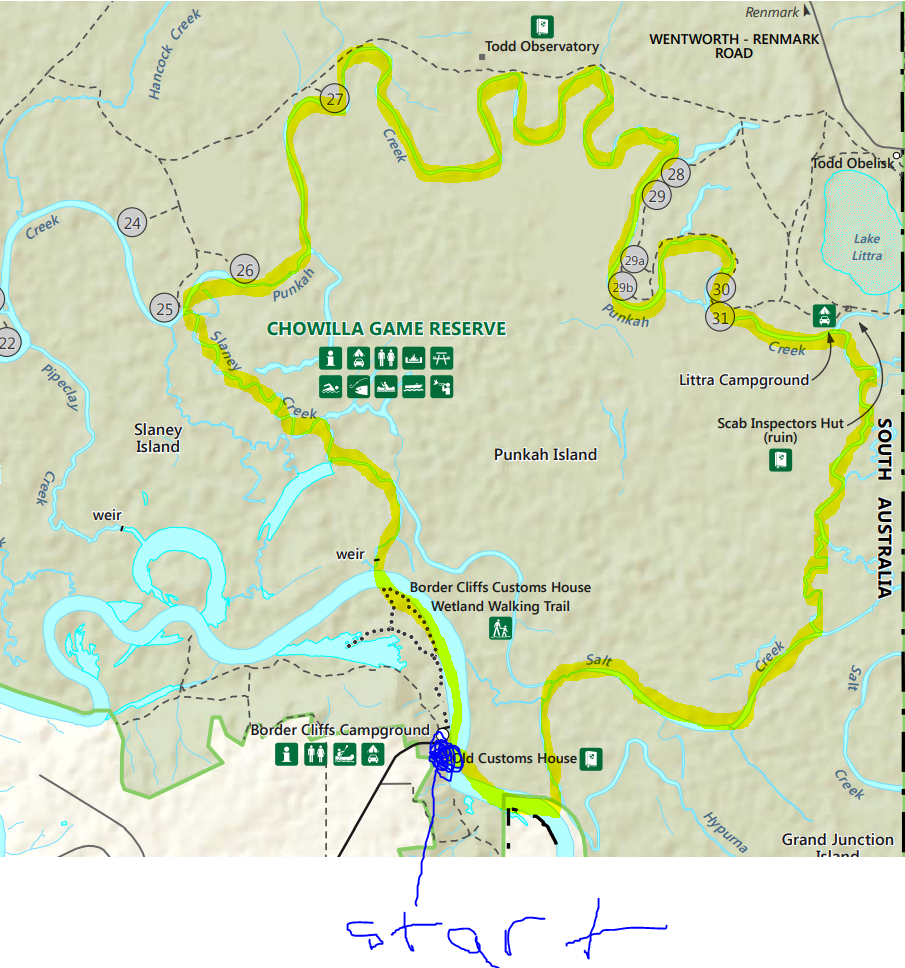 The Gear
My gear for this trip is focused more on light weight stuff, which will mostly fit in the front compartment of my kayak.
I like the idea of being as minimalistic as possible when I camp, though I had to make an exception with this trip.
Because I will be going solo I will have to take some backup stuff with me as the game reserve is a really remote location, there will be no phone service and by the looks of it no one around as I'm the only person booking camp sites.
I should probably have a PLB safety device on me but they aren't cheap so that will have to wait until the end of the year.
I figure as long as I tell my mum where I'm going and when I expect to be home I should be fine, and if I don't return my mum can call the state emergency service for a rescue party as I'm likely lost or in trouble.
So if you see some dude getting rescued from Chowilla game reserve on the news, yeah dats me :)
So on to my gear, here is what I'm taking:
Fishing rod and a small tackle box with lures and soft plastics. (Hoping to catch some redfin)
Map of the game reserve, printed out and in a plastic sheath.
Impossibles pouch with stuff like para cord, survival guide, compass etc.
Another waterproof small pouch, with fire lighting stuff, space blanket and painkillers, anti inflammitories (I find pain killers are great in any survival kit, and if you badly injure yourself just pop a couple and soldier on)
First aid kit, capable of dealing with most first aid emergencies including snake bites which is always important here in Australia
Spare clothing stored in a dry sack, including thermal clothing. If I go in the drink, and night time is coming I will need to make sure I warm up and don't end up with hyperthermia.
A lightweight pot for making tea/soup and a lightweight frypan for cooking on, along with lightweight knife/fork/spoon.
A life straw, which will filter the water and make it drinkable. (Could very well save my life)
2 knives one for bush craft and a survival knife, along with a fire steel, torch, water proof headlamp, swiss army knife.
Food including marsh mallows :) a rib eye steak for the first night along with some fruit and spuds to cook in the coals of the fire.
Back up food, four dehydrated meals and soup, 12 cliff bars and a bunch of beef jerky. (I could do with losing some weight though)
Another dry sack to store my food/electronics in.
A little portable speaker to listen to some beats, when I go camping I usually love to listen to music from 1900 > 1970 though do enjoy some Southern Americana too :)
A portable gas burner and 2 cans of fuel, though I don't expect to use it I may stop for lunch if I catch a fish and fire it up rather than build a small fire.
A lightweight Zempire Atom tent, 1 person full waterproof 10000 water head rating to keep me dry if the weather turns to shit.
A Sea to Summit Trek Tk2 sleeping bag, -2 degrees C.
a lightweight self inflating sleeping mat, the comfort plus SI from Sea to Summit.
A black wolf self inflating pillow, for that little bit of extra comfort.
A EPE Pegasus hiking chair to relax by the fire and unwind.
Some sun screen and a legionairs hat, along with a buff to go around my neck which I will dip in the water now and then to keep me cool.
Finally a bit of dunny paper 💩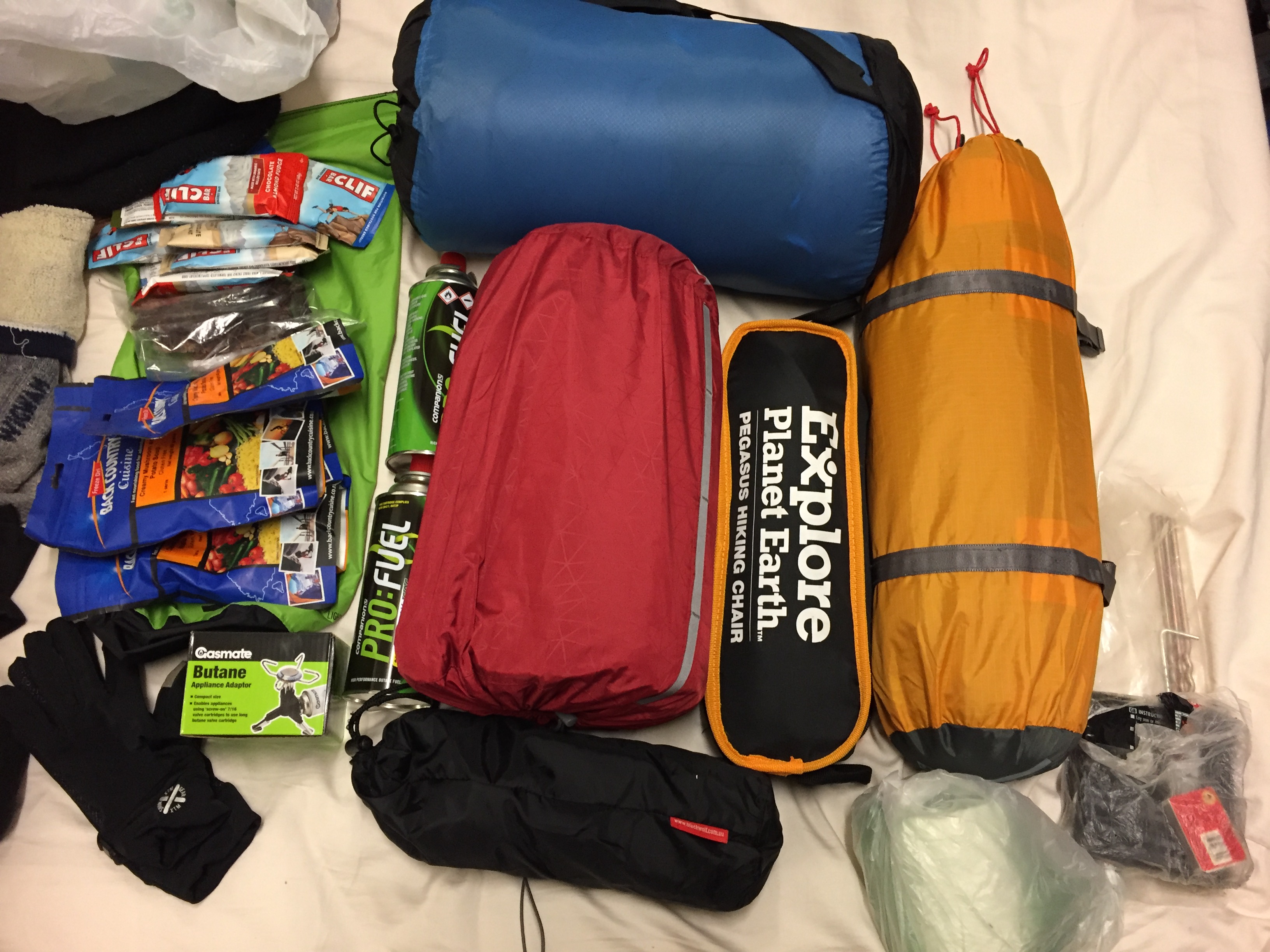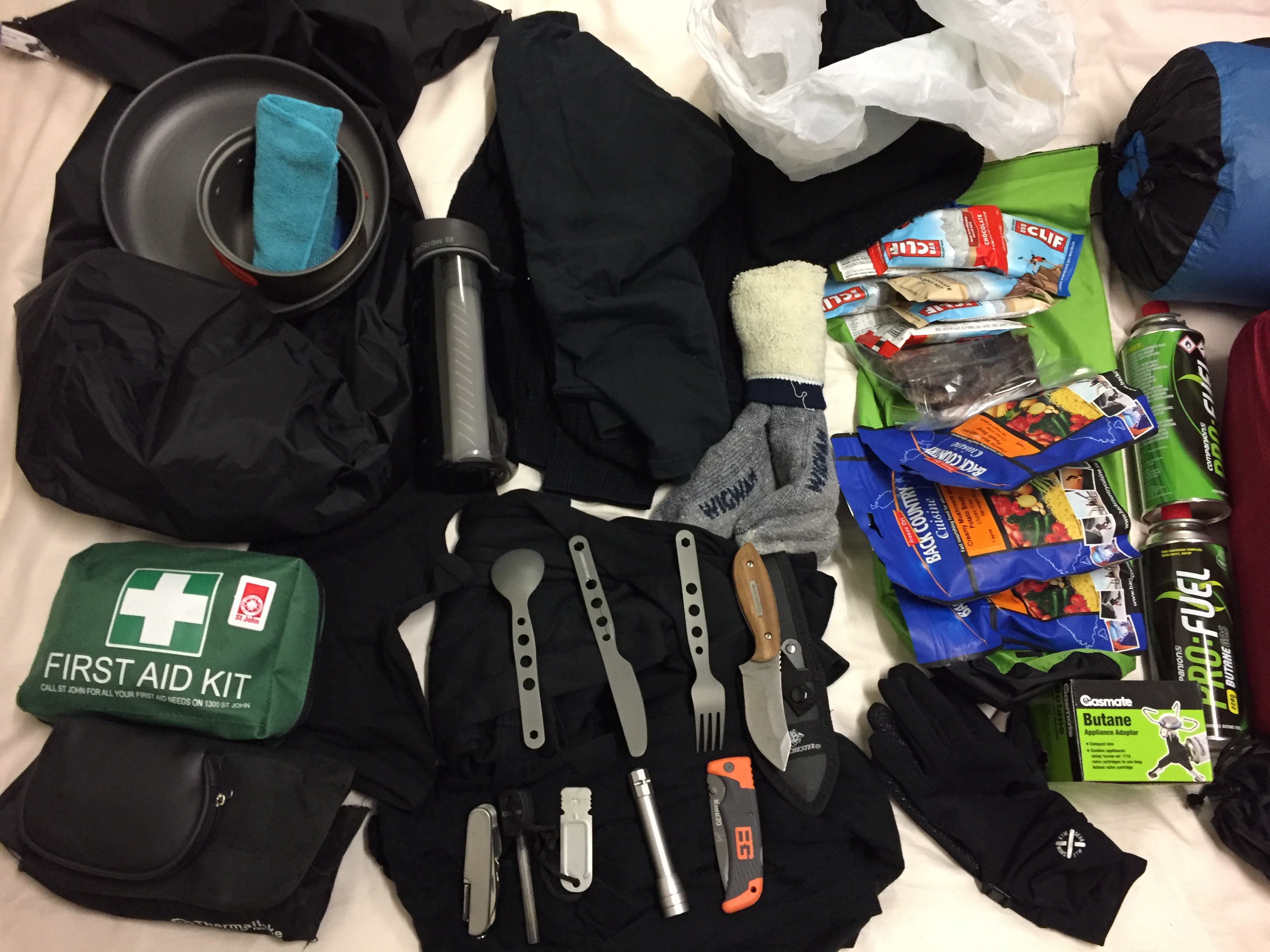 As you cn see it may seem like I have tonnes of gear, but I can fit pretty much all of it either in or attached to my hiking backpack.
So the gear doesn't weight much or take up rediculous amounts of room. I could reduce the amount of gear even more, but I have to be realistic as I have a bad back so things like a comfy sleeping mat and a pillow and chair are essentials.
I decided to go in depth with this post as it will give other people thinking of doing the same thing a good idea of what to expect and what's involved.
Because of the remoteness of this location if something did go wrong I could be stuck in the bush for days, so things like having a life straw could be the difference between life and death. It gets hot up there and although we are 2 months away from summer here in South Australia, I'm expecting low 30 degree celsius days while I'm up there.
I expect that the 10 cliff bars I have in reserve along with the dehydrated meals will easily keep me going for 3 - 4 days at which point I would expect to be saved. Otherwise it will be the basic bush tucker I know I can eat, another really handy thing to look into :)
I will be taking my go pro fixed to my kayak, so I will have some footage for ya'll when I get back along with plenty of photos and a great story of my experience.
I will be going in a couple of days, so I'm really looking forward to the solitudolitude.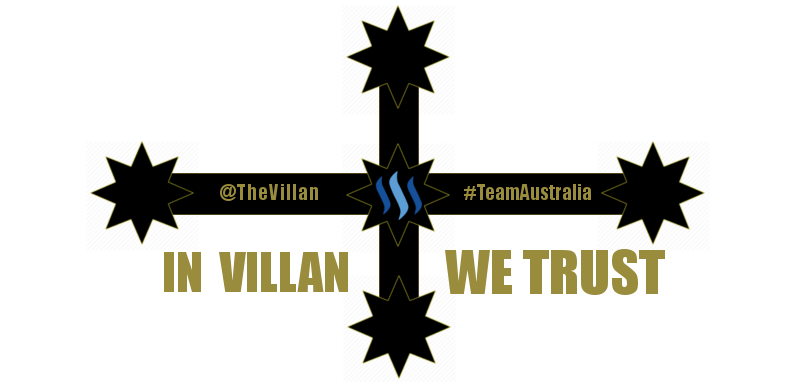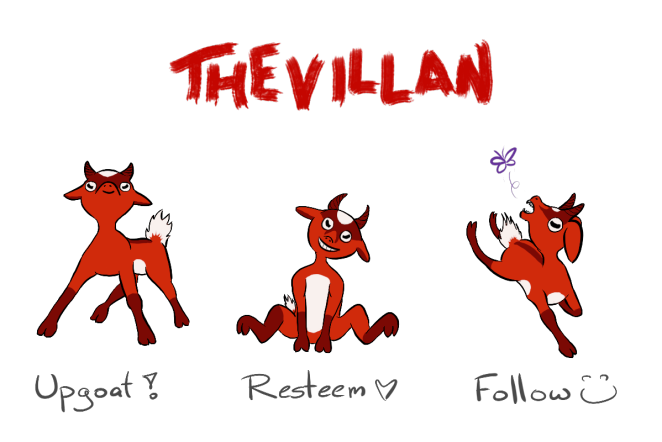 src