Last night I returned from my 3 day kayak camping expedition through the Chowilla Game Reserve.
https://goo.gl/maps/PxLbY2U4bj8Fv69W8
I had been planning on doing this for a few month now, and slowly gathered all the gear I needed to make it happen.
I wrote up a post about my gear here for those who are interested, and maybe thinking of doing something similar themselves.
Here is the map with the actual route I took, I have put the source of the map so you can check it out if you like.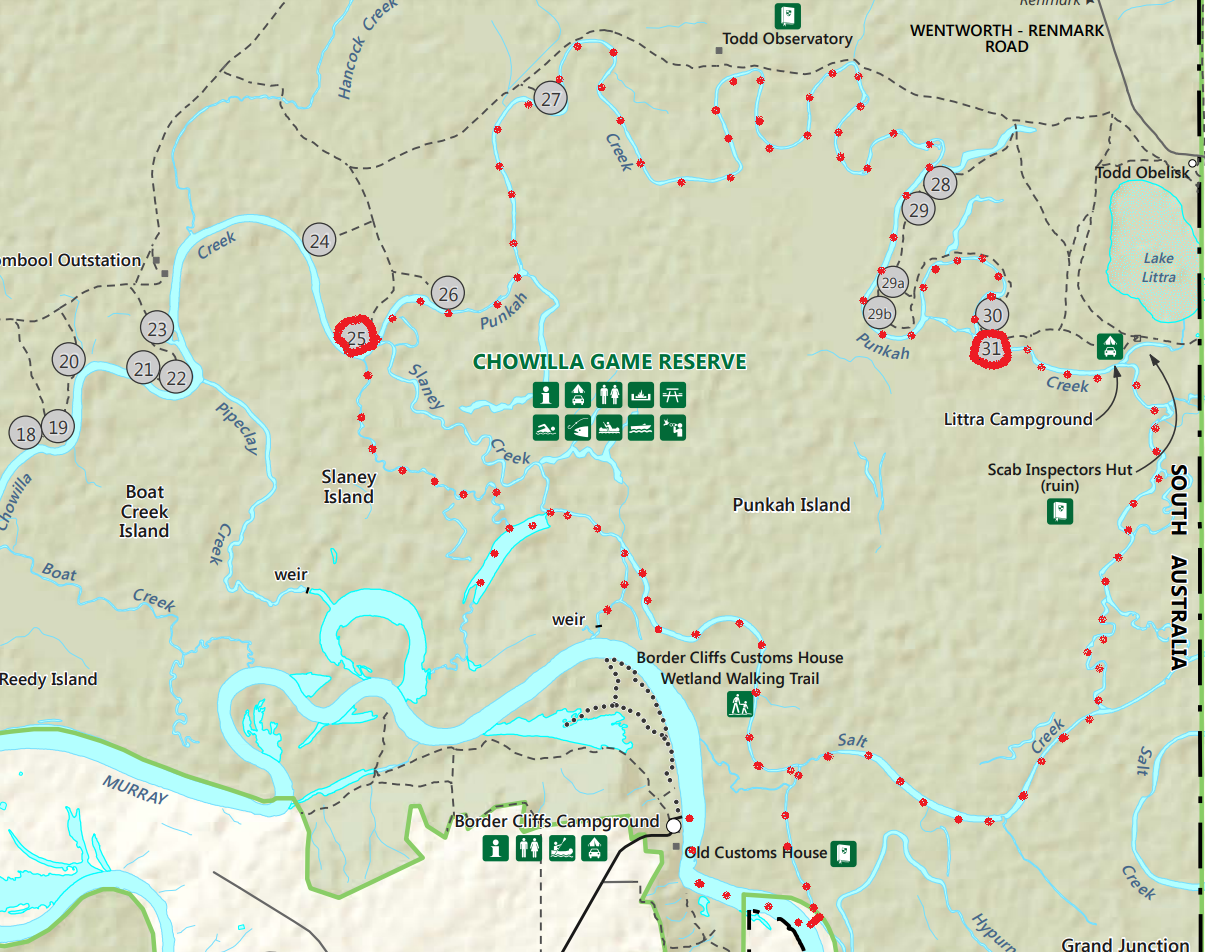 src
I left from the old customs house boat ramp and made my way up to the portage which I marked with the solid line.
I got confused to where the portage was initially, on the map it was supposed to be before the South Australia and New South Wales border. As I was paddling up the Murray I saw that sign and thought I had missed is so I turned back and saw what looked like the only portage point. Turns out it wasn't so I spent an hour wandering around the bush looking for the creek that wasn't there.
Then I hopped back on the yak and went past the border sign and about 900 meters past it on the left I saw the portage sign, bastards so confusing.
The portage was actually quite tough, I ended up falling in the water trying to get off the kayak and on to the shore which was really slippery which is why I went in. The water was about 1.2 meters deep so my bottom half was completely soaked.
I then had to drag my gear and kayak up an embankment and through the bush about 200 meters to the creek on the other side of the portage.
Here is the portage. There is a handy little sign which says canoe portage, so you can easily identify it on the way back.
To find it from the Murray, look for the tree with the wooden sign fixed to it that says portage, and above it are is the number 399. I have no idea what it means but you can't miss it. (I wanted to get a photo of the other signs, but had to take it from on the kayak and my camera was in a water proof bag)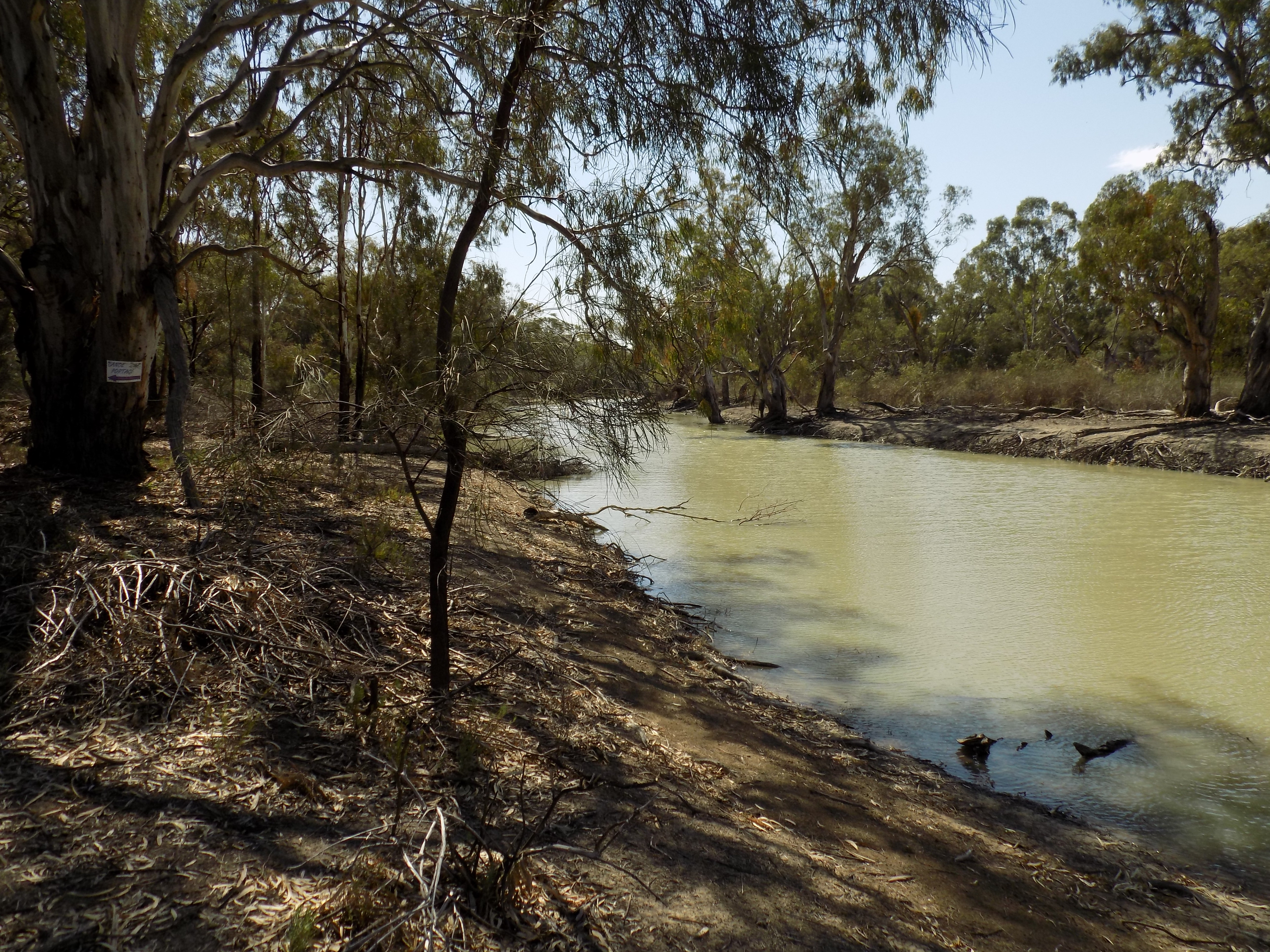 I have to admit the first part of my journey wasn't too difficult on my body, I was traveling with the flow of the creek which varied in how fast and slow the current was going.
It was such a peaceful journey, I wanted to take some photos along the way but I just left the photo taking to when I stopped off along the way.
I have go pro footage of pretty much the whole trip, so I will be releasing a series of this soon :)
It wasn't far into my journey when I hit my first obstacle, I ran into a section of the creek where a couple of trees were pretty much blocking the path.
I stopped off at the bank and assessed the situation, and realized as I walked around the obstacle that there was a small gap between the trees which I could maneuver through. It was tight and the bottom of the kayak nearly got stuck on one of the branches but I managed to scrape through.
Looking back at the path I had just come gives you a good idea of the journey I would have taken thus far.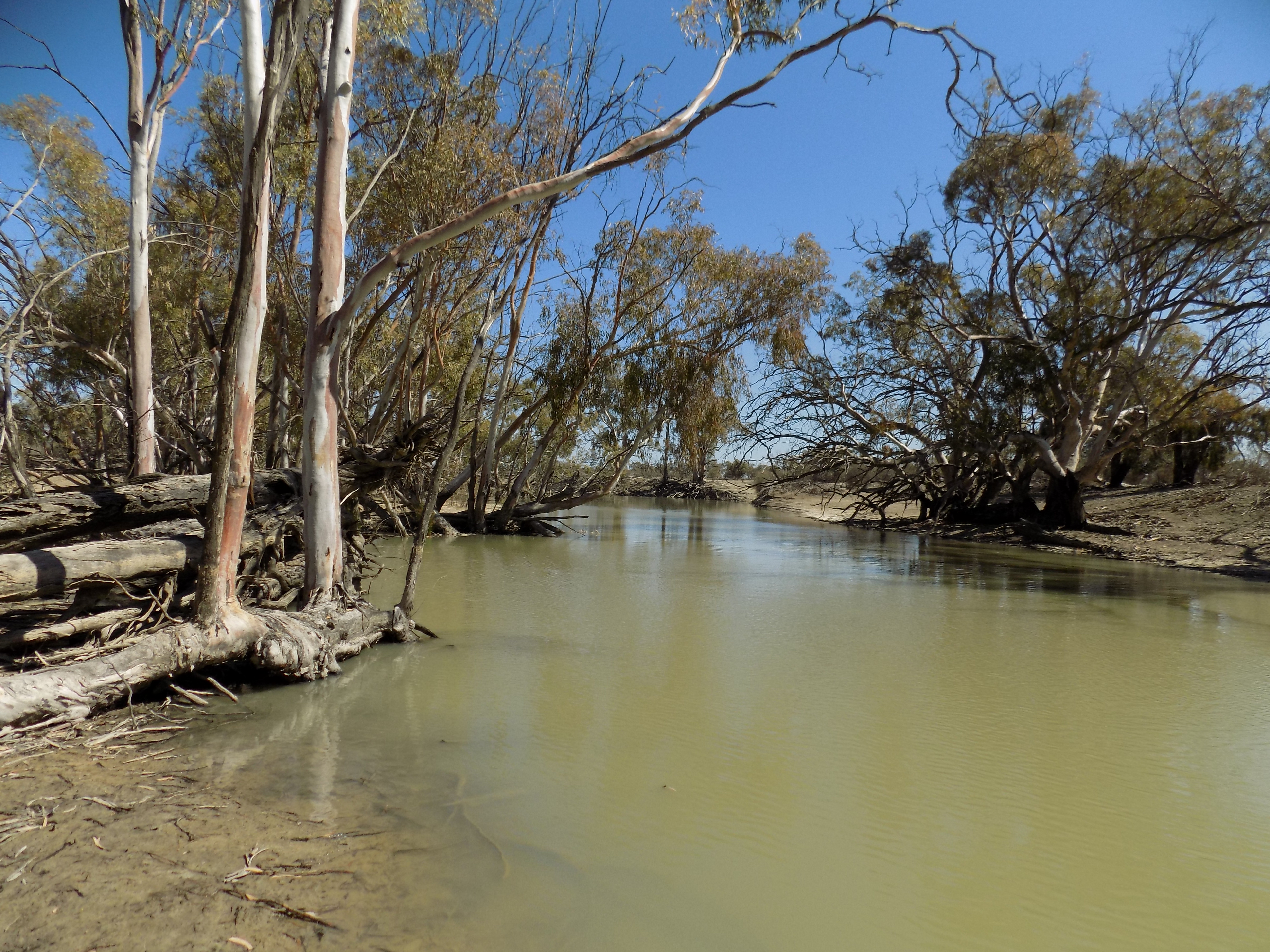 After passing the first major obstacle I continued on my journey towards campsite 31 which was my first camp for the night.
I had to pass a few smaller obstacles along the way but nothing major enough to portage around. The rest of the journey was really relaxing really, I didn't have to paddle hard at all except for navigating around obstacles and fighting the current.
There were a few shallow sections where I bottomed out of the creek bed floor, but I just had to shuffle my bum like I was a dog with an itchy bum to get into deeper water.
There were some sections which looked really good for trout fishing. I'm not sure if there are any trout but there are supposed to be around.
I arrived at campsite 31 at about 3:30 - 4:30. I think it was at 4:00 but I didn't take note of the exact time, so about 5 hours after I left the portage. I could have made it there much faster but I could tell I was making good time and wanted to just go slowly with the flow of the river and enjoy the ride.
When I got to camp I set up my camp straight away then sat down and relaxed for 10 mins before I started cooking dinner, I had a $18 dollar piece of thick cut rib steak which was soooo good.
Here is some photos of campsite 31 and my dinner :)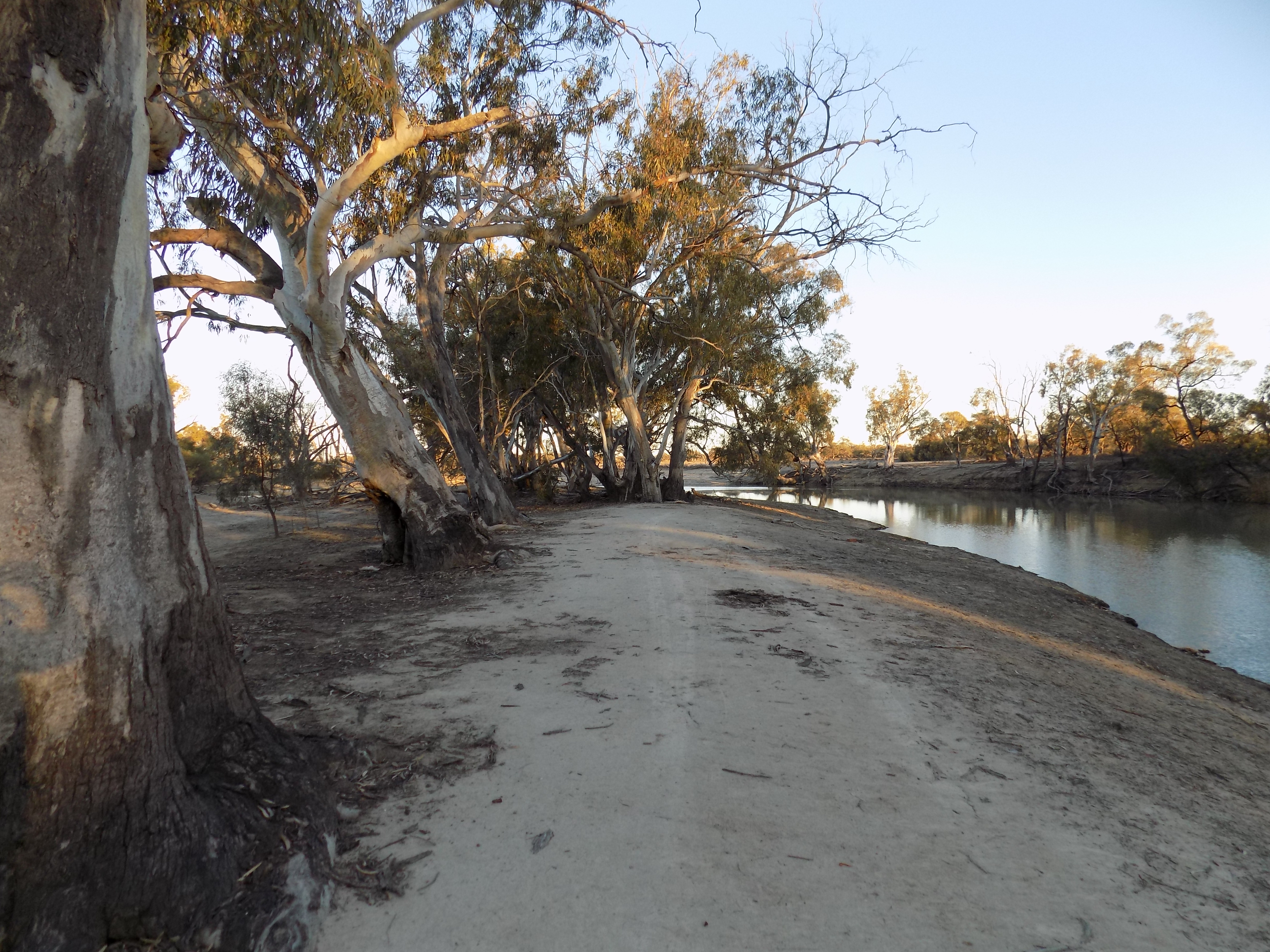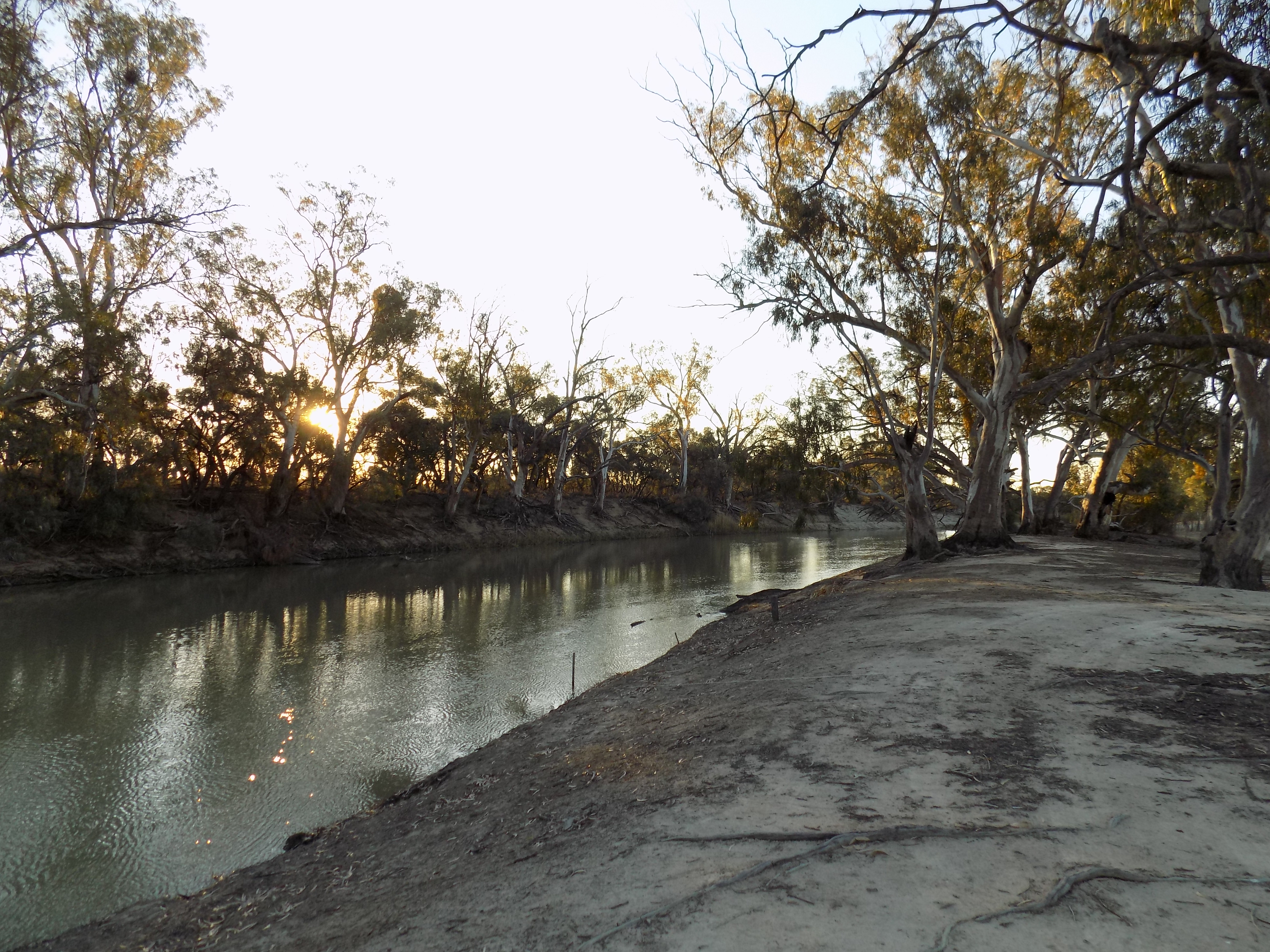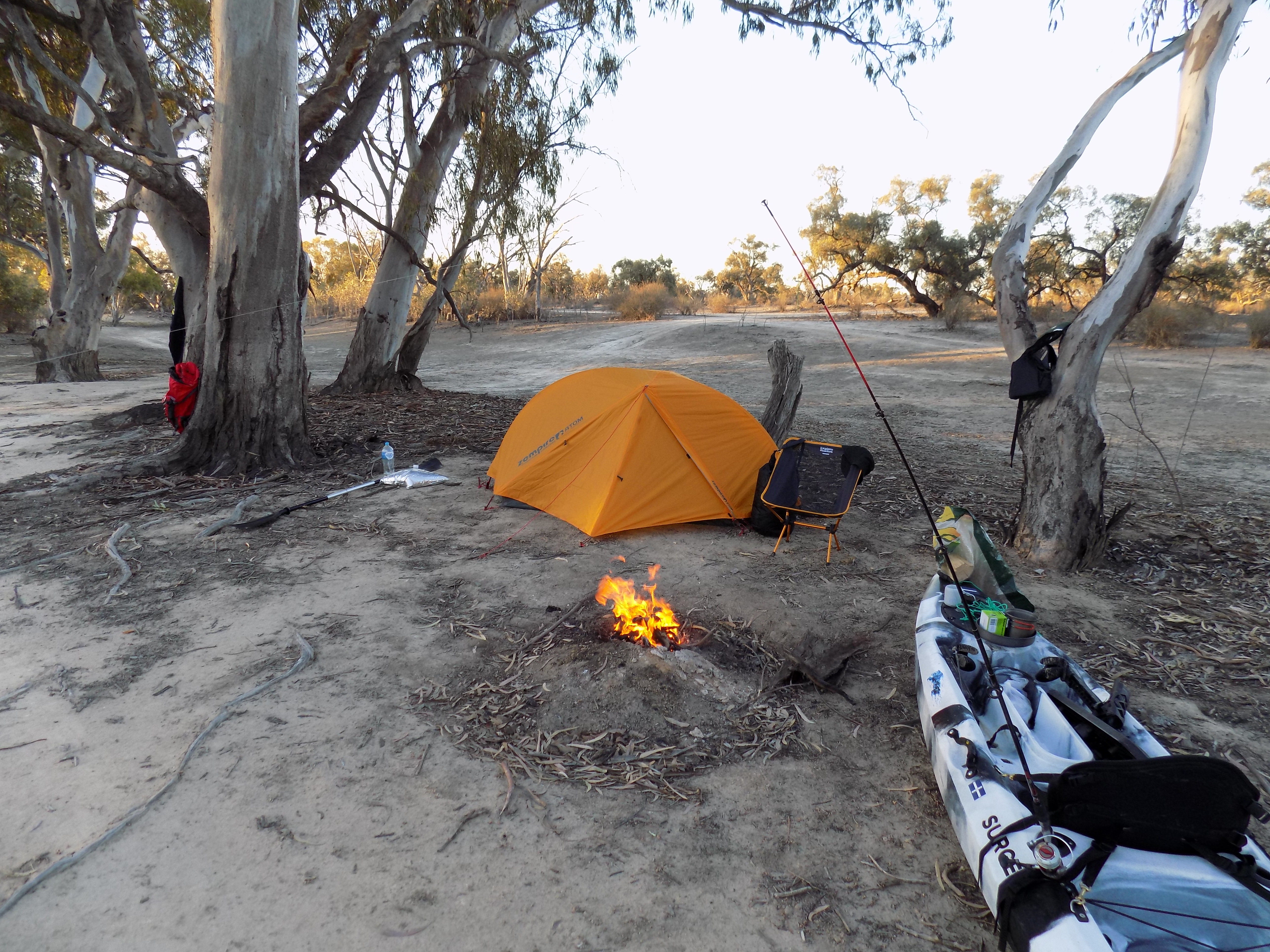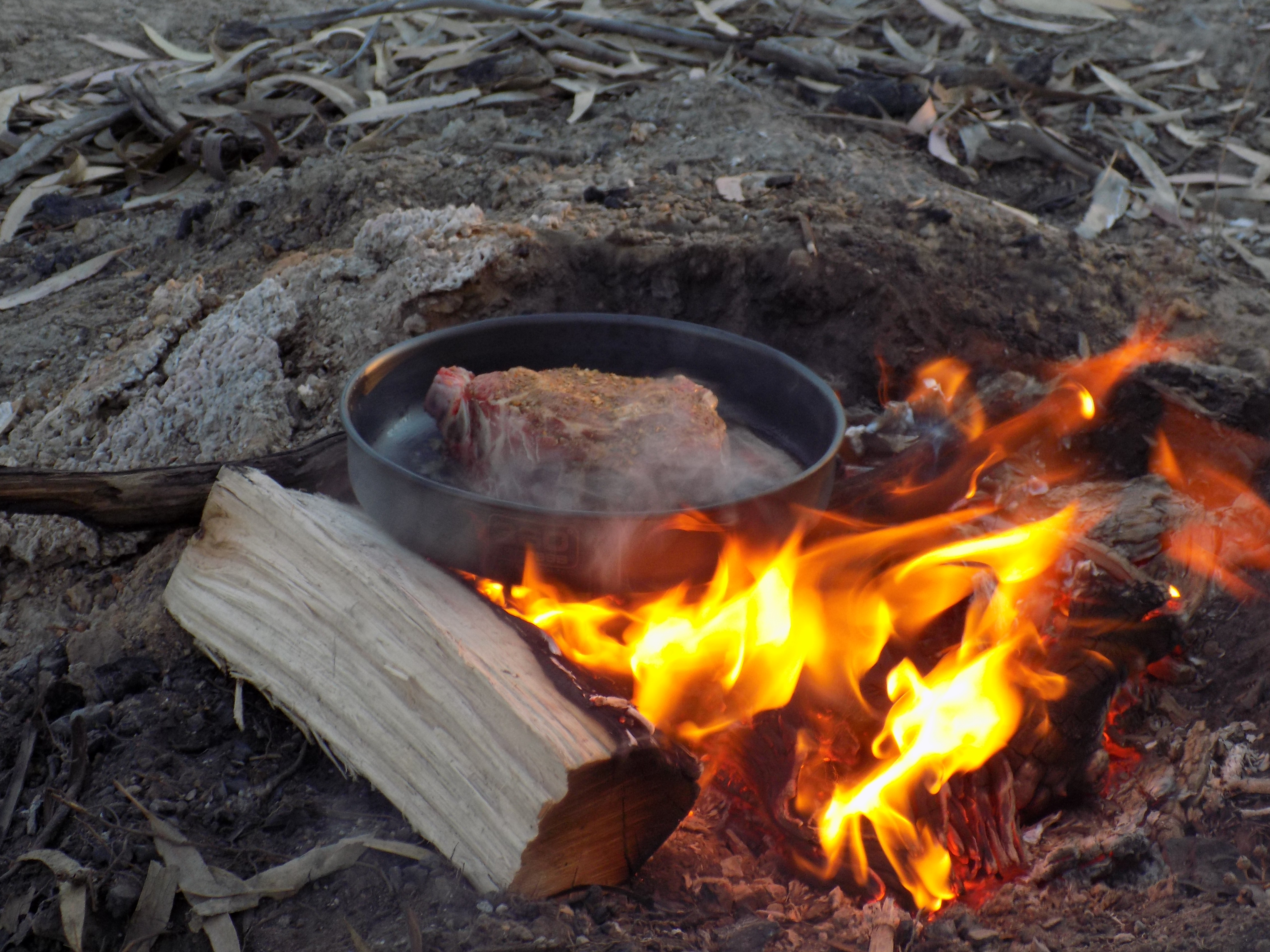 It was really nice sitting by the fire relaxing, I roasted a few marsh mallows and just appreciated where I was and what I was doing with regards to the trip.
I reflected a lot on the journey I had taken so far.
I was also contemplating the rest of the journey as I was quite exhausted already.
I had a mix from the Sons of Anarchy soundtrack playing which has some fantastic tunes on it.
As the sun was going down I took the opportunity to take a few photos.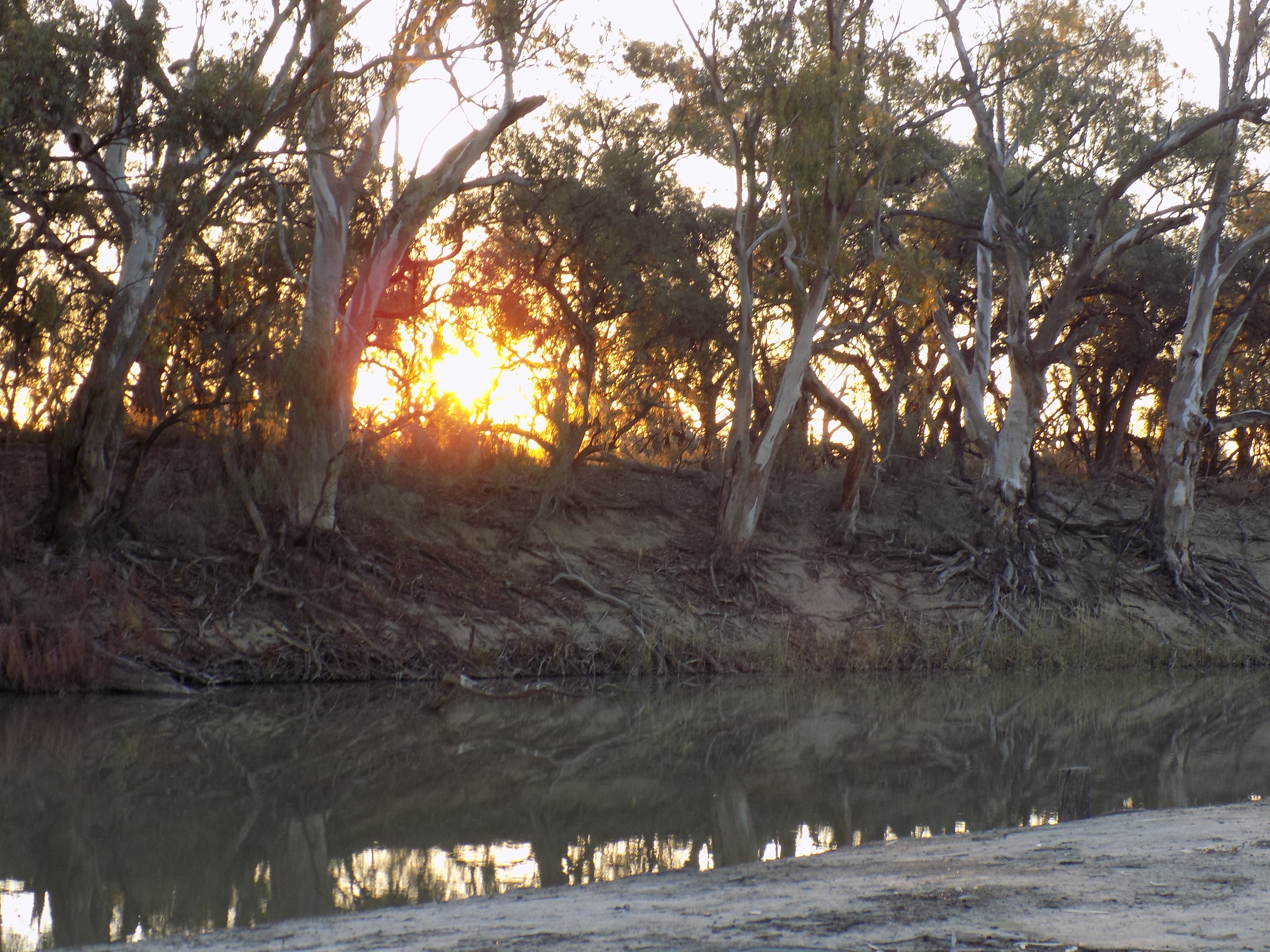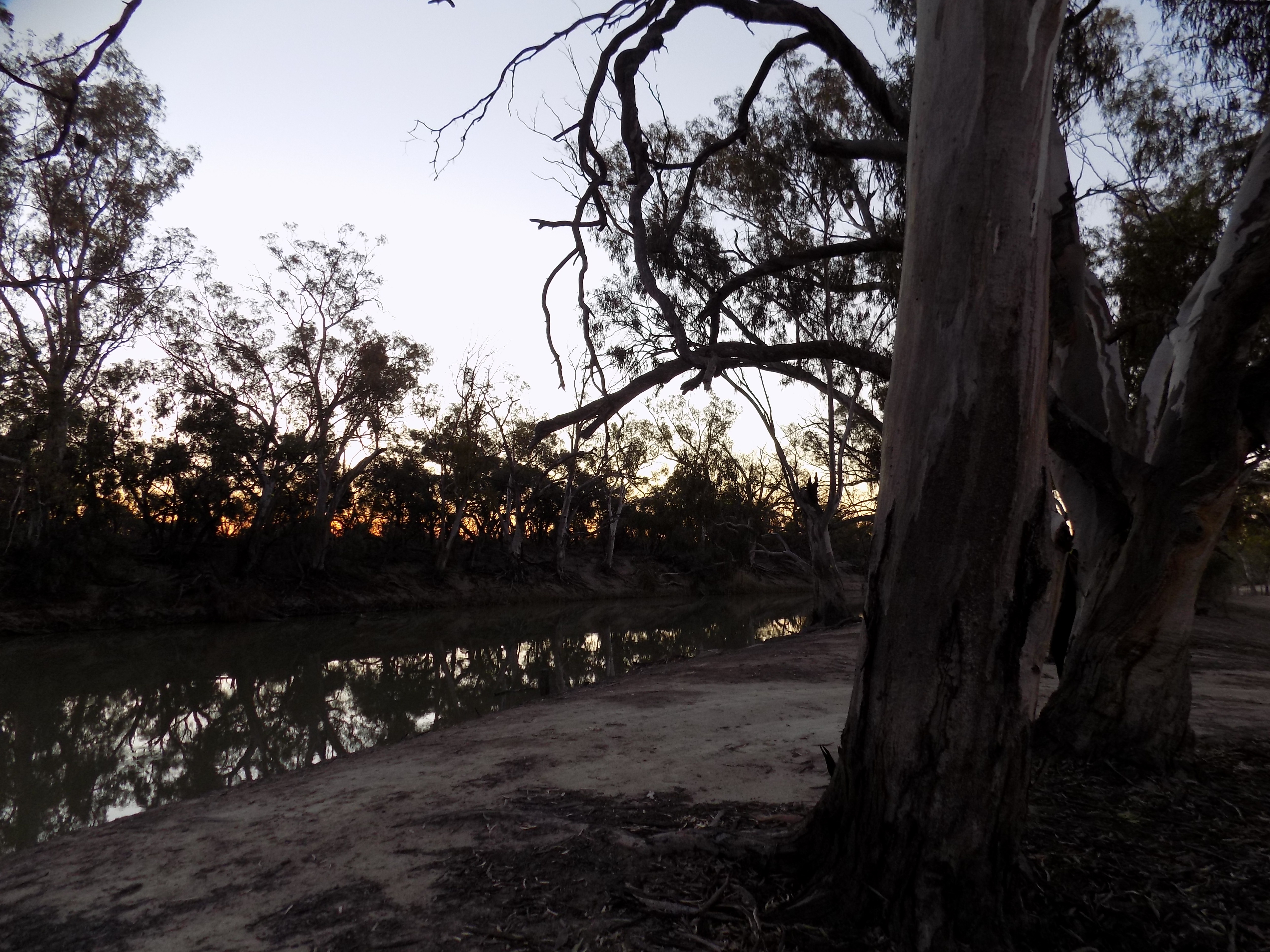 In the morning I had a breakfast of dehydrated soups and a cliff bar, I also had to take a painkiller as my back was killing me. I then packed up camp and set off for the next stage of my adventure.
The goal of this second stage was getting to campsite 25.
For this part of the journey the creek opened up some what, and it didn't flow very fast like the day before. Because the creek was much wider I didn't encounter any obstacles, but this stage of the trip was really long and much longer then I anticipated.
I stopped off for lunch by this big old tree not far away from campsite 27 which provided some nice shade and a spot for me to relax a little before continuing on. For lunch I just had a cliff bar and some dried pawpaw and pineapple pieces to keep up some sugar.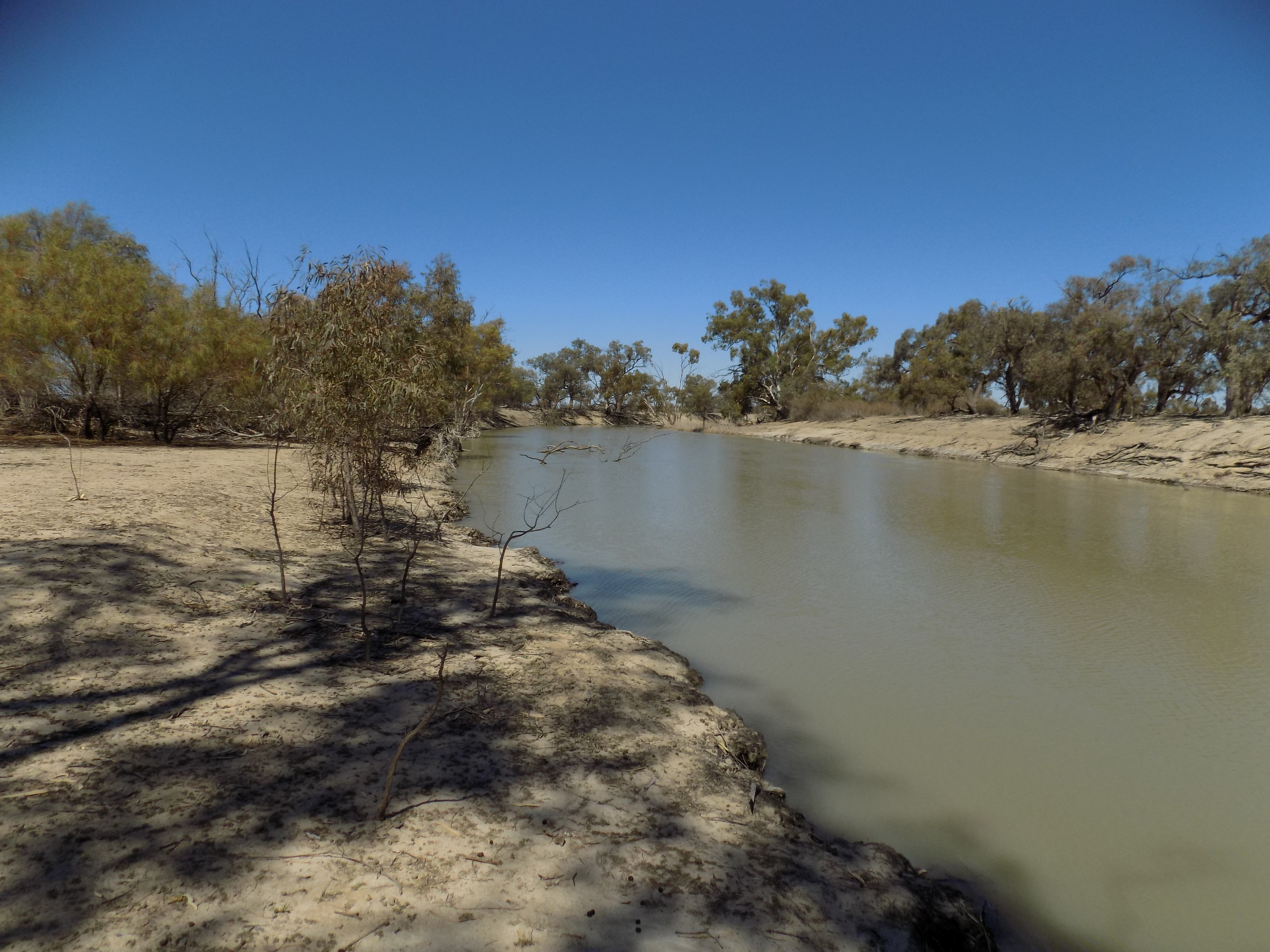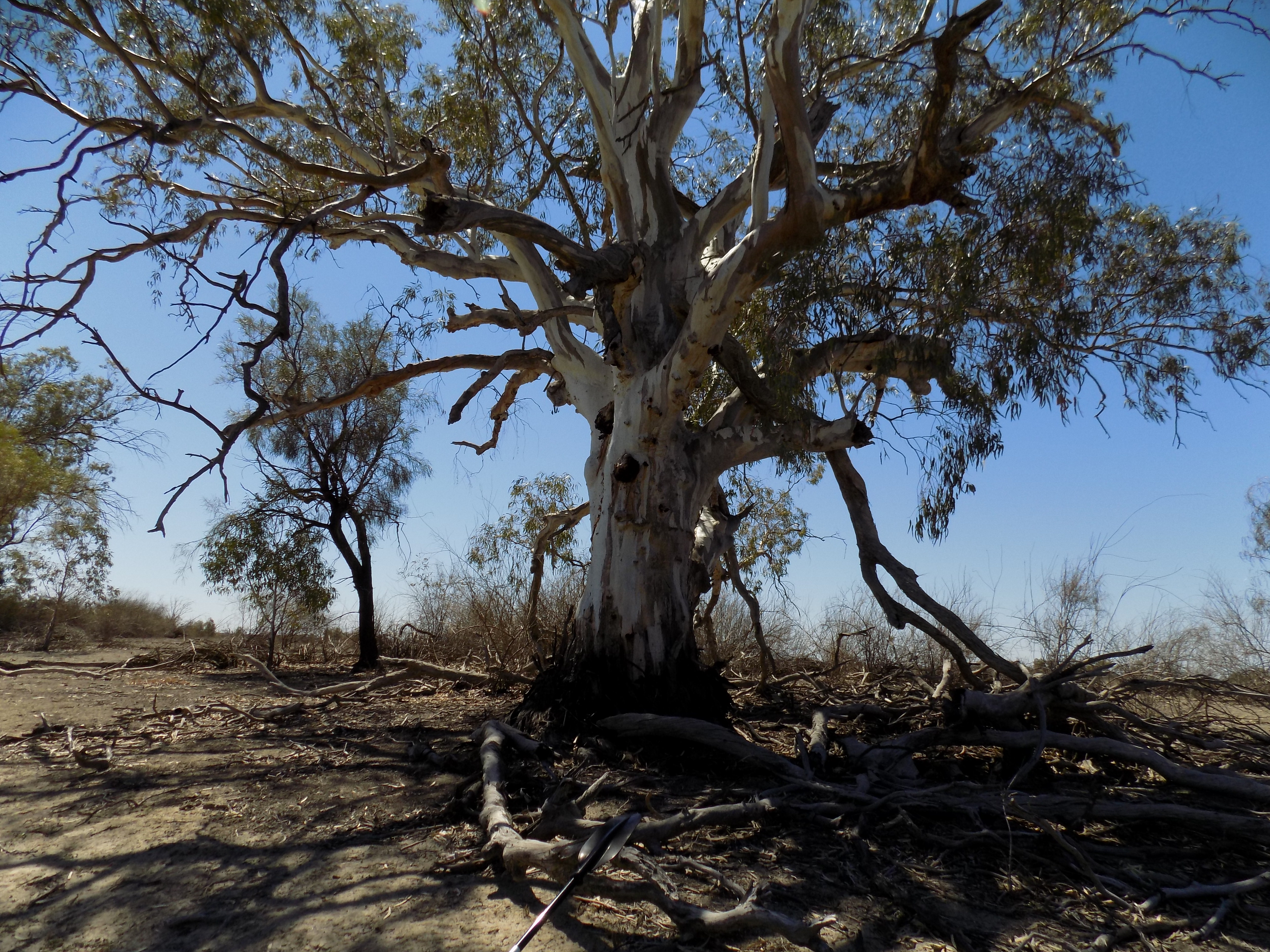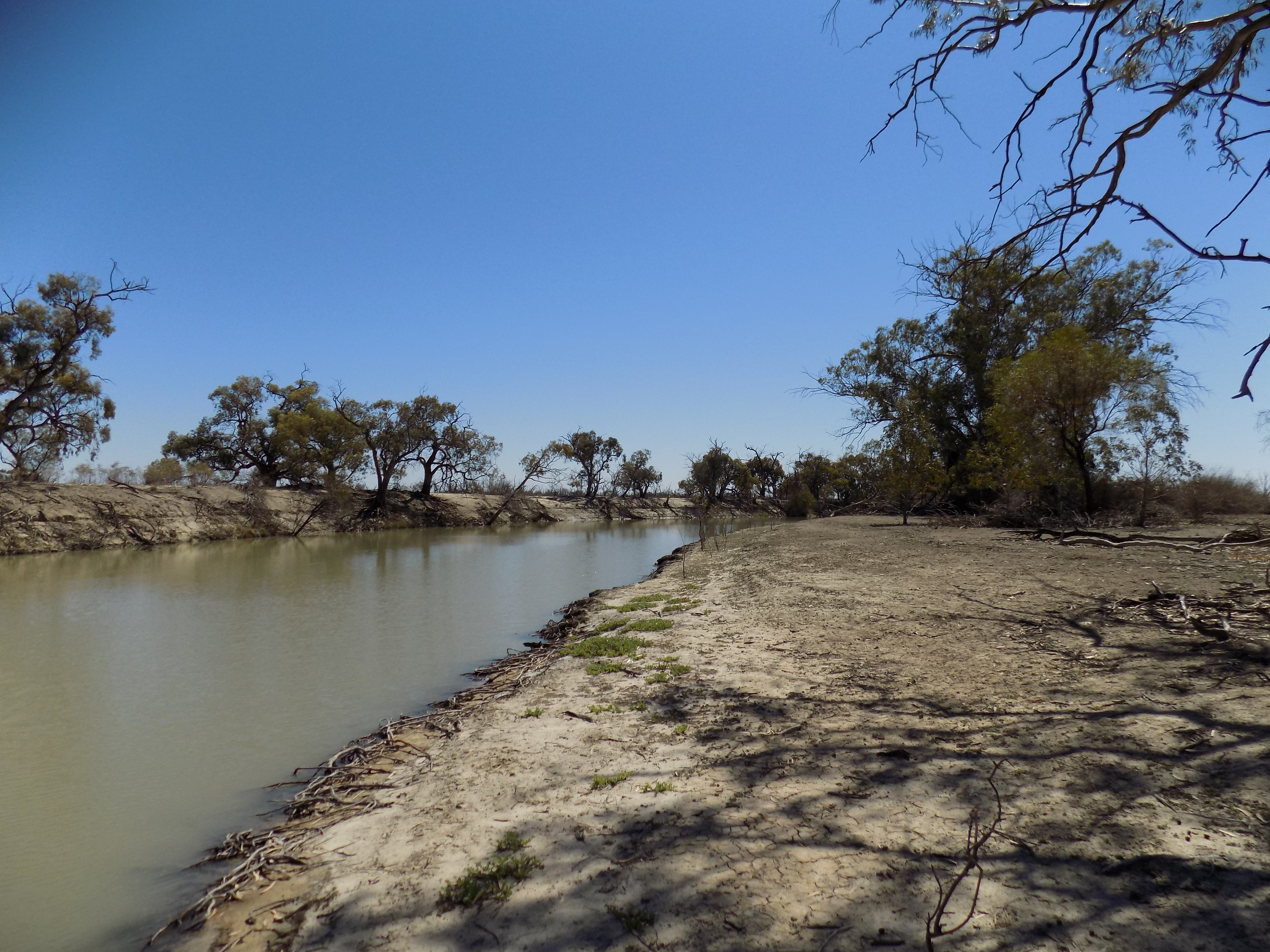 After lunch I set off again and finally got to campsite 25.
It took me about 6 hours to get there, and I arrived at about 3:00 pm. I took the opportunity to just set up my hiking chair and relax for about an hour and a half as I was exhausted.
After relaxing I set up camp and then started a fire and did some fishing, I caught a couple of carp which I didn't bother taking photos of because they are nothing exciting. If you have ever caught carp before you will know that they fight like an old sock, the two I caught were over 60 cms but fought like a 20 cm bream.
I took a few photos of campsite 25 to give you an idea of what the site looks like, the photo of my kayak brings up another point I would like to highlight. My kayak was not made to reverse into the water, so after stopping for lunch I didn't bother to turn my kayak around and just launched in reverse. I heard the back of it fill up with water and went back to the bank and emptied it out.
It was a good thing I had all my gear which was not water proof in dry sacks otherwise I would have had soaked gear, so keep that in mind if you have never launched in reverse. Some kayaks may be able to launch in reverse, and mine can as long as there is no gradient into the water.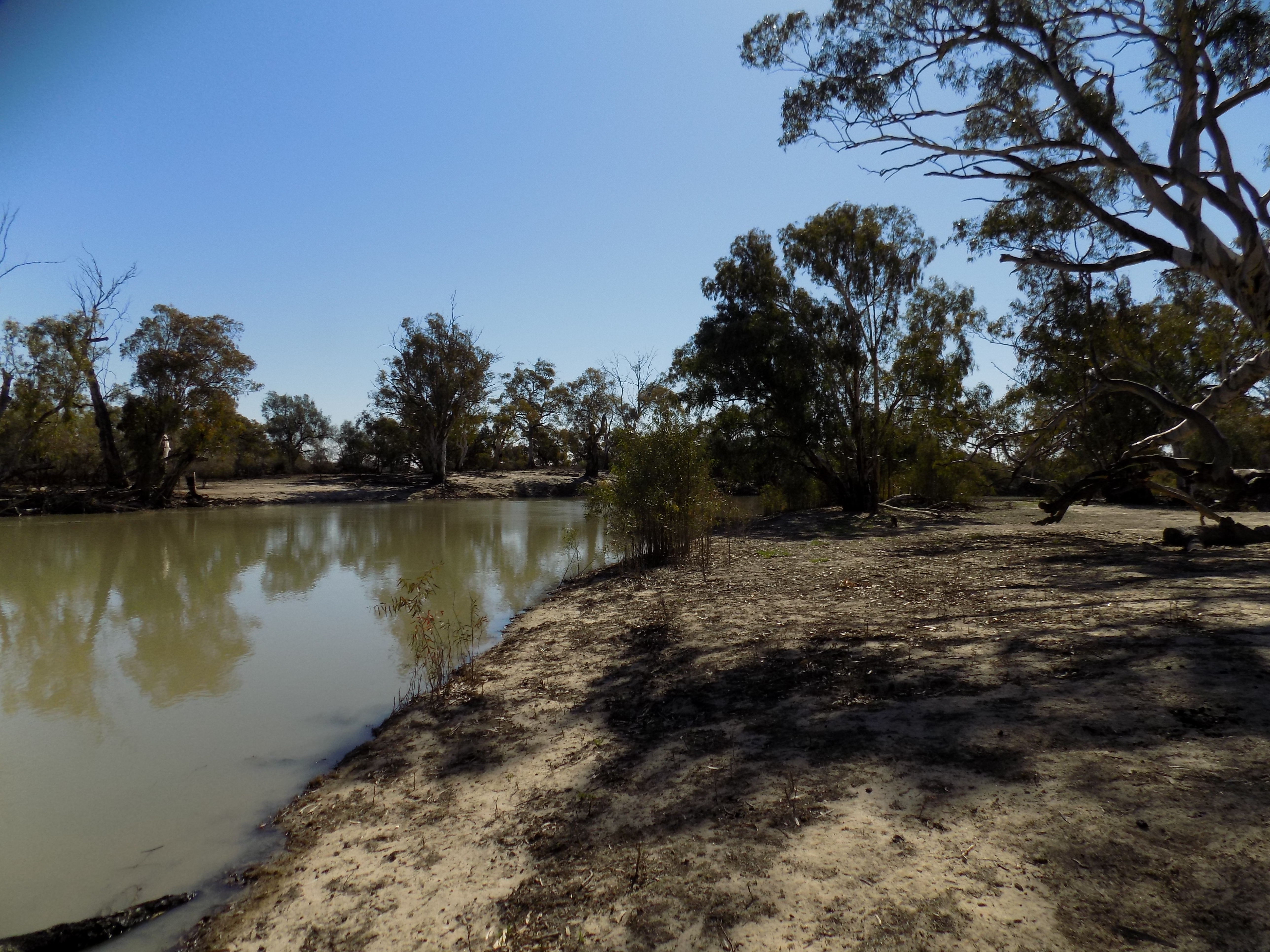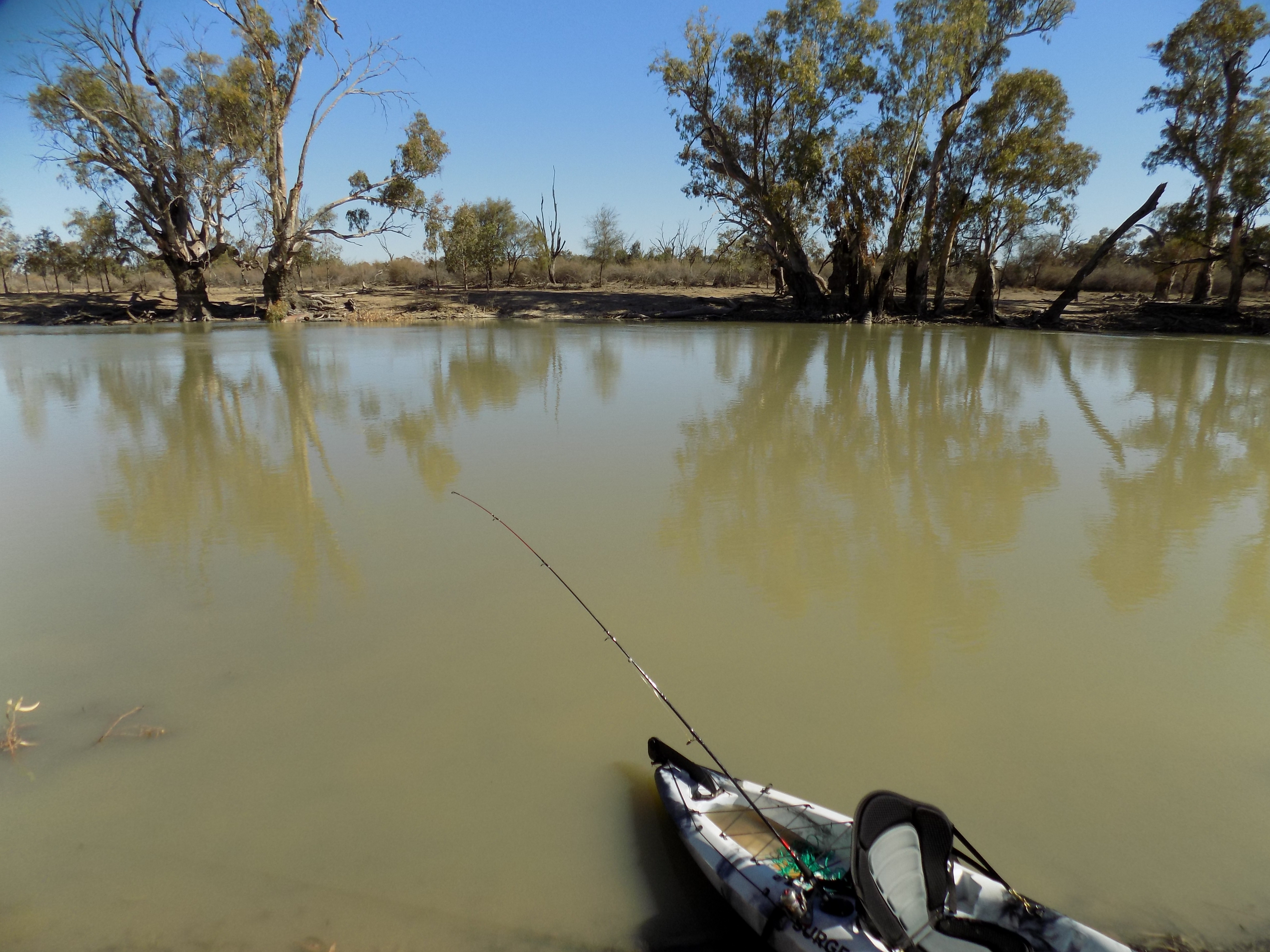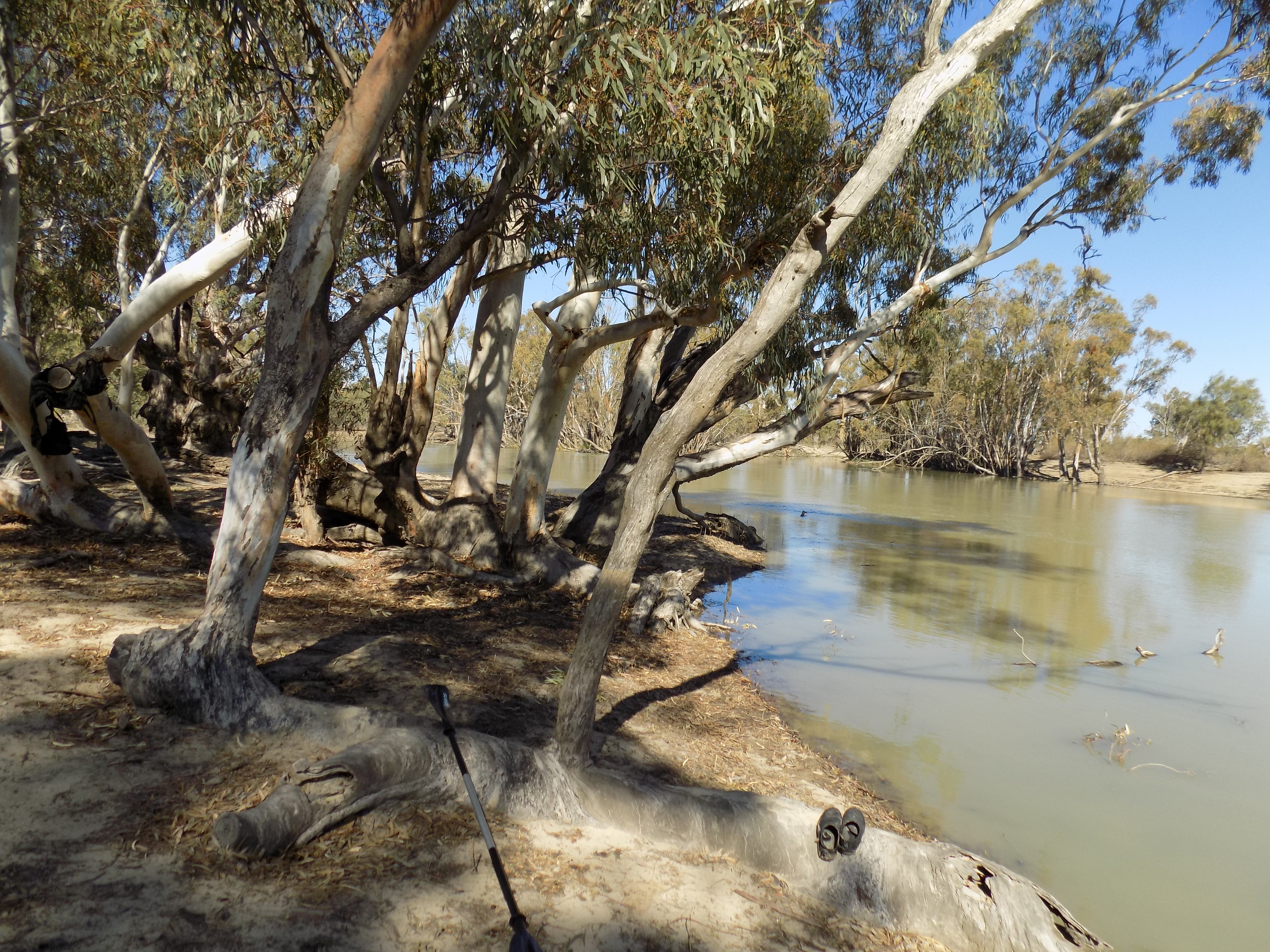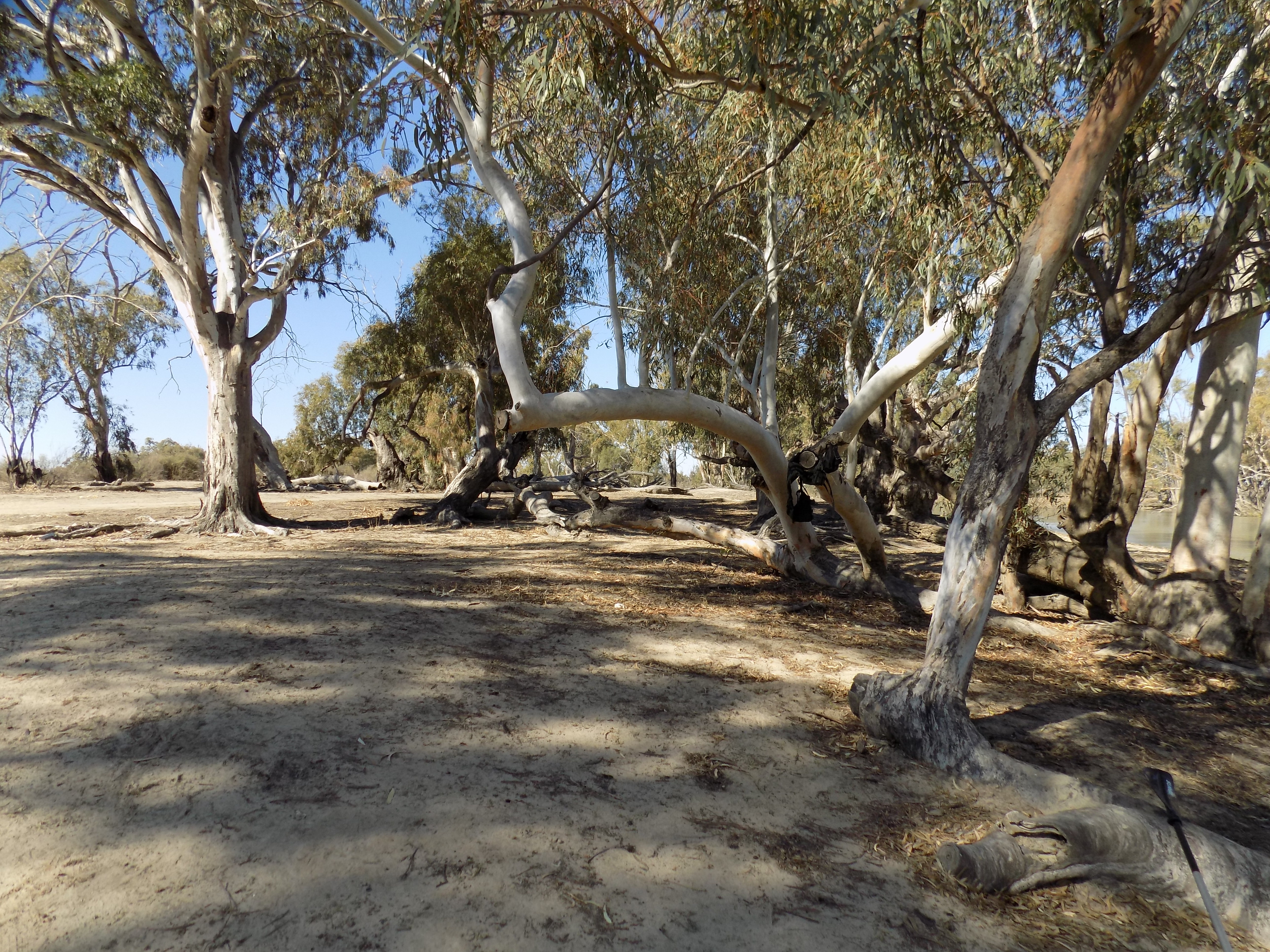 I had another pain killer and relaxed by the campfire and had dinner, for dinner I just had a few potato's wrapped in alfoil cooked in the coals of the fire and filled with garlic butter.
If you have never had potato's cooked on the coals of the fire they are really good, the outside of them goes crispy and is really nice to eat.
I also had some dried fruit and some beef jerky.
I didn't stay up very late at all and after listening to music and doing a bit of fishing I went to bed at about 9:00 pm.
I slept rather well apart from waking up a few times during the night to shuffle into a new position, I think because I'm quite a heavy lump at 125 kgs I have trouble sleeping on the camping mats.
I woke up at about 6:00am and heard the pitter patter of some light rain on my tent. I had a look outside and it didn't look like it was going to bucket down as the sun was out and there weren't many dark clouds.
I had some cliff bars and fruit as I couldn't be bothered cooking any food, then packed up my camp and had a pain killer.
I could see the current flowing out of slaney creek and the small creek adjacent to slaney creek which I took, so I knew I would be going against the current for this stage of my journey and this stage would be really tough on me.
I set of and went up the creek I marked on the map.
It was tough going and after the first bend of the creek I was already feeling it in my arms, but I pressed on and about half way up the creek I encountered a major hurdle.
A giant tree had fallen over the creek and there was no way past it besides portaging about 100 meters.
I dragged my kayak around the blockade, then I had to tie a rope to the front of my kayak and drag it upstream a bit as I was able to slide my kayak in the water but knew I couldn't get on. I dragged it up to a shallow part of the creek where I could finally get on again.
There were many more obstacles to get through, but I was able to do so without the need of portaging. It was tough going and then I made it to the open water billabong section which doesn't have a name, stopped and had a feed.
After lunch I tried to go the other end of the billabong, but I could not make it through there and nearly went in the drink, the path was completely blocked and if I had a hatchet I could have chopped my way through but had to turn around and go the other way. You can see this with the red line which goes nowhere to the end of the billabong.
I battled my way up slaney creek against the current back to the original portage where I started. I tried to take a creek off to the right, but was blocked by a weir and had to go back.
There weren't any major obstacles, and I could make my way past all the fallen trees although some spots were a bit sketchy.
I didn't take any photos through this last stage because it was so exhausting battling against the current, and to be honest I had doubts I would even make it back.
If you want to see more of this last stage, I will be releasing a series of go pro footage which captures all the events.
I hope this gives people a good idea about what to expect when planning a kayak camping expedition through the Chowilla Game Reserve. I didn't know what to expect and had to wing the whole thing.
Some foot notes:
If your not very fit I would recommend going to the gym for a solid 6 months and working on your fitness first. Paddling against the current was quite tough, some sections felt like I wasn't getting anywhere but I was just really slowly.
If you map reading and sense of direction is reasonable it's not tough at all to navigate, just map out your route and follow the bouncing ball.
Be prepared to do a few portages, of varying complexity.
I did this trip at the end of September and the start of October, if left any later the heat would probably make this trip unbearable. It was 32 - 35 degrees C when I did it and it was quite warm, though your can dip a scarf in the water and hang it around your neck to cool off. Splashing water on yourself now and then is really nice too.
I recommend using SPF 50+ sunscreen a couple of times a day, otherwise you will be fried and there is nothing worse than going through something like this sun burnt.
Take plenty of water, and an emergency water filter just in case. I had a life straw which will filter 1000 liters and is basically a water bottle. For future trips I may just use the water filter bottle for everything, as it's annoying having to lug around 12 liters of water.
This area is remote and phone service is pretty much non existent, so because I didn't have a emergency PLB or anyone to contact if I needed to I had to be mindful of what I was doing. If I injured myself help was a couple of days away and I would have to wait until mum raised the alarm I wasn't home. Maybe invest in a PLB, or be really mindful of what your doing. If your walking in the bush use heavy feet to scare away snakes and look out for them. Here is a good read about snakes, although it's unlikely in remote locations if it does happen your cactus.
I have got plenty of experience with the bush, I grew up basically right next to Chowilla Game reserve as a kid, and have done many camping trips and hikes. If your new to the bush it's quite safe, apart from a few animals that are venomous it's rather harmless. most animals are more scared out you and will run away, but maybe do some reading up of your own first :)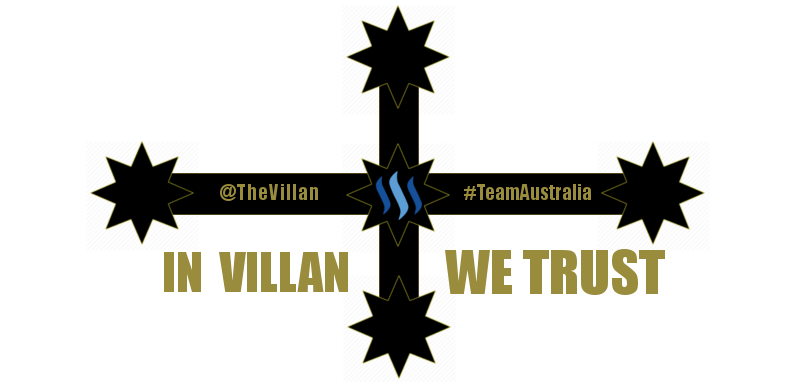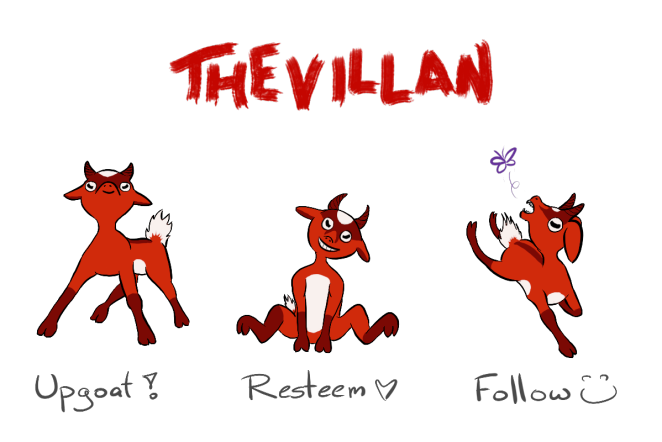 src