Green greetings Steemians,
As earlier announced in our Steemit Environmental Contests and Steem Environmental Club post, we will be launching a series of environmental contests meanwhile on Earth Day, 22nd of April we will launch the Steemit Environmental Club. You can learn more about this initiative here: https://goldvoice.club/steem/@thegreens/steem-environmental-contests-and-steem-environmental-club-or-internatrional-environmental-days-contests
Earth Day 2021 Contest
Earth Day is an annual event on April 22 to demonstrate support for environmental protection. It was first held on April 22, 1970
This year's Earth Day theme is Restore Our Earth, which focuses on natural processes, emerging green technologies, and innovative thinking that can restore the world's ecosystems. In this way, the theme rejects the notion that mitigation or adaptation are the only ways to address climate change. It is up to each and every one of us to Restore Our Earth not just because we care about the natural world, but because we live on it. We all need a healthy Earth to support our jobs, livelihoods, health & survival, and happiness.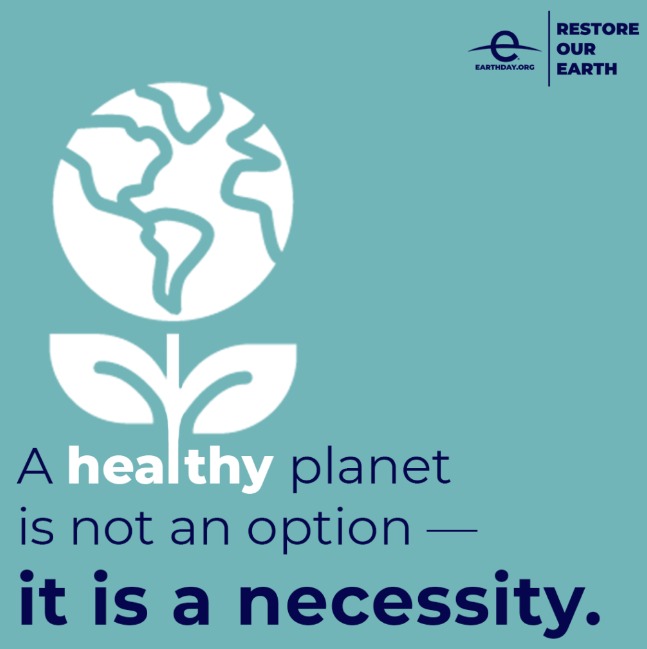 Every year, more than 1 billion people in 192 countries participate in Earth Day activities, making it the largest civic observance in the world and this explains why we want you to be part of Earth Day and to help further climate action acoss the globe.
As such, we are organizing the Steem Earth Day Contest that aims at tasking Steemians around the globe to do something to restore Earth. We will be rewarding all Steemians who participate in Earth Day activities with 1 steem each meanwhile 03 outstanding Earth Day Activities will be chosen and given 03 Steem each plus upvotes from @steemcurator01 or @booming
Contest Rules
Organize an Earth Day activity or engage in any environmental activity that helps further climate action or restores Earth and blog about it. You can learn more about Earth Day activities here; Earth Day Action
During the implementation of your activity, take a picture of you or any member of your activity holding a sign on which you have written, "Earth Day 2021 and the date of the activity|" You can do this by simply writing on a piece of paper and then taking a picture of you and/or any member of your team during your activity
Upvote and resteem this post
Use "#earthday and #restoreearth" as your primary tags
Comment on your Earth Day post with at least one screenshot of your social networking shares.
Comment with a link to your post on this post.
Contest Duration
The first phase of the Earth Day contest will run from the 6th to the 15th of April 2021.
Contest Prize
All entries will receive upvotes and 1 Steem from @thegreens
The best 03 entries will receive 03 Steem each and an upvote from @steemcurator01 or @booming.
Learn more and take climate action here; Earth Day 2021

The Greens is a grassroots environmental organization that strives to educate, inspire and engage young people to take action to combat climate change and be at the forefront of biodiversity conservation and waste management.