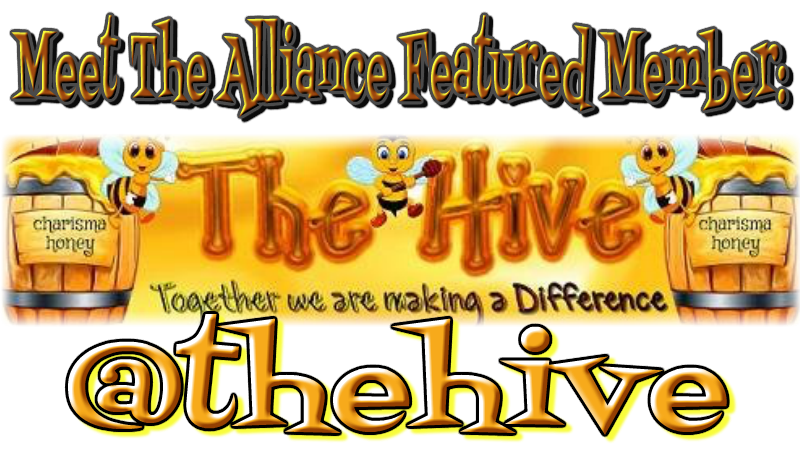 Featured Member?
I used to do these on a weekly basis and am trying to do them more frequently. We have a lot of deserving individuals. I actually liked doing these because it gave everyone a little more insight as to who each person was and their little backstory. Before we get in to our newest featured member, I'd like to reminisce a bit and go over everyone that was a featured member prior. Some are still in the fam, some have gone on to do their own thing, and there are some that have completely left the blockchain. Lets's see if you remember:
---
Just 'BEE'cause. He knows how to 'BEE' himself. Ya bad puns, but this guy is full of jokes, let me tell you. Sometimes, it goes over my head, but the ones I do get? Belly crumpling funny. You best to 'BEE'have around him too, he won't 'BEE' afraid to put you in your place! And when it comes to support? Gung-Ho for @thealliance.
---
I say this because I am often sitting in the Hijacked Bar in the Castle with him. He asks every few days if there's anything else he can do or how we can help grow this or that more efficiently. He's full of ideas I really hope come to fruition one of these days. Several have been made in to accounts which he is following through with.
His Personal Bloggy Blog
There was a time, when @buddyup's weekly 'Drop in the Ocean' posts came frequently from his hands. He is opinionated on many a topic and if you dig deep enough, you'll see he cares about the entire world around him too. To be honest, I'm not entirely sure @thehive is a solo entity. If you check his profile, it says, "We are a group who believe in working together (so) we can all grow." So, it begs the question, how many are in The Hive?
Regardless what other projects you have going on, you're still heavily in tune with the fam. You have kept the chat lively, shared many a thought and show up every day. Your consistency and dedication is something to behold. We've watched you grow from a teeny tiny plankton to a dolphin-sized presence and are happy to be swimming with you. We appreciate you Jan, STeeM oN!


*"We may not all be on the same page,
but we can all read from the same book."*
~ @thehive ~
*"A rising tide lifts all boats!
If one of us lifts up, we can all lift up!
We simply help each other. Like family."*
~ @bluefinstudios ~
"Far from a circle, we are a unit."
~ @grow-pro ~


Spread Love not War!
Want to support the fam too?
Come visit with us in The Castle!
Join #thealliance curation trail!
Delegate to the family curation account - @thealliance!
50SP - 100SP - 500SP - 1000SP - 5000SP - 10,000SP - 50,000SP