Tokenpocket is a multipurpose wallet DApp that interacts with blockchains to give cryptocurrency traders the ability to seamlessly operate and manage various wallets on multiple independent chains thereby allowing them to coexist in the same ecosystem. With Tockenpocket, we no longer need to be worried about the risks that come with the management and maintenance of various wallets separately as our cryptocurrency portfolios continue to grow.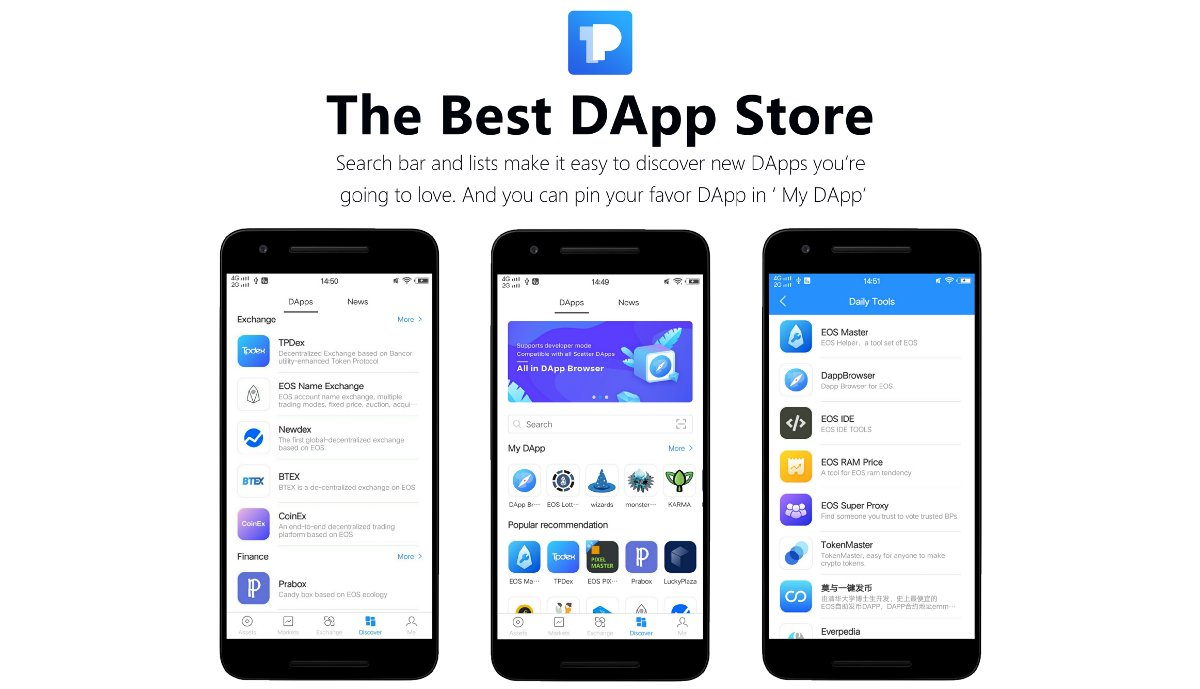 Source
Although they are all built on the same foundation and have some common properties, blockchain platforms and projects have different protocols. Regardless of its area of focus, every blockchain project is is based on the concept of decentralization. To me, decentralization is the government that we needed but never had. Blockchain firms get of middlemen's involvement with the use of contractual algorithms. Data are stored on millions of computer nodes that are interconnected in a peer-to-peer approach, rather than on a centralized server. As well, most blockchain projects have their network utility tokens that provide an economy around which the project is maintained. However, these different protocols with which the chains are created do not always interact directly without the involvement of some extra tools.
These differences in protocols and techs create diversities which req require each prol token to be stored only on its designated wallets. This is the same reason won we, as cryurrency enthusiasts usually have to have various wallets to sto store different digitalets. There are many challenges that come with this. Having multiple wallets require extra effort to manage and maintaintain. The Tokenpocket team solves these problems with an all-in-one highly functional DApp. Here is my critic review of this priceless application.
center>Introducoducing Tokenpocket
[TokTokenpocket is a univerllet for storing, sending and receiving cryptocurrency tokens. It is built on EOS blockchain and supports multiple cryptocurrency tokens. Tokenpocket creates relationships among chains of different protocols thereby leading to a wallet with a range of functionalities for various cryptocurrency tokens. With Tookens. With Tokenpocket, cryptore need to have multiple wallets to store, transfer and trade their digital assets.
Tokenpssets.
Tokenpocket acts asecentralized applications ecosystem on your mobile device. Through it, you can access various DApps in categories that are being deployed on the internet. As well, its functionalities extend to bringing EOS blockchain newsflash and get you updated about everything related to this chain. It has a multi-layered encryption algorithm and biometric procedures all for security purpose and ensures the safety of users assets.
---
Various components of this DApp
---
There is no denying the fact that centralized systems have their exclusive benefits. However, to me, these systems are literally dictators. The users have no power to effect the system as they wish. We just have to follow the set of rules made by the system. This is not the case on the enterprises built on the blockchain. The way blockchain technology works is different from how centralized firms do. In the blockchain, both the users and block producers have an equal right. The users can select on which node they want the network to be run. EOS adopted the Delegated Proof of Stake (DPOS), a method invented by Bitshares, Steem and EOS blockchains creator, Dan Larimer. This is seen as a technological democracy model where a set of rules is agreed to by a community of block producers (usually called witnesses) and users that have invested into the system through staking.
On EOS, every investor with some EOS in their wallets have the right to vote for contesting super nodes known as Block Producers (BPs). This ensures that everything is done in a transparent and fair manner. As well, voting usually provides a better way of selecting supernodes that can maintain the stable operation of EOS chain. Tokenpocket has a functionality that allows EOS investors to vote for supernodes in an easy way. Voting does not require users to path with some of their digital assets. It is completely free but necessary to have a sustainable and balance system on the chain.
Unlike on Ethereum and some other blockchains, EOS account activation attracts a certain fee. Your newly created account will only be activated after your activation fee has been confirmed by the designated network. Creating an EOS account is pretty easy on Tokenpocket. The option should come up as you launch the app after installation. Follow the procedures and complete it. Be ready to path with $4 USD to get your activated.
Looking at it deeply, EOS is a game changer even in the blockchain industry. This blockchain works quite differently compared to other chains. Certain resources that are jointly working underground are made known and accessible to the users based on the amount of tokens staked. Some of these are the CPU, RAM and network and are acquired through tokens staking. I think I need to give some insight about these resources and how they are used on ESO chain.
The CPU is the brain of the network through which transactions are executed. It is also regarded as the length of time that a block producer has to authorize a transaction. It is measured in milliseconds and varies based on network congestion. RAM is used for account storage on EOS chain. Both the block producers and users are entitled to a corresponding mount of RAM. Unlike the CPU, RAM cannot be delegated, is bought and not staked and can be resold. Network on EOS is the amount of data that can be sent or received within a precise period of time. Draining your network bandwidth will result in you being shut off and requiring that you pay to pay more. That is all I understand by these resources. Blockchain technology is an ocean of knowledge anyway; you can only swim to your extended capacity. (Chuckles).
These resources can be easily purchased on Tokenpocket. The Resources button is found on the Assets page within the mobile app. From there, you can select the resources you wish to purchase and calculate the mortgage amount. This is indeed a superb DApp with multiple functionalities.
Included on Tokenpocket is an in-app DApp browser. The DApp browser allows us to explore the DApp world and access multiple apps within a single app. As well, we can have an ecosystem of our beloved DApps that we find useful on a daily basis. This feels like using Parallel Space app to run multiple apps within an app. However, it is much better and bigger than that.
---
Getting started with Totarted with Tokenpocket</centerenpocket app is available for Android and iOS handheld devices as well as desktop devices. Visit there homepage to get the one supported by your device.
In this walkthrough, we will be using a Tokenpocket app downloaded on my Android device. You can get it on Google play through this link. After installation, launch the app and you should see the page shown below.
From the first page, we can see that the current blockchain by default is EOS. You can switch to other chains using the Click to Switch button displayed at the top. Clicking on that, we can see the list of different blockchains supported by Tokenpocket as shown below.
Now back to the wallet homepage. There are three options for a new user of this DApp to choose from; Import Account, Create Account or Preview a Fixed Account (in Visitor Mode). For now, we will head on to preview an already created account in visitor Mode to be able to do some things. later, we will create a new account and see how that is done. Below is the Visitor Mode account named TheEOSPortal. The assets include EOS, TPT, DICE, DLX, POST, SKR and FWEOS with a balance of $13.57.
Transferring assets from Tokenpts from Tokenpocket
okens, click on Transfer button below the wallet balance and you should see the Transfer page as shown below.
As you can see here, you can choose to transfer to a saved address through your contact or scan a receiver's Qr code. However, we will choose the third option and manually fill in the details of the receiver.
Fill in the required details and complete the transaction should be as easy ABC.
To receive some EOS tokens, click on Receive button under your wallet balance. The next page shows your wallet's QR code and address. Specify the amount of token you want to receive (this is optional), copy the address and send it to the sender.
Viewing EOS resources on Tokenpocket
Below the wallet balance are some menus. The first one is the Resource button that takes you to the EOS resources page. Clicking on it for the first time, Tokenpocket will give you some tips about how trading operations consume resources as shown below.
The CPU/NET (CPU and Network) resource is first displayed. Here, we can see the already used and remaining CPU/NET capacities. We can delegate and refund CPU/NET with EOS tokens to our account and others. We just need to input the amount of EOS we want to stake and click Delegate or Refund to complete the operation.
Clicking on RAM takes us to the page shown below. Here, we can buy or sell RAM capacity for/to our account or others. Again, we just need to input the amount of EOS token and click on Buy/Sell.
EOS and Proxies voting
Beside the Resources is the Vote button. Clicking on this button takes us to the Nodes Voting page where we can select the nodes that we wish to vote for. We can vote for multiple nodes by selecting them, clicking the + sign at the front of each node. We then click on Vote when we are through to complete the operation.
To practice Proxies voting, we click on the Proxies Voting icon displayed beside the Node Voting. Each proxy on the list has a button beside it tagged Vote Him. We can also vote for multiple proxies just as we can do for nodes.
Permission and other tools
On the Permission page, we can add more users to our account. As well, we can set active and threshold permissions.
Other tools that can be accessed on this page are shown below.
News page
The news page on TokenPocket is a blog through which updates on EOS blockchain are disseminated to the users. This is another entity showing us the incredible functionalities of this amazing DApp.
DApp browser
The DApp browser leads us to the DApp ecosystem where we get to explore the various decentralized applications available on the web. These DApps are grouped into categories for easier exploration. The DApp browser safely redirects us to third-party sites while we are on Tokenpocket, thereby giving us the ability to access multiple functionalities simultaneously.
The chat page then takes us to an in-app end-to-end encrypted messenger. Though this messenger, we can create relationships with the leading figures in this broad industry, network and gain a lot of things. As well, we can arrange to trade with other users of this DApp when we see the need.
Profile page and settings
The profile page is where we manage and control our accounts, wallets and assets. The first on the list here is the Assets Overview which contains the information about our assets.
Next to this is the Manage Wallets button through which we can manage existing wallets and create new ones. We will discuss how to create a new wallet later in this post.
On the Settings page, we can manage our account's nodes; modify and add customs nodes to the default ones we have. As well, we can activate push notifications, added security (i.e. Gesture Password) and many others.
Creating a new wallet
To create a new wallet, go to the user profile and click on Manage Wallets. Your existing wallets will be displayed to you and at the button, you will see the Add Wallet button. Click on it and the page shown below should come up.
As you can see here, Tokenpocket has the functionality to support various blockchains. Select the one that you want to create a wallet on. If you have an existing wallet, you can import it using the private key, mnemonic code or keystore.
We will go ahead and create a new wallet. We are required to provide the wallet name and create a strong password but that we can remember. From there, we will be asked to complete some steps to back up the wallet. Follow the instructions and complete the setup.
---
What I like about Tokenpocket (Pros)
---
I have used a couple of wallet DApps in the past and I have reviewed many of them. I haven't come across any that has as many functionalities as Tokenpocket. This is an excellent DApp equipped with various tools to help traders to effectively and securely carry out cryptocurrency trades. This DApp has a direct connection to the EOS chain network and with it, one can do a lot of things. Incredible!
Supports various blockchains
I am an enthusiast of various blockchains and have some fortunes on them. This gave me no choice but to have multiple wallet apps installed on my mobile device so I can always perform trades anytime anywhere. However, with Tokenpocket comes an entirely different experience. This DApp interacts with more than five major blockchains that have thousands of cryptocurrency tokens sitting on them. One can easily store, send and receive hundreds of different cryptocurrency tokens on this single app. This, to me, is legendary.
If you have read any of my previous reviews, you would have known that I am someone who has undisputed passion for simple and easy to use interfaces. Tokenpocket is not only equipped with lots of technological tools that take users experience to the next level but also have a very friendly interface. It is very easy to use for both newbies and veterans.
Usually, DApps with such multiple functionalities are known to operate Lind of slowly. Tokenpocket is completely stunning. It processes every request in a blink of an eye. If it is otherwise with you, trust me, you need another mobile device.
---
Cons
---
Well, when I eventually find one, I will definitely update this post. I, however, do not know how long that is going to take. In a nutshell, the only con that this DApp has for now is that it does not have any con yet. Amazing.
---
Rating
---
Do you think I have any reason to rate this DApp anything less than the full 5 stars? The team put up an amazing work to create such a great wallet DApp with multiple functionalities. The project is of the highest standard and to me is unrivalled. Do you understand me now? This DApp got its well-deserved full 5 stars.
---
---
Github Repository
---
Links and References
---
---
DISCLAIMER
This is not financial advice, nor a guarantee or promise in regards to any result that may be obtained from using the above content. The information provided here is for informational and entertainment purposes only. It should not be considered as financial and/or investment advice. No person should make any kind of financial decision without first consulting their own financial adviser and/or conducting their own research and due diligence.