This week we got a major announcement from the Palnet team that really exemplifies something that we all tend to do.
Before getting into that, I want to state I always hated the term "sh*tcoin". I find it to be very demeaning to the teams behind different projects. Also, there is a major problem with this viewpoint. To draw this conclusion means one has knowledge about what is going on behind the scenes. If that is not the case, then one is simply espousing an opinion without any idea of what is going on. I guess you could say this is ignorance at its best.
Does that mean every token is legitimate and going to succeed? Absolutely not. There are scams out there, that we cannot deny. There are also projects that realistically have little chance to get off the ground due to a variety of factors. Ultimately, we are talking about technological projects which require business sense, money, and some expertise. The timing also has to be correct.
That said, I think everyone could have gotten a wake up call from the Palnet team.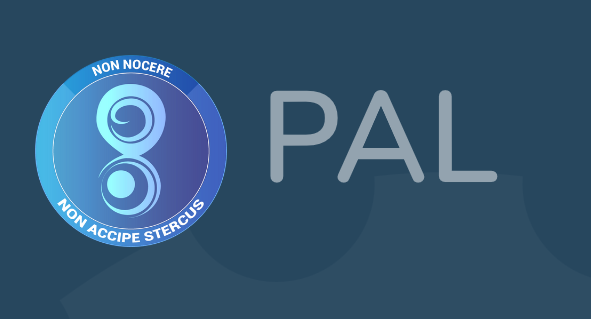 Source
Here is an example of a token that I do not believe many were optimistic about. The price went from roughly .70 to somewhere around .04. It is a general type of tribe that allows most any content. Thus, the market concluded there was little reason to hold this token.
I guess you could say that people were putting PAL in the "sh*tcoin" category.
The announcement this week showed how wrong people were. Certainly, there is a chance that this token never goes anywhere. However, that does not mean the team behind the project is not addressing issues.
To start, they are revamping the token economics. I won't go into all of the details other than to say they are reducing some of the payout to the moderators on Discord while also doing an airdrop to those who are staking PAL tokens. This is going to happen over a 9 month period.
They also have a couple of projects in the works. The details were rather sketchy so there is little to comment upon. They did refer to a Palnet application and something to do with NFTs in the first part of the year.
https://steempeak.com/hive-110490/@minnowsupport/exciting-palnet-news-airdrops-burns-and-more
What does this mean? Simply that the project is not dead. There are plans in place and activity being undertaken to move forward. Will this result in a massive breakthrough? I have no idea. What I can say is that the Palnet project is being viewed in a different light by many as compared to what the prevailing thought was on it earlier in the week.
Then we get this tidbit from @r0nd0n. He is part of the Palnet team which means this announcement might be part of their larger picture (or this could be a completely separate project). Either way, we are going to see another application added to Steem, one that using the immutability feature of blockchain.
It basically uses Steem for text archival and payment for the service. Essentially, it is a data retention service.
Here is a write up about the project:
https://steempeak.com/palnet/@r0nd0n/there-s-a-new-dapp-coming-to-the-block-input-needed
As noted, this could be a completely separate from anything the Palnet team is doing. Either way, the point is there is a lot that is taking place that most of us are not aware of. Something like Palnet was viewed as a sinking ship only to reveal there are major plans to keep it afloat.
Which harkens us to the bigger picture: What is going to be the application that sends things flying? I bet if we all posted what we thought, there is a great likelihood almost all of us would be wrong. It is hard to guess what is going to provide the breakthrough. While the present moment has people looking to the apps that are having some success, that does not mean that others are not developing things that will really send things flying.
This is an evolving process. As long as there is a team working behind the scenes of a token, there is a chance that things come together. Statistical probability is such that many will end up doing very little. Yet, there are going to be those that were overlooked that end up as gems (many of us feel the market is overlooking STEEM and believe it will be a gem of the crypto world).
It is easy to draw conclusion and to write a project off. This could be the mistake of a lifetime. There are opportunities before us that could change the life of any individual on here. The key is to find out which ones.
Since it is impossible to know what is going on with everything, I find it best to spread things out, playing percentages instead of putting everything into one or two projects. Steem allows for that. I know there are tokens that look dead today which will be regrets for people in a year or two. My hope is to have a few of them in my wallet.
It is funny how a project is deemed dead just before a major announcement. After that, it is often a token many wish they had more of.
Palnet gave us all a reminder. The proverbial "do not judge a book by its cover" comes into play. Looking at a token only at surface level and based upon pricing action will not tell the entire story in most instances. There is a lot more taking place than meets the eye.
Thus, we might want to try being too rigid with how we size up projects. There is a great chance we do not have all the information.
This approach might mean a lot more money in our wallets down the road.
---
If you found this article informative, please give an upvote and resteem.