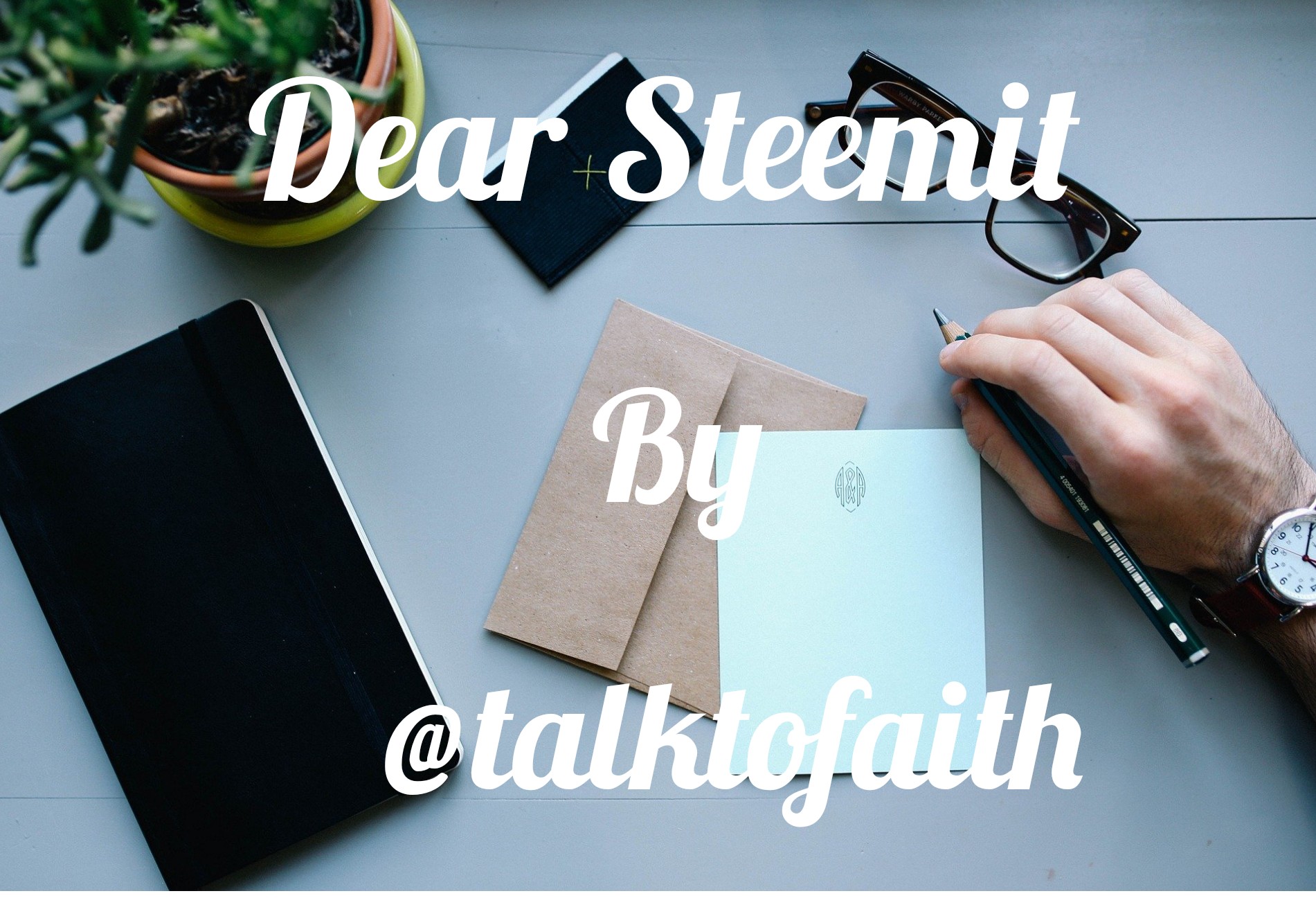 Source
Hello Dear Steemit,
I am pleased to write to you once more after a little bridge in communication between us. I hope you are doing well in your new location. I had really missed you a million times, so I decided to express myself in this little piece here.
I will start this little piece by appreciating you so far for being whom you are, for all you had done and is continuously doing for me. Basically since I came in contact with you, so many things has changed in my life and around me. You had been a friend that is closer than a sister. So staying for a while without hearing from you had been like a thousand years to me. I had missed our constant sharing of secrets, I had missed your advice and constant support too.
I am writing to tell you about my daily activities, it's been an awesome adventure so far. You know I don't have an 8 to 5 job, so all my activities are centered around steemit and a training on affiliate marketing that I am currently taking.
Basically, all my activities revolves around steemit. Once I am up from bed in the morning and had my prayers and a little studying, the next thing is to pick up my phone and check up on notifications from anyone to me on steemit.
I hope you haven't also forgotten that I am a Currently a city Co-ordinator of the Lagos City Steemians in Nigeria. Oh, that....? It had been a wonderful experience for me though. And as a co-ordinator, I have several responsibilities on me. I see to it that all the Lagos City Steemians are active on steemit. Sometimes I have to put a call across to the inactive ones to find out what their problem is actually and device a possible means of solving it. It had not been easy, but the stress is worth it. Currently I am printing a steemit t-shirts for the Lagos steemians, it was meant to be ready since last week but it was delayed by the printer, but I just got a call from the printer that he is on his way to my house to deliver the t-shirts. Did I also tell you that @stephenkendal supported the printing of our t-shirt with 100 Steem, please if you see him, thank him for me. Below is the t-shirt samples.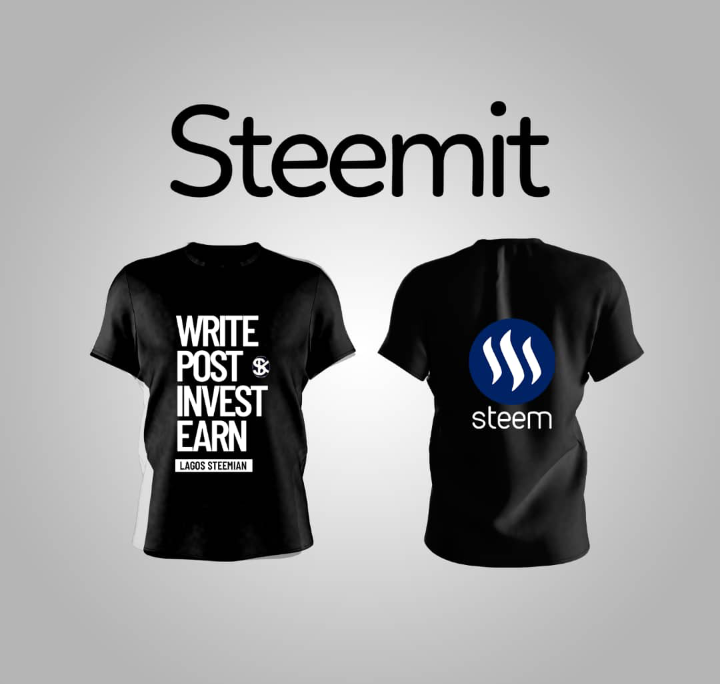 The black colour of the t-shirt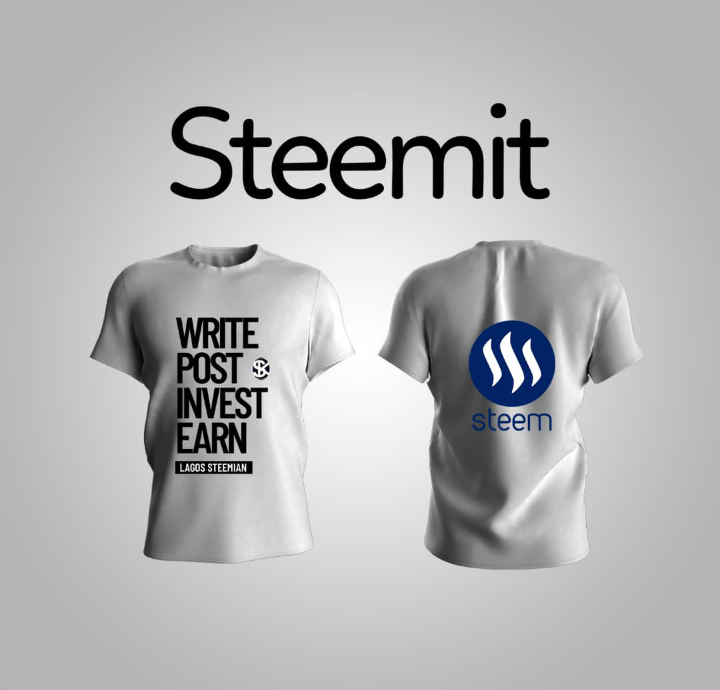 The white colour of the t-shirts
My Steemit business had been awesome. The current training I am undergoing now on Expertnaire Affiliate Marketing, I registered for the training with 45,000 which is approximately 167 Steem. I raised the money for the registration from my steemit earnings, and I believe I am going to fund back my steemit wallet as soon as I start earning from my affiliate marketing.
Since I started this affiliate training, my attention had been divided, but in other to manage my time wisely, I do my steemit business in the day time and I use my nights for my affiliate studies.
For a while now one of my recruits @ammyy had been down with malaria, so yesterday I went to check up on her with some other Lagos Steemians (@ruthjoe and @ifylove), the malaria affected her activeness on steemit, but I am glad she is recovering.
Due to the beautiful experiences and all the wonderful earning potentials I had experienced on steemit, I had introduced 3 of my siblings @davchi, @ruthgold and @successjoh to steemit, including over 20 other steemians from my city. It's been a beautiful one so far, and I am so loving myself for getting involved in steemit in the first place.
I really want to pour out my heart writing to you about all my routines, but just a pen and paper will not be enough for it, I will reserve every other gist for the day we will meet physically.
Just take care of yourself.
Yours Sincerely
@talktofaith
I invite @ruthjoe, @ifylove, @ammyy, @harrygwec and @analee to come write a letter to steemit.
@steemingcuration and @fabio2614, thank you for hosting and organizing this contest, I am glad to be a part of it.
Here is my content entry post.
Best regards