Hi beautiful women, hope you all are good and enjoying your lives. I'm backed to take part in this amazing contest skin care/makeup by #steemwomenclub. I think it's the topic that every woman loves. Another name for women is beauty. Every woman has its own beauty and she always tries to enhance it by care, new modification in hairs, makeup, dressing and accessories etc.
>Hola mujeres hermosas, espero que todas estén bien y disfruten de sus vidas. Estoy respaldada para participar en este increíble concurso de cuidado de la piel / maquillaje de #steemwomenclub. Creo que es el tema que ama a toda mujer. Otro nombre para las mujeres es belleza. Cada mujer tiene su propia belleza y siempre intenta realzarla con cuidados, nuevas modificaciones en el cabello, maquillaje, vestimenta y complementos, etc.


skin care :
I'm hare to share my secrets that I used for my self. I don't go to beauty-parlors for skin care but every woman that can afford this expense, should go there at least once a month because they have experts and can treat better skin care.
Now I'm showing the skin care products that I use for myself.
>Toda mujer que pueda afrontar este gasto debería acudir al menos una vez al mes porque cuentan con expertos y pueden tratar mejor el cuidado de la piel.
>Ahora les muestro los productos para el cuidado de la piel que uso para mí.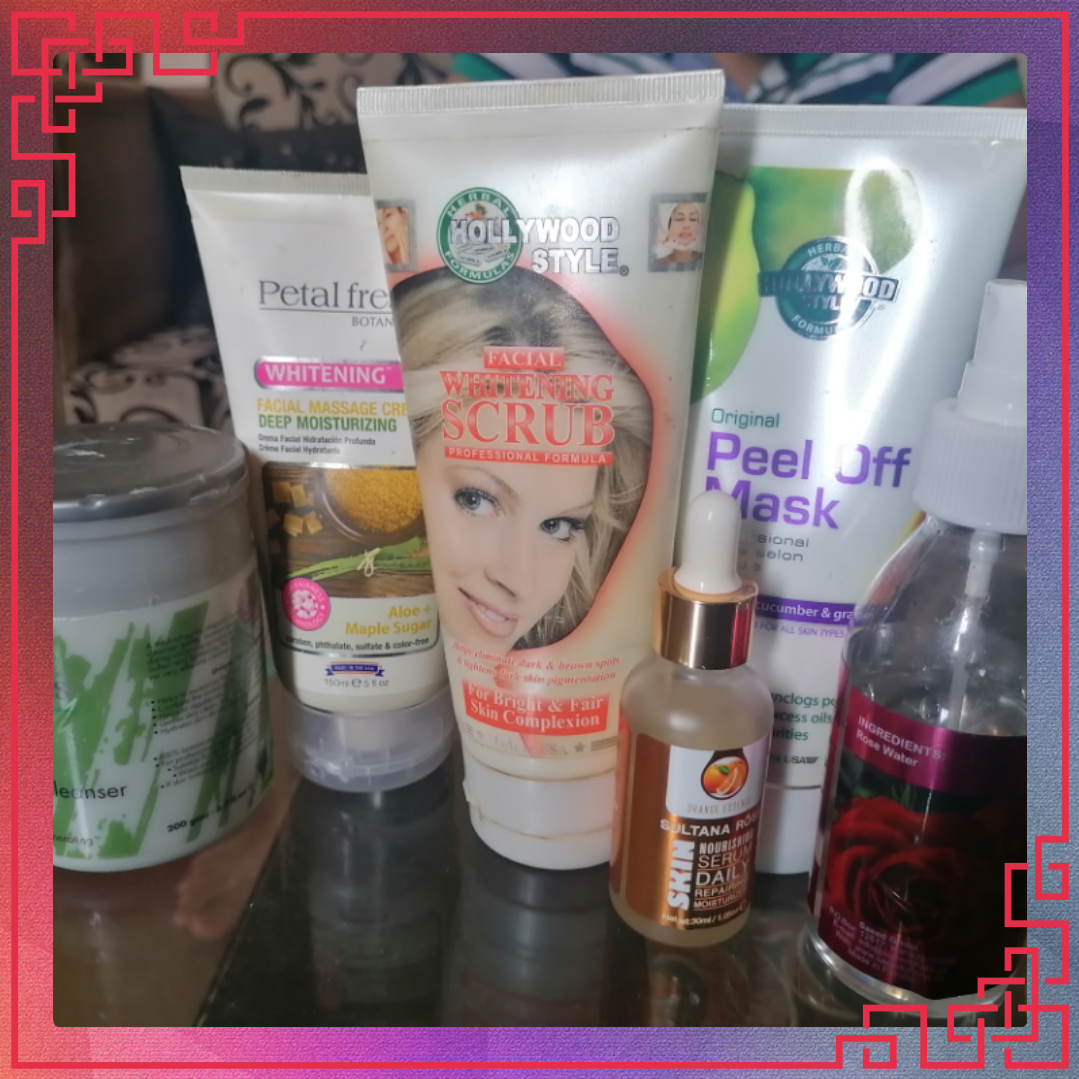 ___I once a week do some care that always give difference in skin condition and I feel that my skin becomes smooth and radiant. And it does not take too much time as spent in parlor.
My skin care is just about___

Cleansing
## Exfoliation

Messaging
## Masking

>Una vez a la semana hago unos cuidados que siempre dan una diferencia en la condición de la piel y siento que mi piel se vuelve suave y radiante. Y no lleva demasiado tiempo como se pasa en el salón.
Mi cuidado de la piel es casi
Limpieza
Exfoliación
Mensajería
Enmascaramiento


Cleansing :

Cleansing is very essential for your skin. You can do it with any cleanser which suits your skin. This process removes dirt and impurities from skin and reduces the risk of acne. I normally use this cleanser, it's cooling effect made me fresh and give smooth skin.
Limpieza:

> La limpieza es muy esencial para tu piel. Puedes hacerlo con cualquier limpiador que se adapte a tu piel. Este proceso elimina la suciedad y las impurezas de la piel y reduce el riesgo de acné. Normalmente uso este limpiador, su efecto refrescante me refrescó y me dio una piel suave.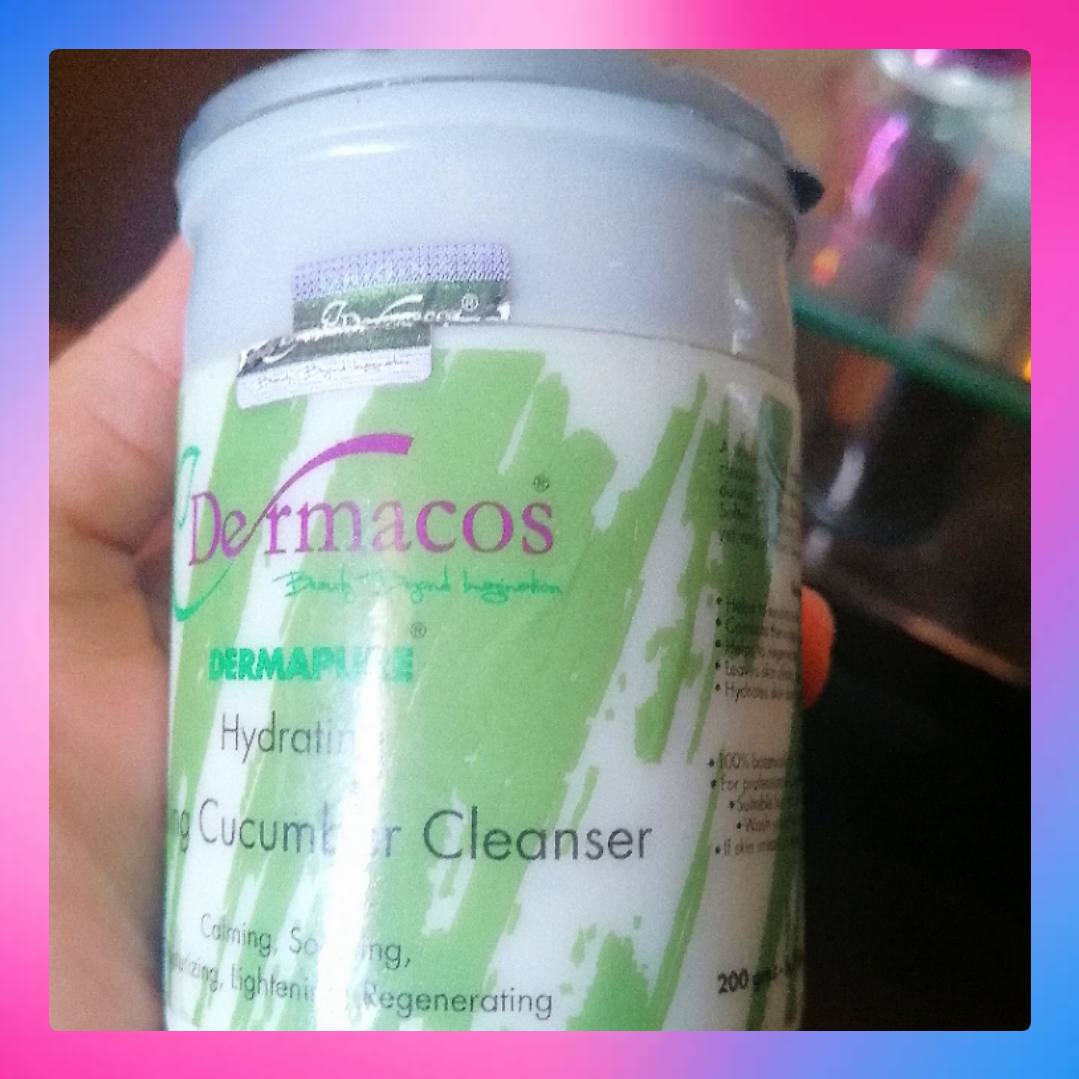 Exfoliation :
Exfoliation is done to remove dead cells and blackheads from skin. I use scrub for this and some times use rice flour that gives brilliant effects on my skin. Nowadays I'm using Hollywood style scrub.
Exfoliación:

>La exfoliación se realiza para eliminar las células muertas y los puntos negros de la piel. Utilizo exfoliante para esto y algunas veces uso harina de arroz que da efectos brillantes en mi piel. Hoy en día estoy usando un exfoliante estilo Hollywood.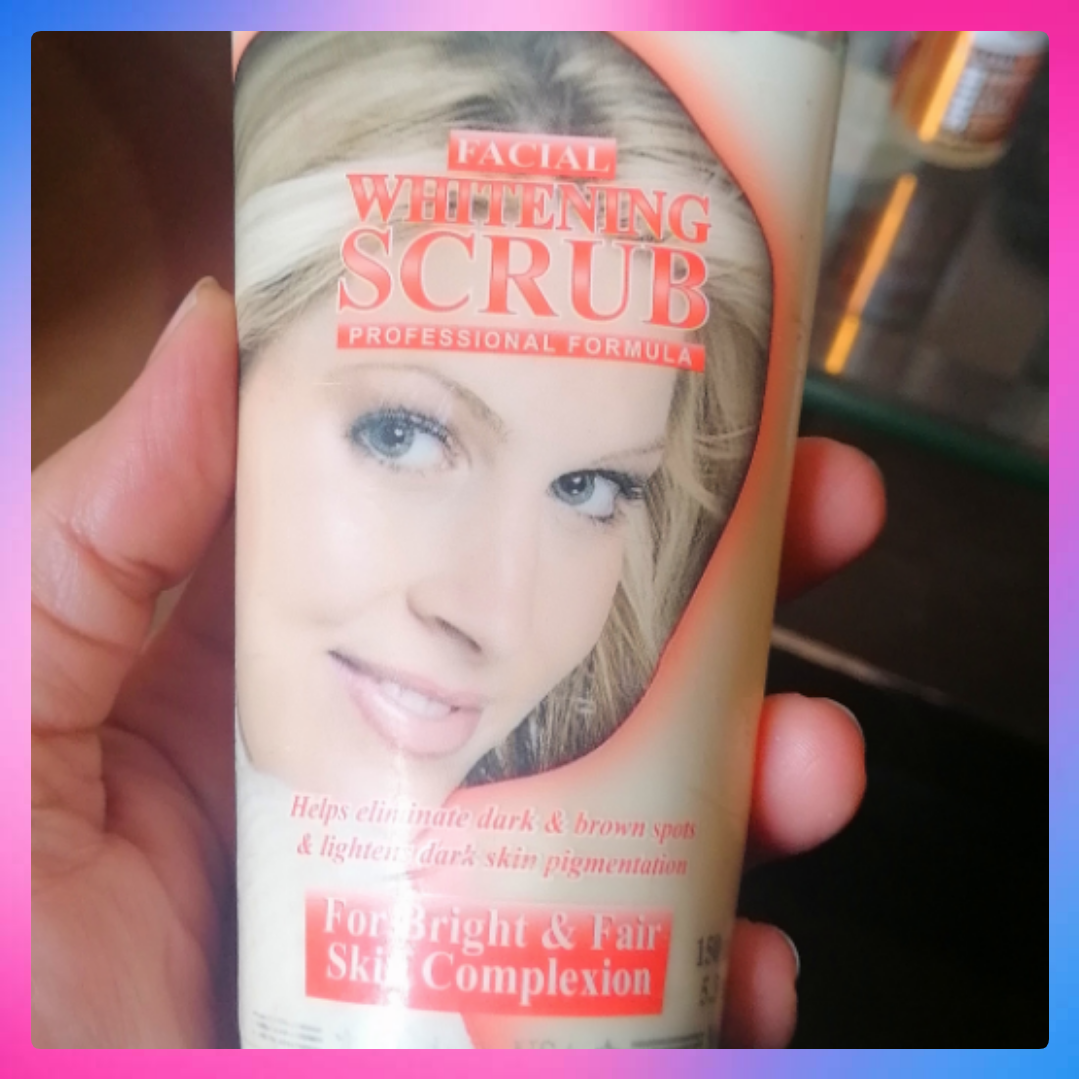 Massaging :
Massage to skin increases the blood circulation and gives radiant and young look to the skin. For massaging you can use any oil and cream. I'm doing massage with is.
Masaje:

>El masaje en la piel aumenta la circulación sanguínea y le da un aspecto radiante y joven a la piel. Para masajear puedes usar cualquier aceite y crema. Estoy haciendo masajes con is.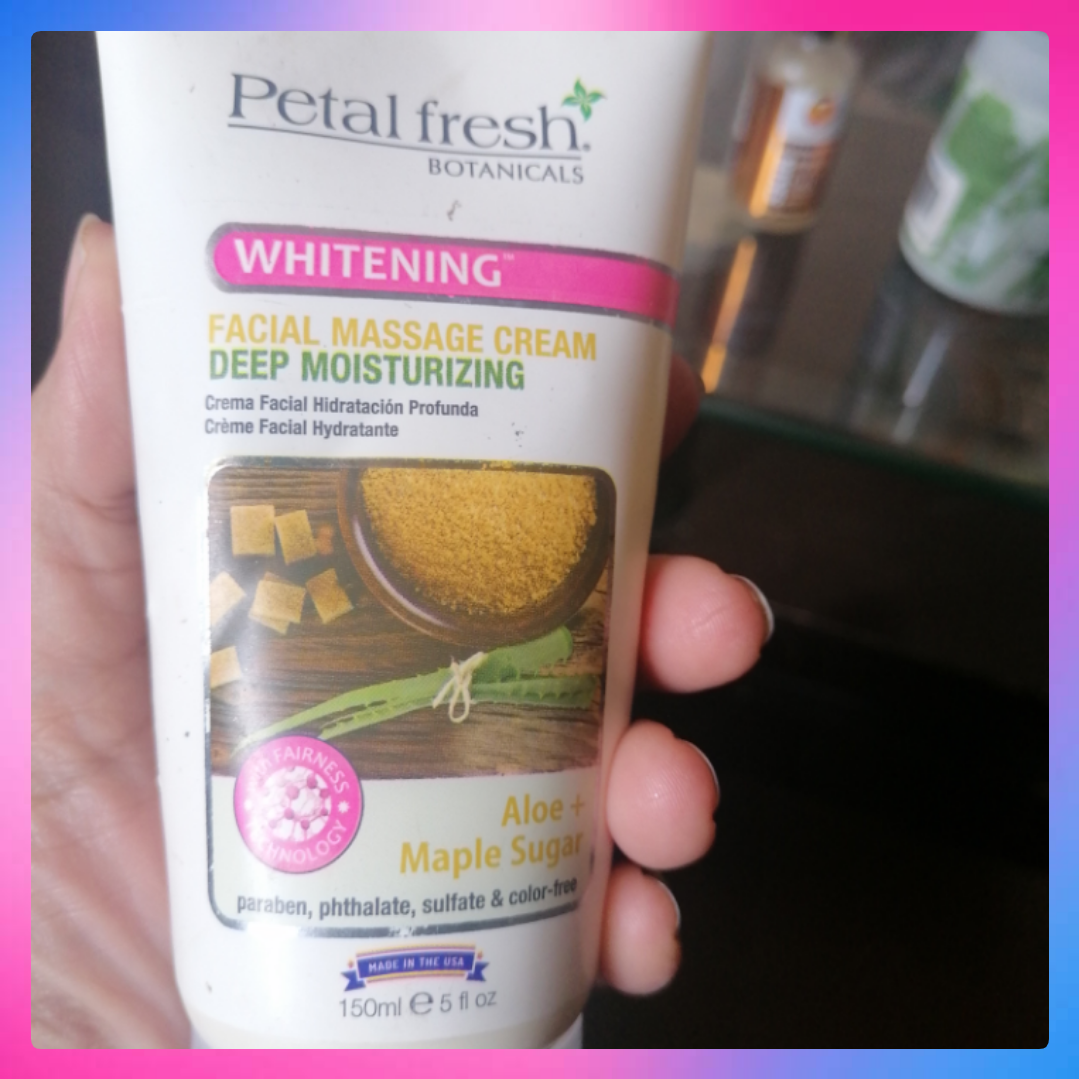 Masking:
Mask tighten our skin, minimize the skin pores and give young look to our skin many mask are available in market and best for skin too. I bought this one for me.
Enmascaramiento:

>La mascarilla aprieta nuestra piel, minimiza los poros de la piel y le da un aspecto joven a nuestra piel. Muchas mascarillas están disponibles en el mercado y son las mejores para la piel también. Compré este para mí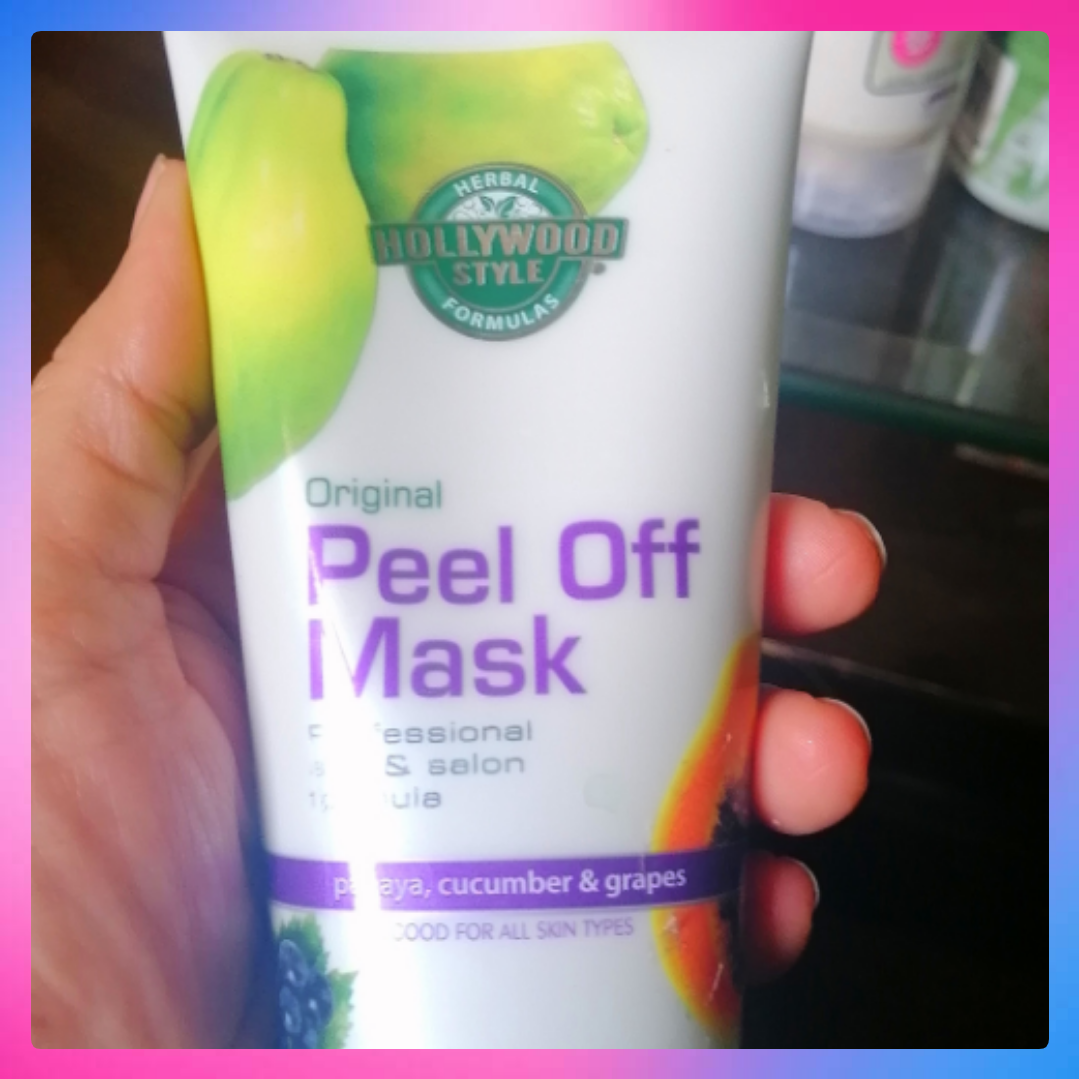 Last step is apply toner to skin and I used rose water as toner.toner is also used for minimizing the skin pores and tighten the skin.
>El último paso es aplicar tóner en la piel y utilicé agua de rosas como tónico. El tóner también se usa para minimizar los poros de la piel y tensar la piel.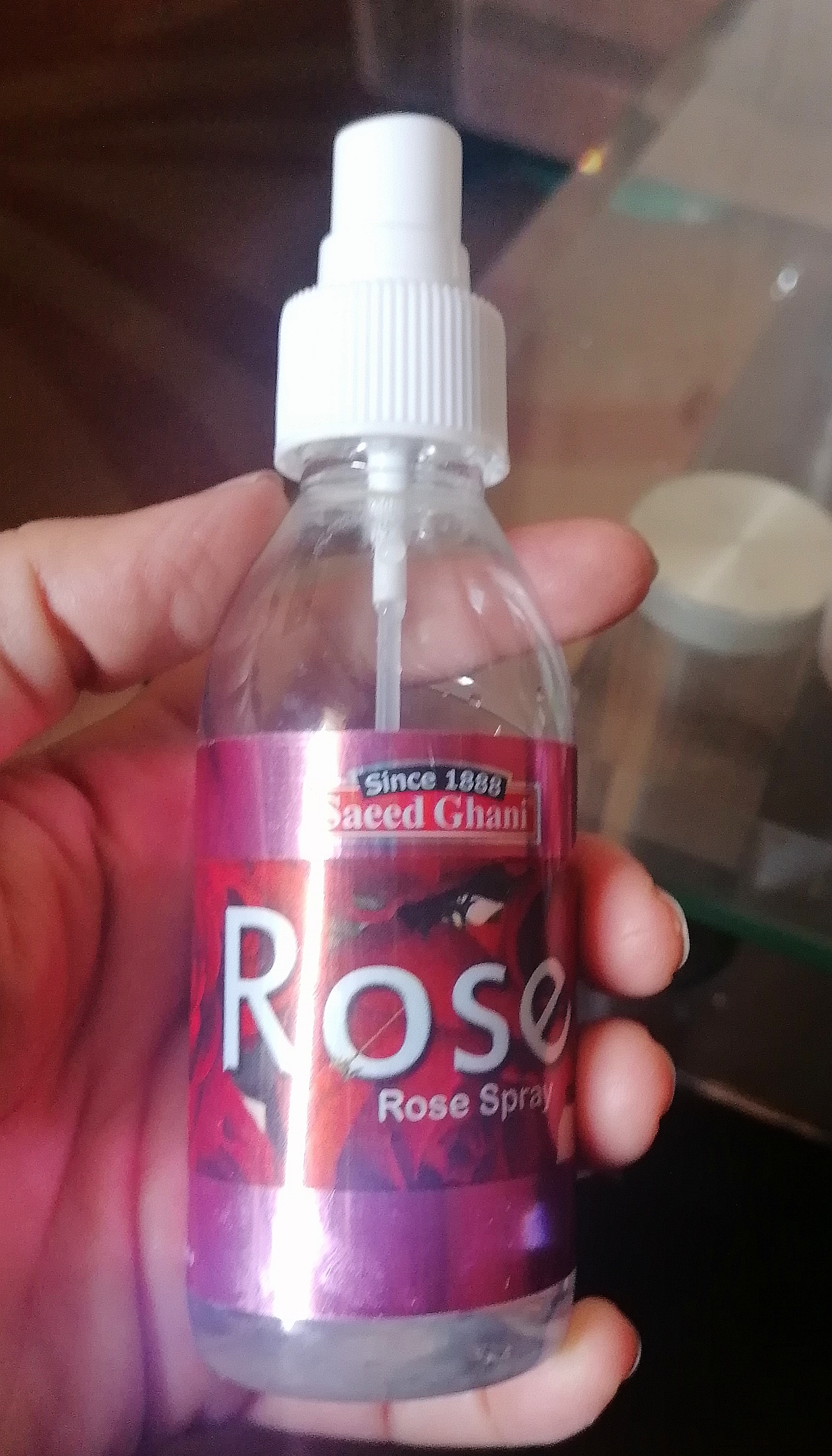 MAKEUP:
Makeup is an art and every woman should know how can she enhance beauty by makeup. If you do makeup techniquely you will become more beautiful.
Today I'm showing the way how I do make up. I'm not a beautician but know how to beautify myself.
MAQUILLAJE:

>El maquillaje es un arte y toda mujer debe saber cómo mejorar la belleza con el maquillaje. Si te maquillas con técnica te pondrás más guapa.
Hoy les estoy mostrando cómo me maquillo. No soy esteticista pero sé embellecerme.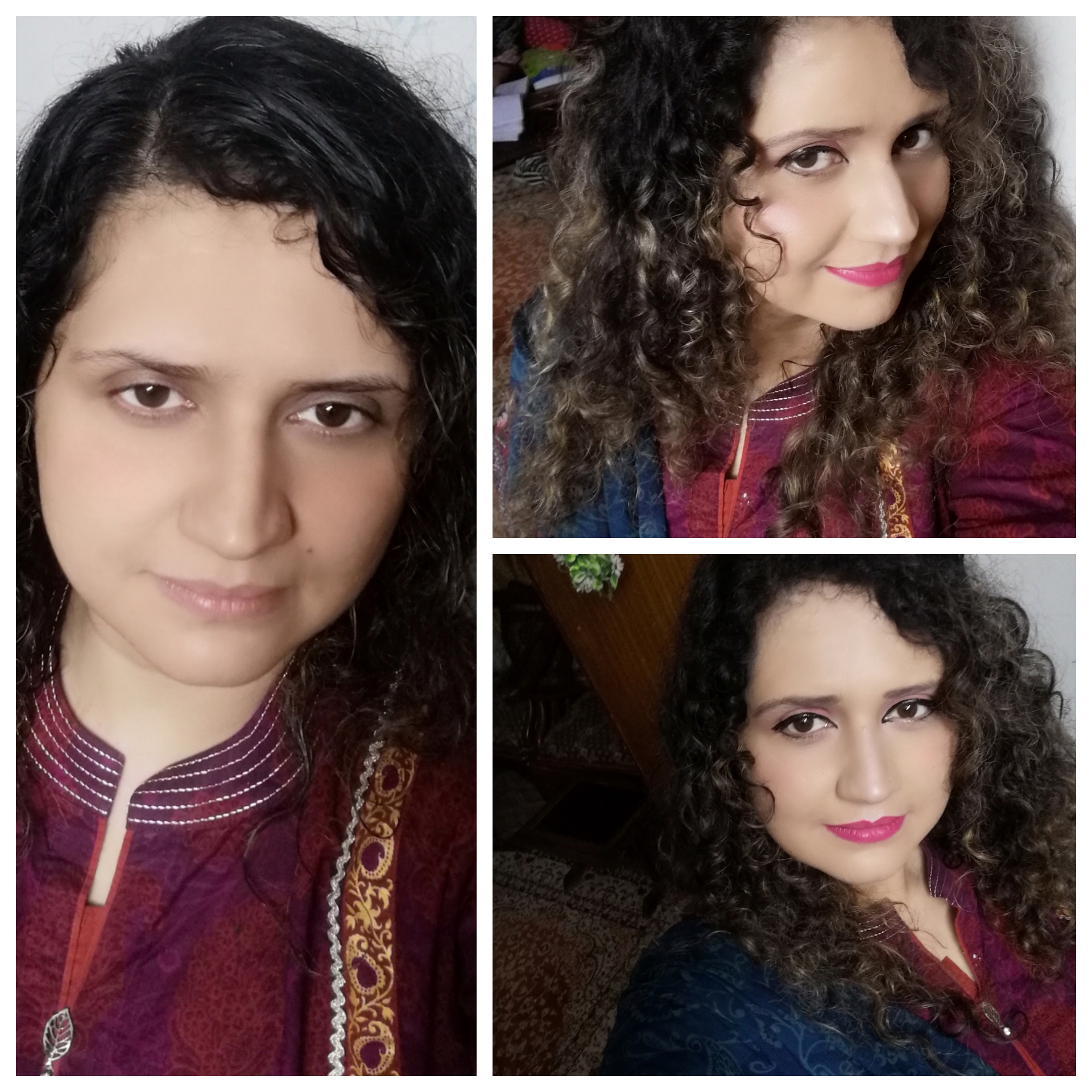 Step 1:
Before starting makeup prepare your skin for it. Wash your face, then apply any moisturizer then apply skin serum to it and let it dry for some time. I'm showing the serum that I use normally.
After applying serum my skin is ready for makeup.
___
Paso 1:

>Antes de empezar a maquillarte, prepara tu piel para ello. Lávese la cara, luego aplique cualquier crema hidratante, luego aplique suero para la piel y déjela secar por un tiempo. Estoy mostrando el suero que uso normalmente.
Después de aplicar el suero, mi piel está lista para el maquillaje.
___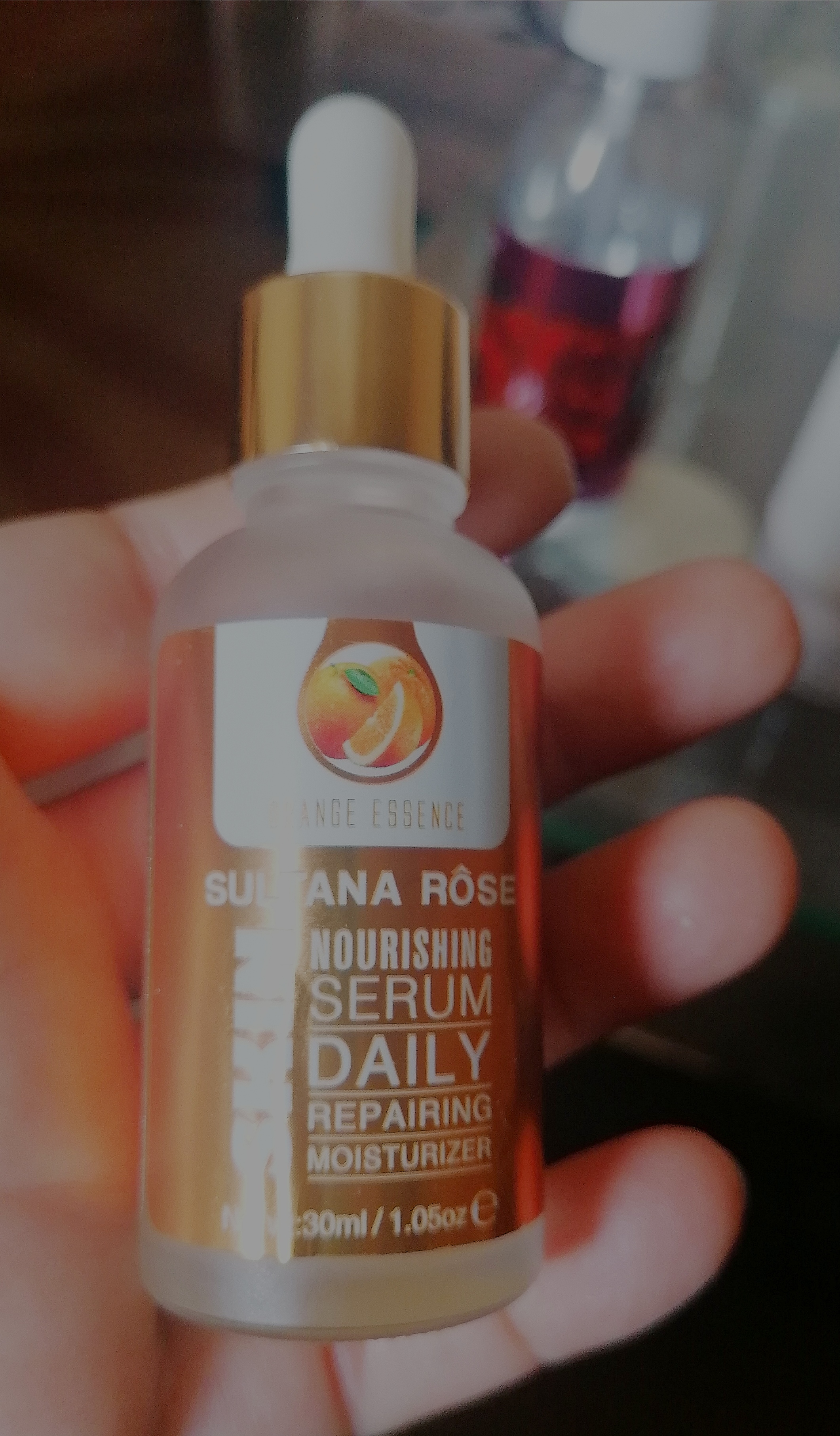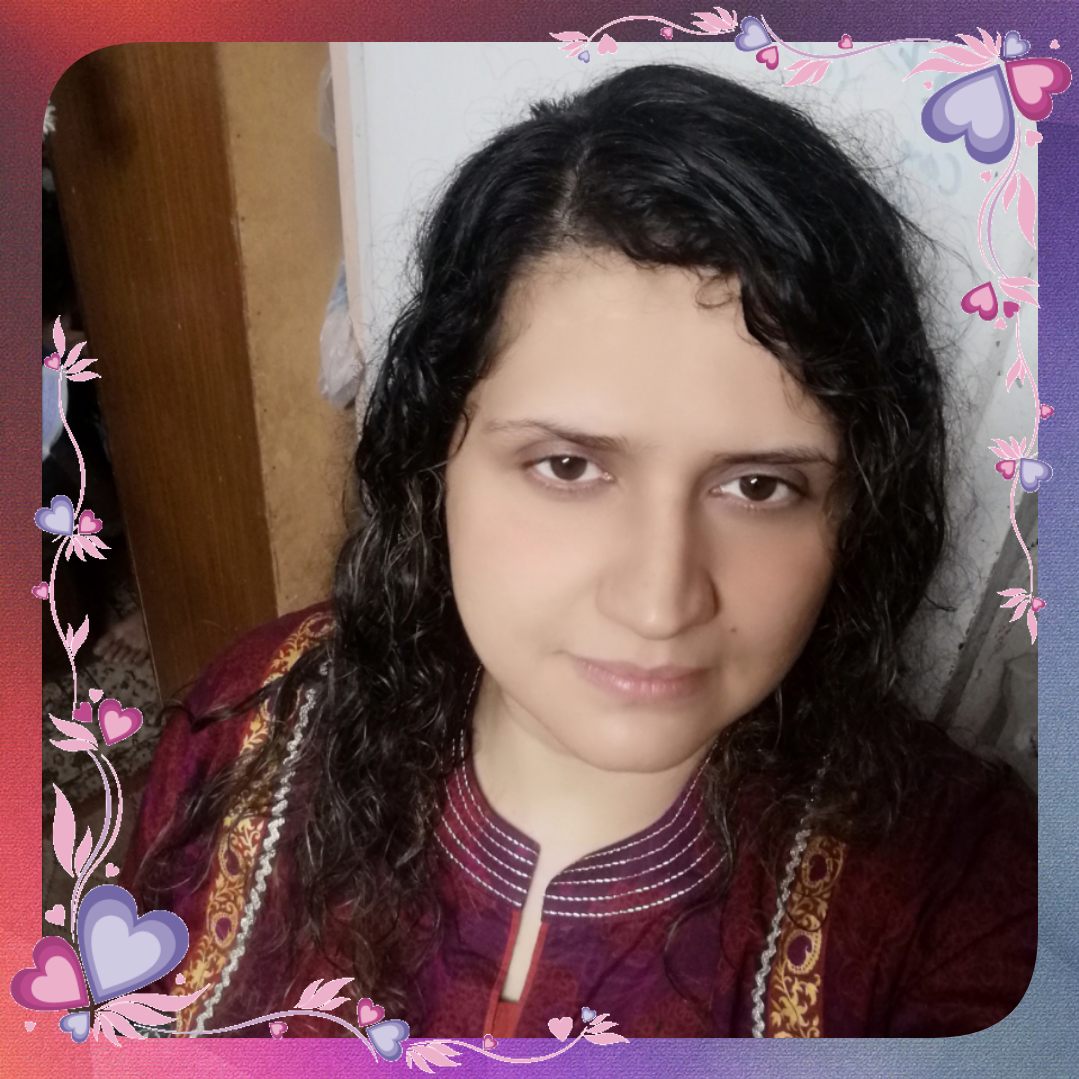 before makeup

Step 2:
Apply foundation accounting to your skin tone and texture evenly over the face and neck.As you know summer started at Karachi so I'm using this liquid base now as it's look is Matte. Let it dry for few minutes then blend it to make even.___



Paso 2:

Aplique la contabilidad de base al tono y la textura de su piel de manera uniforme sobre la cara y el cuello.Como saben, el verano comenzó en Karachi, así que ahora estoy usando esta base líquida, ya que su apariencia es mate.
Deje que se seque durante unos minutos y luego mezcle para que quede uniforme.
___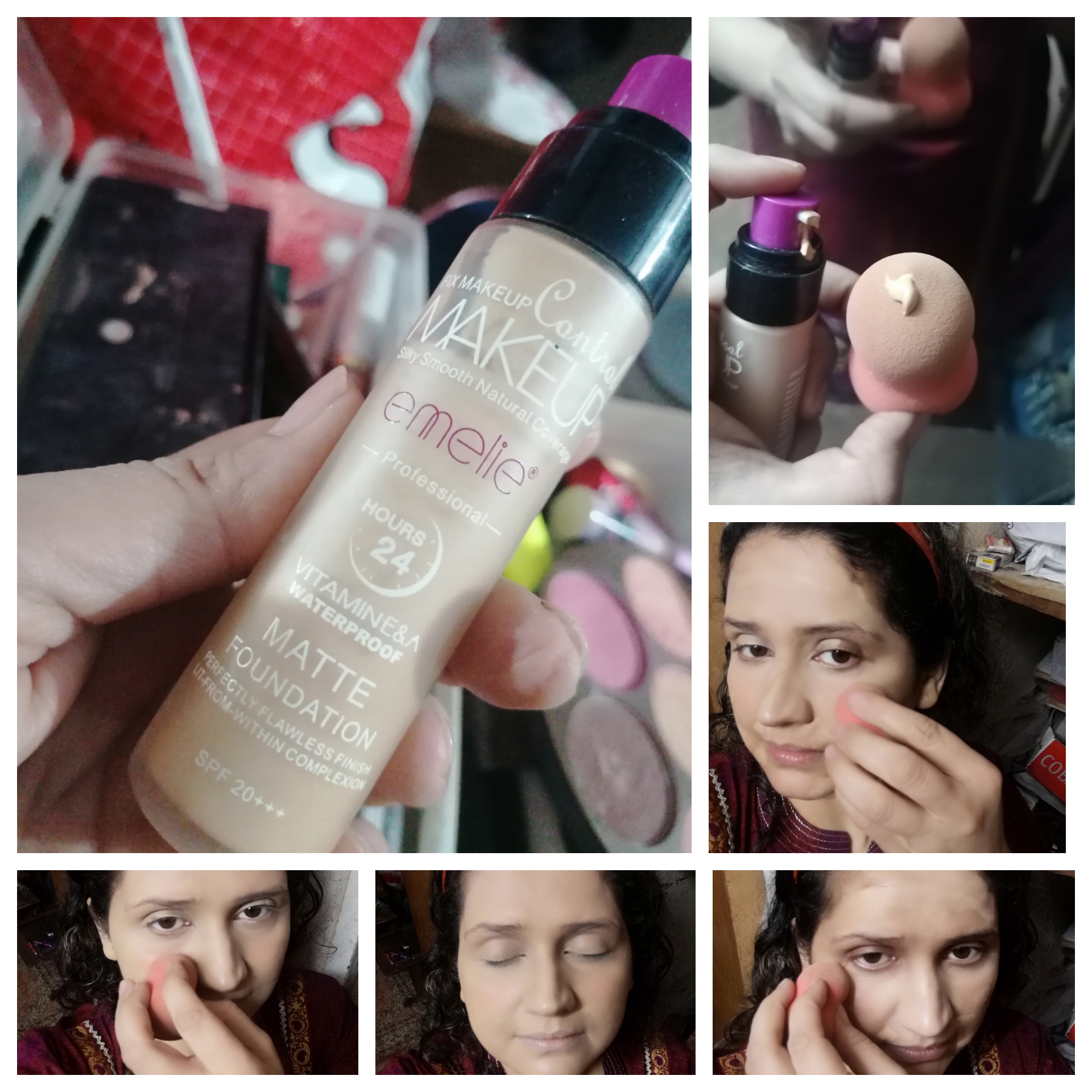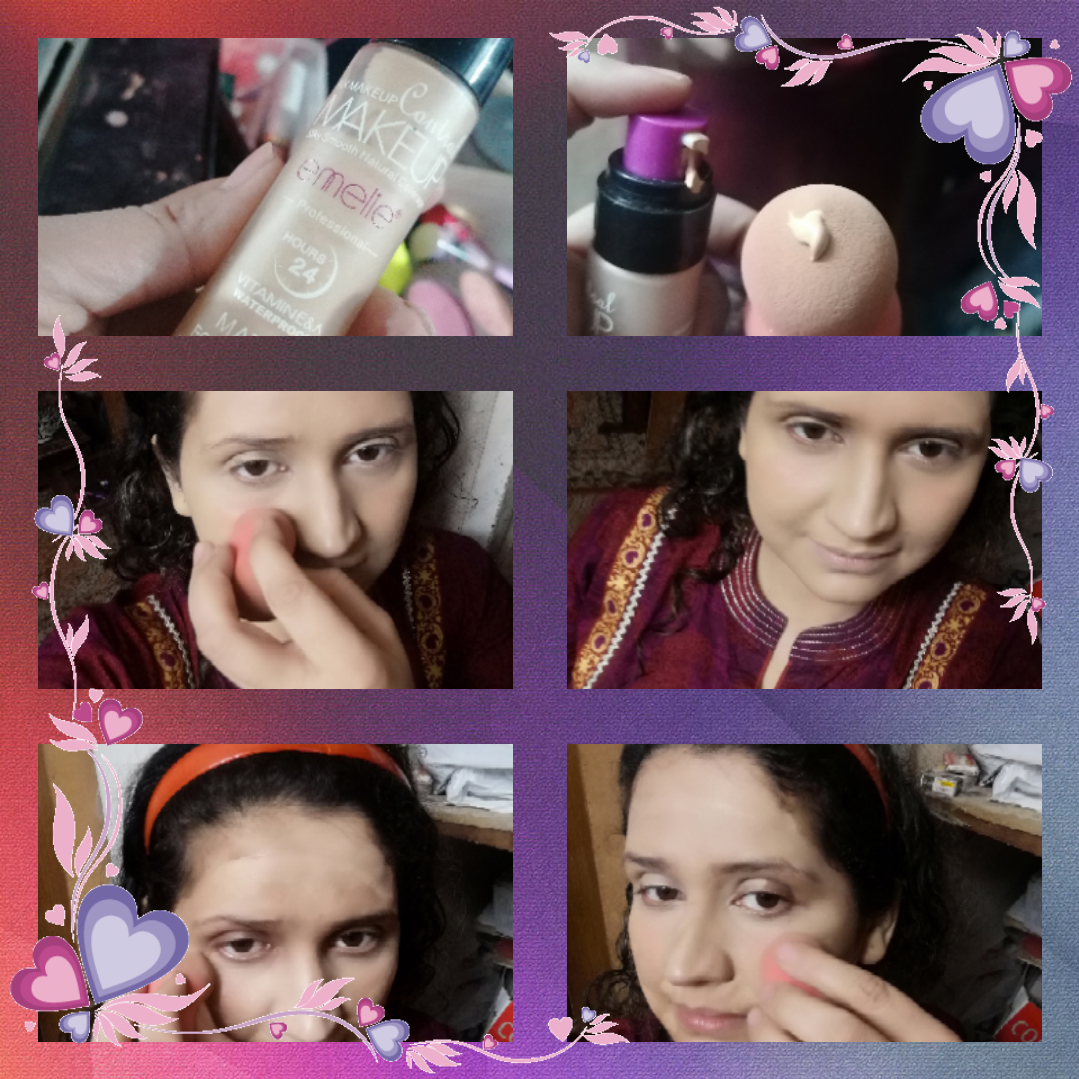 Step3:

* First start with eye make up, apply skin color to give base color to it if you have dark circles then use concealer to hide them.___
* Apply eye shade according to your dress I normally use this color.use black color at corners. Blend the colors to give even look.



Paso 3:

* >¿Primero comienza con el maquillaje de ojos, aplica color de piel para darle color base si tienes ojeras y luego usa corrector para ocultarlas.
* >Aplica sombra de ojos de acuerdo a tu vestido. Normalmente uso este color. Usa color negro en las esquinas. Difumina los colores para dar un aspecto uniforme.
___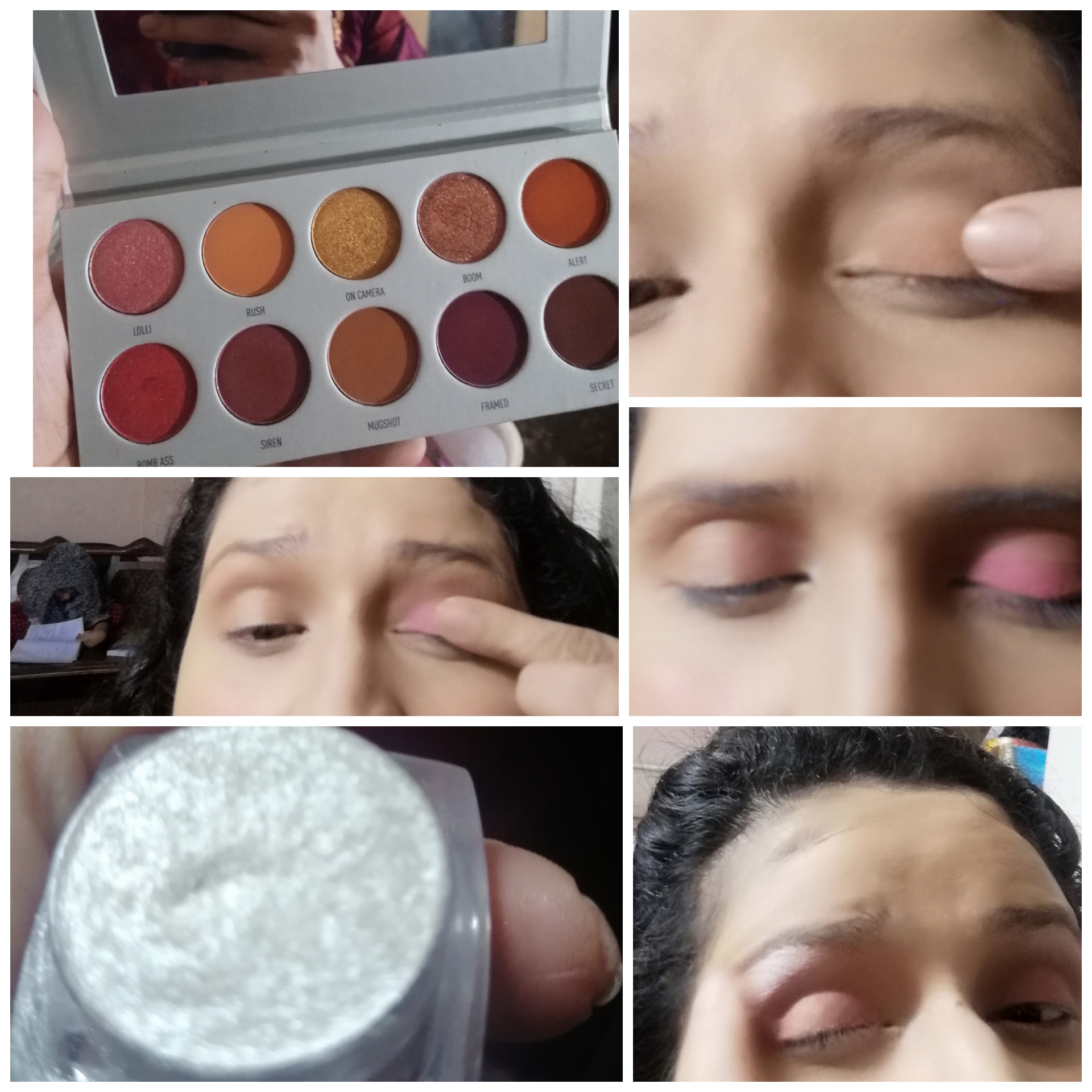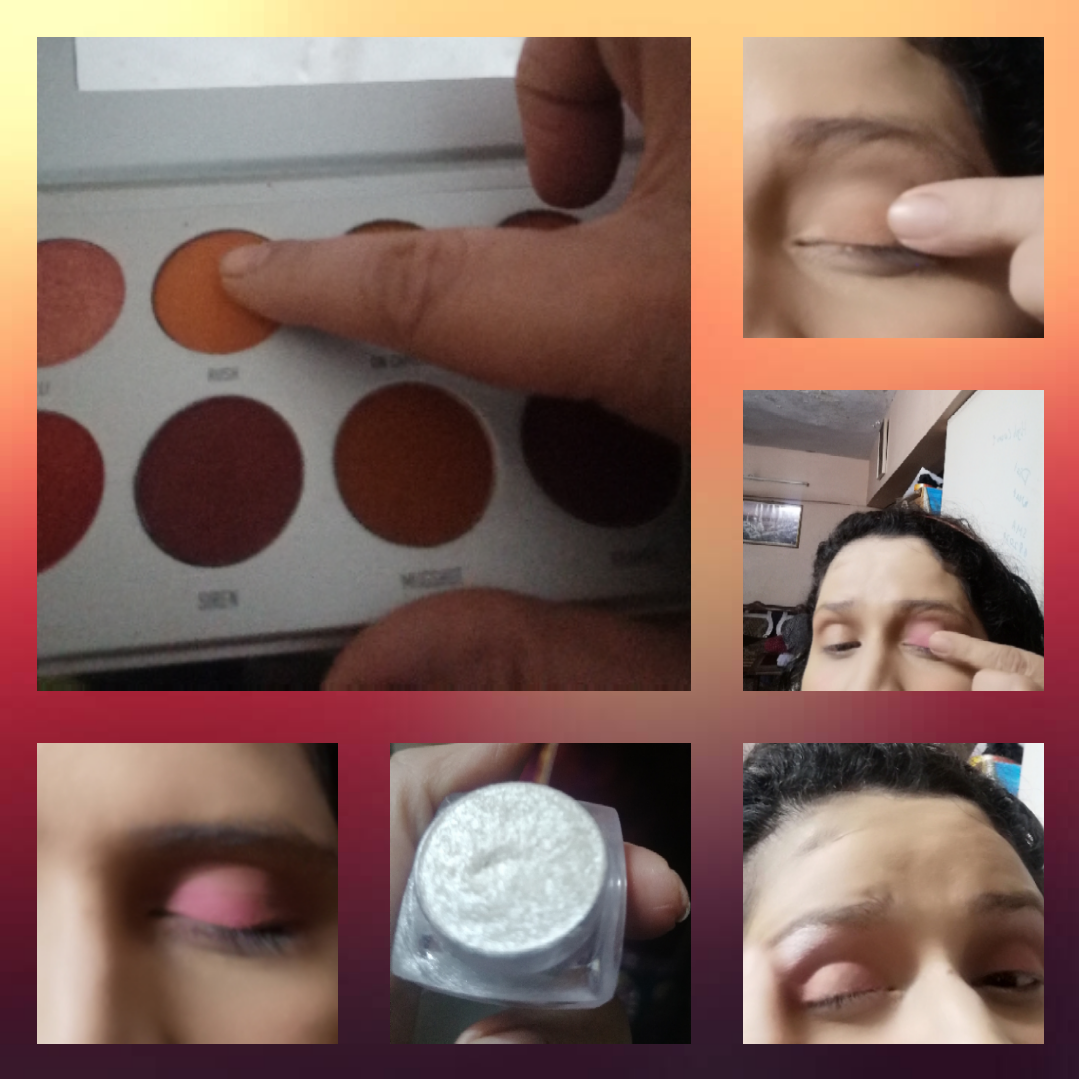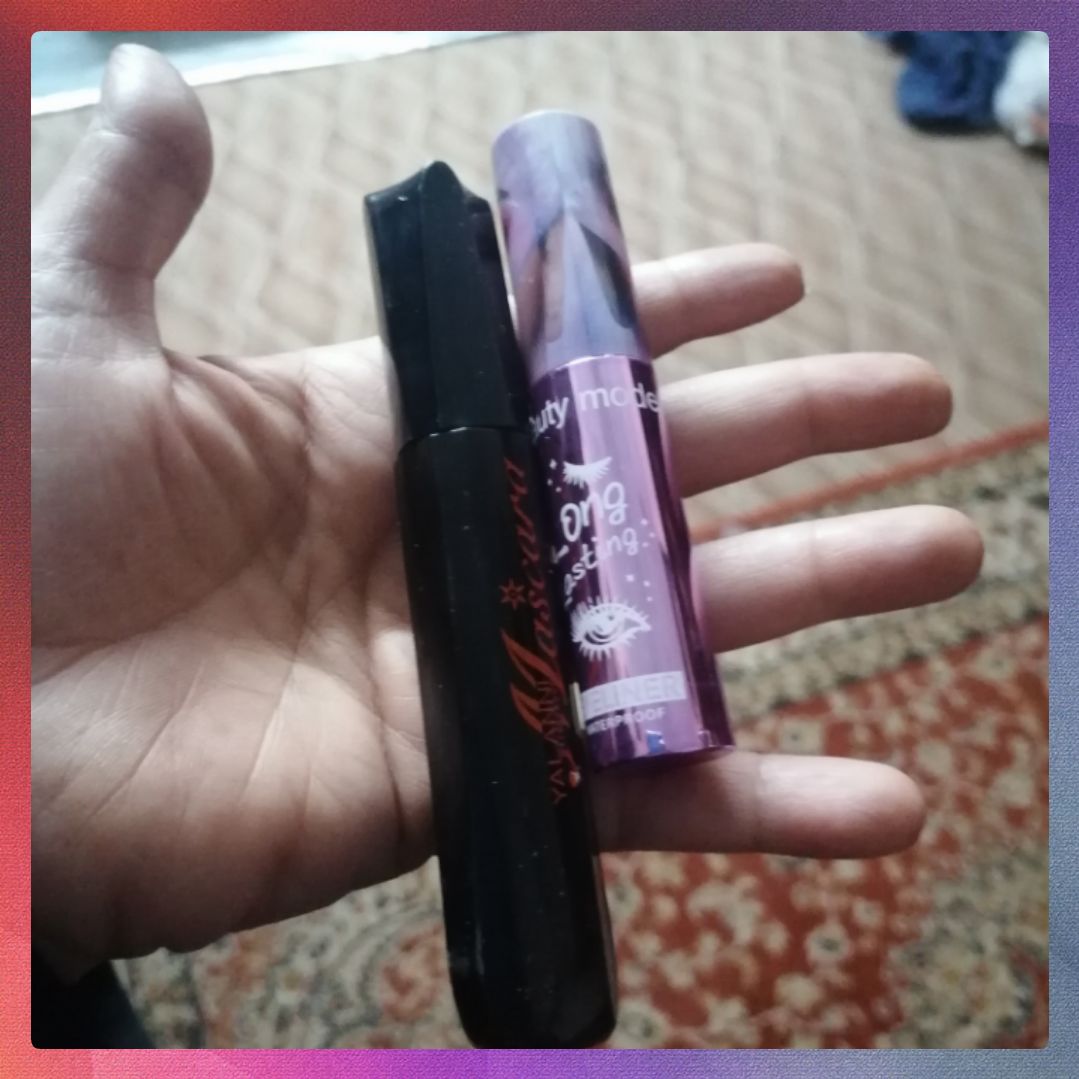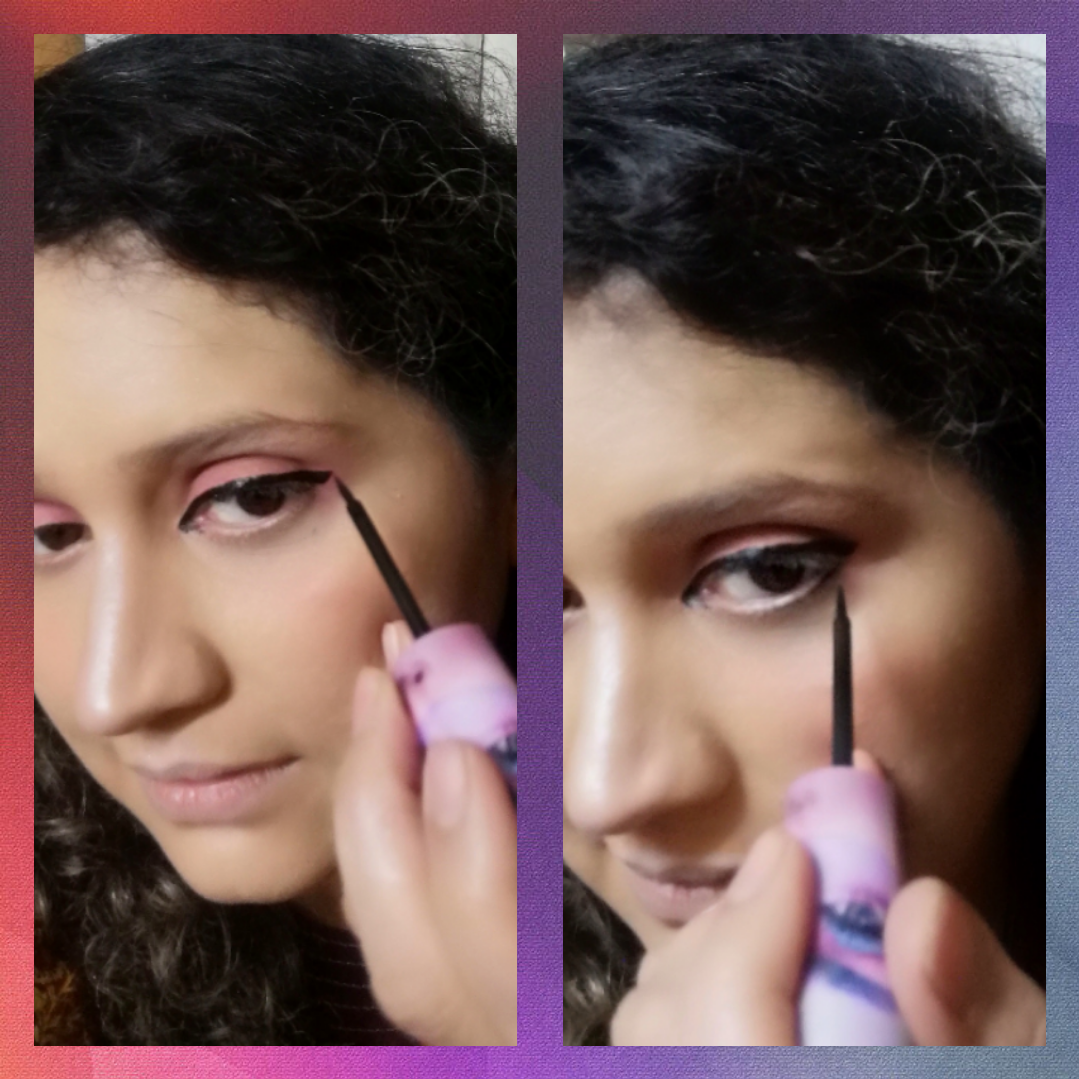 * Apply eyeliner over the eye. I like liner and kajal very much and use a thick line.___
* >Aplicar delineador de ojos sobre el ojo. Me gusta mucho el delineador y el kajal y uso una línea gruesa.
___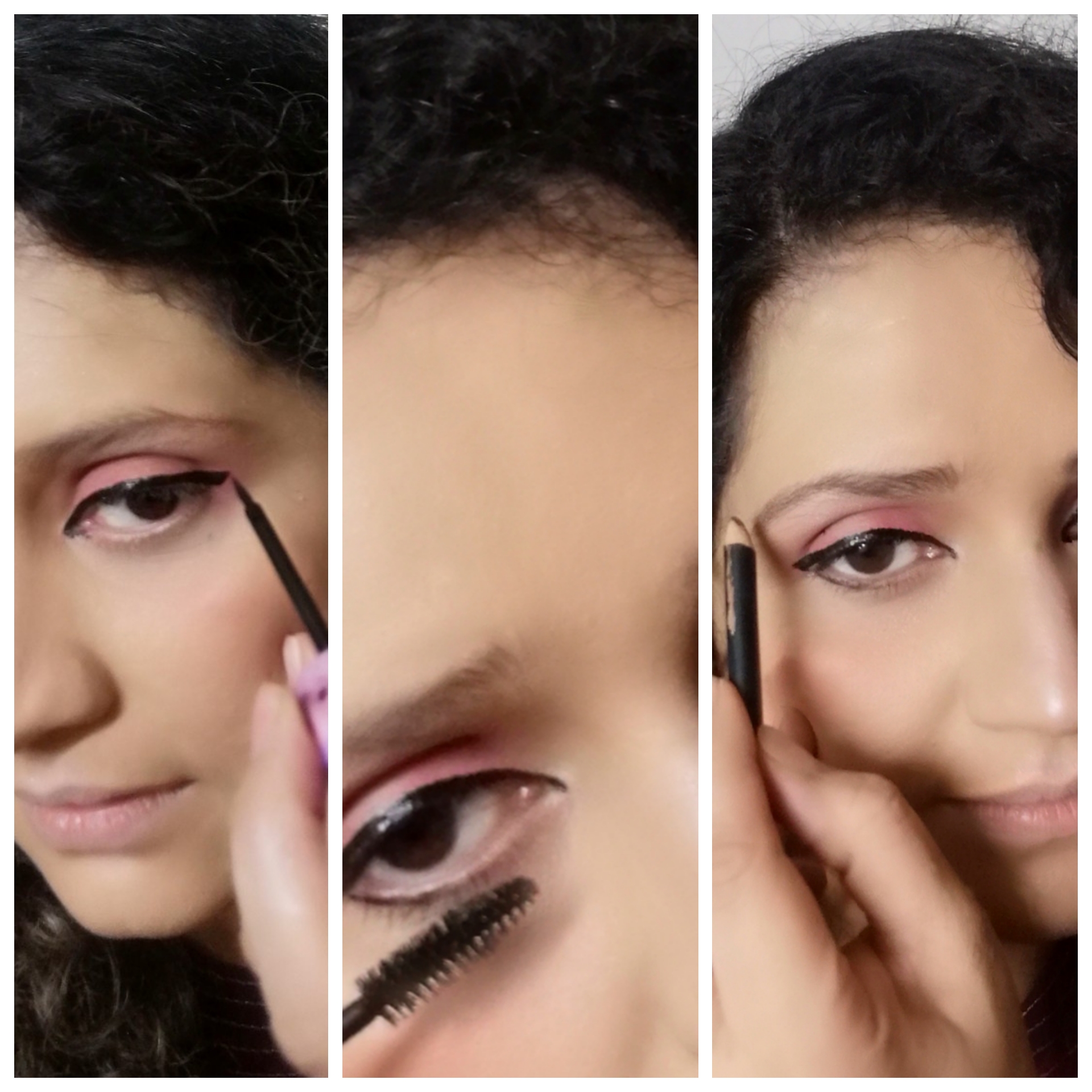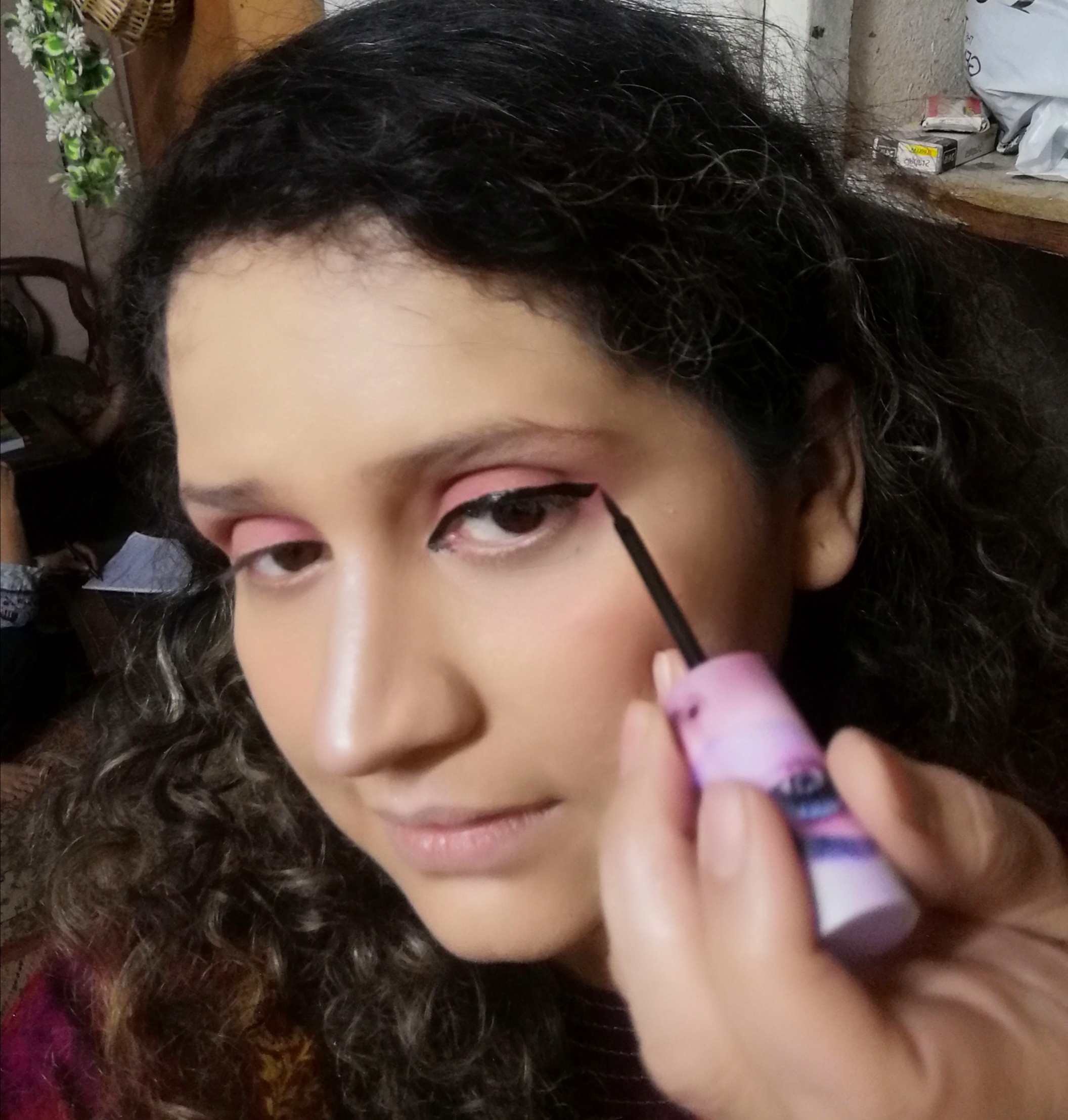 ___
* Apply mascara on eye lashes.
* My eyebrows are very light so I apply eyebrows pencil very lightly.
Now eyes makeup is complete.
* >Aplicar rímel en las pestañas.
* >Mis cejas son muy claras así que aplico el lápiz de cejas muy suavemente.
>Ahora el maquillaje de ojos está completo.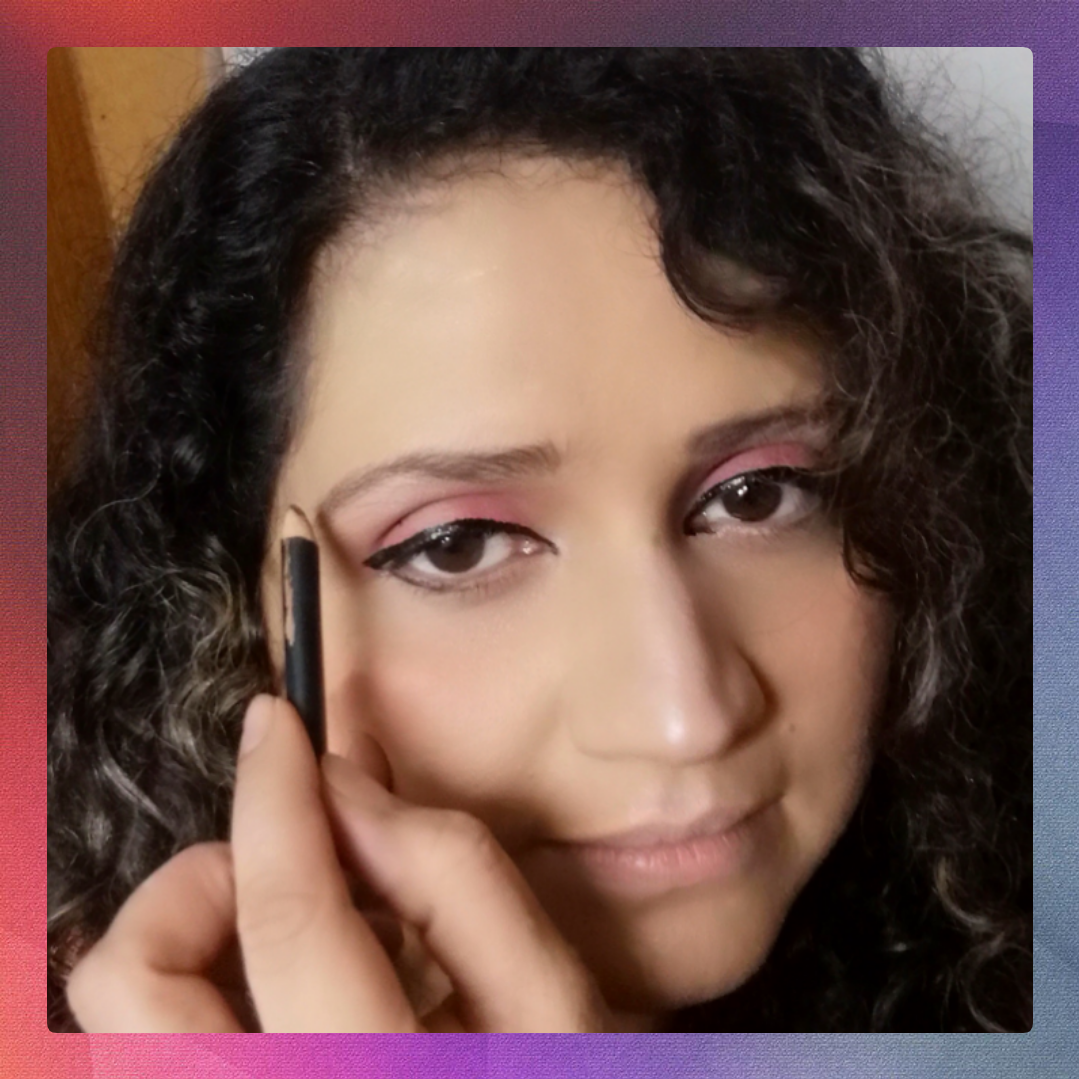 ___
#Step 4:

* Use contour kit and contour your face and to enhance your chick bones.___
* Use blushes to your cheeks according to your dress.
* Use high lighter to your nose, cheek bones, coalor bones.
___
#Paso 4:
___
* >Utilice el kit de contorno y el contorno de su cara y para mejorar los huesos de su pollito.
* >Usa rubores en tus mejillas de acuerdo a tu vestimenta.
* >Use un encendedor para la nariz, los pómulos, el carbón o los huesos.
___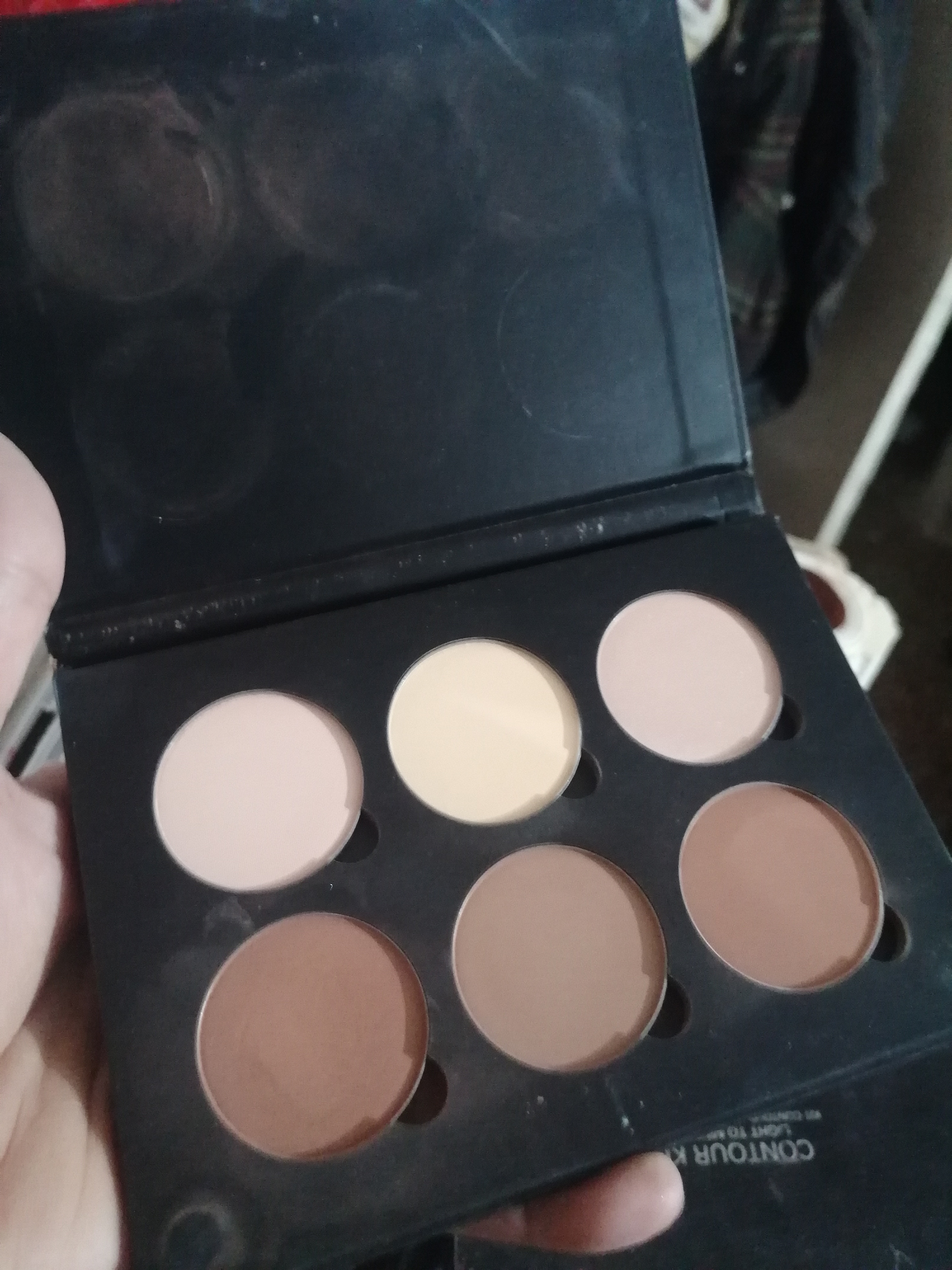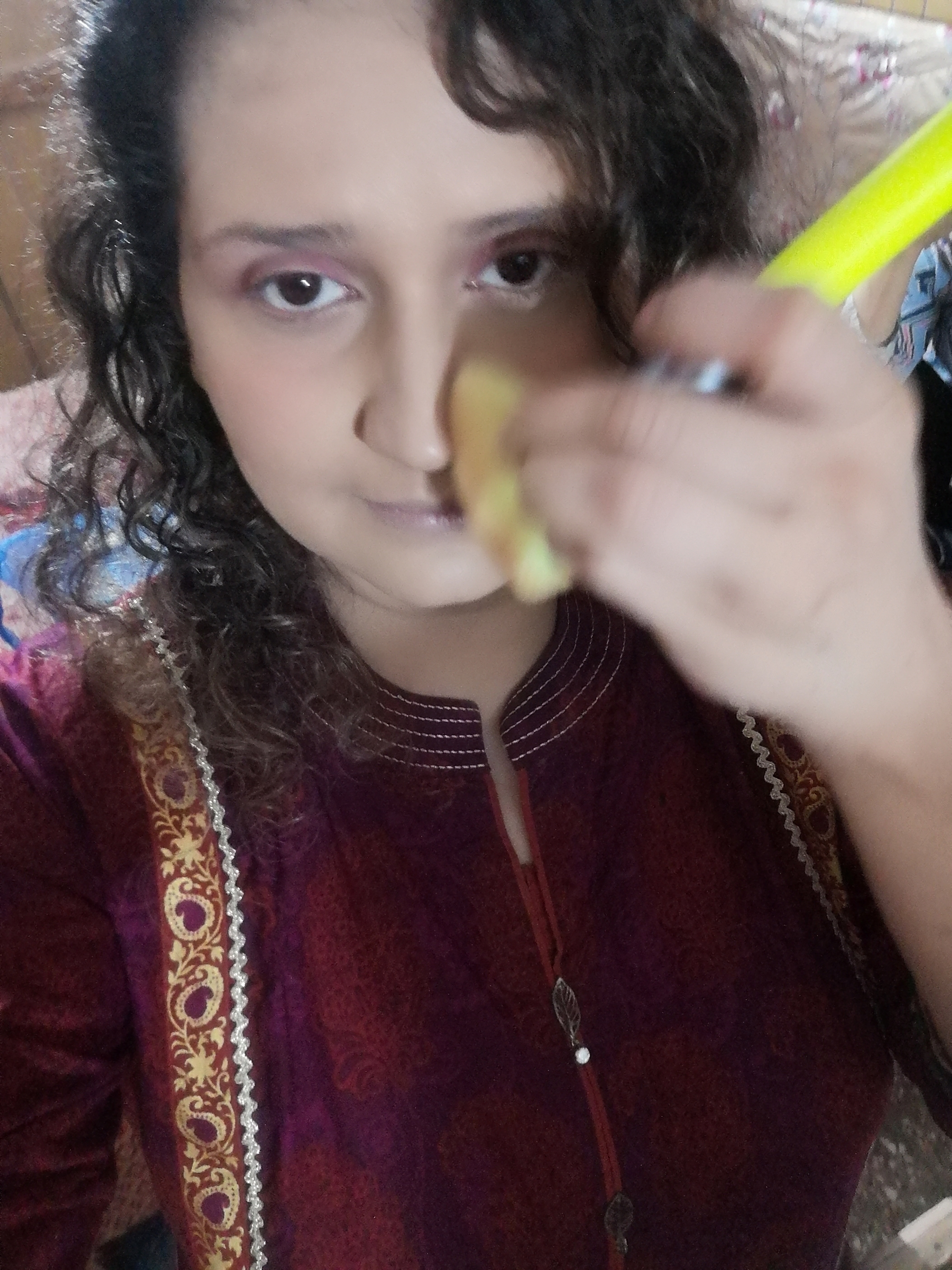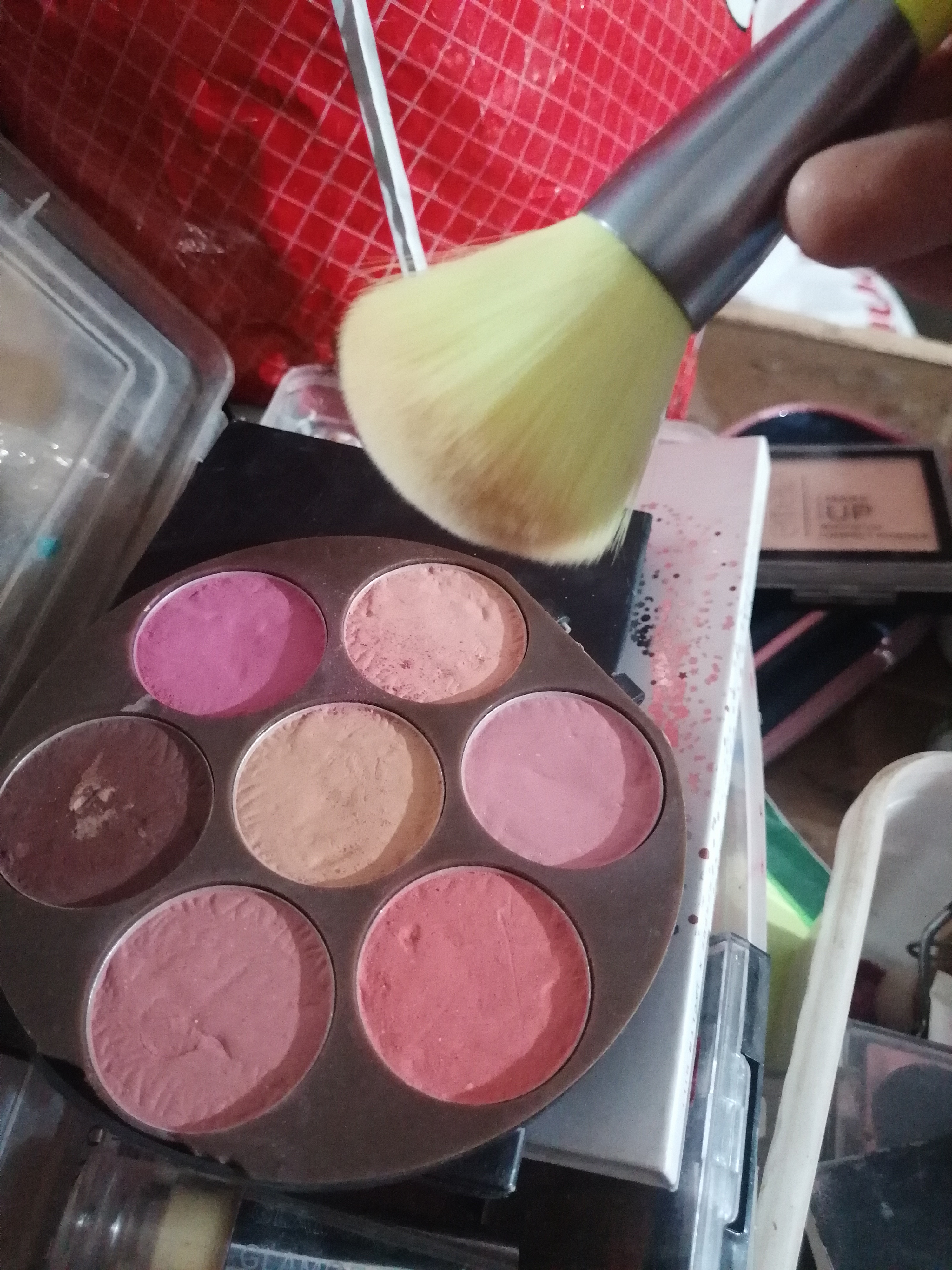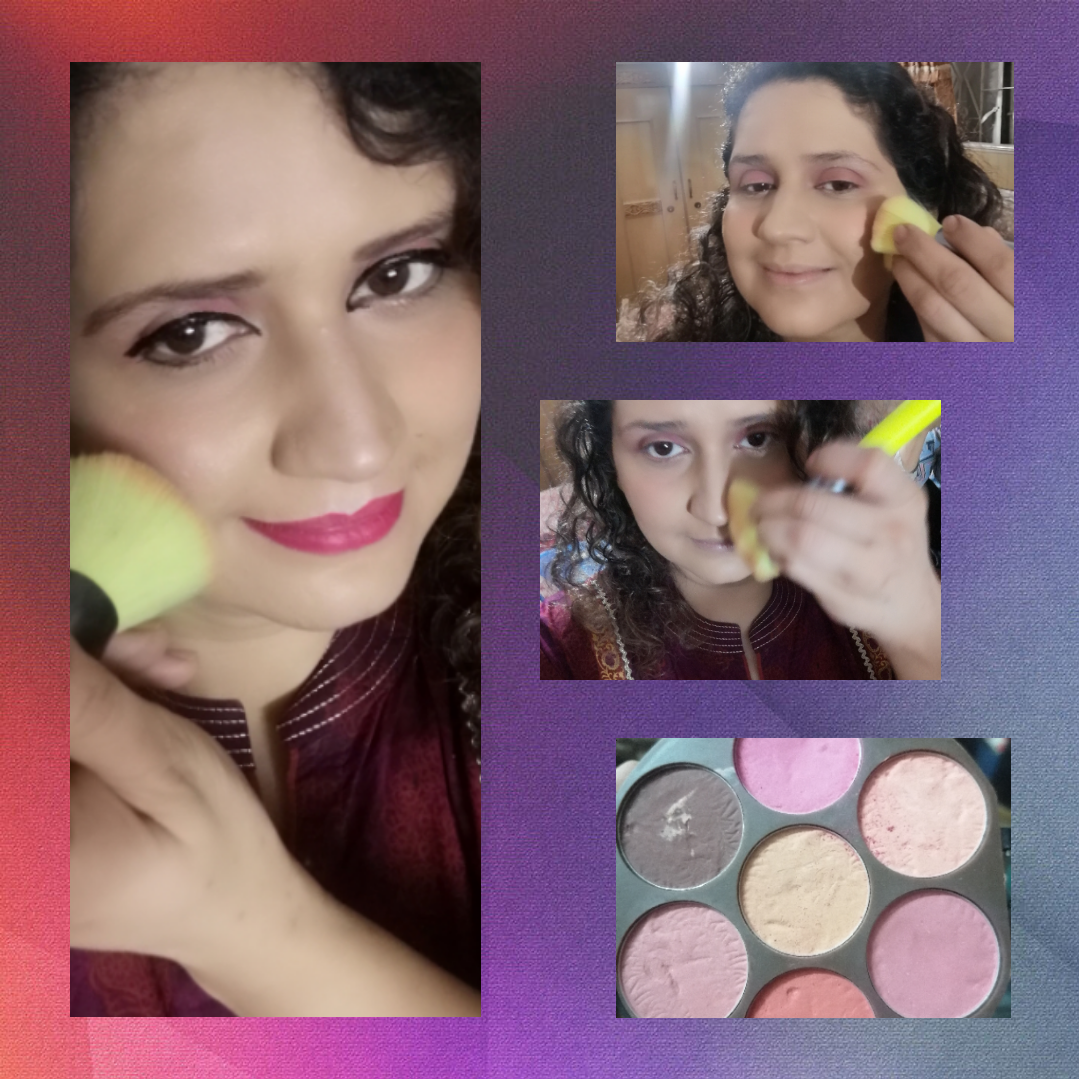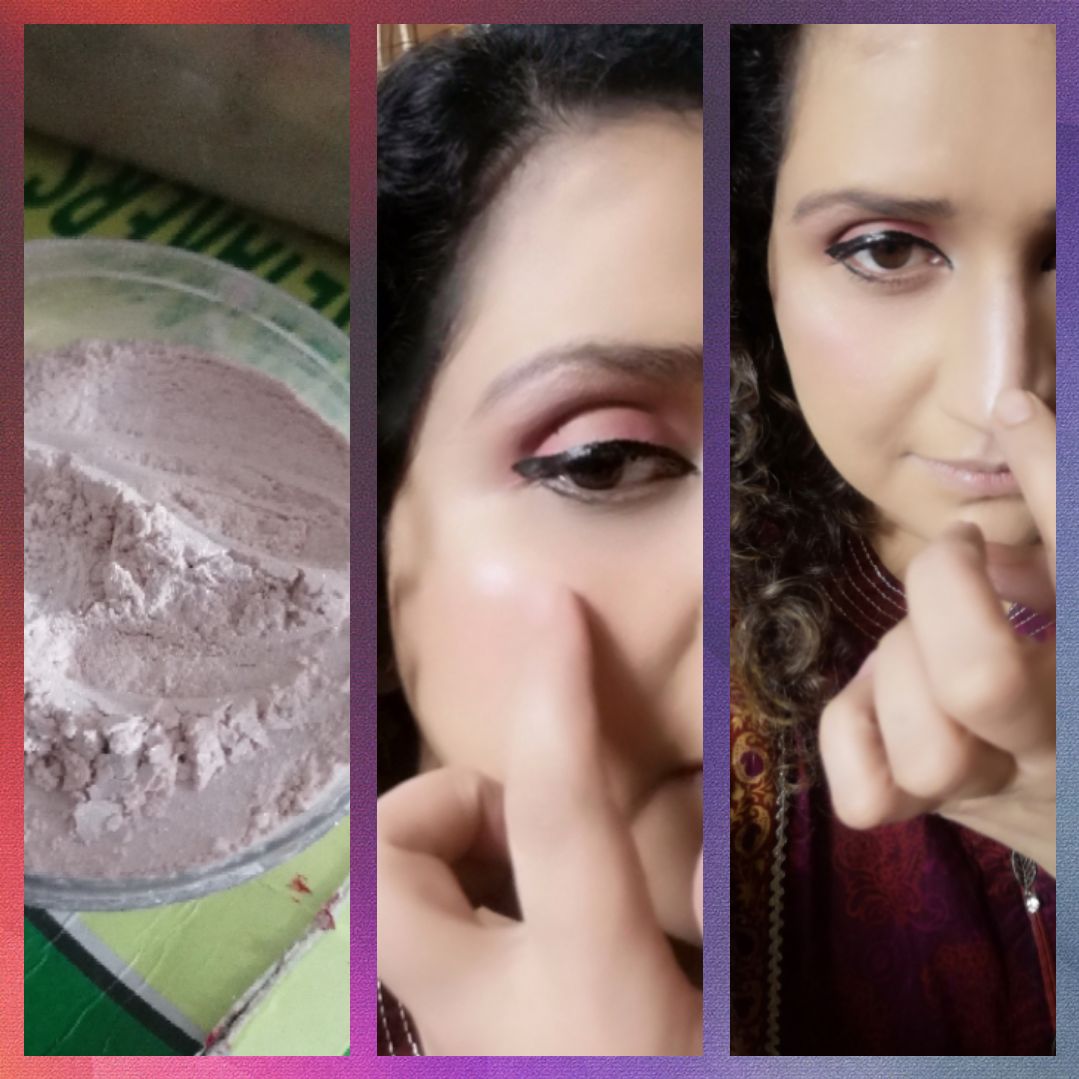 Step5:
Apply lipstick on your lips.___

___Now I'm ready and my final look is.

Paso 5:
___
>Aplica lápiz labial en tus labios.

>Ahora estoy listo y mi look final es
___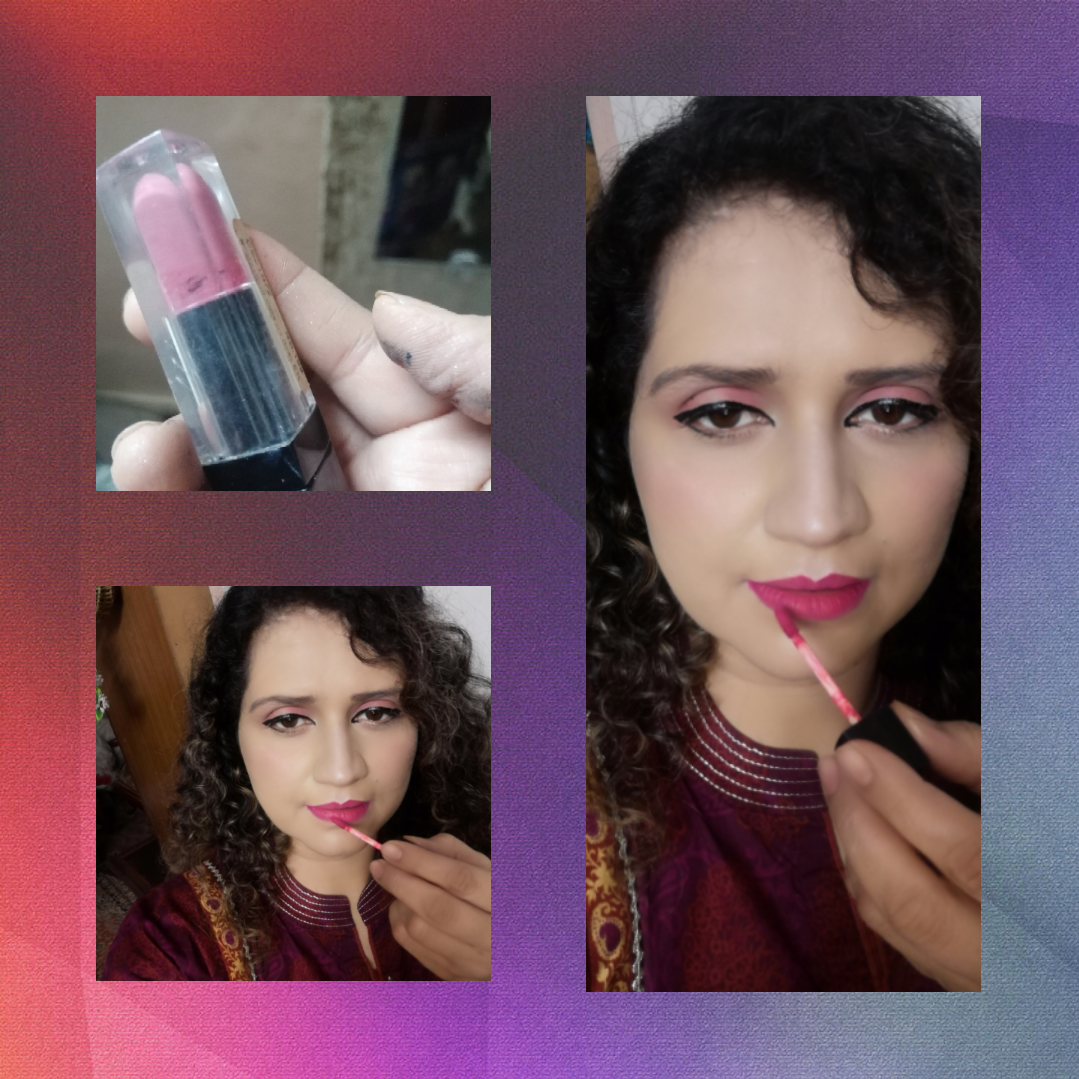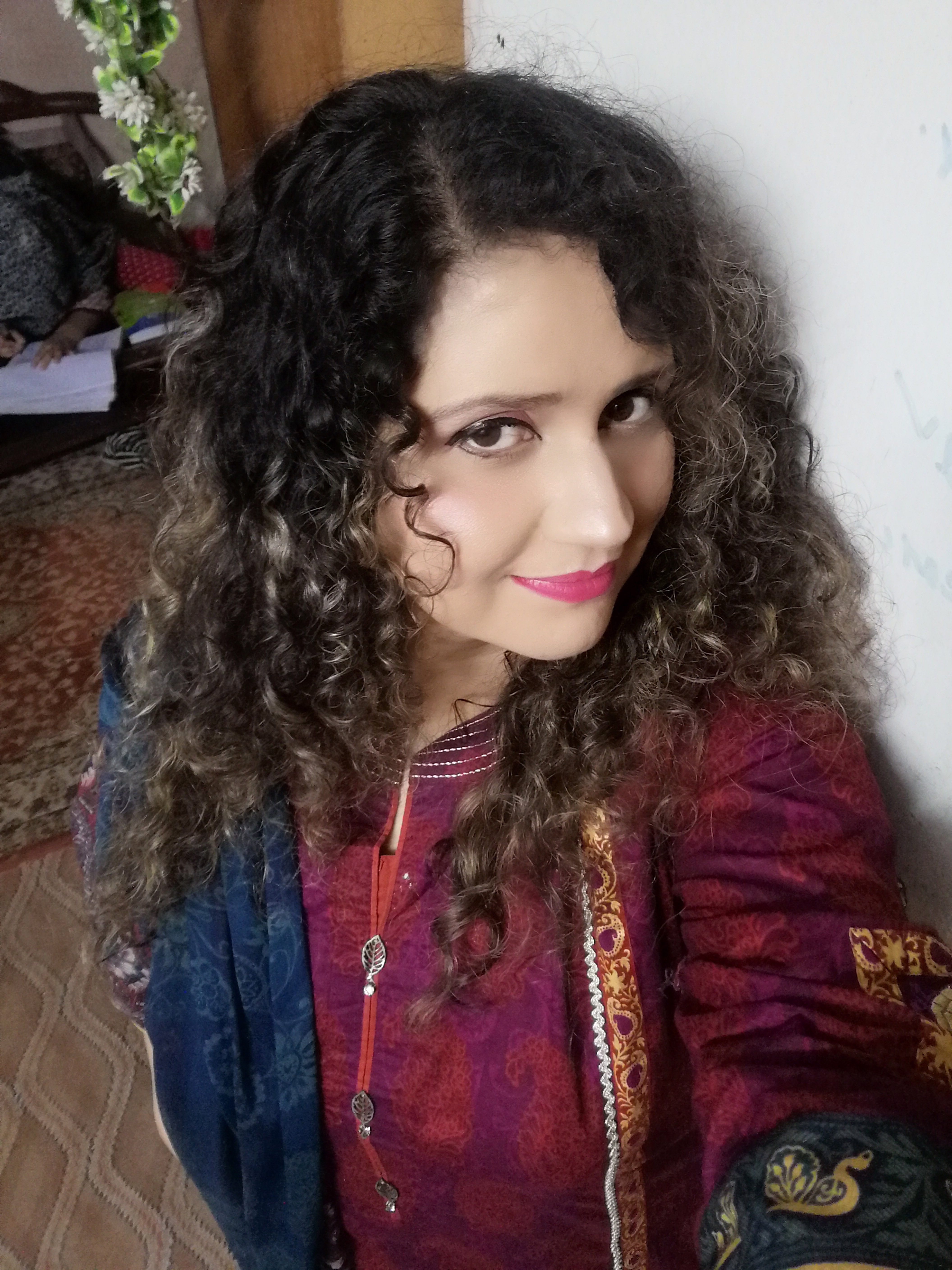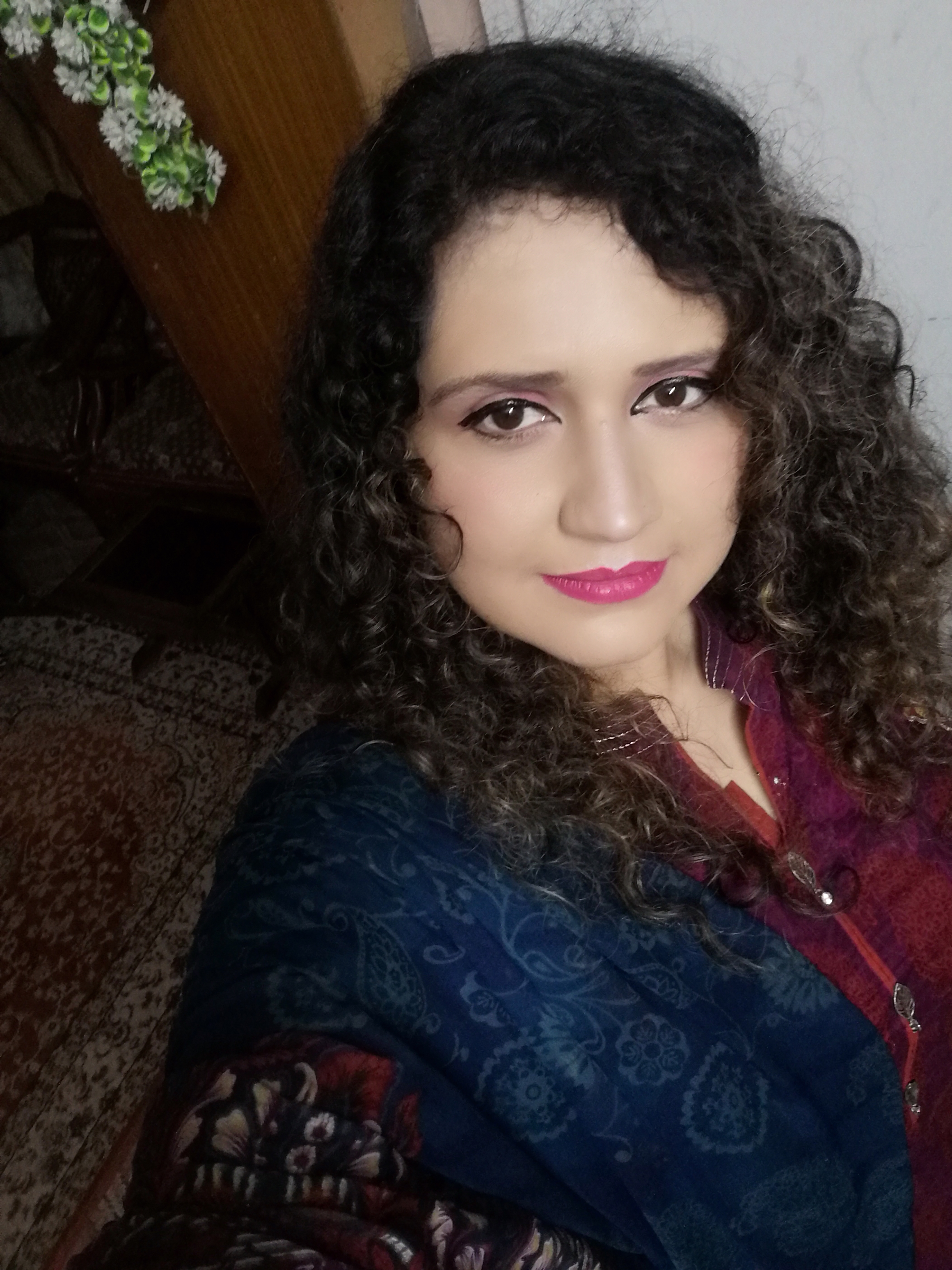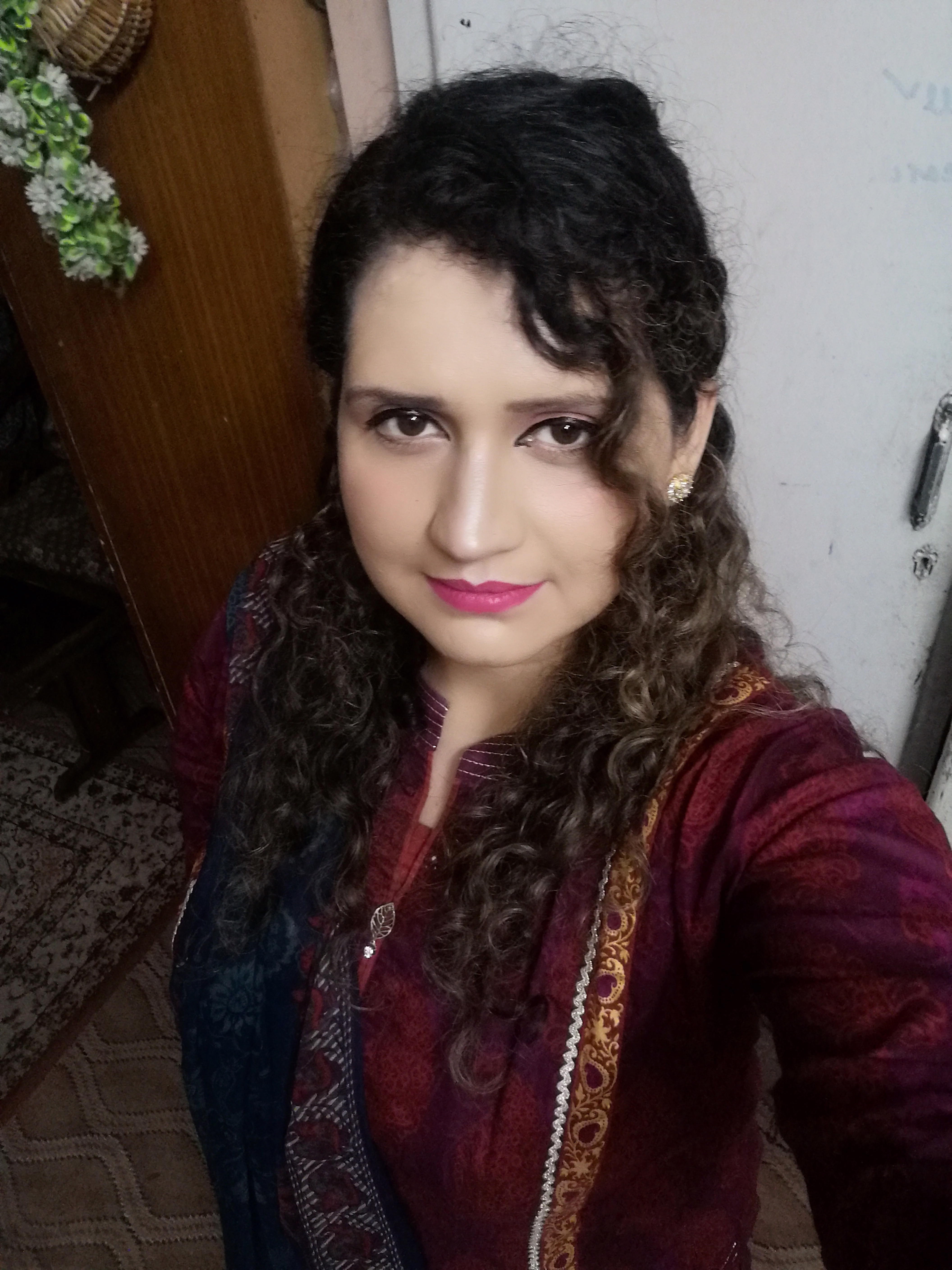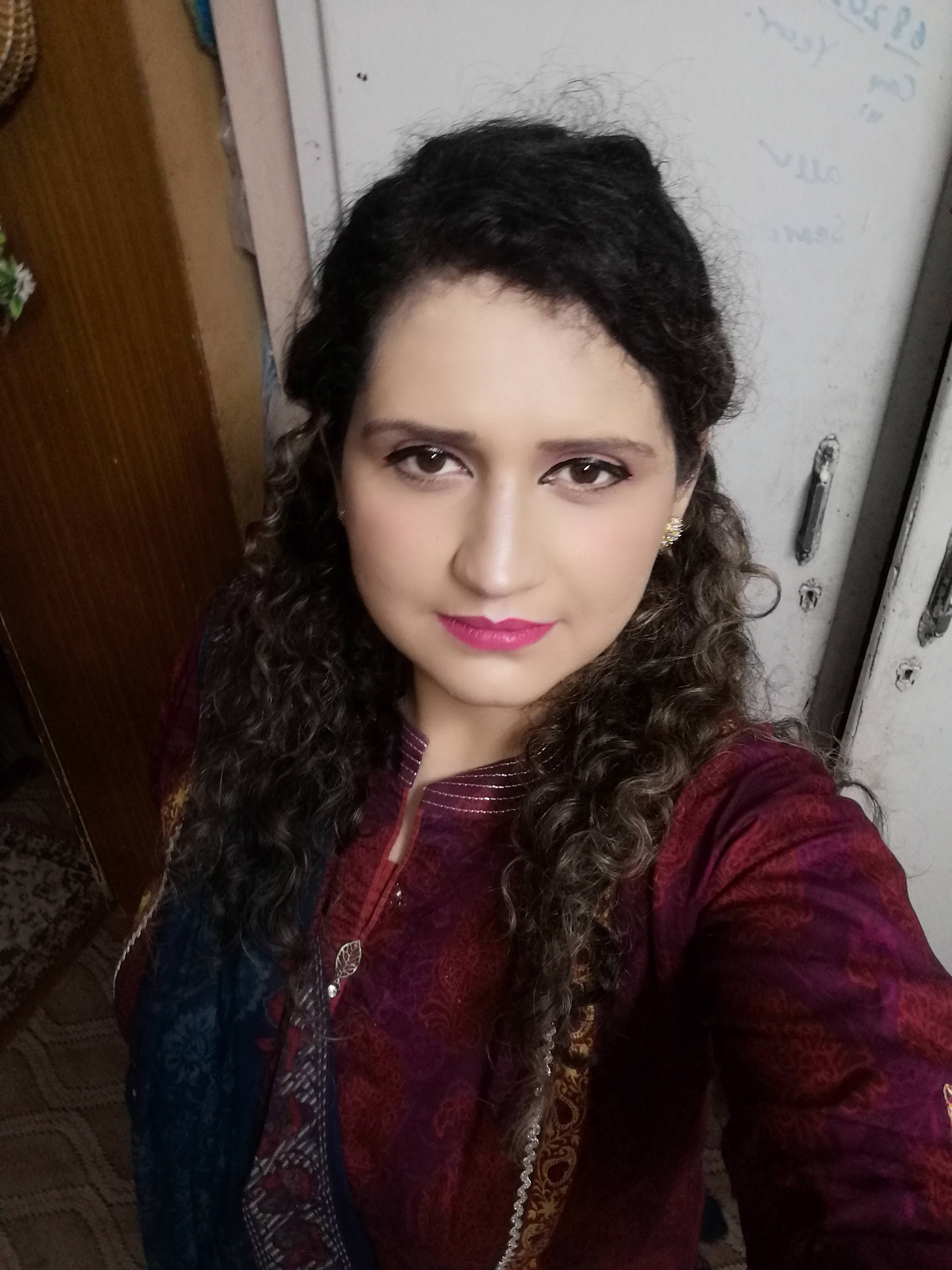 This is the skin care routeen and normal makeup style from me. All pictures belong to me. I want to invite @vvarishayy, @aniqamashkoor,@ayeshagul to take part in this contest and share your skin care.___
that's all from me.
# Hope you like it.

Mentioning respected @steemcurator01, @steemcurator02, @steemitblog, @booming04 and @steemwomensclub for their support.