#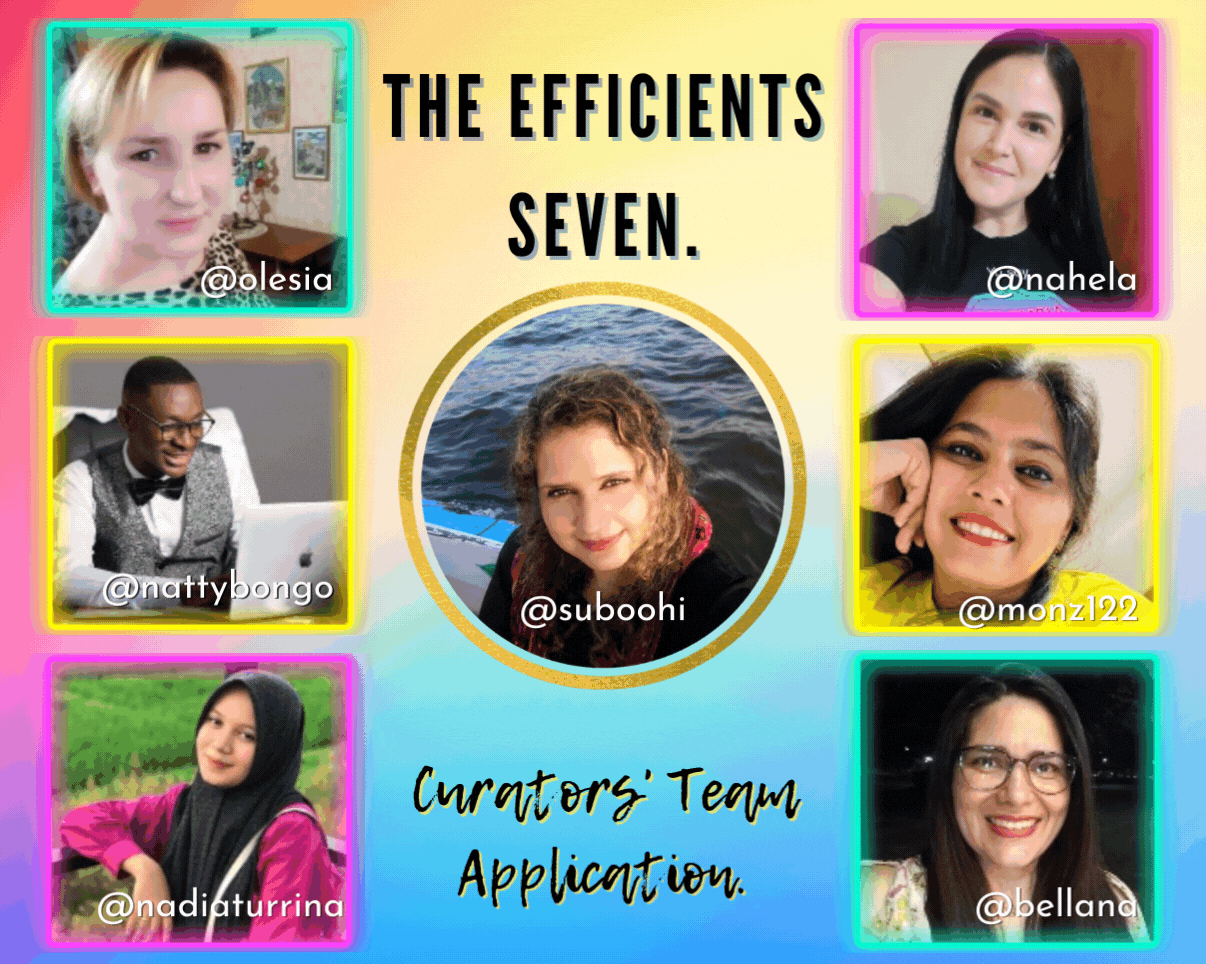 Created in canva app.
#
Greetings -steemitblog team, it is a pleasure for us to present the application of our team The Efficients Seven for the topic LIFE STYLE (health, fitness, sport, leisure, food, travel…).
#
Details of our team:
#
#
Our team has members from maximum diversity, i.e. seven countries (Argentina, Colombia, Ghana, Indonesia, India, Pakistan and Ukraine), most of them have Account Curation experience @sc03-08 and some have Community Account Curation. We can communicate/deal with 10 different languages.
#
More details of our team:
#
| User name | Community | Experience | Steem history |
| --- | --- | --- | --- |
| @nadiaturrina | mod at steem women club | curatorship with the community account | 1 year and 1 month. |
| @suboohi | mod at steem foods, siz and admin of steemit culture | Curation of comunity accounts | 1 year and 2 months. |
| @olesia | CR for Ukrania | curation experience from steemcurator06, steemcurator08 account. | 3years and 10 months. |
| @nahela | CR for Colombia and administrator of Colombia-Original | Curation of comunity accounts and steemcurator03, steemcurator05 account | 3years and 11 months. |
| @nattybongo | CR for Ghana and admin of Steem Ghana | experience of Curation of steemcurator04 and comunity account | 3years and 11 months. |
| @monzz122 | admin of comunity Steem India | curation with @steemindiaa account | 1 year and 6 months. |
| @bellana | mod at recreative Steem | experience of Curation community account | 1 year and 2 months. |
We will make a good team of curators since we have experience, we know about the topic and subtopics, among our team we have a chef (@nahela), we have 3 representatives from different countries, administrators and moderators from different communities, we can cover 10 languages, we communicate in effectively and support each other to be an efficient curator team, we can curating that we are all tireless workers on this platform.
#
In order not to confuse our users, we would handle the tags on the same days that they are currently being cured, with the exception of #sport and #health that were exchanged for the comfort of the team.
#

Curator details:

#
#
The UTC time seems to us the most indicated since it is a universal time, each curator would start his round of curatorship at 0:00 UTC and would end at 24:00 UTC.
Curating Guidelines:
#
steemexclusive content only.

Plagiarism free content.
Content with images without copyright (preferably own images).
Publications with good content development.
---
We are excited to work together as Curation team and help in decentralizing rewards distribution to original quality content
#
Best Regards:
The Eficcients Seven.
Thanks