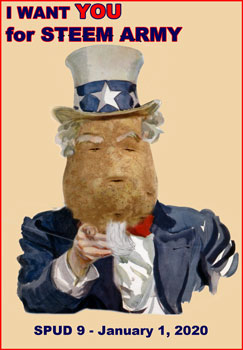 Powering Up on New Year's Day 2020
It seems like SPUD8 just ended, and now here I am posting about SPUD9. I am actually posting a few days earlier than usual about the next SPUD Event.
(For those just learning about SPUD)
I was initially worried about SPUD 9 taking place on New Year's Day, and had even asked @bxlphabet if he would consider making a poll, since it seems he is the Steem Blockchain Poll master. I was wondering if maybe SPUD 9 should take place on Jan 2nd or 3rd because many will be either out of town for the holiday, sleeping and/or recovering from the festivities.
After some afterthought, remembering how each SPUD event seems to be growing more than the previous one, and realizing that no one else had really said anything about it, I figured I was making something out of nothing. SPUD 9 Will be on JANUARY 1ST, 2020 to start the NEW YEAR POWERing UP STEEM.
What could show more support, interest and commitment to the STEEM BLOCKCHAIN than taking the time on the 1st Day of the New Crypto Year to power up some Steem? Maybe doing two STEEM POWER UPS on that day?
Uncle Spud Wants You!
I am putting out a call for new SPONSORS to help increase SPUD 9 prizes. For SPUD 8 our Amazing sponsors delegated over 12500+ in Steem Power Delegation along with other small prizes. Big THANK YOU to our awesome SPUD 8 Prize Sponsors:
@xpilar @sultan-aceh @davedickeyyall @mcoinz79 @reggaesteem @livinguktaiwan @reflektor @hingsten @traciyork @improv @bippe @bitcoinskeptic @beerlover
Most have committed to return as Sponsors for SPUD 9 and hopefully we can get all SPUD 8 Sponsors back along with some new ones to help make SPUD 9 the most successful SPUD yet to launch the NEW 2020 Year!!
And of course we are most definitely looking to sprout some new SPUD recruits to participate in SPUD 9 and potentially win some prizes. There will be at least 20+ winners, with 1st place receiving around 4000 to 5000 in STEEM POWER DELEGATION along with some smaller prizes. Please help spread the word about SPUD 9. Also, when posting and/or commenting try to use the hash tags for SPUD and SPUD9 in order to get those hash tags on the hash tag trending list.
Until Next Time -
Full Steem Ahead!
+++ @streetstyle