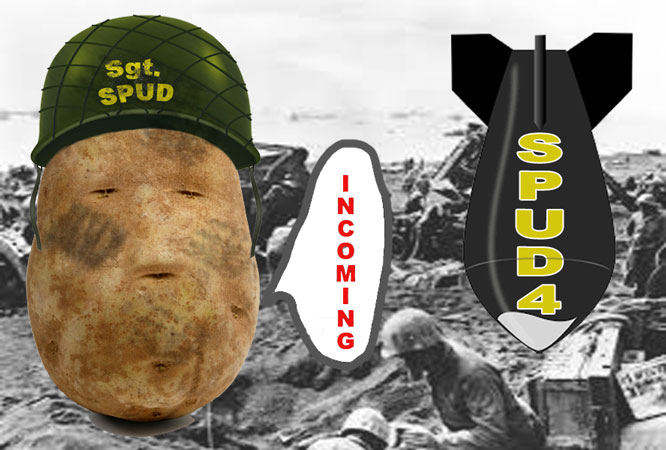 STEEM is BOOMing
Lately, the Steem ecosystems has been extremely busy. There are now so many projects and events happening on the Steem blockchain that it is very difficult to keep up with it all, and Steem Power Up Day (SPUD) is just one more. Although of course I personally feel it is a worthy cause and all Steemians should participate on August 1, 2019 to make it a Super SPUD day!
In my last post I included the prizes for the winners of SPUD4 and now I will have to update the prize list since we now have a third place prize. This prize for third place though was something new for me, and made it so I had to go and find out about one of these projects happening on the Steem blockchain that I had heard about but knew very little about.
"Stop, It's the S.B.I. !"
It all started when @jlsplatts sponsored a prize for one of the winners of SPUD4. He mentioned that he wanted to sponsor a SPUD4 prize, and that it would be 20 SBI, "the gift that keeps on giving." Now I had heard of STEEM BASIC INCOME (SBI) before, and knew it was a project to help Steemians earn Steem just based on the name. I knew little else about this initiative, but was grateful to be able to add more to the prize pool. I figured that when the time came to distribute the prizes, each prize sponsor would know how to distribute their sponsored prizes, including the SBI prize.
Then @davedickeyyall threw me a curveball when he tipped me 10 STEEM using the @tipu bot. The curve came when he said he wanted me to use the 10 Steem as SBI shares for a SPUD4 prize, now making him a SPUD4 prize sponsor. At that moment I am of course extremely happy to add more to the prize pool, but now I realize I have to dig a little deeper into what and how STEEM BASIC INCOME (SBI) actually works in order for it to be the "gift that keeps on giving" as @jlsplatts had said to me earlier as well as to be able to delegate it to the appropriate winner.
I still don't fully understand everything that is "under the hood" of how STEEM BASIC INCOME works. I do know that in order to start receiving SBI, you either sponsor another Steemian or a Steemian sponsors you by simply sending Steem (minimum 1) to the @steembasicincome account and in the memo section putting the name of the Steemian that is to receive the SBI. I believe the team over at SBI then manually add that user in the memo to the SBI list in order for the program to then start up voting on the sponsored Steemian's posts. The payout from those automatic upvotes from SBI's various voting accounts, I believe, is the "STEEM BASIC INCOME."
"Don't Shoot! It's Me, SPUD4 with Prize UPDATES!"
How to SPUD4 on August 1, 2019
We ask that Steemians that are able, to POWER UP any amount of STEEM they have on SPUD day.
We ask Steemians that are currently Powering Down, to put a Stop on Powering Down for that Day, and if desired to commence the Power Down the following day.
We ask that those that trade or sell Steem to Not Sell or Trade Steem on August 1, 2019, but to do it the day before or after if possible. Also, to cancel any type of Sell Order on the Exchanges.
Prizes:
1st Place
2500 Steem Power Delegation for 4 Weeks - sponsored by @xpilar
20 SBI shares, "The Gift that keeps on Giving" - sponsored by @jlsplatts
2nd Place - 1000 Steem Power Delegation for 4 Weeks - sponsored by me, @streetstyle
3rd Place
Rules to Win Prizes for SPUD4 :
MUST have a reputation score BELOW 69.00 ( so 68.99 is good & Can participate.) AND more than 75 STEEM POWER (prior to SPUD4) BUT LESS than 7501 Steem Power.
MUST have a reputation score ABOVE 42 (so rank of 41.99 will Not Win)
MUST have at least 1 Steem Post in their blog about SPUD4
MUST Power Up Steem on August 1st, 2019
On August 1st, you MUST make a post about your POWER UP. It can be as simple as "I powered up X amount of Steem" to a simple picture/screenshot of your Power Up and posted to your Steem blog, or it could be a super long dissertation on Steem Power. IMPORTANT: Use the SPUD and/or SPUD4 Hash tags so that I can be sure to see them.
The winner must meet all 5 requirements, and will be the one with the Biggest Steem Power Up PERCENTAGE, not the biggest Power Up. This means that it will be based on the ratio between your current amount of Steem Power and the amount you power up on August 1st.
For Example:
If you have 1000 Steem Power already powered up prior to August 1, and on August 1 you complete steps 1-5 with a 100 Steem Power Up,
and
another Steemian has 100 Steem Powered up prior to August 1, and on August 1st Powers Up 20 Steem, then this 2nd user would be winning with a 20% power up versus the first example with a bigger power up but smaller percentage of only 10% based on their account.
This prize is meant to incentivize the smaller Steemians, the planktons, minnows and barracudas out in the Steem Ocean to participate in powering up on SPUD, and hopefully create more understanding as to why Steem Power is what backs the Steem Economy. The winners will be announced via a Steem Post a few days later, and if no one challenges it or lets me know I missed them after 2 days from Winner Announcement, the Winners become official and the prizes will then be given out.
Cheers Everyone, and Happy SPUDDING!
+++ @streetstyle
PS, SPUD4 could use this information in all the different languages used on the Steem Blockchain, thank you!!