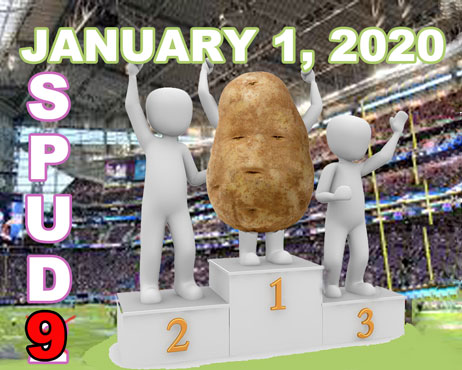 SPUD 9 WINNER'S LIST & SOME STATS
SPUD 9 kicked off the New Year and Decade in amazing fashion, even during a time where many would be busy spending time with family and friends celebrating the holidays. Please check out @crokkon 's amazing post on the SPUD 9 numbers, 219k STEEM powered up in SPUD9 - Jan 1st 2020 that encompasses a 48 hour time span that it would take for SPUD to traverse across the planet. It seems that overall there were actually less Steemians that powered up as compared to SPUD 8, BUT we also POWERED UP 40k more than SPUD 8 despite the actual smaller amount of Steem accounts that powered up for SPUD 9.
Prize Sponsors, below is the Winner's List, please delegate your prizes accordingly, Thank you.
SPUD 9 WINNER'S LIST
*-in no particular order, participated and qualified
The total STEEM POWERED UP on 1/1/2020 by SPUD9 prize entrants = 5946.954 (SPUD 8 = 13985.489)
TOTAL Steem Power now locked up by SPUD9 prize entrants = 55601.043 (SPUD 8 = 91345.772)
Honorable Mentions Participating in SPUD9:
*- indicate they actually Stopped their Power Down
Total STEEM POWERED UP on 1/1/2020 by Honorable Mentons = 32511.722 (SSPUD 8 = 10332.122)
Total STEEM POWERED Locked up by Honorable Mentions= 529522.394 O WWoW!! (SPUD 8 = 355902.367 (WOW))
And I didn't include the sponsors or anyone else who didn't create a post and use the SPUD hash tags, that is where @crokkon 's post comes in. It looks like the Honorable Mentions really Kicked butt for SPUD 9 on January 1, 2020.
Congrats. to our most Excellent Winners. A Big THANK YOU to all those that supported and participated in SPUD 9, and another HuGe THANK YOU to our Prize Sponsors who make this possible.
Happy New Year 2020, FULL STEEM AHEAD & See you for SPUD 10!!
Take Care Everyone.
+++ @streetstyle