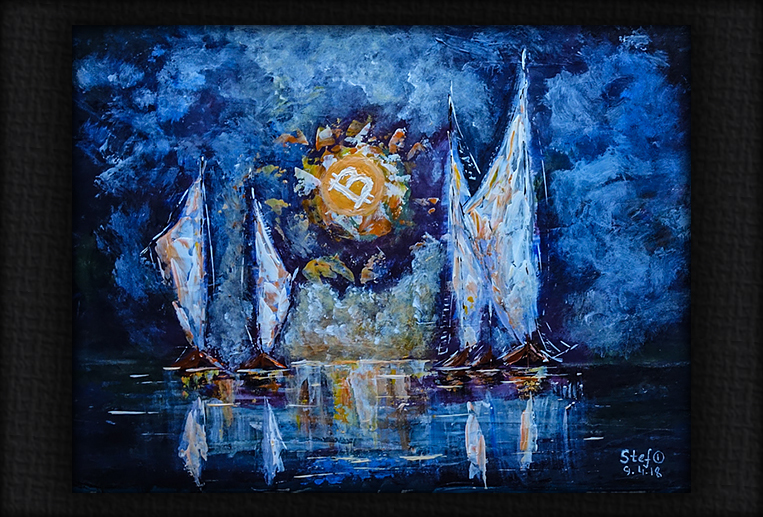 Acrylic Cryptoart "Bitcoin: ...Never stop dreaming..." by @Stef1
*
Hello my dear Steemians,
Today I wanted to take part in the last Cryptochallenge that is organized by @steemitblog and it is dedicated to Bitcoin. As you might have noticed I do not like to re-interpret the information from Internet but I want to share with you my thoughts, my understanding, my views. If you think that they have nothing in common with Crypto specialist's views or have non-sense in it well, then it is so. But nobody would say that he can't understand what I mean.
---
My first acquaintance with "Bitcoin" or $75 million to garbage
---

When I think about the first time I heard about Bitcoin that miight be in 2017. Tat was the time when we had some nice weekend afternoon coffee and cake gathering with our relatives. As always, after the busy week we were talking about different news and interesting events.
We were having fun discussing soome newsand one of our guests asked if anyone heard about the man who in Newport, UK lost $75,000,,000 in Bitcoin. he story made him famous in the whole world because of that, his name is James Howell.
In 2009 James used an old laptop for mining Bitcoin and he got 7,500 coins. Later on he decided to break his old Dell M1710 and sell on Ebay, only keeping the hardware with saved Bitcoins, just in case if they will get some value.
Four years later while cleaning his house the drawer was emptied and the hardware accidentally binned, presumably landing in Newport landfill. That time his stash was worth millions. The price shoot up from being between $300 and $1,000 in 2013 to more than $10,000 a week later when his stash would be worth $75 million in 2017 and $97,5 million today!!!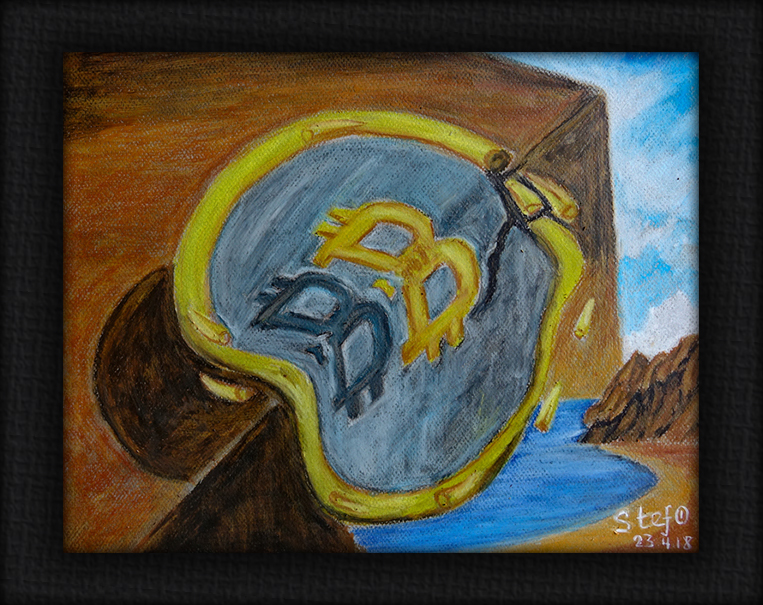 Oil pastel "Melting Bitcoin" by @Stef1
When hearing that it made me very curious about Cryptos in general and Bitcoin in particular.
---
Bitcoin - to buy or not to buy
---
2017 was the yeaar when many Crytos went up including Steem, acctually it was the bestyear for all Cryptos.
I remember, my mother during one of our conversation asked me if I know what is Crytocurrency?
Well, that was a difficult question, as I did not know much that time it was difficult to judge for me and of course it was a bad timing to invest because verything was expensive anyway.
The funniest thiing was that my mothe had some savings so she carefully asked if she should buy Bitcoin for some of them. Of course it would be a great idea but on other hand she would have only 4-5 Bitcoins for all the savings. So my advice was not now and not for such high price.
But since then I noticed that not only we - youngergeneration but also our parents are very curious about Bitcoin and Co.
---
22d of October- Bitcoin Pizza or the First Bitcoin Transaction
---
Have you ever heard about the Bitcoin Pizza day – it is 22 October. Why this date?
On 22d of October 2010 during the Bitcoin talk forum in Florida Laszlo Hanyecz agreed to pay 10,000 Bitcoin for two large Pizzas. That was the day of first Bitcoin transaction or the most expensive Pizza order 130 million $ today !!!. I am very curious what the owner of those Bitcoins does now.
---
Bitcoin in my life
---
Unluckily for me and my family, we have found about Bitcoin too late when the price was too high. But I must say I am fascinated with this brilliant idea of Satoshi Nakamoto and of course that lead to my interest for Cryptocurrencies in general.
While last three years I have created few Artworks that I dedicated to Bitcoin and I am proud of them. The time of explore both going back tomy Art and learning new style and new medium: oil and acrylicpainting in Impressionism style.
Also love t to create something combining theld Master paintings like SaSalvador Dali anBitcoin in reproduction of his famous " "Melting watch"o turnrn it into "MeltinBitcoin"*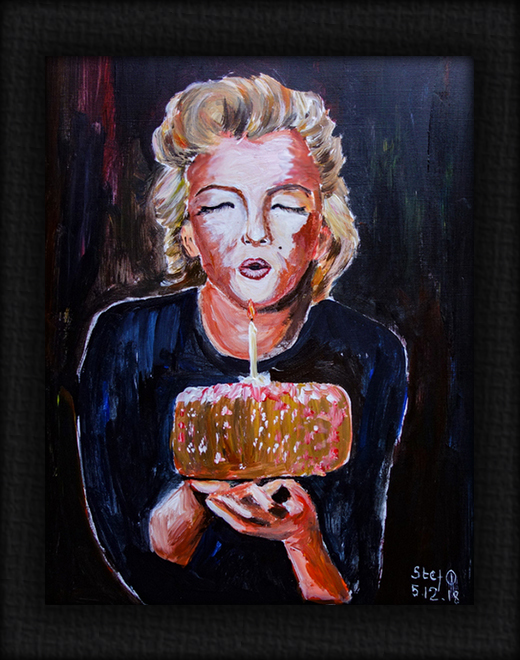 At the end due to the Birthday of Bitcoin I wanted to wish Happy Birthday with my painting of Marilyn Munro.
---
BONUS CONTEST : Guess the Price of Bitcoin
The price of Bitcoin (BTC) will be at 15:00 UTC on Saturday, October 31st 2020 $13,124,32
---
*
I hope you enjoyed my post and thank you for viewing :-)
*
---
CURATION TRIAL @worldofxpilar
---