Blessings brothers and community in general, today we present some important updates during the last days, which we invite you to read for those members who wish to know what we have done and where we are going.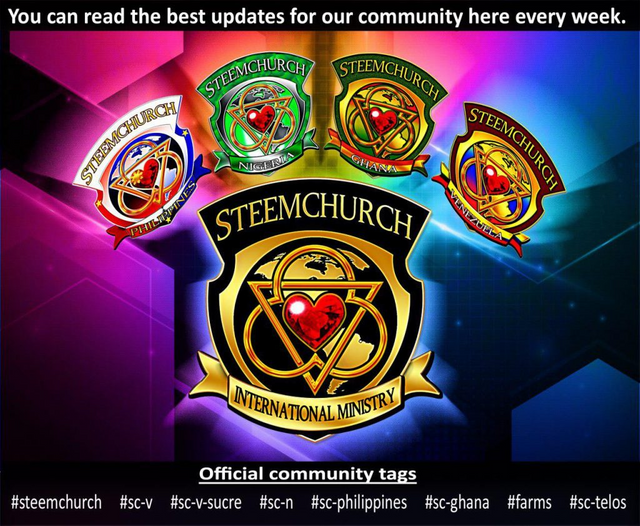 [@sirknight](https://goldvoice.club/steem/@sirknight/steemchurch-infrastructure-the-golden-censer-and-dmail
---
---
[@darlenys01](https://goldvoice.club/steem/@darlenys01/the-golden-censer-is-here
---
---
[@sc-v](https://goldvoice.club/steem/@sc-v/blog27inaugurationofourchildrensdiningroombreadfromheaventunapuystatesucre-venezuela-ia52mi5sh2
---
---
[@sc-n](https://goldvoice.club/steem/@sc-n/steemchurch-projects-accountability-is-a-measure-of-your-leadership-capacity
---
---
[@sc-philippines](https://goldvoice.club/steem/@sc-philippines/the-reserved-stock-of-god-s-joy
---
---
[sc-g](https://goldvoice.club/steem/@sc-g/consolidating-the-growth-of-our-children-education-through-telos-church-our-priority-as-sesp
---
---
[@uyobong](https://goldvoice.club/steem/@uyobong/time-to-step-out-and-launch-out
---
---
[@tomlee](https://goldvoice.club/steem/@tomlee/steemchurch-telos-expansion-let-s-reach-2000-members-before-the-weekend-refer-and-receive-10-hearts-from-the-telos-village
---
---
[@sc-n](https://goldvoice.club/steem/@sc-n/steemchurch-comment-engagement-contest-1-state-your-favourite-scripture-and-tag-a-friend-inspired-by-sirknight
---
---
[@ricci01](https://goldvoice.club/steem/@ricci01/betting-on-numerical-growth
---
---
[@sc-v](https://goldvoice.club/steem/@sc-v/managingmembershipinsteemchurchtoextendthekingdomofgodtothecrusadeforfreedom-whggkvgjzd
---
---
[@gloriouskids](https://goldvoice.club/steem/@gloriouskids/food-safety-awareness-to-our-school-children
TOTAL BLOGS: 12
FEATURED BLOG:
https://goldvoice.club/steem/@sc-v/blog27inaugurationofourchildrensdiningroombreadfromheaventunapuystatesucre-venezuela-ia52mi5sh2
TOTAL VOTES: 102
SCORE: 22.13
BLOG#27: INAUGURATION OF OUR CHILDREN'S DINING ROOM "BREAD FROM HEAVEN" TUNAPUY STATE SUCRE-VENEZUELA.
Today, our first BREAD FROM HEAVEN children's dining room was officially opened in Sucre Venezuela. As we know, this program is a comprehensive project to educate and restore the values ​​of children and their families.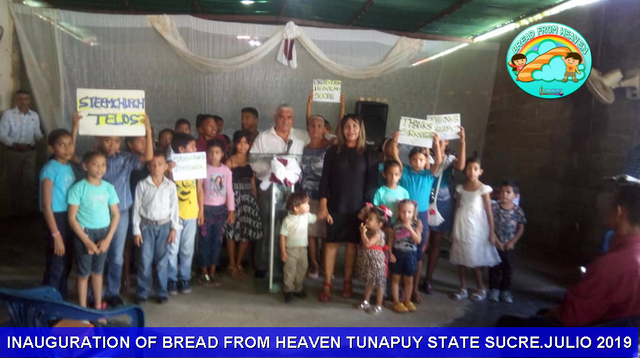 On this occasion, the town of Tunapuy was benefited in alliance with the Evangelistic Ministry "El codero de Dios" who assumes this role with honesty and quality of service by opening the doors of his local church to carry out these activities that will be permanent.


Remember to follow our accounts and the leaders of the parishes:
@sirknight: Founder of Steemchurch
@darlenys01: Apostle of Steemchurch
@ricci01: leader of @sc-v
@emiliocabrera: leader of @sc-v-sucre
@Uyobong: Leader of @sc-n
@biggsam: Leader of @sc-g
@mhm-philippines: Leader of @sc-philippines
We wish that all people who wish to know about our church can enjoy all the valuable content that is daily in the steemchurch or any of its parishes, get updated information and can participate at any time with a broad vision of our objective.
OUR ACTIONS ARE OUR FUTURE.
We have been consolidating the church, we know that we are on the right track but with a lot of work ahead, we thank all those leaders and brothers who are placing all their effort in this time of construction, fidelity to the work of God brings divine rewards, This road is being cleaned, meanwhile we can not stop focusing on our vision, social projects and expansion to Telos.
Project proposals have been received and several alternatives are being analyzed. Venezuela is a blessed community that has served as an example in this time of work and perseverance, we have several communities organized working together to achieve common goals.
The social projection of the parishes with the mother church will be established with the BREAD FROM HEAVEN project as integral training of children and families, incorporating ourselves to the global hunger zero challenge. Technology has a lot to contribute in this sense, and reach the communities to Through education, health, nutrition, sustainable agriculture, it will take the church to a new level. Hunger and malnutrition make people less  productive and more prone to diseases, so that They are not usually able to increase their income and improve their livelihoods. There are almost 800 million people who they are hungry all over the world, the vast majority in Developing countries. The blockchain is a revolution that reaches everyone, and we must make the most of it.
What can we do to help?
Changes can be made in everyday life - at home, in work and in the community-, supporting farmers or
local markets and making sustainable decisions on the feeding, supporting good nutrition for all and struggling
against the waste of food.
IMPORTANT STEPS
Work together
Ensure effective citizen participation, improve coordination mechanisms, facilitate dialogue.
Reduce the costs of malnutrition
Improve access to nutrition and nutrition education, protect children and ensure that adults have what they need to live healthy and productive lives.
Partner with the academic field
Build strategic alliances with academic institutions and research, generating information to face the challenges of life.
NEXT ACTIVITIES OF THE CHURCH:
SUPPORT THE CELEBRATION OF THE CHILD'S DAY.ATTENDING CHILDREN'S PROMOTIONS AS OFFICIAL SPONSORS.OFFICIAL PUBLICATION OF THE MEMBERSHIP OF THE CHURCH.OFFICIAL PUBLICATION OF THE DIRECTOR OF DIGITAL MARKETING.OFFICIAL PUBLICATION OF THE COMMUNITY SOCIAL PROJECT.MEETUP FOR THE CONSOLIDATION OF THE EXPANSION STEEMCHURCH TELOS.PUBLICATION OF OUR NEW MEMBERS WITH THE TOKEN INVITE OF @Steem.ninja.
---
THANK YOU TO ALL WHO WRITE EVERY DAY IN OUR COMMUNITY!
We thank all those people who have contributed to our community to grow @pennsif, @luppers, @redes, @hanshotfirst, @theycallmedan, @redpalestino, @wilx, @curatorhulk, @ripperone,@penguinpablo,@newhope.
---
---
EXPRESS THE LOVE OF JESUS THROUGH: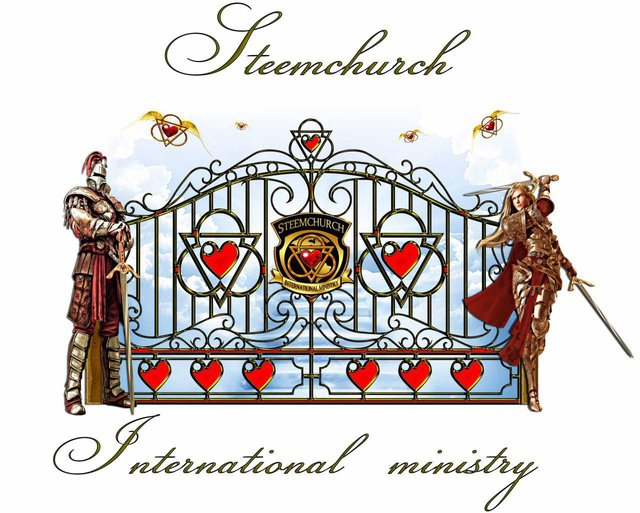 Each time you support with some delegation you will be collaborating with the feeding, education of thousands of children, the restoration of the family, and the promotion of blockchain technology in the world
50 SP| 100 SP|200 SP|500 SP|1000 SP|2000 SP|5000 SP