WELCOME TO THE STEEMCHURCH INTERNATIONAL MINISTRY BLOG
Beloved brothers from all corners of the earth, we are pleased and grateful for all that we have achieved in the current years, our ministry has been in a transition, a process of change for the better, in this sense our focus has been to strengthen The educational ecosystem from our places of origin, today more than ever we have important achievements, knowing that it is the beginning of the rebirth and lifting of a generation that will conquer large territories.
Steemchurch International Ministry through its expansion to the Telos blockchain, we have joined together to carry out the "GIVE WINGS TO FREEDOM, EDUCATION WITHOUT LIMITS" campaign. We started this social marketing based on schools, universities, and organized communities with the purpose of promoting blockchain technology and that from the initial stage until adults can experience the freedom that knowledge represents in any of its forms: spiritual, technological, moral .
For me it is a pleasure to present you in an official way, part of our promotional notebooks made a reality, I was very excited when I received them, this certainly leaves the child inside us, the one who dreams that life is full of colors and things beautiful, and we simply wanted to capture it here in a pleasant way for the little ones to enjoy it.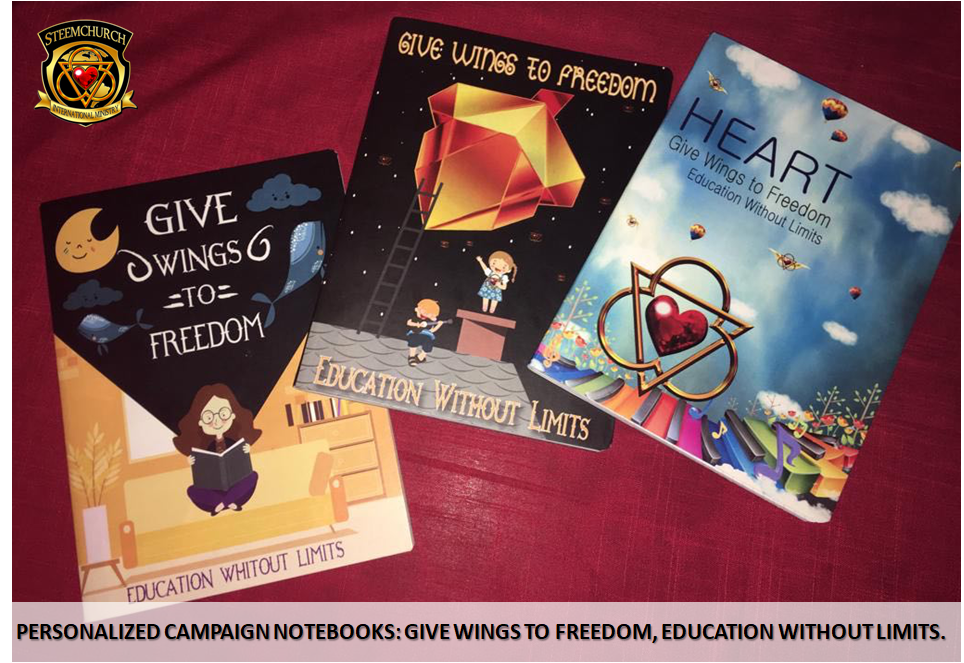 Grateful from my heart with the person behind all these beautiful moments, and these achievements: @sirknight, without you it would not have been possible (that's why we love you), thanks to the people who make up the Telos ecosystem, @edxserverus, for the great designs, @xiore for participating in the elaboration of them, and of course my brothers who make up the great Steemchurch family who work hard.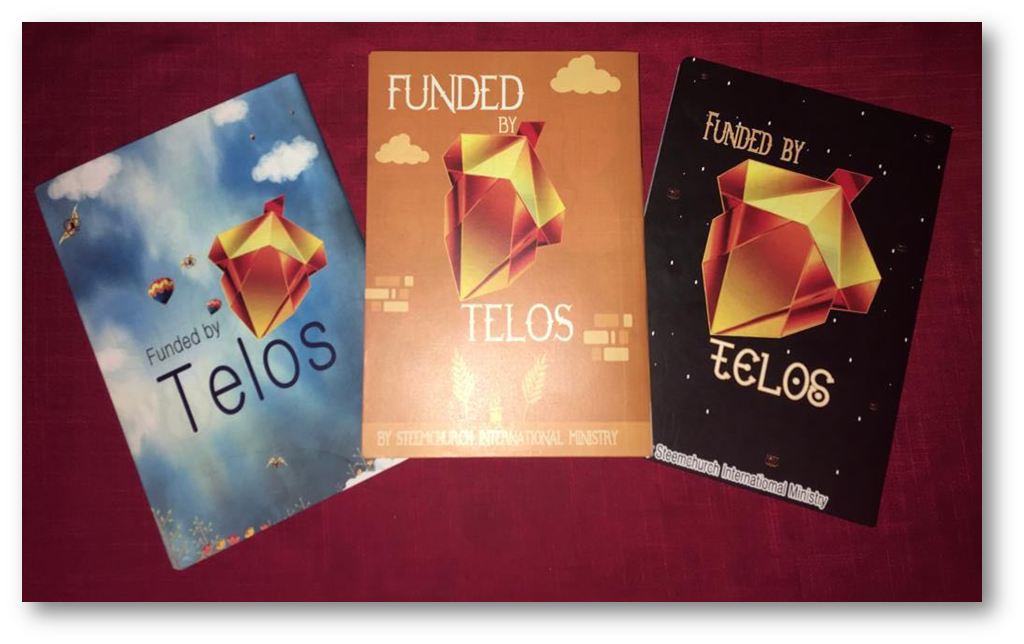 The boy Lucas, was the first who received the scoop of a notebook of freedom, here I leave your greeting, as spontaneous as a child is.
---
---
Bring life to dreams that feed the soul
never confuse them with vain realities. And even if your mind feels a need, human, to achieve goals and climb mountains,
Never break your dreams, because you kill the soul.
Mario Benedetti
400 notebooks were printed that will be delivered in three educational centers in the activities of next month, the subsequent editions will be included as part of a beneficial promotion to market, so that the quantity of them can multiply and reach more children and places.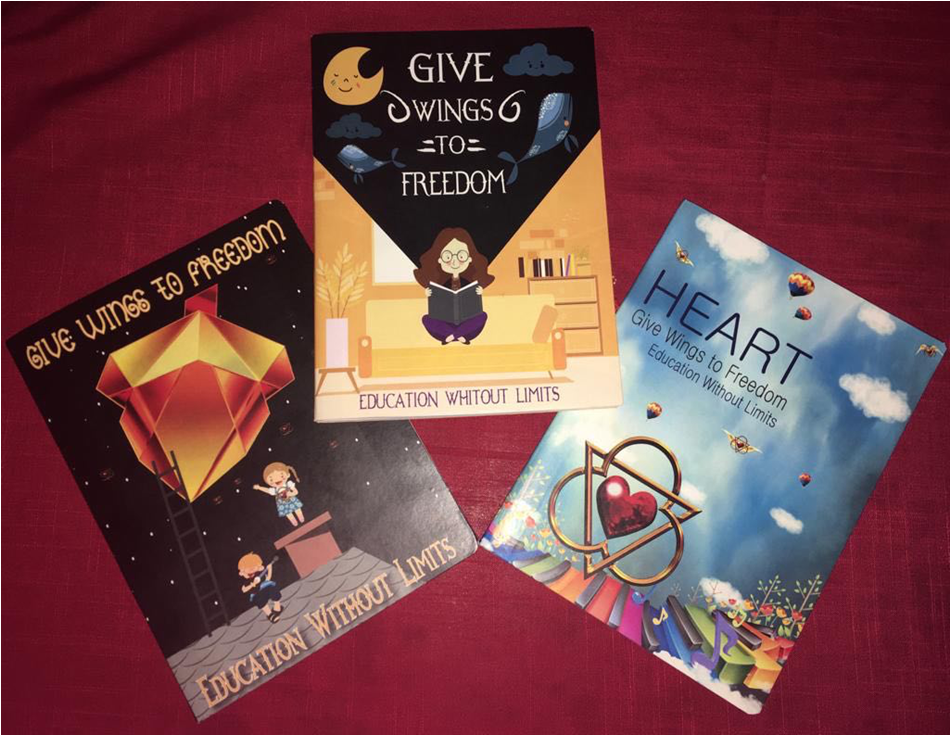 In the internal part of the notebook it carries the information of Steemchurch, and how they can register in Telos, in English and Spanish.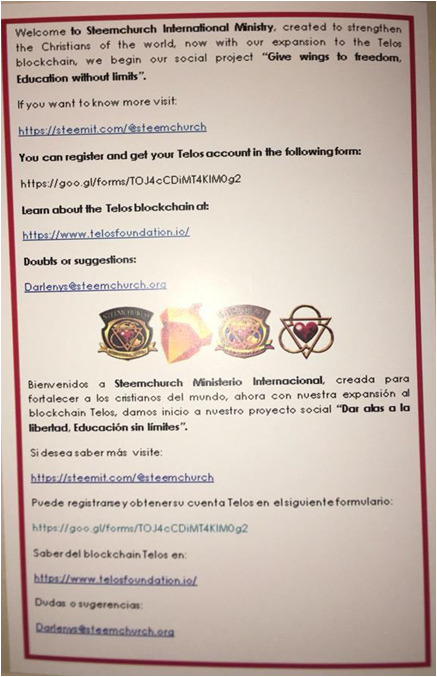 In the next month of December we will be making the first donations of the notebooks, in the school route that we have established, when something you imagine materializes, happiness is indescribable.
"It is a great pleasure for us to know that our children, in addition to receiving the food they require through Bread From Heaven, can also receive notebooks for their studies.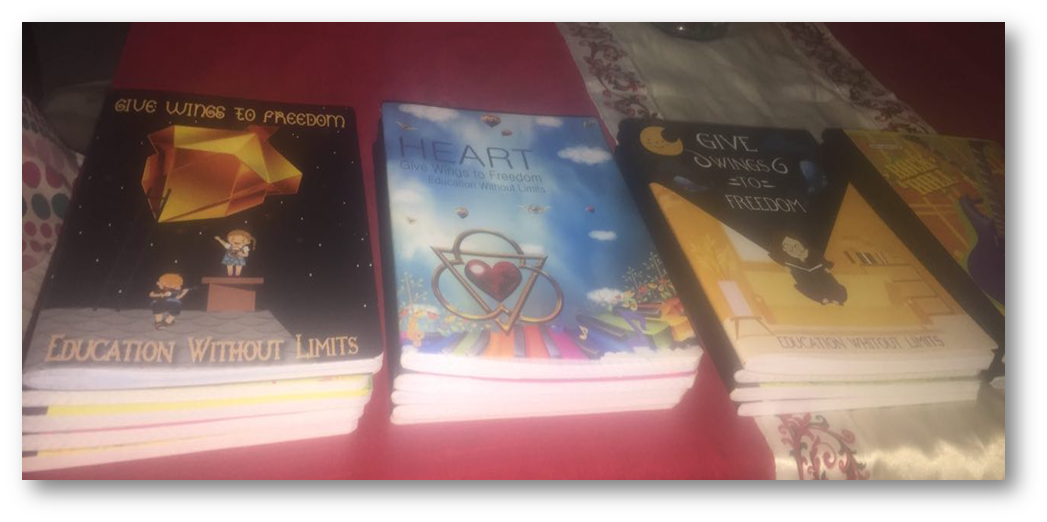 "As we have children developing their full potential, we will build a better society, responsible citizens, men and women of the kingdom"
Let's continue creating opportunities in our world, building a future for children, don't forget to register to get a telos account with the suffix "jc" and interact with our token "heart" in the following form:
https://goo.gl/forms/TOJ4cCDiMT4KlM0g2
If you want to know more information about Telos visit:
https://www.telosfoundation.io/
Additional considerations
There are channels available for more information:
https://t.me/joinchat/JfcYQRZKH3Fu0M9kIzcjjw
You can join our Steemchurch community:
https://t.me/steemchurch_telegram

Remember to follow our accounts and the leaders of the parishes:
@sirknight: Founder of Steemchurch
@darlenys01: Apostle of Steemchurch
@ricci01: leader of @sc-v
@Uyobong: Leader of @sc-n
@biggsam: Leader of @sc-g
@mhm-philippines: Leader of @sc-philippines
We wish that all people who wish to know about our church can enjoy all the valuable content that is daily in the steemchurch or any of its parishes, get updated information and can participate at any time with a broad vision of our objective.
What can we do to help?
Changes can be made in everyday life - at home, in work and in the community-, supporting farmers or local markets and making sustainable decisions on the feeding, supporting good nutrition for all and struggling
against the waste of food.
IMPORTANT STEPS
Work together
Ensure effective citizen participation, improve coordination mechanisms, facilitate dialogue.
Reduce the costs of malnutrition
Improve access to nutrition and nutrition education, protect children and ensure that adults have what they need to live healthy and productive lives.
Partner with the academic field
Build strategic alliances with academic institutions and research, generating information to face the challenges of life.
Reference: FAO
We thank all those people who have contributed to our community to grow @pennsif, @luppers, @redes, @hanshotfirst, @theycallmedan, @redpalestino, @wilx,@curatorhulk,@ripperone,@penguinpablo,@newhope,@jackmiller
# EXPRESS THE LOVE OF JESUS THROUGH: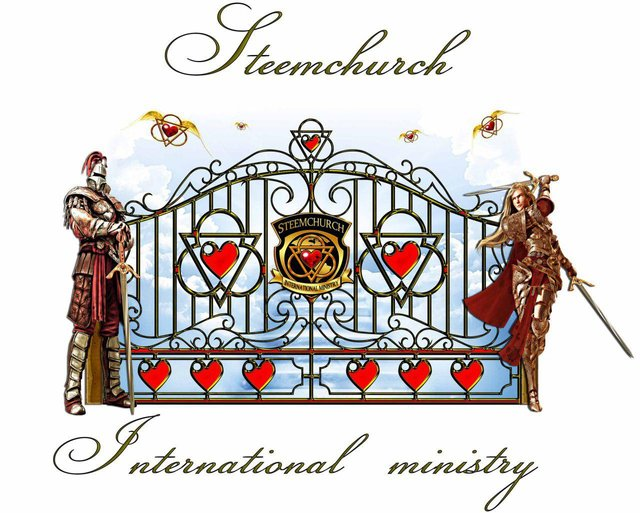 Each time you support with some delegation you will be collaborating with the feeding, education of thousands of children, the restoration of the family, and the promotion of blockchain technology in the world.
DARLENYS