A warm greetings to the entire Steemit populace and we hope you are doing great today. We have a new update to make as regards the development of our dear community and we hope you'd like to be part of it. The update is centered on the recruitment of more hands to handle the affairs of the community as we continue to make our presence stronger on Steem.
---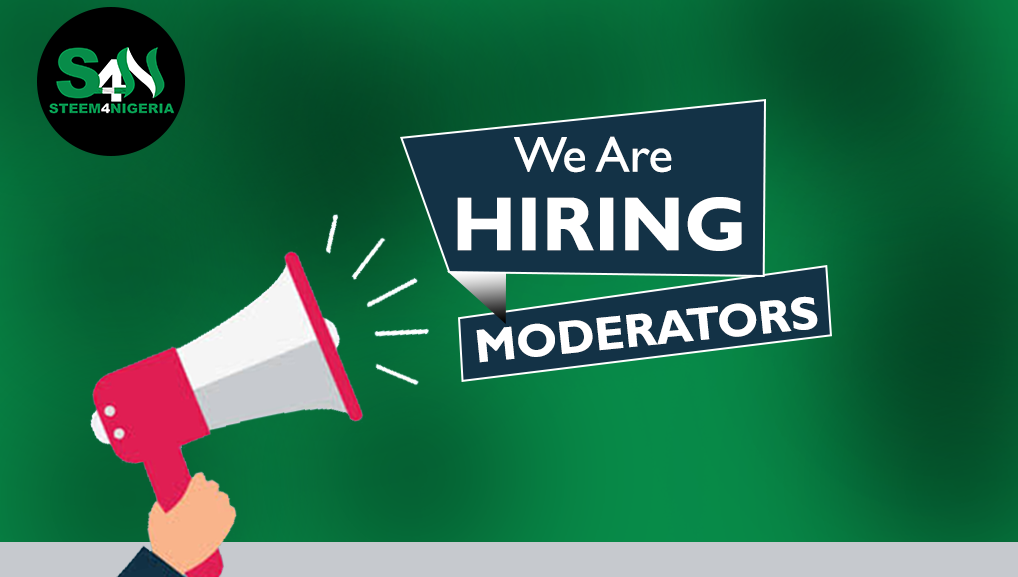 ---
Moderators Recruitment
It pleases us to announce that we are recruiting for the role of moderators in the community. These are needed to work with the Admins of the community in handling all that pertains to the community to ensure a smooth running of activities here and make the presence of this community on-chain stronger.

The role of moderators in a community is very important as they are readily available to keep the members and Steem at large abreast of new developments (running activities) and updates about a finished event and so on. As such, we'd like to recruit some.

Requirements
Applications are welcomed by anyone who has been working as a moderator/has worked as a moderator in a community before. These ones would have acquired the required skill for the role.


At the moment, we are looking forward to recruiting 2 MODs (a Nigerian and another user from other countries). The number might increase later in the soonest future.


Applicants are required to apply in writing, telling us about their experience in the role of a moderator.

Guidelines
The application for this role runs for a short period, ending on 9th of April at 11:59 PM UTC.


Write an application with the title "Steem4Nigeria MOD Application". Include in the tag #mod-steem4nigeria for us to easily track your application. Also, publish your article in the community.



Conclusion
In conclusion, we have taken care of what is required for qualifying for the position in this recruitment exercise. At this infant stage of the community, see the role more of being part of the Steem4Nigeria family as not many incentives/none would be attached to the role at the beginning. We are looking forward to receiving applications from suitable users to be part of the development of our community. Thank you.