Hello everyone, today i will be mostly talking about whatever comes into my mind as i write. No subject today and sometimes these can sorts of posts can turn out really good so fingers crossed. There are a few small update's to share and other things i have been thinking about. Im thinking charts, im in the mood to produce some charts. I know that @shanibeer will like this, she likes charts. I love charts as well but im a lazy guy sometimes.
If this is your first time seeing a spinvest post and your thinking, what's this? what's this all about? Please, please go and check out some of my old posts and ask questions, ask lots of questions. SteemPower Investments has been set up to serve the steemleo and steemit community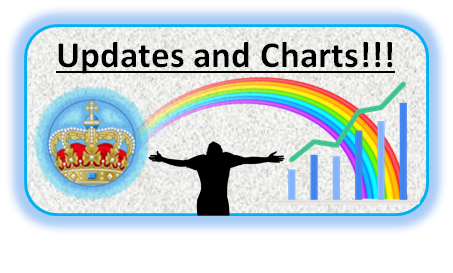 Steem powered investments @spinvest has been set up to offer an investment fund based on funding from STEEM POWER. Investments are funded through extracting value out of STEEM POWER and taking advantage of STEEM's high inflation rate. The aim is not to get rich quick; the aim is to build a safe portfolio of investments that will stand the test of time while insuring all investors starting capital is not at risk. Full details can be found here
Let's start out with a few small updates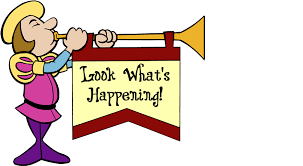 So, what has been happening? I am noticing that things are starting to slow down a little bit. I mean that as in comment interaction and token sales. You guys know Mr SP Invest loves getting feedback so dont be shy even if you only time for a 1 liner., When i say token sales have slowed down, i mean we are still selling a few thousand every week but not 4000-6000 per week like we have been. This is still way more than i thought we would be selling after 3 months and to be honest it's nice getting a break and a lighter workload for a few weeks cause i know what's coming. Im gonna predict that when 50,000 tokens are issued and the price change, sales will go through the roof for a 3-4 days after. It does'nt make sense but when the price goes up, people buy more. Looking forward to issuing the dividend payment also when we hit 50,000, i have already started to plan it out :)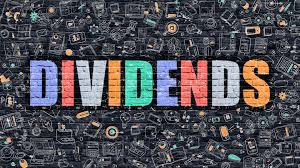 ----------------

I am seeing changes in post payouts and the amount we are earning from those. First off, post payouts are going up which is awesome, that motivate's Mr SP Invest to keep writing them everyday. Thank you to everyone that has added @spinvest to auto voters and thank you even more to manual upvoters. Next i see that we make more STEEM from steemleo compared to steemit so it's official and we now steemleo players. With @jk6276 running @spinvest-leo and earning us some good curation our LEO tokens are closing in on 1000 tokens which is very decent after only 3 weeks i think.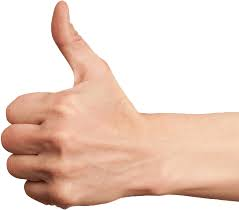 --------
On the leasing front, we are maxed out and have about 3 STEEM POWER in wallet. @steemleo took another 5000 SP from us so that's 20,000SP off market in total for those cool guys. I still check delease a few times days and sniped down a 500SP request at 19.8% for 8 weeks. Next on the hit list for off market lease's will be CryptoSicko which is a delegation to upvote service. It's use's most of it's curation rewards to lease extra STEEM POWER to boost members ROI. After that, i have a list of people that i know are always after more STEEM POWER.



------------
Over the past few weeks i have been thinking of ways to try and introduce @spinvest to more users and get more eyes on the project. Bidding bots are out of the question, we dont want problems with newsteem. Paying for promotion is not worth it and getting a featured post would be very hard. Mr SP Invest knows a few of the guys (newsteem) that decide and let's just say we bumped heads before. Moving on, been thinking alot of doing something on steemleo, this would be to basically make our stamp of the community and let them know we are committed. I dont wonna say to much cause im afraid someone might steal an idea but one i can put out is LEO upvoting service? User's could delegate LEO tokens and get a daily upvote, we would earn the curation. We could screen delegatee's to make sure they are not shit posters. Just a thought.....



-------
Ohhh, the SPI club meeting on Discord is planned for next week on the 5th of October. Nobody has really said to much and im starting to think that not many members would take part so maybe hold off for a while. Wait until we have 50 confirmed members are something like that. We can go ahead and still do it even if only 3-4 members were online. Mr SP Invest is happy either way, i would to do at least a group text chat but we can see what happens. Feedback me!!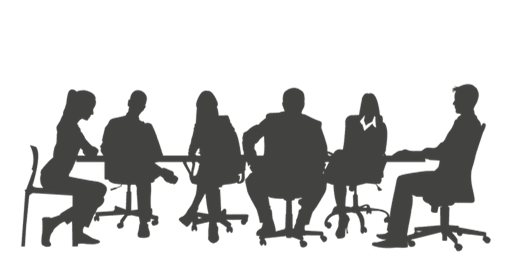 Jebus, i could keep going forever just talking about SPI, all the cool shit involved, the great club members and the ins and outs of everything but it's time to make a few charts
---------

Charts
I have data for the past 9 weeks and today we can look at earnings. Let's start by loking at each of our earning paths over the past 9 weeks and see how they are evolving as the whole project grows. The proof is in the pudding they say, so here's your pudding.



Earning's from STEEM POWER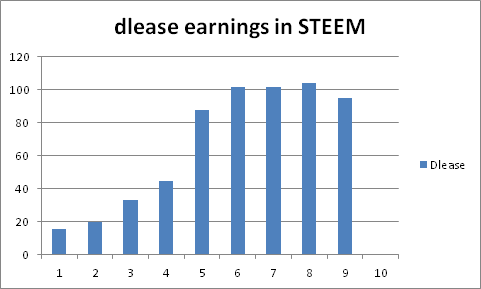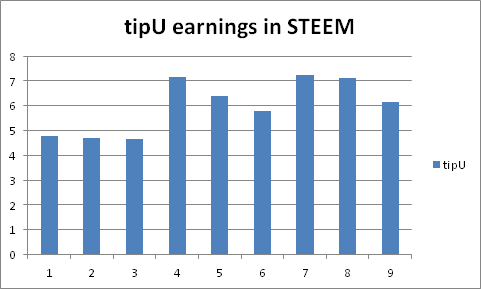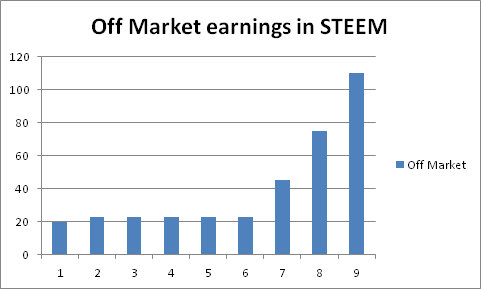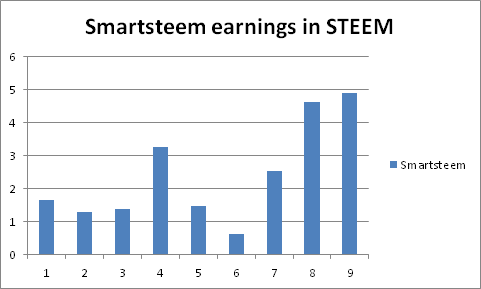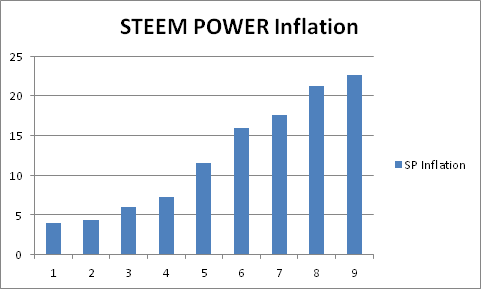 Earning's from POST PAYOUTS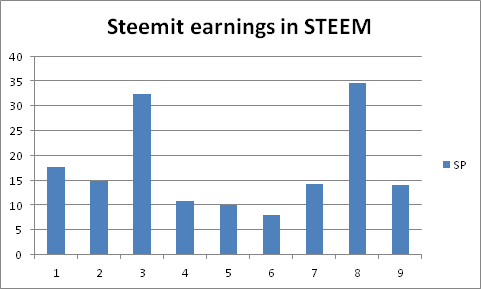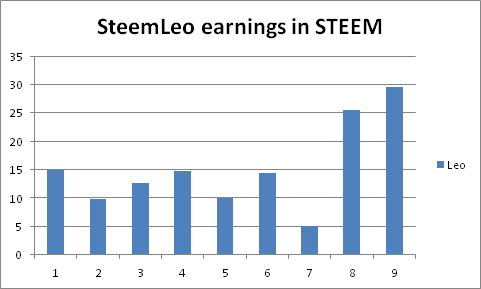 Total's Stats
Now that we can see all the earnings individually we are able to play around a little to make new charts for totals are to compare. These are fun to produce, i hope you enjoy the stats.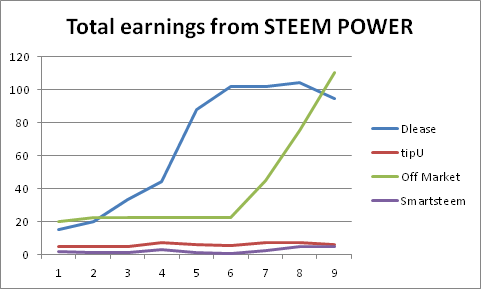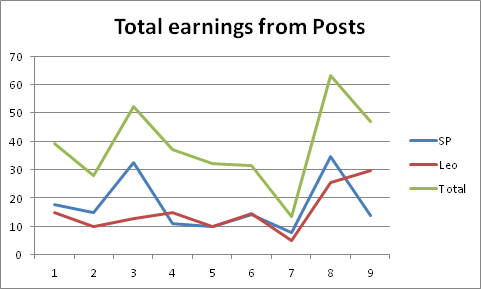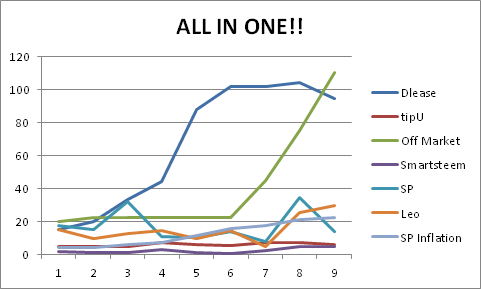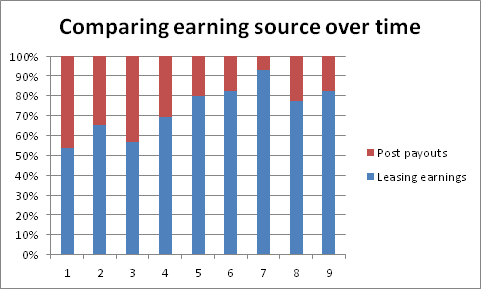 That's about all i have in me today, i hope you found this post interesting and got a better insight into the earnings and how they have evolved over time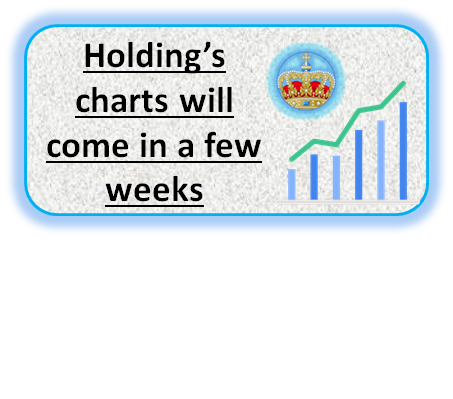 ----------


Below are steemconnect hotlinks that allow investor's to buy SPI tokens directly from @spinvest. Each token is currently priced at 1.15 STEEM and beside each link is the true STEEM cost to reduce confusion. You can also send any amount directly to @spinvest and i will issue you SPI tokens to 2 decimal places for the value of STEEM to send. All tokens bought directly will be sent to investors SE wallets within 24 hours but most likely much sooner.
10 SPI tokens - 11.5 STEEM
25 SPI tokens - 28.75 STEEM
50 SPI tokens- 57.50 STEEM
100 SPI tokens - 115 STEEM
200 SPI tokens - 230 STEEM
500 SPI tokens - 575 STEEM
1000 SPI tokens - 1150 STEEM
2500 SPI tokens - 2875 STEEM
|Information | URL Link |
|-|-|
| SteemPower Investments Introduction Post | Click HERE |
| SteemPower Investments Club Partnership Agreement | Click HERE |
| How to become a club member | Click HERE |
| How to convert SE tokens into SPI tokens | Click HERE |
| Join the SPI club Discord server ter>
ttps://discord.gg/J4J3wXS) |
| Join the SPI curation trail | Click HERE |
| What's best for the SPI Club? Centralized vs Decentralized | Click HERE |
| SPI tokens 95% buy back guarantee | Click HERE |
| SPI Club monthly Fiat to SPI token group buy | Click HERE |
| | |
| | |



All questions are welcome, please ask in the comments below