#
Dear readers,
#
another day, another #GAN experiment. This time, I took a series of #artbreeder portraits and ran them through a #popart model. Here is the animated gif of the first 100 iterations of my favorite portrait:
#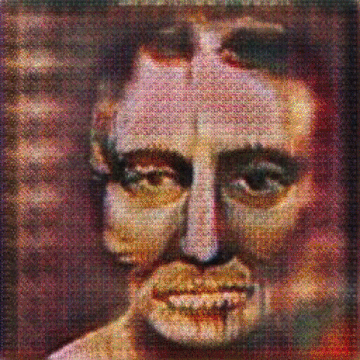 Playform
#
While I'm quite used to creating generative images with artbreeder, this was my first experiment using a service called Playform.
#


#
Playform allows artists and creatives to experiment with the latest in artificial intelligence and machine learning technology in an intuitive and code-free online environment.
#
Here is a short explainer video to see, how it works:
#
https://vimeo.com/332766017
If it doesn't work, here is the link!
#

No Excuses

#
If you ever wanted to dive into machine learning and artificial art, now is the time. Tools and services like Artbreeder, Playform and Runway provide an easy access to this fascinating technology even without knowing the technical background.
#

Thanks for watching!

#



@shortcut

I'm an artist selling my works for crypto. You can buy rare tokenized editions of my works at MakersPlace, SuperRare and KnownOrigin.
Please also check out my accounts at Diaspora, Creary, Instagram and Twitter.