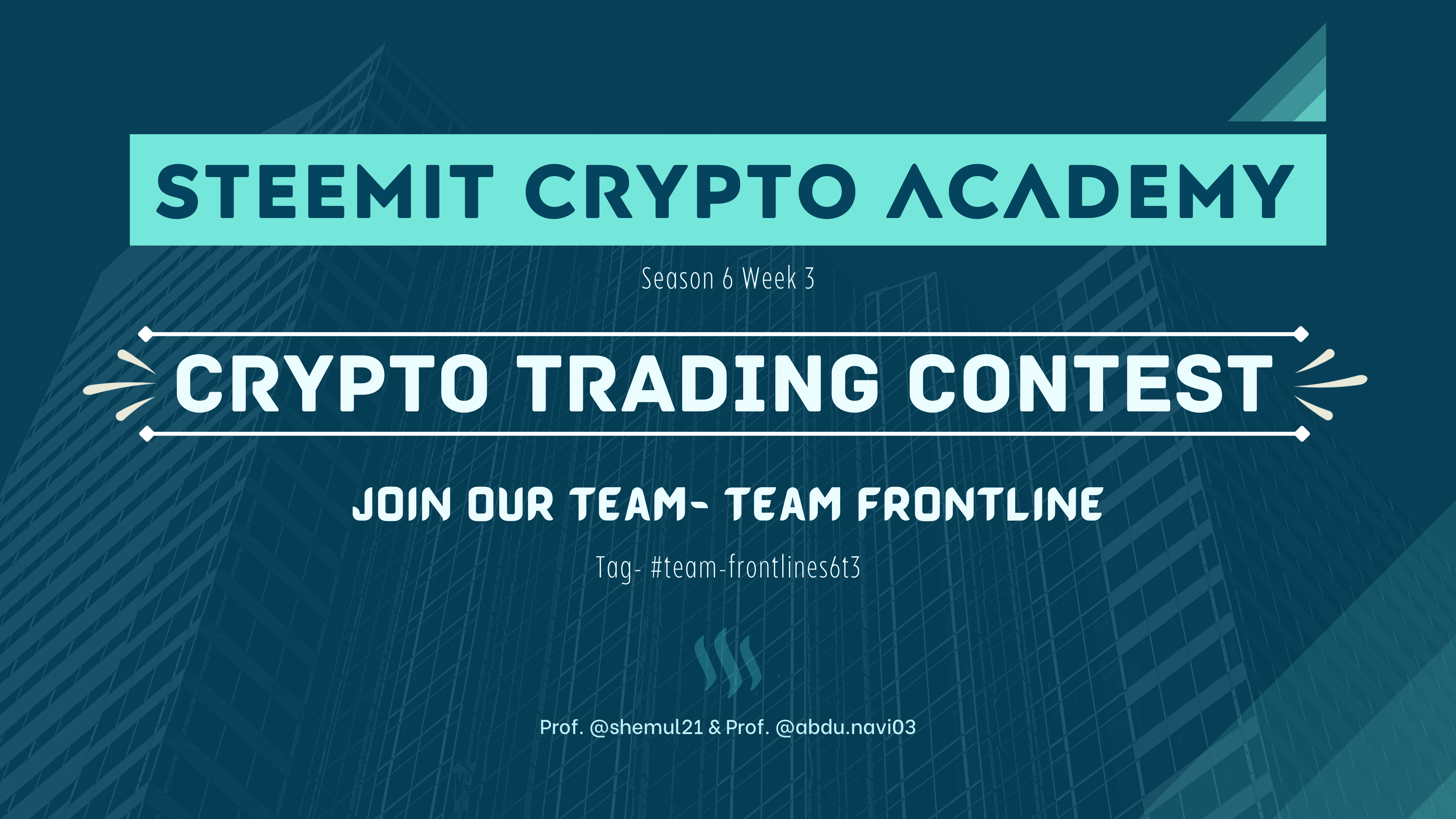 Image designed in Canva | by @shemul21
Hello dear Steemians,
Hope you are well. This season, our Steemit Crypto Academy is hosting a new cryptocurrency trading competition. We've already passed two weeks successfully. You are all cordially invited to join our team FRONTLINE in this competition. This week, there are four teams in total. Team 1 is led by me @shemul21 and @abdu.navi03 for this week.
Our team name is TEAM FRONTLINE. You can join our team, participate in trading, and earn a variety of rewards. Now I'm going over the competition's rules one by one. Let's start.
Before you start trading, it is recommended to read the philosophy of the contest which is listed as follows :
---
A trading team is formed by every two teachers. In our case, I @shemul21 and @abdu.navi03 formed the TEAM FRONTLINE team.
Each participating user can join a different team every week, which they cannot change once they have joined, but they can change teams after one week (by adding the corresponding tag of each team to join); our team's tag for this week is #team-frontlines6t3.
Every week, each user must switch teams and cannot remain in the same team for an extended period of time (to prevent powerful people from always gathering.)
---
---
How to enter and post the Crypto Academy trading competition?
---
Users can trade any coin/token (can be spot/contract/margin trade etc.) and post on each of them, they can trade and post daily, and the content can be:
The name and introduction of the project token, and which exchange can be traded on, project/technical/team background, etc.
Why are you optimistic about this token today, and how long do you think it can rise?
How to analyze the token? (using the analysis knowledge learned from professors' courses) - the most important part.
Do you intend to keep it for a long time or when to sell it?
Do you recommend everyone to buy? and the reasons for recommending/not recommending.
Anything other users want to share about the token/project.
---
---
How to count users' trading profit or loss?
---
User can trade any number of trades every week, and he/she must take 5 of his trades to fill our Google Form on Saturday and upload a short as possible (size) screen recording (videos) of his/her 5 transactions.
Users must use the following format, any other format will be ignored. Many users submitted their entries in the incorrect format last week. We accepted because it was the first week. However, you should be more cautious this time. Otherwise, you'll probably miss the competition.

---
---
How does a team win? and what does it win?
---
The highest ratio = the number of profit trades / the total number of trades of the team
For the winning team, the top 3 users will get 25% more upvotes from SC01.
---
---
Conclusion:
---
Every participant in the Crypto Academy Trading Competition has the opportunity to promote themselves as a trader and gain popularity. Trade, earn, create a trading history, and share your results with others. This trading contest is the ideal place to start your trading career! Congratulations in advance.
---
---
Guidelines:
---
Try to read the conditions carefully before participating in this contest.
You must write an essay containing at least 300 words or more.
Make sure you publish your posts in the SteemitCryptoAcademy community.
Users must also be correctly participating in #club5050, #club75 or #club100. Try to check it always. Please don't ask for the mark after grading.
Use royalty-free images with mention of its source, if possible, produce your own.
Plagiarism is strictly prohibited in Steemit Crypto Academy, and its authors can face heavy penalties.
This competition will run from March 20, 2022 until March 26, 2022, time - 23:59 UTC.
Include in your publication among the first five hashtags #team-frontlines6t3 and #cryptoacademy.
Users who turn off will not be upvoted and will be considered excluded from participation.
In addition, users with a reputation lower than 60 and/or not having at least 500SP in their wallet will not benefit from the vote for their posts.