Assalamu Alaikum dear steemians,
I hope everyone is in good health. Today I'm going to show you some random photos from my gallery. The photos are simple, but they will convey important information about our way of life. So, let's see.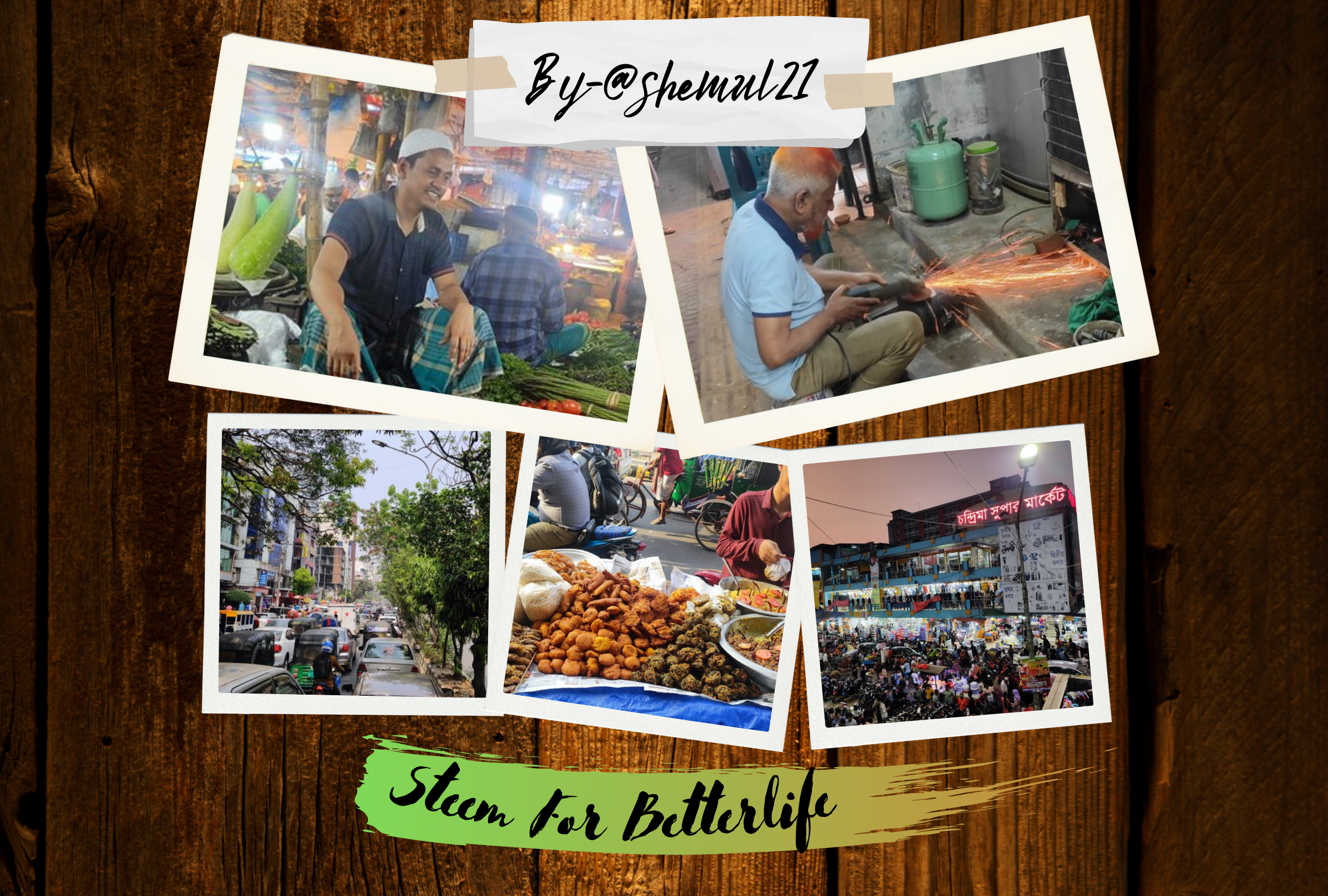 Cover designed in Canva | by @shemul21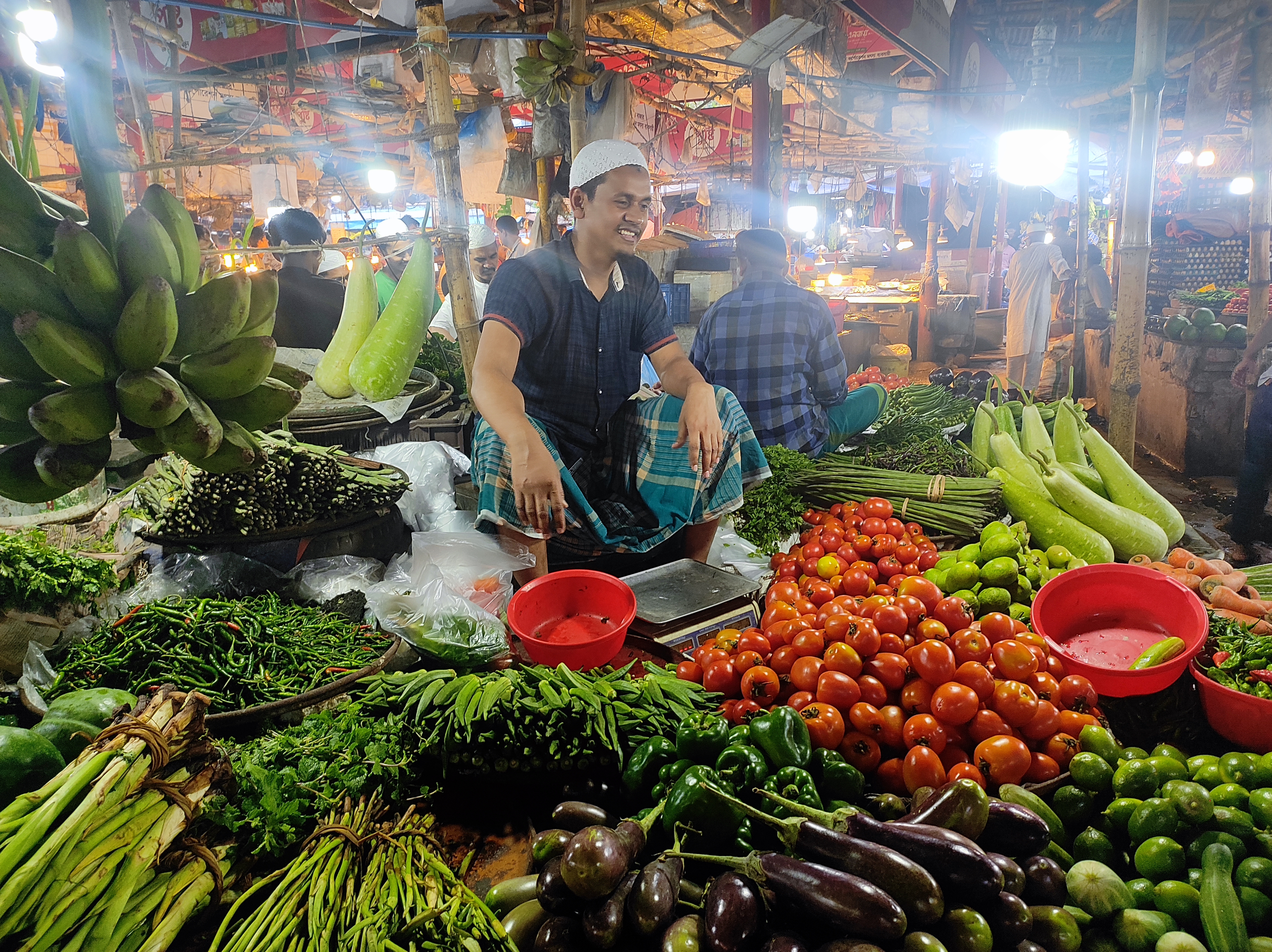 Location
This is a picture of a happy vegetable seller. He is a good man and a trustworthy shopkeeper. To purchase a product from his store, you never have to ask for a price. He charges a fair price for raw materials. He had also prayed five times. When I went to write about him today, I realized that his name was never known.
Anyway, I'm not sure how much all of the vegetables cost. The table below shows the prices of the vegetables I purchased for cooking with Minal Carp fish and also for Iftar.
| Vegetables | Quantity | Price bdt | Price Steem |
| --- | --- | --- | --- |
| Cucumber | 1 kg | 70 taka | 2.3 Steem |
| Tomato | 1 kg | 30 taka | 1 Steem |
| Carrot | 1 kg | 40 taka | 1.32 Steem |
| Lemon | 4 pieces | 50 taka | 1.65 Steem |
| Green Chilli | 250 gram | 25 taka | 0.83 Steem |
| Coriander Leaves | 100 gram | 15 taka | 0.51 Steem |
| Long Brinjal | 1 kg | 80 taka | 2.64 Steem |
| Red Potato | 1 kg | 30 taka | 1 Steem |
| Bean | 1 kg | 50 taka | 1.65 Steem |
| Bottle Gourd | 1 piece | 60 taka | 2 Steem |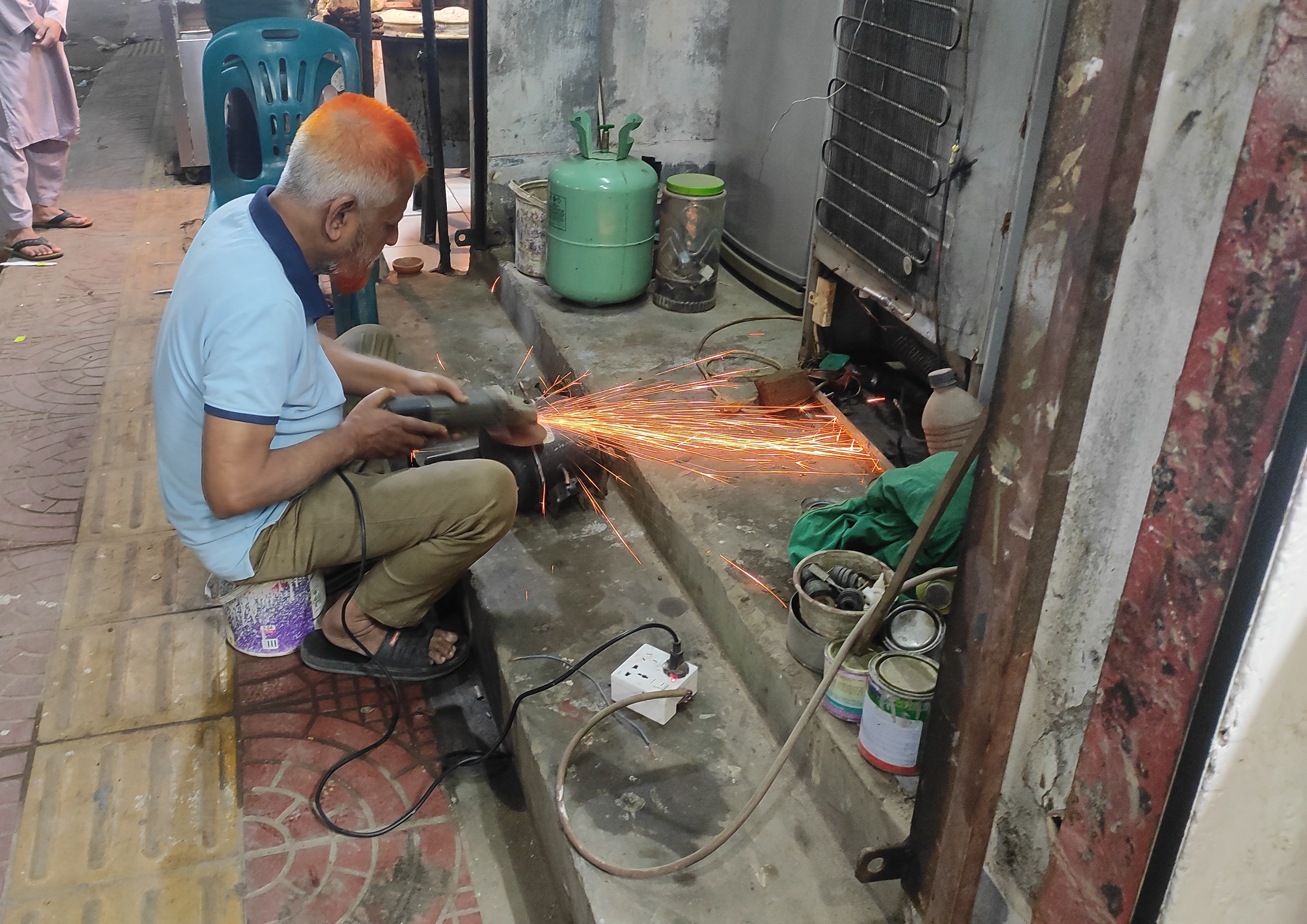 Location
In this picture, an old man is repairing an electric motor. He has been doing this for about 24 years. His shop repairs not only electric motors but also other electronic equipment. Each type of equipment can have its own set of problems. The cost of repairs also depends on the problem. However, he does not do any work for less than 200 takas, which is equivalent to 6.6 STEEM, as he is an experienced person.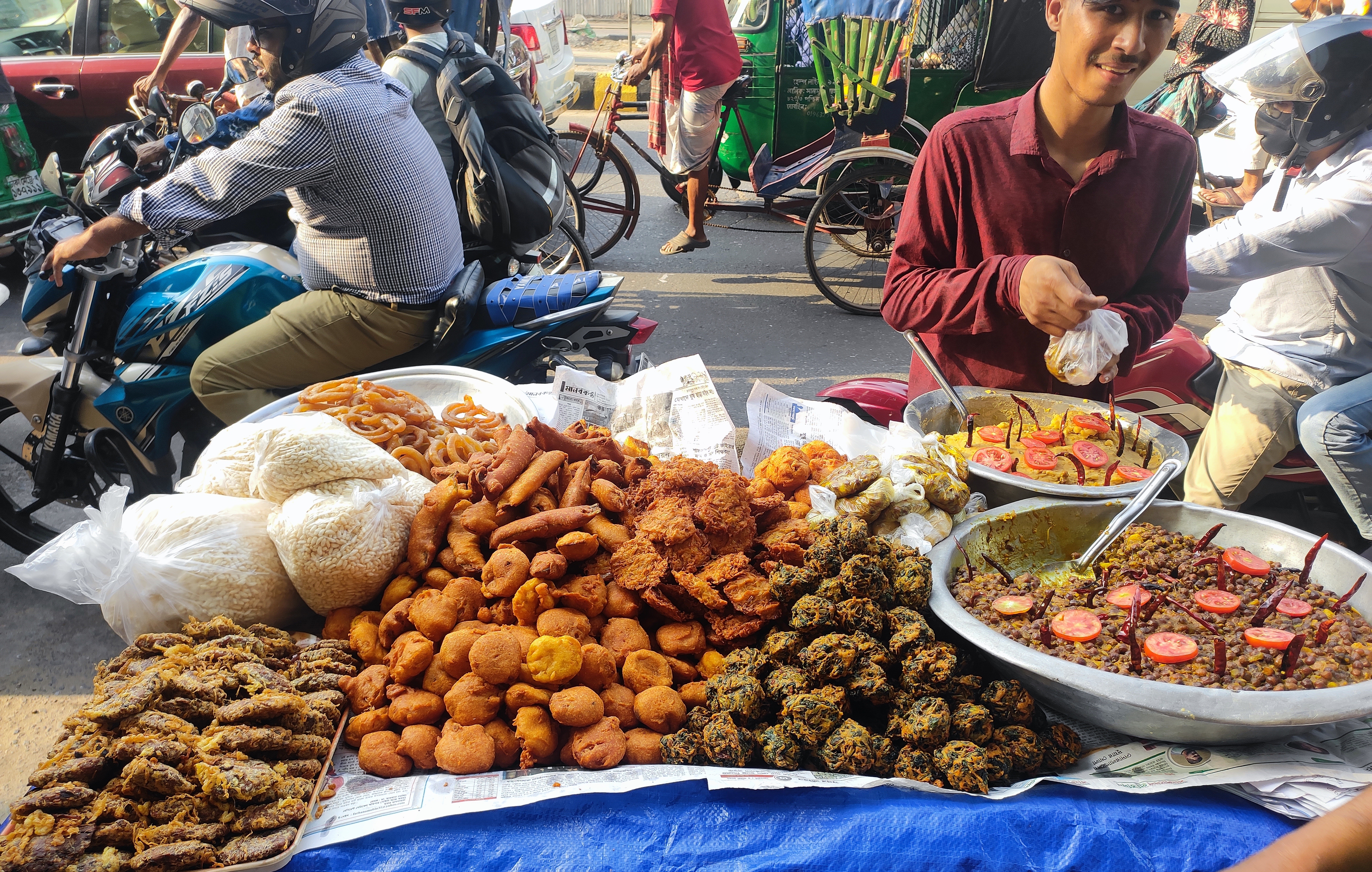 Location
On the day of Ramadan, after four o'clock in the afternoon, the traffic jam suddenly increased. The number of buses going to Mohammadpur via Elephant Road is much less than the number of passengers. So I was walking along the sidewalk of Elephant Road at the end of tuition that day without getting a bus. After walking a short distance, I saw an Iftar food shop. Meanwhile, all vehicles came to a standstill due to the traffic jam. You can only understand it if you notice it well in the picture.
Now let's talk about food. Since there is a lot of dust on the sidewalk shops and on the streets, and most of the food is fried in oil, it is safe to say that the quality of the food is not good. However, people from lower middle class families like me are forced to buy this food for Iftar. I am mentioning the name and price of each food in the table below.
| Item Name | Quantity | Price bdt | Price Steem |
| --- | --- | --- | --- |
| Puffed Rice | 1 kg | 120 taka | 4 Steem |
| Jilapi | 1 kg | 160 taka | 5.3 Steem |
| Roasted gram | 25 gram | 40 taka | 1.32 Steem |
| Roasted Brinjal | 1 piece | 5 taka | 0.17 Steem |
| Roasted Onion | 1 piece | 5 taka | 0.17 Steem |
| Potato Chop | 1 piece | 5 taka | 0.17 Steem |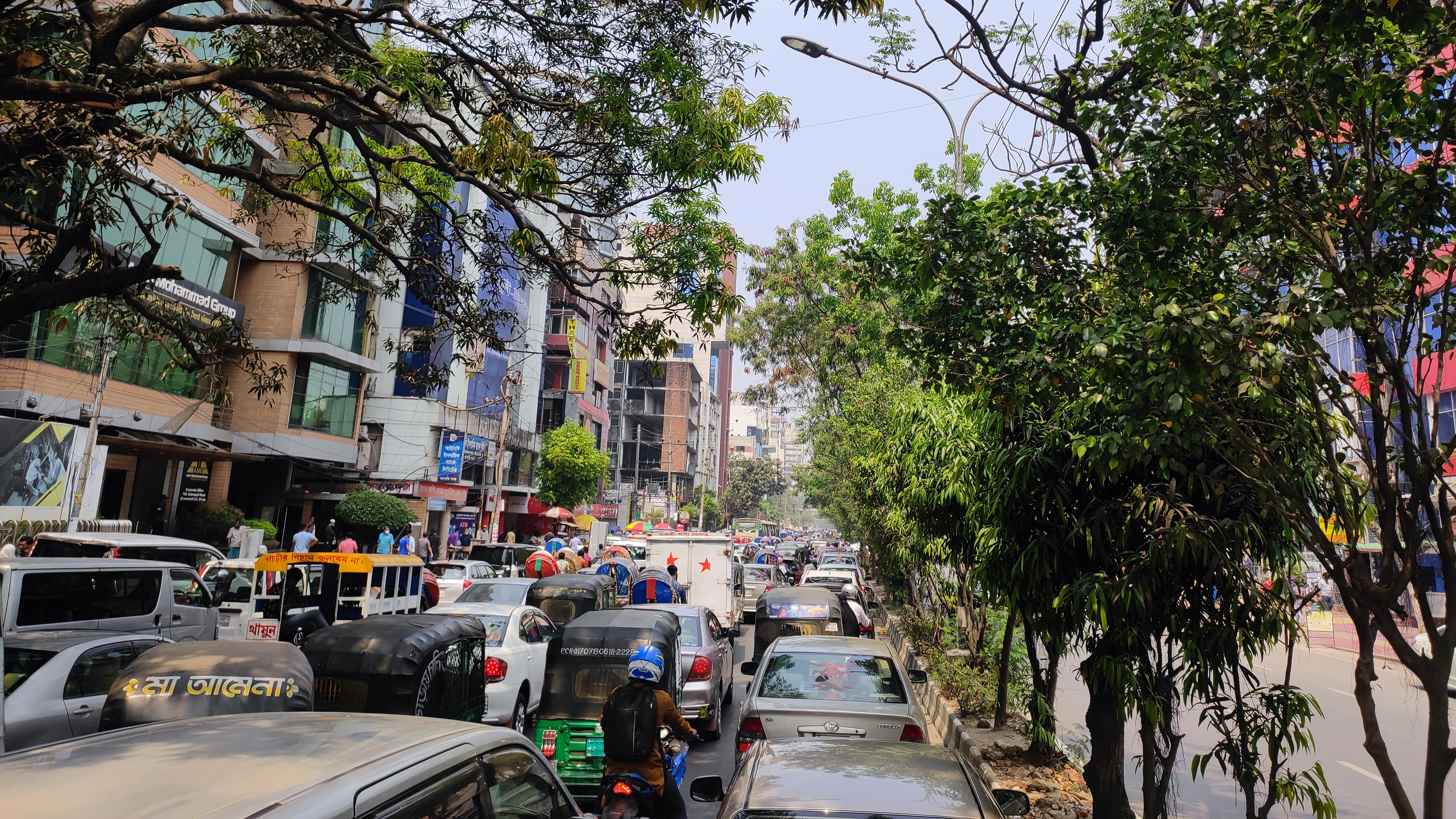 Location
I had an exam at university that day. So it was very important to get to the university at the right time. But heavy traffic on the road. There is no public bus from Dhanmondi to Farmgate. If you want to go, you have to go through Laguna. The fare from Jigatala to Farmgate in Laguna is 25 taka, equivalent to 0.83 STEEM per passenger. But since there were no empty seats in Laguna, I had to stand back and hang up. If you stand behind, you can see the picture of a traffic jam on the whole road. This image captures a realistic picture of the traffic jam from behind Laguna.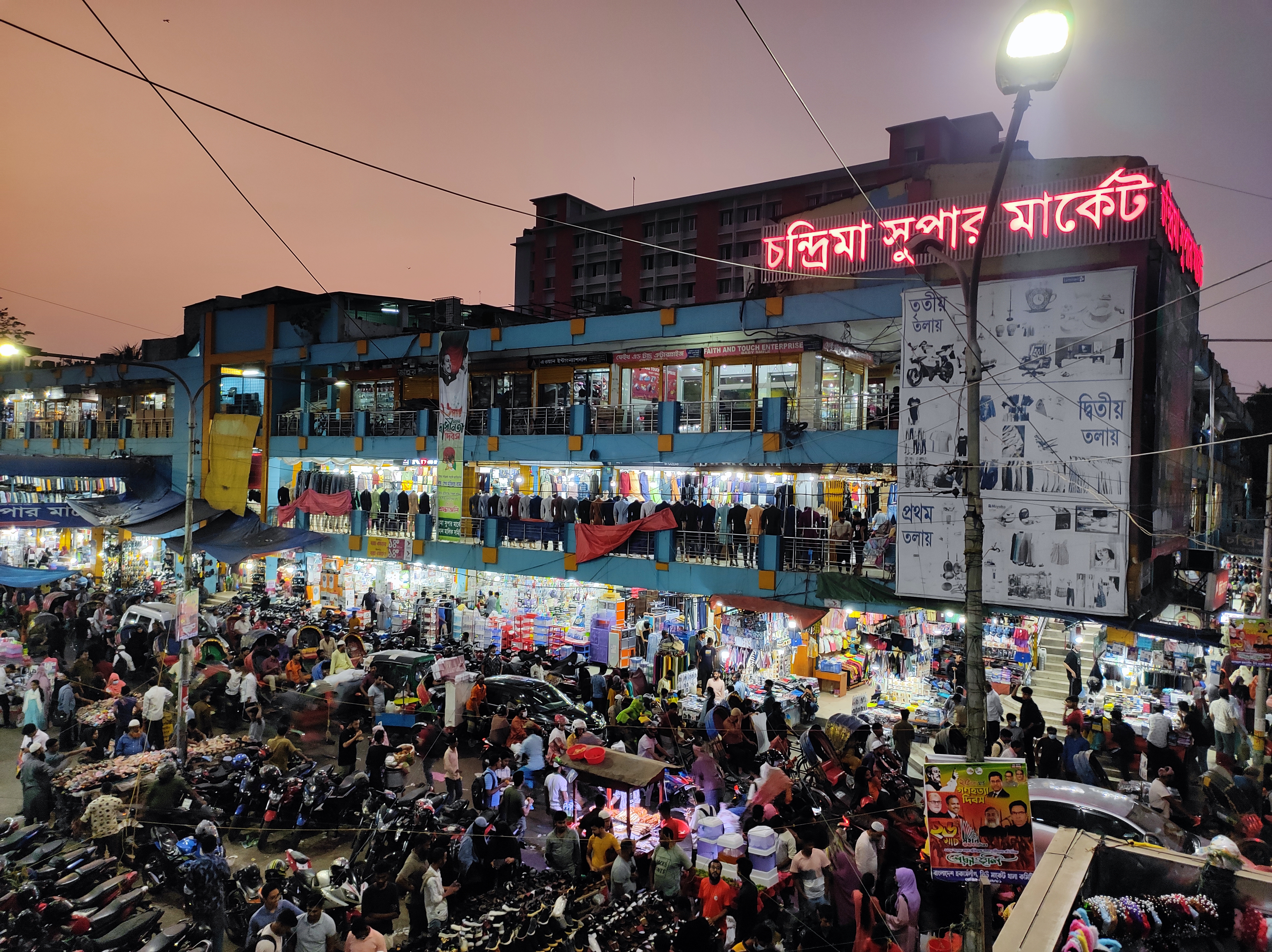 Location
This photo highlights some shops and traffic jams on the sidewalk between Dhaka New Market and Chandrima Super Market. With the exception of Tuesdays, such noise is heard on almost six days of the week. There are mainly shoe shops here. Shoes are available at very low prices in these shoe stores. The price of each pair of shoes will range from a minimum of 150 taka (5 STEEM) to a maximum of 500 taka (16.5 STEEM).
In Dhaka New Market, mainly the lower middle-class people have more products to buy. And so, every day, thousands of people come to Newmarket to buy their favorite things. I'm also one of them.
Thank you for reading my blog. I'm waiting for your review and feedback for improvement. Have a good day. Take care. Happy Steeming.