it's been 16 days that I have created my Steemit account and been exploring, reading, enjoying my time over here. During 16 days I have created many consents, brought two friends of mine into platform. Invested on Steem, bought Steem and Powered them Up. Created networking, tried different active projects, checked about communities and many other things. I read many articles related to Steem Blockchain, Steemit, how it functions, differences between SP, STEEM and SBD.
I had to learn this, so I can explain to people that I am bringing into Steemit, calling them to make an investment and stay here for long-time, because Steemit is here for a long-time. There are still millions of tokens to be created through upvotes. It may take several years. There are many more interesting things to do here, this is why I am exploring so I can teach others. Because we are on our way working with creating communities and deal with management of communities.
It has been 16 days that I am part of this journey, I am happy because it keeps me excited. There are few things in my life that excite me, because I like to explore and dig down. Since I have been digging down a lot, few things seem to be interesting for me. This is interesting and challenging because I have goals to reach a high SP so I can use this to curate great content and boost people, mainly people that I will be bringing into the system.
Every person that I will be calling to be part of this journey, I will be telling them for sure to be part of the communities which they like and are suitable for their own interactions. But the first thing is to be part of the Newcomers' Community and read everything in details so they can learn more about Steem Ecosystem. Try to achieve the tasks that are given and be rewarded for their effort on learning the ecosystem.
There are many different blockchains and each blockchain has its own way for the security and storing passwords, authentications, google verifications, sms verifications, some of them may be really hard, because of the steps that people do not understand they do not go further and do not like to deal with such security issues. But those are not an issue, because you are about storing your cryptocurrencies which have a monetary value, yes this is why it is very important to have such a security steps. Because there are a lot of hackers, people with bad goals, so your money may be at risk if the security is not right. As mentioned each blockchain has it security, here are the main things you have to know about Steem Keys and Security.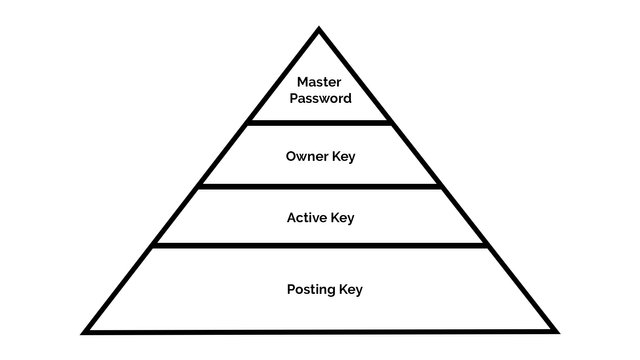 Steem Ecosystem Securities
When you go to Sign Up and create your Steemit account, you need to choose your username, verify your e-mail and phone number, one you pass the "I am not robot" phase you will get a PDF where your keys are there. Make sure you save that PDF. Because it is an important file where you will see your keys. Each key has different function, down below in the file you will see for what purpose they are used. It may be complicated but they are basic. Each of them have a different reason for usage.
Make sure you save the file in a computer that doesn't have any virus, it has an anti-virus or anti malware system. Do not share that PDF document with any other, because once stolen people can access to your steemit wallet.
Me personally I have saved the PDF file also in an external hard-disk where I store important data, but there is a fact, in the internet there is a virus once it enters in your pc it may encrypt all your documents, also each usb and hard drive that is plugged into the pc may be encrypted, to decrypt you have to pay a great amount in BTC. This is dangerous so be careful from installing different things in your pc from unknown sources.
In the beginning for the first time the keys may seem complicated, but they are not, if you just visualize them and read their differences you will see that it is not complicated.
Differences between Keys are as follows:
Posting key - The posting key allows accounts to post, comment, edit, vote, resteem, and follow or mute other accounts. Most users should be logging into Steemit every day with the posting key. You are more likely to have your password or key compromised the more you use it so a limited posting key exists to restrict the damage that a compromised account key would cause.
Active key - The active key is meant for more sensitive tasks such as transferring funds, power up/down transactions, converting Steem Dollars, voting for witnesses, updating profile details and avatar, and placing a market order.
Owner key - The owner key is only meant for use when necessary. It is the most powerful key because it can change any key of an account, including the owner key. Ideally, it is meant to be stored offline, and only used to recover a compromised account.
Memo key - This key is used for encrypting and decrypting memos when transferring funds. In order to encrypt a memo, use the pound/# sign before it.
Taken from @cryptokannon !
Wallet Overview
Steemitwallet.com is another part that you have the access to make different monetary transactions. It is different than Steemit.com. In steemitwallet.com you will see your STEEM, SBD, SP and TRX balances. Check the details below.
In your Balances you will see different names;
STEEM is the cryptocurrency that can be bough in the exchanges, markets with different pairs. Besides buying you can earn STEEM by creating a content. SBD is another cryptocurrency, same you can buy or earn. Earning STEEM and SBD can be done through Steemit platform when you create a content, people upvote you, by upvoting they create or print 50% STEEM which will go to your wallet as a Steem Power and 50% SBD. Or you can choose 100% STEEM POWER when creating your post.
Steem power is your steem balance that you can power up, so you can have a power when curating a post, you can upvote others, you can upvote yourself. You can power down them and get your Steem back for 4 weeks. Every week 25%.
TRX is also another cryptocurrency, you earn TRX when you get the pay-out from your content once created after 7 days. Tron and Steem made a partnership. You can use your TRX coins in your TronLink wallet for different purposes.
In Steemit platform if you are for long term goal, make sure to increase your Steem Power, in this way you can curate others and your own posts to. When you curate others post, depending on how much SP you have you will get a curation reward too. As high your SP is that much Curation rewards you can get.
To power up first transfer some Steem into your wallet if you do not have any, you can buy them in any exchange that STEEM is listed. Than under your Steem click POWER Up button;
Choose how much Steem you would like to Power Up from your STEEM balance. I do not have enough balance because I have already powered up everything;
Also it is interesting to know the fact that Steem is a very fast blockchain, where you can send Steem transfer for up to 3 seconds. If you want to send Steem or SBD to somebody just go to your Balances, choose a person you would like to send those currencies and the amount, you can write a memo, memo is public unless you would like to encrypt it with the Memo key.
Once you click transfer, you write down an address, choose amount and write your memo;
Once the transaction is over, it will be public in the blockchain like this;
Date, to who you transfer, the amount and the memo you wrote, in this case I've written ; Welcome to Steemit world♥
Steem Ecocsystem is created in a perfect way, with a great working mechanism, it is easy to learn, to understand! Just make sure you follow the right people and you make the right steps. Also it is important to know what are your goals, what you want to achieve and do while being part of this Ecosystem.
Cheers.

Explore
**How to Power up your Steem? if you use Binance.**