Good Day Guys
Let me share with you what happened during my day. I actually had a rough night because I couldn't sleep. I slept at around 4 am already. I had to wake up at 6:15 am to get ready for work because I had to leave earlier than usual. I left the house at around 7:25 am to go to work. I parked the car, went through the triage, and timed in. I went to our department to bring down my stuff. Then I had to go to the Ladies Dorm because I was assigned to be a reader for the mss. We were celebrating the 44th Anniversary of the hospital that I work in. They had the theme of "One Heart, Onge Goal: Resilience amidst the Pandemic"
Before the mass started they played audio telling the history of the hospital and it opened to serve as a training hospital for the medical students and to provide the medical needs of our city and other provinces.
The mass started at around 8:15 am and ended at around 9:30. They said that during the mass, their target opening time for the new building would be in August. This would increase the bed capacity of the hospital. They gave us snacks after that, but I was already thinking of the treatment of our patients. I went back to our department and asked our colleague if the doctor did the rounds already and she said that I think so. We were waiting for our doctor and our doctor finally came, she endorsed us all the patients and we were surprised that we have a new patient. It was around 10 o clock already when we started treating.
We went to patient 1 and when we reached her room, the watcher told us that the patient had a fever earlier in the morning so we took the temperature and it was 37.6 degrees celsius, we texted our doctor and our doctor told us to go back later. We then went to patient 2 and he was a new referral. He's a huge patient who had a craniectomy. He was a really kind patient and he was actually strong. His complaint was his difficulty in using his left arm due to the stroke. We were about to start treatment but when we were bringing out our equipment we actually forgot to put the electrodes inside so I went down to the basement from the 4th floor just to get the electrodes and walked back up. It was really tiring and when I got to the room I was really sweaty. We made our patient stand and we checked on his balance and tolerance. He was able to perform it, I think we will be progressing to walking the next day.
We went to patient 3 and our patient wasn't in the mood to exercise. We would ask her if likes to exercise and she said no. We tried our best to persuade her to exercise and she gave in but we were not able to make her short sit on the bed because she refused. After that we went back to patient 1, her temperature dropped down a little. This patient has anxiety, wherein when we don't support her while she's sitting she would panic instead of looking for her balance. The smell of the room was different because our patient took a dump on her diaper. We were able to make her short sit also and the watcher said that she was going to get a peg insertion the next day.
We went to the other building and treated patient 4. I really felt tired already because it was almost lunchtime. We had to make that patient short-sit. This patient is actually huge and she has difficulty in maintaining her balance so I had to support her back most of the time during the sitting. One thing that we had to really be patient about this patient was that she keeps on repeating her stories every single day and she's also disoriented. When I was supporting her, my eyes were closing already. Finally, we finished treating her and it was around 11:50 pm already.


When we got back to our department we disinfected and got ready for lunch. I was surprised that our hospital provided lunch for us. I was really hungry that I forgot to take a photo of the meal. I just took a photo of the dessert that they gave us.


During lunch, our doctor passed by and we were surprised that we had a new referral again. We also updated her regarding the patients that we treated.
After lunch, we got ready to go up again. We noticed that the elevator is working again after 2 months. Finally, it works, walking up drains us already especially with the PPE that we are using and it also gets really hot in some of our patients' rooms.
We went to patient 5 who was in the new building. They finally found the structure that was causing pain on his hips and the family told us that he's going to undergo surgery for that. I really like treating this patient because he's kind and the family is really supportive.
We then went to patient 6 and who's a patient who's recovered from COVID-19. The problem that we had while treating him is that his oxygen saturation levels would go below 90% which is bad. So we had to give him rest time and instruct him to breathe while doing the exercises. After treating this patient we went to the new referral who's our last patient. We were surprised at how strong he is and he just suffered from a stroke. His only complaint was the weakness on his right hand, he would complain of his weak grip.
After the treatment, we went down, disinfected, charged the patients, did our notes, and updated our doctor. I was really tired after treating. I feel like I'm getting burned out already. Especially knowing the fact that there's going to be a new building increasing the patient load. We are actually only 2 who are treating patients who are hospitalized and if one takes a day off, you're alone.
Finally, it hit 5 pm and when I was walking to the car it started raining, I was looking through my bag for my umbrella but I forgot it. I just used the jacket and covered myself and rushed going to the car. I got kinda wet. When I went home I disinfected and ate dinner. I was just resting the whole time. I hope that you guys had a wonderful day!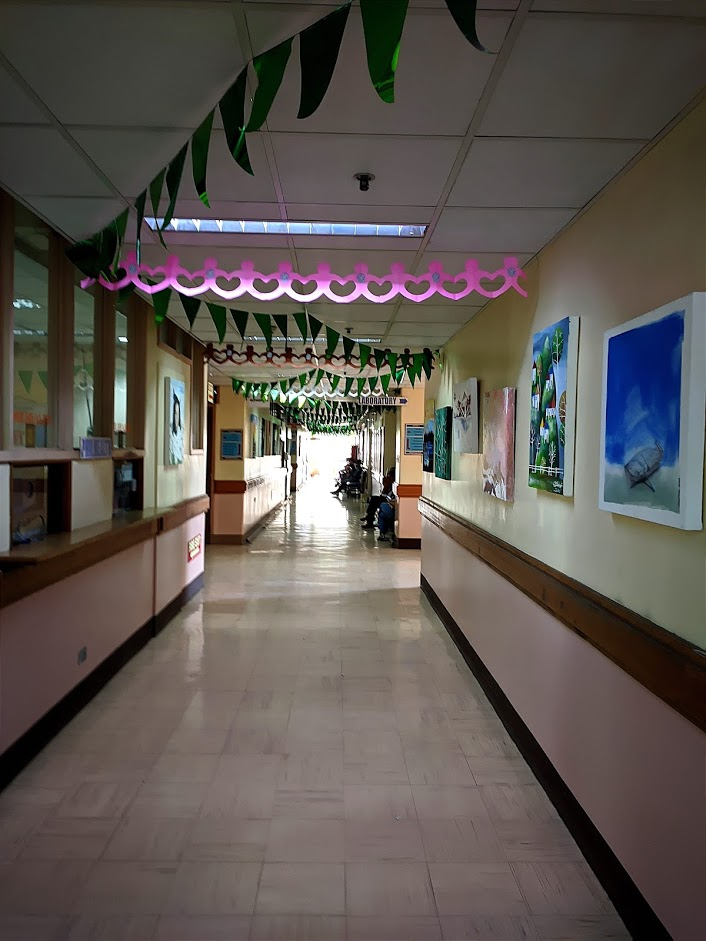 Thanks for reading and Stay safe always!
The photos used in this post are owned by me .
**EARN BITCOIN CASH BY CREATING AN ACCOUNT HERE AND POSTING**