Good Day Guys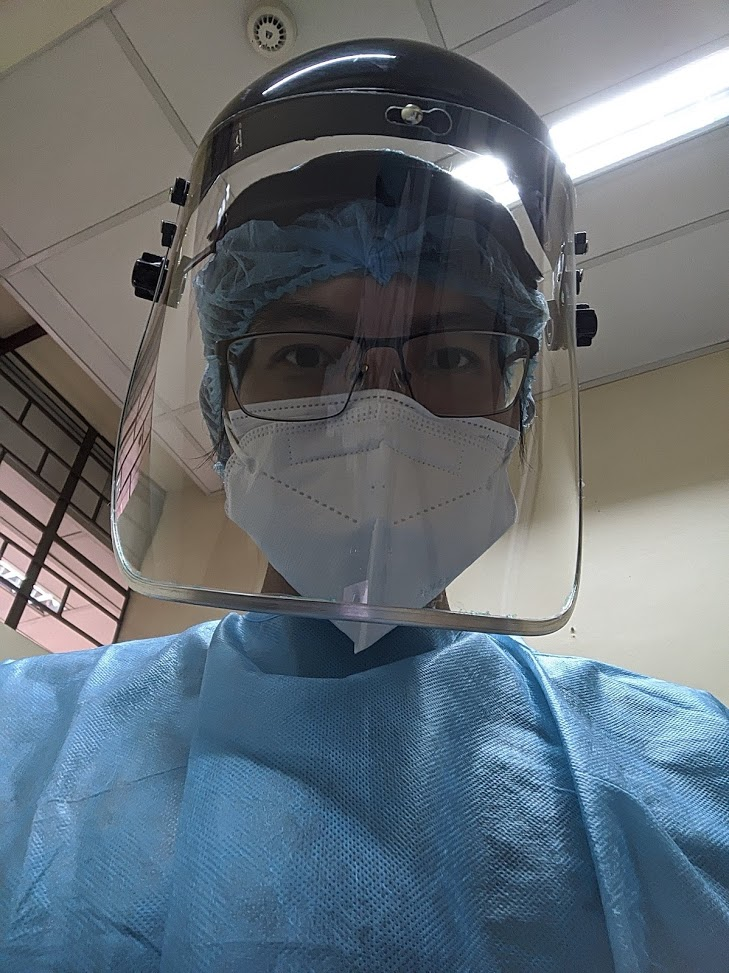 I took a photo of this when I got home from work. I just loved how the sky looked with the clouds.

Let me share with you what happened during my day. As I woke up I continued writing my article then got ready for work. I wasn't rushing that much because my mom asked her friend who is a caretaker of a house near my workplace if could park there and she said Yes. It was such a hassle to drive to the University and find out that there's no parking then drive back to the hospital to time in and look for a parking space. Before leaving the house I was taking photos of the sky, it really looked so serene. When I parked the car we were catching up for a while then I timed in at work.
While we were waiting for the doctor I was just there reviewing some of my notes, I'm trying to learn more about the Pulmonary System. My mind seems so different compared to the day when I was reviewing for the boards. It was a lot easier to grasp an idea during those days. I'm still forcing myself to review some more. It was already 9 o clock and our doctor still wasn't there, we were just talking with my other colleagues while waiting. It hit 9:30 and our doctor wasn't there yet, I really wanted to treat already but we have to follow doctors' orders. I was just being impatient because I want to finish treating early so I can start reviewing again. Finally, our doctor endorsed all our patients to us, we have a new referral and we also had to defer one patient. We went to patient 1 and he was our new patient. I remember him from yesterday because we treated the guy in the next room and what made me remember him was the smell of the poop. It was really nasty that when you enter the room you could smell it and it would even go to our patient's room. Treating him was cool because whenever asked if he was okay he would just smile at us. I just loved the way he smiled. The only problem was that he just kept on smiling so we don't know whether he feels something or not when we were treating him. After that, we went to patient 2. I really feel bad for patient 2 because she doesn't respond anymore and she doesn't even speak nor move her body. Her muscles are atrophying and she's starting to have some joint contractures. I hope that she gets well soon. We went to our 3rd patient, she wasn't as lively like how we treated her yesterday. She was also complaining of a slight headache. We were able to finish her. We went to our department and disinfected, charged and did our notes. To be honest patient 3 was huge so we were discussing with my other colleague how are we going to do transfers with her. I hope that she won't give us a difficult time.
While waiting for lunch, I went to my other colleague and we were talking. He's into NBA cards right now and he's starting to invest in it. I told him to start investing in crypto also. I hope that he listened. When it hit 12 we ate lunch. After eating lunch, I was reviewing for a while then me and my colleague decided to go to the Human Resources Department to get our Certificate of Employment. While we were walking we checked what were they doing because we were affected by having to look for another parking. They were patining the building. This whole space can fit a lot of cars. When we got to the building of the HR we noticed that it was closed we asked the guard about it and they said it was closed for disinfection. I think they did that because the cases in our country has been rising every day which totally sucks because people are not being compliant anymore just because there's a vaccine. As a healthcare worker I really hate the fact when people say that COVID-19 is fake, they just don't know the feeling of losing a loved one from it and they also don't know the hardships that we have to go through whenever we have to treat our patients.
We then went back to our department, I continued reviewing and then resting. Then finally it hit 5 o clock. One of my colleagues carpooled with me going home. I was driving home and an enforcer stopped me over because my car was in coding. I had a difficult time looking for my ID, I thought I left it at work. I was so stupid that I left it on the card during the morning. I found it and evaded a ticket.

When I got home, I was just appreciating the beauty of the sky. I just loved how the clouds looked and how the sun is coloring them. I'm glad that it didn't rain today.



Little by little the clouds started fading away and that when I went inside our house. I disinfected then I ate dinner. After eating dinner I was fixing the formicarium of my ants. After that, I watched some anime and I was using the computer the whole time. I also spoke with my girlfriend. I hope that you guys had a wonderful day.


Thanks for reading and Stay safe always!
The photos used in this post are owned by me .
**EARN BITCOIN CASH BY CREATING AN ACCOUNT HERE AND POSTING**