PREAMBLE
All glory, honour and praise to the God and Father of our Lord Jesus Christ, who foreknew us and had predestined us for the sake of His glory and Power. I am a witness that God is never taken unawares. He carefully weaved every part of us as recorded in Psalm 139. Every bit of our walk in life had been well designed by God and encrypted in the volumes of books (Hebrews 10, 5, 7). It therefore falls within our responsibility to seek out and live pout what we were designed for.
It is no more news that @Steemchurch has a home on Telos Blockchain. We are proud to be the first Communitynon Steem to have a good stake on the Telos Blockchain, thus, we'll serve as a link for the duo of Steem and Telos to reshape the internet and bring financial freedom to Families and homes , and that with LOVE.
Already, Steemchurch HEARTS are thriving on Telos blockchain with a favourable $0.05 value at present and with our #goldencenserdaily and #goldencenserchallenge pump, we will grow beyond imaginations.
To help Telos to stabilize, this blog comes to encourage all Steemchurch parishioners to mobilize their vote for Telos in lieu of the upcoming BENZINGA GLOBAL FINTECH AWARDS "CELEBRATING FINANCIAL TECHNOLOGY COMPANIES".
This is actually the 5th Annual Benzinga Global Fintech Awards holding in New York City by November. The BZ Awards is a competition to showcase the companies with the most impressive technology, who are paving the future in financial services and capital markets!
Inarguably, our Steem and Telos are at the fore of technological advancement rocking the internet space. It may gladden you to know that soonest, Telos will be on Steem side-chain Steem-engine and that will be a big collaboration for the future.
On clicking this link, you will see the above screen. Simply click "Vote for the Application" and the screen below will appear. Confirm vote and you are done.
After voting, take a screen shot of your "Thank you for voting" screen and upload it to Steemchurch Telegram Channel for more intruiging information and discussion. Ensure to add your Telos Username and get some awesome TLOS blessings.
---
---
KNOW MORE ABOUT TELOS
Telos is a networked ecosystem enabling visionary leaders and communities to work together to build a new global economy. Telos is a smart contract blockchain running on EOSIO software. It makes use of Delegated Proof of Stake (DPOS) consensus. TLOS is the native currency of Telos and is used for acquiring resources for decentralized applications (dApps), voting for block producers, worker proposals, election arbitrators and other on chain governance. The governance features used by Telos' core system are available for dApp developers to include in their projects.

Work Proposals are on Telos Too. Telos features an amazing work system which power Telos network and the economies that sit on top. Telos is constantly being improved by core developers as well as swarms of professional freelancers of all skill sets.
Blessing-filled Activities on Steemchurch. They are more than just Contests
Our Collaboration with @Marlians
We use this medium to encourage all our parishioners to begin to add #marlians as a tag each time they post their #steemchurch and goldencencer blogs. This is because we have been able to broker a good relationship with @Surpassinggoogle, creator of https://www.marlians.com/. With this, your blogs will not only receive love from @Sniffnscurry, but will also receive great perks from @marlians curators.

marlians is an all-content supporting tag that seeks to reward proof of humanity. If there is any where that humanity should be celebrated, it should be s@Steemchurch where love is spread daily to about Four countries of the world.
UPCOMING PROJECT
While exposing the first strategy for our grand project in Nigeria, #ChristOurHope, we did elucidate in this post, the specific steps to be taken in @Sc-n towards restoring hope to Nigerians as follows:
Discipleship trainings educational institutions and churches to open up Christians to the true knowledge of God and God's expectation. We hope to raise men like Daniel, Joseph, who will rise to the ranks in politics and governance , yet will NOT compromise their faith.
Blockchain Awareness Campaigns in Schools and Public places.
Educational/School Support programs.
Environmental Rehabilitation programmes
Agricultural Innovations and developments.
Life Skills acquisition trainings
2. Delegate SP to @Sc-n
4. Resteem our submissions for wider reach.
5. Declare your Membership to @Sc-n and @Steemchurch
This is our 18th Blog in this New leadership created this day 09/10/2019 at 10:45 (GMT+1)
Long Live @Steemchurch International Ministries
Long Live Steemchurch Nigeria - @Sc-n
Long Live Nigeria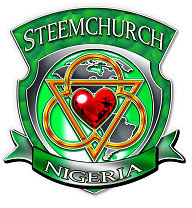 UYOBONG
Your Chief Servant
---
Posted via Marlians.com