Background
Crypto enthusiasts orient themselves around a facility in which they have absolute control of their assets at any given time. Despite that, centralized exchanges are very popular because of their low latency and sufficient liquidity.
But as we progress and as a process of evolution, we will have more decentralized solutions down the line, because, the fundamental principle of crypto & blockchain technology is central to absolute control of the fund, even when it caters to a business use-case.
Furthermore, the regulatory landscape of crypto to fiat trading is still in the grey zone, unclear, ambiguous in most countries. If that is the case in your region/country then P2P is the last bastion, perhaps the only solution to deal with crypto-fiat trading.
Localcryptos (akin to LocalBitcoin, but not limited to BTC only) is one such non-custodial P2P exchange facility where one can trade four different assets(BTC, LTC, ETH, DASH) for as many as 40+ fiat payment option(both domestic & international).
Localcryptos wins as one of the popular p2p exchange facilities because it offers both crypto-crypto swap and crypto-fiat swap. It might look passive if you look at the number of cryptos listed(only 4), but it has more than 40+ fiat options. So the emphasis is on the wide variety of fiat options(40+), making it truly a global p2p hub(in the context of crypto-fiat trading).
It creates an opportunity for the individual traders to create their exchange niche, set their own terms, rules of trading, and make their business grow in time.
Salient features of Localcryptos P2P Marketplace
Decentralized Wallet(Web Wallet)
Decentralized, aka Non-custodial exchange facility, means the facility under consideration is not in control of your asset at any given time during the entire process.
For that to happen, the very first thing the user needs is a decentralized wallet. Localcryptos supports four different crypto assets-- BTC, LTC, ETH, DASH. Hence it allows the users to create decentralized web wallets to store, send, and trade in the P2P facility of Localcryptos.
Please note that it exactly works in the same way as that of a general decentralized wallet, which means the key is entirely in your control. Using the key you can re-import your wallet in a fresh device or installation(of different services also).
A "wallet" tab is available on the home page of Localcryptos to create decentralized wallets for four different assets-- BTC, LTC, ETH, DASH, etc.
To signup into Localcryptos requires an Email Address only. Alternatively, a user can also signup using an Etherum wallet(Wallet connect, Portis, Ledger, Fortmatic, etc).
On-chain Escrow Service
In a centralized P2P Marketplace such as Binance P2P, Huobi P2P, etc a trader has to trust the respective escrow services which are off-chain, the asset still remains in the centralized pool of Binance or Huobi. In other words, you still have to trust a third party.
By contrast, in Localcryptos a trader does not have to trust any third party, rather Smart-contract, in other words before a buyer proceeds to make the payment to the seller, the seller has to move the fund to the designated smart contract. That means the escrow service here is on-chain and the buyers/seller interacts with the Smart contract.
On-chain escrow is a guarantee or a kind of assurance to the buyer
On-chain escrow service is a path of abort for the seller should the buyer fail to make the payment within the window time.
A seller can put the asset into escrow, can release it but can not cancel it.
Only a Buyer can cancel a trade.
The escrow will timeout automatically if the buyer fails to confirm the payment within the window time.
Only in case of a dispute the arbitrator will step in and release the asset to the legitimate party after verifying the facts/evidence.
Crypto-Crypto swap & Crypto-Fiat swap
Crypto-crypto swap
ChangeNOW is now integrated with Localcryptos to facilitate the crypto-crypto swap facility through non-custodial p2p trading. In other words, you can now exchange any of the four assets(crypto-crypto) in Localcryptos.
Benefits:-
The market volume & demand in all the four markets[BTC, LTC, ETH, DASH] may not be the same all the time. So if you have one coin which does not have a high demand in the crypto-fiat market, you can swap that coin with the one which has high demand and can sell it for fiat. And most importantly it is absolutely private and non-custodial. That is where it stands out and in line with privacy, security, etc.
Crypto-Fiat swap
The four assets(BTC, LTC, ETH, DASH) listed in Localcryptos can be traded for 40+ fiat payment options, including the popular ones like local cash deposit, Bank Transfer, Paypal, Western Union, and many other country-specific local currencies. This means a trader can trade with his domestic counterpart as well as international counterpart as per the convenience & requirement.
Listed Cryptos
BTC, ETH, LTC, DASH
Different Fiat Options
Bank transfer, Cash (in person), Cash deposit, WeChat Pay, PayPal, Western Union, SEPA transfer, Skrill, Alipay, MoneyGram, International wire, TransferWise, PAYEER, Mercado Pago, Venmo, M-PESA (Kenya), UPI (India), Paytm (India), IMPS (India), Alfa cash-in (Russia), QIWI (Russia), Interac e-Transfer(Canada), Yandex.Money (Russia), WebMoney (Russia), AdvCash (Russia), Efecty (Colombia), Cardless cash (Australia), Swish (Sweden), PayNow (Singapore), Pingit (United Kingdom), Airtel(India), Cardless Cash, and many others.
P2P Escrow Fees
P2P Escrow fees include three types of fees:-
Network Fees/Transaction Fee(As the funds are locked through a smart contract and delivered to the wallet address of the buyer upon successful completion of a trade).
Localcrypotos fee-- Market Maker(0.25%) & Market Taker(0.75%)
Fiat Payment processing fee(if any)-- It purely depends on a particular fiat option. For example, a payment through UPI(in India) won't cost you any fee, but if you make payment through Paypal, Skrill, Neteller, Credit Card, etc then you might incur additional fees as determined by the service providers.
Absolute Privacy & Security
In Localcryptos it does not require any personal information to get started, No KYC; only an Email address is enough to get registered and create a decentralized web wallet, which is created offline and encrypted.
Further, the chat between the two parties under consideration is end-to-end encrypted, which means no one except the two parties involved can see the messages shared between them.
Escrow as a Safety net & Dispute resolution system(if any)
An escrow is a smart contract where the agreement happens on-chain, it's ideally an arrangement to allow the two different parties to reach an agreement to perform a trade. The two parties under consideration need not have to trust each other, nor even with any third party. They just need to interact with the smart contract to perform a trade.
What does it imply?
Localcryptos does not supervise your trade, it's fully automatic, governed by the code(Smart Contract).
Loclcryptos does not have any contact with your wallet or funds, which means even in circumstances like a security breach, the funds of the traders are safe.
Escrow(Smart contract) is auditable, hence in the case of a dispute, an arbitrator from Localcryptos intervenes to verify the facts/evidence from either party and then release it to the legitimate owner.
There can be three different states of a P2P trade in Localcryptos:-
(1) The outcome is the successful completion of a trade.
(2) The order gets timeout as the Buyer fails to confirm the payment within the defined window.
(3) The outcome is an unsuccessful trade as either party are not in agreement-- enters a "payment dispute"
An order enters a payment dispute when the seller/buyer raises a dispute, the arbitrator steps in to verify the facts/evidence might ask either party to provide additional proofs, whether received by the seller or not, etc. After verifying the evidence, chat, etc, the arbitrator can direct the locked asset in escrow to release to the legitimate party/rightful owner.
Please note that everything is decentralized in Localcryptos, even the chat between two parties is end-to-end encrypted. Only when the order enters a payment dispute, the Localcryptos arbitrator is given two keys-- one to decrypt the chat and another one is to resolve the on-chain escrow.
Dispute resolution usually takes up to 24 hours, but depending on the complexity of the case, it might take more than 24 hours to reach a conclusion.
---
Decentralized web wallet, On-chain escrow service, crypto-crypto & crypto-fiat swap, absolute privacy & security, structured escrow fees, the dispute resolution framework, etc all these constitute the matrix of Localcryptos P2P Marketplace.
How does it work?
Getting started with Localcryptos
(1) Create an Account or Login using Etherum wallet
You can sign up either with an email or simply with your Etherum Wallet like Ledger, Walletconnect, Portis, Fortmatic, etc. However, I will suggest opening an account in Localcryptos with an email ID, which gives more flexibility as you can deal with all the coins BTC, ETH, LTC, DASH.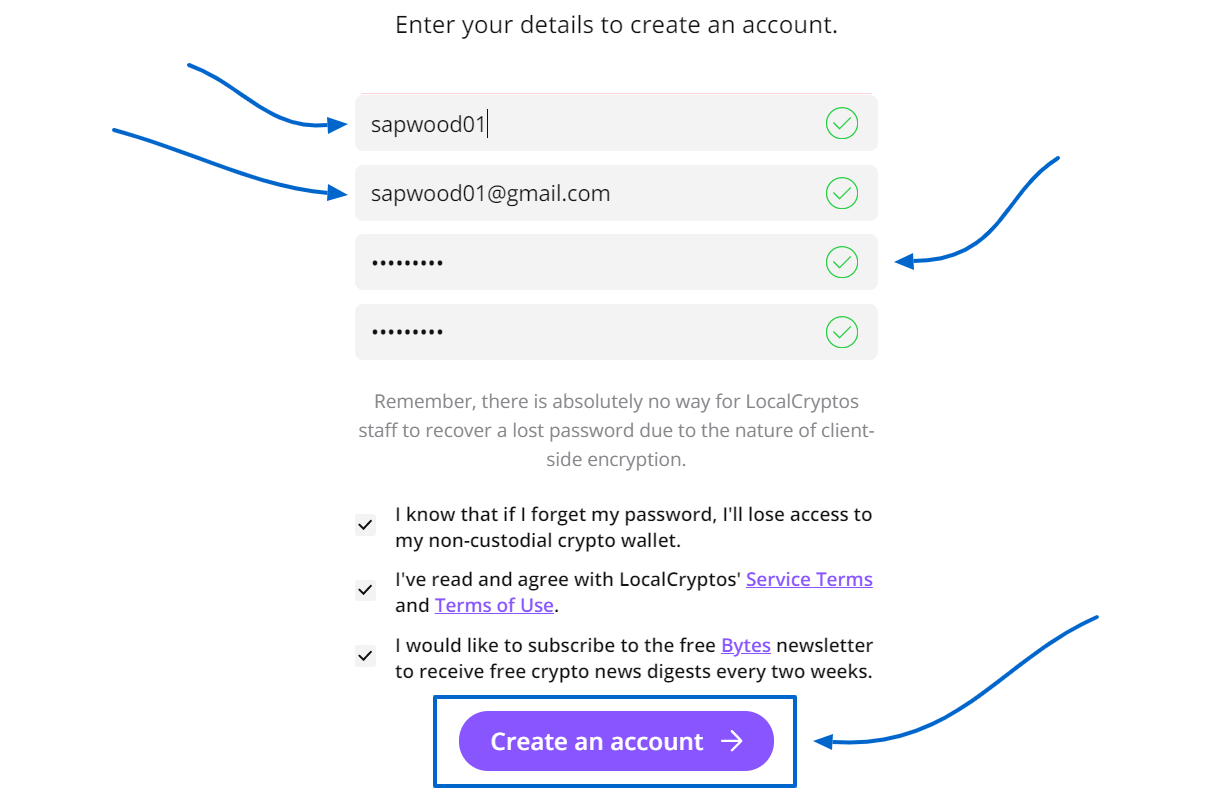 (2) Decentralized Web wallet
In the user portal(once you sign-in), you can find decentralized wallets for each coin. For that, click on the Wallet tab. Don't forget to backup the keys.
For example-- DASH, I should click on DASH, then it would show me the DASH wallet address. The first thing I should do is to export the Wallet keys(very very important). For that, click on Export Private Key.
Please note that the DASH wallet Key showing here is visible to me only. I should keep it in a safe place, preferably off-line.
Using this wallet, you can send crypto(DASH), you can trade DASH in Localcryptos P2P, you can also re-import this wallet in a different device/fresh installation(of different service providers).
In a similar way, you can also create BTC, LTC, ETH wallet addresses and export the private keys.
Alternatively, you can click on Back up your wallet which will automatically download the keys in JSON format.
Go to Wallet Tab, scroll it down. Click on Back up your wallet. Then Download Wallet Backup.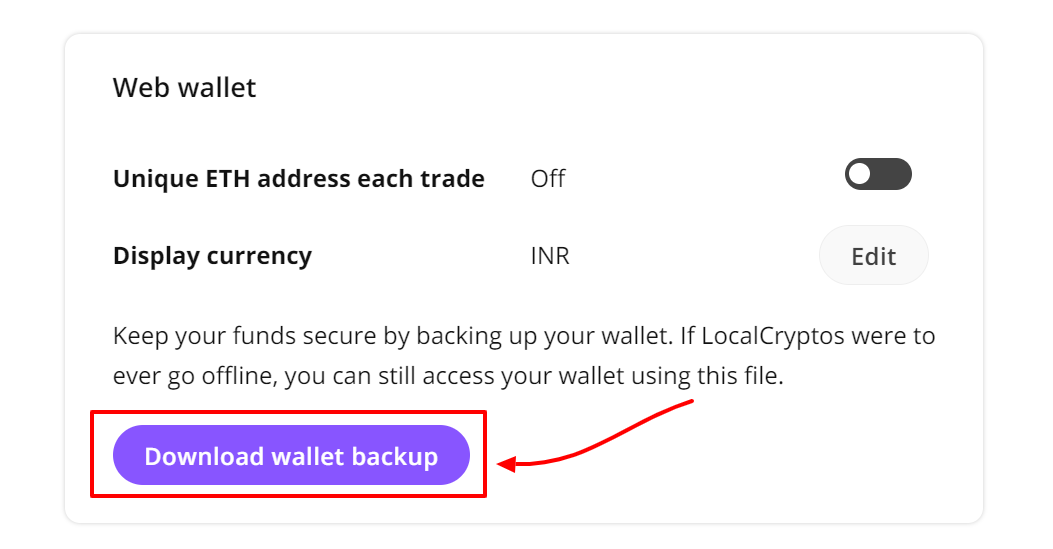 (3) Crypto-Crypto swap
Click on the "Wallet" tab or go to https://localcryptos.com/wallet
Then scroll it down to find the "Swap crypto" option. Click on Swap crypto.
Now select the input crypto and the output crypto out of the four(BTC, ETH, LTC, DASH). Input the amount and then hit the "Next" button.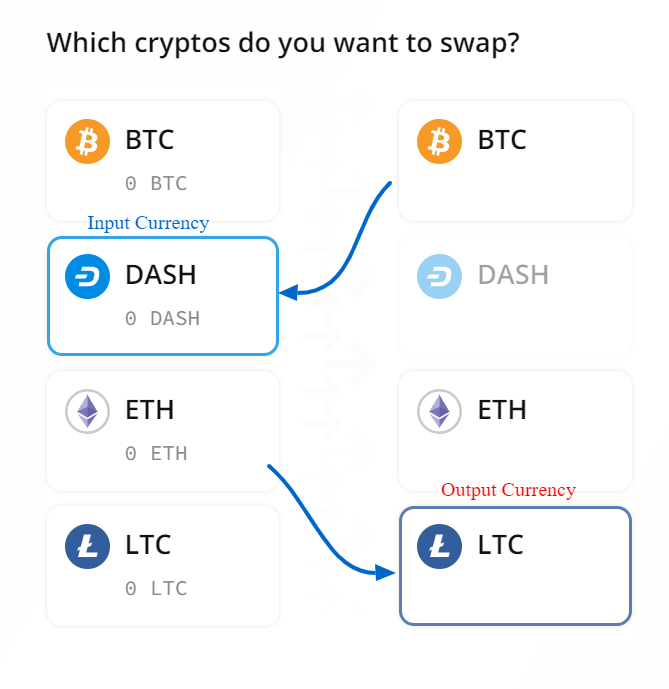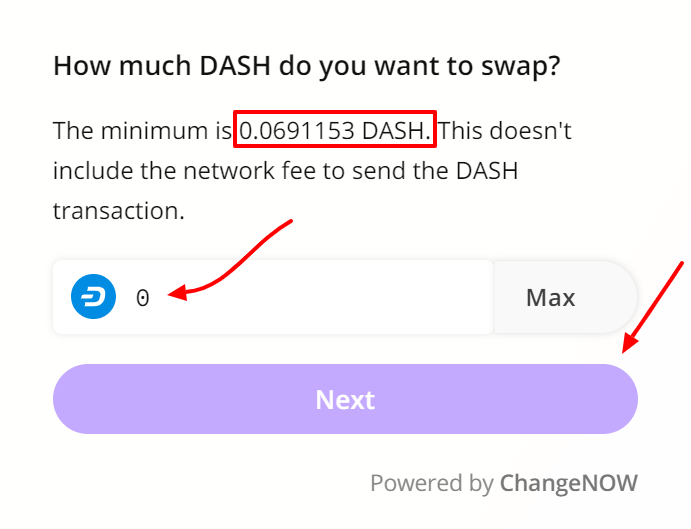 It will take a few minutes to execute through ChangeNOW(a third-party exchange).
(4) Crypto-Fiat swap
Market Taker
Click on Browse.
Now select the variables as per your requirement:
(a) Buy/Sell-- For example, Buy LTC
(b) Crypto(BTC, ETH, LTC, DASH)-- For example, LTC, ETH, etc
(c) Select Location-- For example, INIDA, Anywhere, etc.
(d) Currency-- For example, INR, USD, or ANY Currency, etc.
(e) Payment Method-- For example, IMPS(India), Skrill(USD), Western Union, or Any Payment Method.
Based on your input/selection, it will display the list of offers that are available. Here sort it either by popularity or by price. You can also disable the new users, in case you don't feel comfortable trading with a new user.
Now select the one which you feel as the most competitive offer to trade. It will take you to the next page where you need to fill the amount, pay attention to the minimum amount, terms of trade set by the trader as displayed on this page. Then type the message in the chatbox, click on Open trade. Please note that the chat is end-to-end encrypted. So no one can see except you and your counterpart.
After both of you reach an agreement, the seller will share the bank details/account details with you. But wait, don't make any payment at this stage, because it is the seller who will first lock the asset in Escrow(on-chain), that will be an assurance and guarantee for the Buyer, then the Buyer should proceed to make the fiat payment.
Finally, the seller acknowledges the receipt of payment & releases the escrow to the buyer. In case of dispute, the matter will be escalated to the dispute resolution team of Localcryptos they will verify the facts/evidence and accordingly release the asset to the legitimate/rightful owner.
Escrows are performed on-chain, so it incurs network fees.
---
Market Maker
Click on Offers. Then click on Create a New offer.
---
There are three steps to create a New Offer.
---
(1) Offer Catergory--
Now select the variables as per your requirement:-
(a) Buy Crypto/Sell Crypto-- For example, Buy LTC, Sell ETH, etc
(b) What location do you want to display-- For example, Bhopal, Madhya Pradesh
(c) Which local currency do you want to trade with-- For example, INR, USD, or any local currency of your choice.
Now proceed to Step-2.
(2) Payment Details--
Now select the payment method(fiat) and set your rate:-
(a) Which payment methods do you want to accept-- Select the payment method(out of the 40+ fiat options), you can also choose multiple payment options. You can also choose both domestic and international payment methods as per your requirement.
(b) What rate do you want to offer-- Set your rate. There are two options: Dynamic market price and Custom equation. In Dynamic market price, you chose a rate above or below the rate of a chosen exchange. In the custom equation, you customize your rate based on the rate of different exchanges, which is relatively complex. So it is better to go with a Dynamic market price for a new trader.
(c) Continue to Configure Rate-- Set a percentage margin(e.g. above 1% or below 1%) and Choose a reference Exchange Market(e.g. Binance).
Now proceed to Step-3.
(3) Ad Details--
(a) Title of your Trade-- For example, Micro Trade/Instant Release
(b) Terms of your Trade-- For example, IMPS/UPI only, RTGS not accepted, etc
(c) Limits-- For example, Min trade size 500 INR, max trade size 5000 INR
(d) Select local Timezone & Set the hours of trading
(e) Who can trade with you-- "Anybody" or "Only users with a verified phone number"
Finally, click on Post Offer. Your trade offer goes live now.
You can edit/modify/pause your offer at any time. If a "Market Taker" responds, you will be notified in email as well as through notification bell, you need to respond as quickly as possible to build a good reputation as a trader.
Pros & Cons of Localcryptos
Pros
Crypto to Fiat exchange to as many as 40+ fiat currencies worldwide. Crypto-crypto swap is also possible.
The end-end encrypted messaging respects data privacy.
Non-custodial- Your crypto wallet is created locally and only you can access your wallet.
Non-custodial escrow service.
A new asset is listed through community voting, conforming to the principles of decentralization.
The market maker fee is competitive, only 0.25%.
Cons
Only limited to four crypto- BTC, LTC, ETH, DASH.
The market taker fee is higher, 0.75%.
Although Paypal, Venmo are supported fiat options, there is a risk of chargeback, fraud.
Conclusion
The ability of the user to set the margin, a certain percentage high or low from the reference exchange rate(e.g. Binance, Bittrex) gives more flexibility to the Market Maker to create a niche of exchange on their own terms. It fosters the second layer economy(precisely the retail Exchanger) under the hood of Localcryptos P2P Marketplace.
Apart from being a non-custodial P2P exchange facility, Localcryptos earns most of its recognition for supporting a wide variety of fiat options(40+), including country-specific fiat options, international fiat options, and the centralized digital fiat payment method. That also enables Locacryptos a truly global P2P hub.
Homework Task (Season 3/Week-1)
(1) How do you set up an Exchange niche(non-custodial) in Localcryptos? (Complete process & Screenshots needed)
(2) Indicate your non-custodial wallets (BTC, ETH. LTC, DASH) in Localcryptos? How do you secure the keys? Can you re-import the wallet of Localcryptos in other wallets(of different services) For example, Can you re-import your Locaclcryptos wallet in Trustwallet?
(3) How many different fiat options available in Localcryptos?
(4) How secure is Localcryptos as a non-custodial P2P Market? How does escrow protection safeguard both buyers and sellers?
(5) Create an offer as Market Maker or Perform a real trade as Market Taker to demonstrate your real experience of non-custodial P2P trade(Crypto-Fiat)? (Hint- Trading DASH or LTC is cost-effective in terms of transaction and escrow fees)? How much fee in total did you incur in the entire process, if any? (Screenshots Needed)
Guidelines
Your article should be at least 300 words.
It is always better to gain sufficient user experience before submitting your article.
Refrain from spam/plagiarism. This task requires screenshot(s) of your own experience. Use images from copyright-free sources and showcase the source, if any.
This homework task will run until 03rd July'2021, Time- 11:59 PM UTC.
Users having a reputation of 60 or above, and having a minimum SP of 500(excluding any delegated-in SP) are eligible to partake in this Task. (Must not be powering it down)
Add tag #sapwood-s3week1 #cryptoacademy in your post and should be among the first five tags. You can also use other relevant tags like #p2p #localcryptos #blockchain or any other relevant tag. And also make sure you post in the Steemit Crypto Academy community.
Those who include the real examples/screenshots will score better.
(Please feel free to join the comment section if you have any doubt on Homework-Task)
Thank you.
Cc:-
@steemitblog
@steemcurator01
@steemcurator02
Unless otherwise stated, all the images, infographics, charts, tables, etc(if any) are my original works. The screenshots are taken from Localcryptos.