source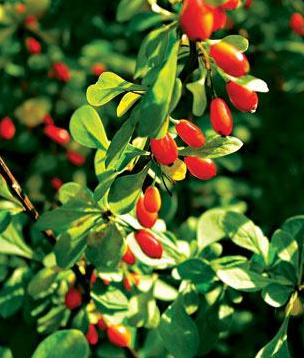 Common barberry: spiny and deciduous shrub of the barberry family, the height of the plant does not exceed three meters. The bush is highly branched and has a strong system of surface roots. The old branches of the plant have a gray bark, but the bark of the young branches is yellow-brown or yellowish gray. The branches of the barberry are thin, there are simple thorns, but you can find a barberry bush with tripartite spines (in your paranasal sinuses there are kidneys).
Small branches appear in the buds, in which they have leaves. The leaves of the plant are oblong, the pointed cilia are at the edges of the leaves. The barberry flowers emit a strong aroma, the color of the flowers is light yellow. Flowers in the amount of 15-25 are collected in fallen axillary brushes.
The barberry fruit is a dark red berry. The berry is very juicy, has several seeds. The weight of the barberry fruit does not exceed 4 grams. The dark brown seeds have a flattened shape, small wrinkles.
The flowering of the barberry begins in May and lasts until June. Maturation occurs between July and October.
Since ancient times in Babylon and the countries of India, barberry has been used as medicine.
The fruits, leaves, roots and bark of barberry are parts of the plant that are used to make medicines.
The barberry contains the substance berberine, so the medicines of this plant have a choleretic effect.
The roots of the plant contain several alkaloids, carotene, tannins, vitamin C, vitamin E and organic acids. Therefore, a decoction of the root is used as a means to rinse and lotions for various diseases.
Barberry has anti-inflammatory, diuretic, astringent and antimicrobial effects, and also stops several hemorrhages.
Barberry-based preparations are used for the following diseases:
- liver disease;
- stomach ulcer;
- duodenal ulcer;
- tuberculosis;
- uterine bleeding;
- inflammation of the upper respiratory tract; - morfinism;
- tumors in several organs.