source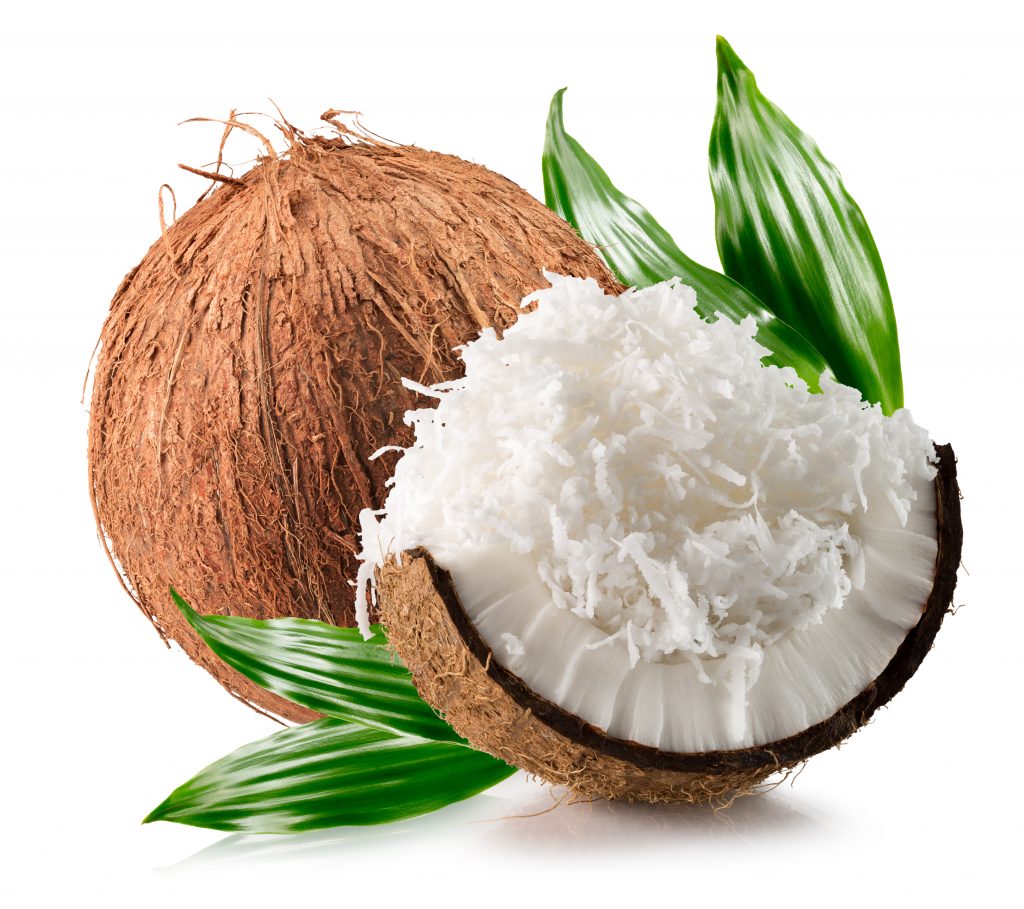 Coconut is a large round coconut palm fruit with a solid lint shell, a fine brown shell, white pulp, eaten fresh or dry, in the form of scales or grated. One of the characteristics of these trees is that they gladly live near seawater, although they do not need it at all. This is due to the ease with which the shallow roots of palm trees absorb moisture from abundantly irrigated soil on the sea shore. Coconut skin is not damaged in salt water. This means that the nut fallen on the waves of the sea can be taken to the open sea and after long trips thrown on some distant shore, where after a while a young palm will be born.
The use of coconut in the kitchen uses coconuts in fruit salads, desserts, cakes, soups and sometimes in the main dishes. Coconut oil is a vegetable oil derived from coarra. It is made with a hot press of fresh dried coconut pulp. It is mainly used in the production of soap, for the manufacture of cosmetics, for the preparation of cold fillings in waffle cakes and in the production of margarine.
The beneficial properties of coconut contain many medicinal substances, natural oils and antioxidants. Coconut contains potassium, calcium, magnesium, phosphorus, vitamin E, C, folate and fiber. Coconut pulp improves digestion and vision, restores strength, increases immunity, prevents the onset of cardiovascular and cancerous diseases.
Coconut has an anti-inflammatory antimicrobial effect. Coconut milk has a pleasant smell and sweet taste, is very useful for the skin and contains about 27% fat, 6% carbohydrates and 4% protein. Milk refreshes and perfectly tones the skin, restores the elasticity of aging and slow skin. It can be especially successful with it to treat acne and allergic rashes, soothe and inflamed dry skin.
Coconut oil consists of triglycerides and medium-chain saturated fatty acids, so it is absorbed very quickly, moisturizes and gives to velvety skin. In particular, lauric acid has a negative effect on a variety of pathogens, bacteria, yeasts, fungi and viruses. Coconut oil also contains caprinic acid (7% of fatty acid composition), which stimulates antimicrobial activity. Coconut oil is easily digested and does not put strain on the liver. It is good for the stomach and promotes healthy gut flora. The benefit of coconut oil is that it is not deposited in the body, but immediately converts into energy. It is ideal for athletes who train intensely, it is not surprising that the inhabitants of tropical countries consider the coconut "a gift from heaven".