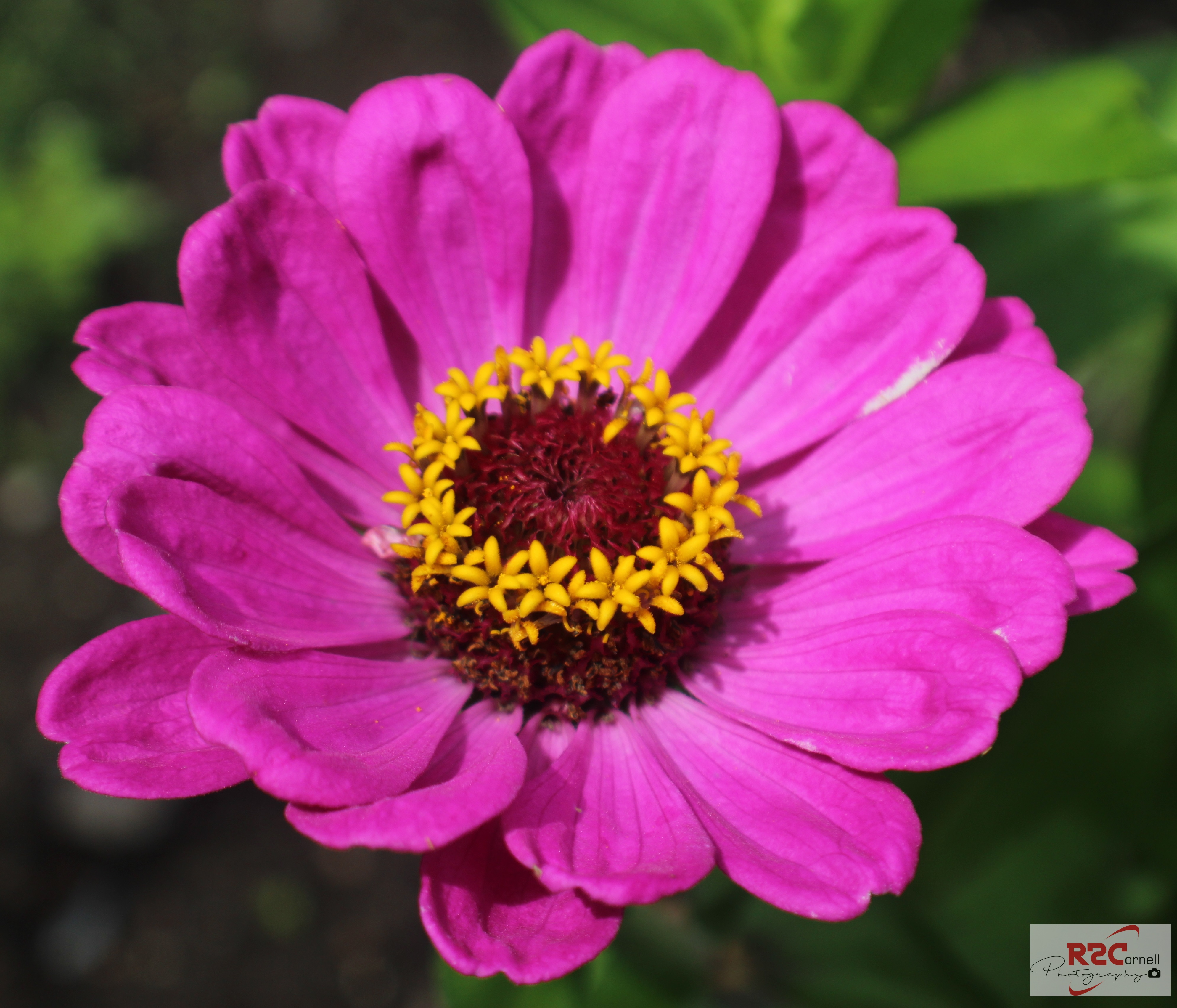 I hope this weekend is treating everyone well. I never got to my mid-week post, due to having too much to do and getting my schedule mixed up. I am working on this Friday, with hopes of finishing it by Saturday morning. Sunday I am going boating with my daughter and son-n-law. They have a pontoon boat so I will be able to take my tripod and telephoto lenses. I am hoping to get some pictures of eagles and their young ones. I just need a break...I am so far behind in everything that a day away will not make it much worse.

The above photograph is a Zinnia that was part of my photo collection from the gardens my daughter and I went to in July. I have many to choose from and liked how this one came out. I saved a rose for the next photo.
I liked how the lady bug did a cameo appearance.
I finally got a picture of a butterfly this year. I had never seen this species before. According to my butterfly book it is a "Mourning Cloak" butterfly. I met a young woman and her parents who are from Venezuela, and this young woman (@ kathe-art) has a gift with butterflies. When I say young I mean he recently graduated in the third grade). I have seen photos of them landing in the hand of "@ kathe-art". I wanted to be sure and share this photo in honor of @ kathe-art's abilities with the butterflies. Maybe it helps me make them stay still so I can take a picture. (I will also put this paragraph in Spanish for her).
Finalmente pude conseguir una fotografía de una mariposa este año. Nunca había visto esta especie antes. Según mi libro de mariposas es una mariposa "Mourning Cloak". Conocí a una joven y a sus padres que son de Venezuela, y esta joven (@kathe-art) tiene un don con las mariposas. Cuando digo joven me refiero a que se graduó recientemente en el tercer grado). He visto fotos de ellos aterrizando en la mano de"@kathe-art". Quería estar seguro y compartir esta foto en honor a las habilidades de @kathe-art con las mariposas. Tal vez me ayude a hacer que se queden quietos para que pueda tomar una foto. (También voy a poner este párrafo en español para ella). gracias
Her is a large patch of marigolds. They are sometimes also knows as Calendula flowers:
Next I wanted to share this wasp which is on one of my onion plants that is getting ready to set seeds. many people are not fond of wasp, but they are very good pollinators, which as a gardener I always need something to help with pollination. Wasps are also carnivorous, meaning they eat a lot of other bugs and help keep my garden free of insects that harm my plants.
I am not sure what flower this next one is, but I found its shape and colors fantastic. I was amazed when I downloaded my photos to my computer how some of the pestles were in the shape of little hearts. I think this is a wonderful photograph to end my post.
As always I hope you find at least one thing in my post that you enjoy.
I am using a Canon EOS Rebel T5 for all of these photographs, except where noted.
NAMASTE

I shared previously @socialbot, which is a bid bot, raises money for @schoolforsdg4, and eventually additional social programs. You can use their bid bot or delegate to them. I am doing both.
Their link is https://goldvoice.club/steem/@zaku/introducing-neoxag-bid-bot-sink-delegate-steem-power-and-earn-neoxag-each-and-every-day-passive-profit-for-upvote-buyers. I am receiving a fair rate of return on my delegation, and it is a way to earn more NEOXAG.

As many of you already know I list a few charitable users that I try and support. I include them as partial Beneficiaries of my posts. (I am going to post through neoxian.city this post, but will go to steemit once it is posted and see if I can edit the post and add them as beneficiaries. In the event I am unable to do this I will find a way to be sure to get some of the earnings to them. Please check out their blogs and support them in anyway you can.

I have supported these for quite awhile. I am researching newer ones, and once I feel comfortable that they are doing what they say they are doing I may include more. Each will receive a portion of earnings from this post
@aid.venezuela
@schoolforsdg4
@theunion
@womenempowerment
Each of these users have a unique service they provide and I applaud their good work. Thank you for considering them.