This article is in the continuation of my previous post in which the card Malric Inferno was discussed.
The next card we are discussing today is Serpentine Soldier. We will check the abilities and usability of this card. Personally this card is always part of my line up when I use fire splinter.
Card Name: Serpentine Soldier
Splinter Category: Fire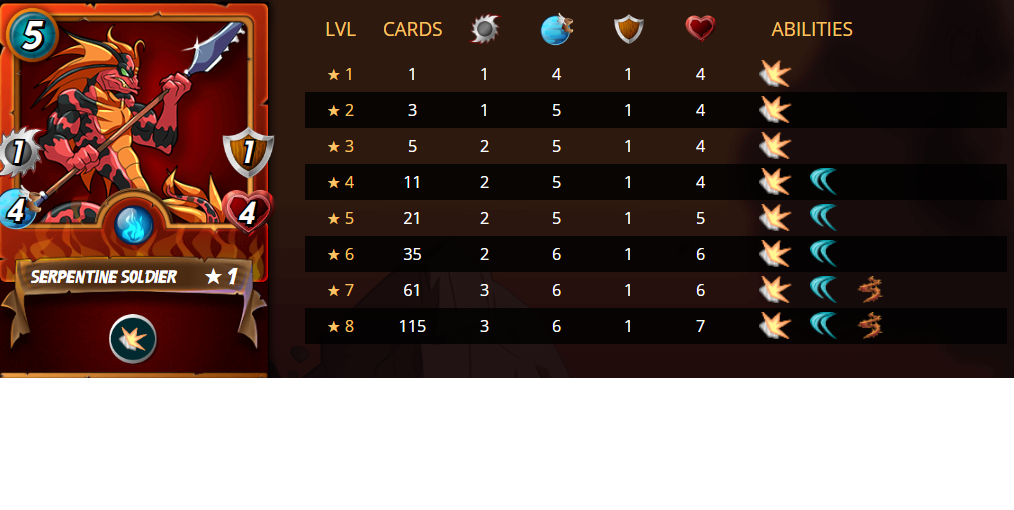 Rarity: Rare
Mana Cost: 5
Abilities: Shield, Dodge from level 4 onward and thorns from from level 7 onward.
Attack type: Melee
When to use: This card should be part of your lineup when you are going to use fire summoner. It's high swiftness coupled with dodge ability,causes lot of misses from opponent side if they are using range and melee attack. Shield reduces the damages caused by melee and range attack. Since it melee attack monster without reach ability so it's is used in first position but I like it in last position on ruleset like super sneak where opponent misses to hit him.
When not to use: It will be bad choice against magic attacks where it special ability of dodge ,shield and thorn will have no use.
How to counter the card: Use Magic or healing monster against this card as a counter strategy,
I hope to see you in battlefield and enjoying the game.