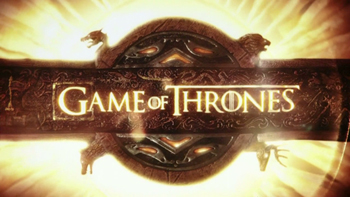 Always Mr. Johnny on the spot, I've finally gotten around to watching the final season of Game of Thrones. I'd made a point to resist spoilers and had only learned by osmosis that a lot of fans had very low opinions of the final season.
They weren't wrong. Sweet Jeebus, what a fustercluck.
I'd enjoyed Game of Thrones and have read all of the A Song of Fire and Ice books that have so far been published. The writing for the last season's six episodes is a mishmash of original content with input from George R.R. Martin about themes from his two unfinished novels in the series.
But Season 8 was almost entirely disappointing. The first two episodes were a whole lot of soap opera nothing. We wait and wait and wait for the big battle of the undead attacking Winterfell.
Episode 3 is the big battle we've been waiting for. It happens but the cinematography is dreadful. So much of it is so dark, like the inside of a baked potato. We frequently get suggestions that one of the characters we've come to care about is slogging through a melee and has just in the nick of time perhaps saved another character who we've come to care about, even as it's so dark that we're not really sure which characters we've just seen face death. And why does the Night King wear that fashionable but wussy leather armor? He's already dead. What does he need armor for? Apparently, he needs the protection from knives that metal armor might afford but metal just isn't fashionable enough. Form over function loses out yet again.
But don't cry over spilled milk. There's plenty of soap opera left in Episode 4 where the writers drop the ball and have Brienne and Jaime end up in bed together rather than Brienne and Tormund Giantsbane. How could any halfway competent writer let that snogfest get by them?
Episode 5 again features lots of senseless slaughter but at least this time most of it occurs with enough light so that we can see the carnage. Daenerys once again proves Lord Acton's absolute power corrupts absolutely conclusion.
The show runners had one episode left to redeem themselves and managed to snatch defeat from the jaws of victory. Drogon inexplicably spares Jon and instead goes full blast-furnace, melting a large steel object while Jon stands unscathed just a few steps away. And then Grey Worm, who has every reason in the world to kill both Tyrion and Jon immediately, instead for no plausible reason imprisons them for months.
Sure, let's just have an ad hoc meeting of lords and ladies pick a new monarch after talking it over for a few minutes. What could possibly go wrong? Everyone votes yes to a yes/no question and then Sansa gets to say I'm doing it my way and nobody says Hey, I want that option too! And who do they pick? The Three-Eyed Raven! A philosopher-king who doles out vague Zen-like wisdom. And top it off with with appointing Bronn, who's repeatedly shown himself as being incapable of being loyal to anyone not named Bronn, as Master of Coin.
They had a big budget and two years and all they could manage to come up with was six awful episodes?
Post Beneficiaries (burning potatoes, naturally):
5% - @burnpost
5% - @revisesociology
5% - @sbdpotato
5% - @steemchiller
Of the pic, Wikipedia says "Home Box Office Inc./BCKORS, LLC./GROK!, LLC./Generator Entertainment/Suction Productions, Inc. • Fair use"