Hello, Steemheads and the Plankton holders!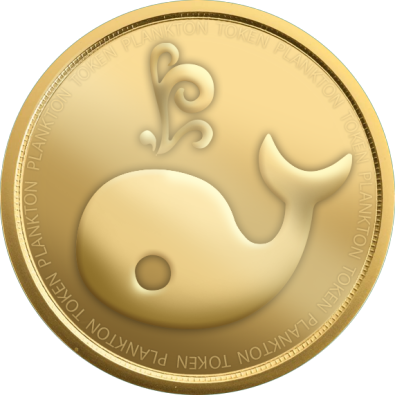 My good friend and Plankton Token developer, @cadawg was telling me the other day that we should have something where Plankton people or just anyone in Steem can mine the Plankton Token. I was thinking about it. I know for a fact, we did not do massive airdrop because we cannot afford massive inflation and people dump tokens like hot potatoes the moment they realize it has a little value, so we cannot do that. Instead, we go the route of making the token back some games and reward people on their good posts and comments, that is how you get free PLKN. I also make sure to reward people who help resteeming promo posts made by me and other PLKN holders.
About mining, we cannot virtually mine like other tribes because we are not using the Scotbot software, just yet because we simply cannot afford it at this point. However, I have come up with a way to distribute PLKN more as a reward for Proof of Community. PLKN has valid use cases, as far as I am concerned, there's limitless number of things we can do within Steemit with this token. We may not even need to have our own tribe or condenser to prove it. Plankton community is native to Steemit and we are massive in numbers. That is our power. We just unite everyone and we can do wonders in this blockchain.
What proof of community am I talking about? Well, this will be experimental and this will be for the good of Plankton Token and community. At this point, we need massive marketing of the token so we grow our community and we can help more people in it. We know for a fact that Plankton community gets its power from the community to the community so we need to strengthen in numbers.
We will be rewarding each Plankton for every little thing they do for our Plankton promotions. We are already doing it but we are going to make it like mining proof of community. For every F-U-R-C done to PLKN promo post, you get a 0.1 PLKN. What is FURC? It's just an acronym for FOLLOW, UPVOTE, RESTEEM AND COMMENT. So, every PLKN promo post done by me or the PLKN holders will be boosted and resteemed by the @plankton.token account. In it will have a comment by the @plankton.token account like the one below, it will be the label or the sign that it is a PLKN promo post: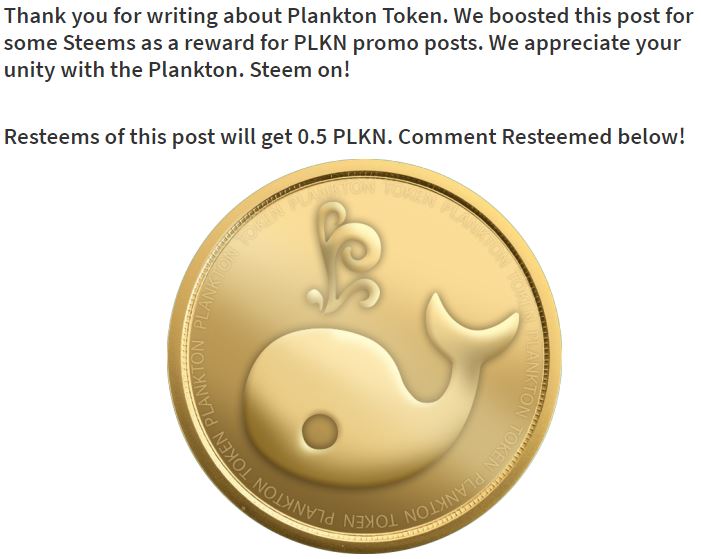 Before this post, we were giving 0.5-1 PLKN per resteem, of course, early adapters get a huge cut all the time. From now on, we will require people to do FURC and each will cost 0.1 each:
Follow @plankton.token (0.1 PLKN)
Upvote the post (0.1 PLKN)
Resteem the post (0.1 PLKN)
Comment on the post (0.1 PLKN)
If you do all 4 of it, you get an extra 0.1 PLKN, making it a total of 0.5 PLKN.
You will need to comment on the post that you did the Follow, Upvote, Resteem to get the 0.5 PLKN. If you just resteemed and commented, that is fine, you get 0.2 PLKN for that. Only when you do all 4 would get the extra 0.1 and get a total of 0.5 PLKN.
Alright, so currently, this is how you can MINE Plankton Tokens, along with joining games hosted by @tggr, @zephalexia, @atongis and @mermaidvampire. @otom and any other PLKN holder can also give 0.1-1 PLKN to good posts and comments for FREE (I pay them double the amount as a reward for distributing the PLKN Token to worthy Steemians, paying the PLKN they spent and rewarding them same amount).
Currently, this mechanism of rewarding "Proof of Community" is just applied to Plankton Promo posts done by me and the Plankton Holders making promo posts but hopefully we can extend this in the future to reward people who make excellent quality posts in Steemit. This will be ANOTHER USE CASE for Plankton Token to reward FURC (Follow, Upvote, Resteem and Comment ) or "proof of community" as what we call it.
What do you think about this plan? Leave a comment below or give us a FURC for a 0.5 PLKN reward. Thanks for reading.
HOPE FOR PLANKTON, HOPE FOR STEEMIT!


This footer GIF was made by @gerber