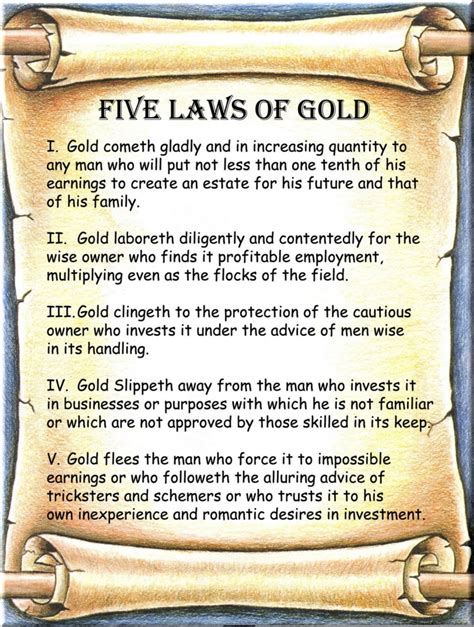 Source of Image
A short time ago, I was reviewing some of the books I have on hand and I found one that was given to me by an Uncle a long time ago. This is a book that, using a storytelling style, presents a series of ideas about money management and how to achieve greater wealth.
I speak of George Clason's book "The Richest Man in Babylon," originally published in 1926 ... That's almost a century has passed!
Well, what I want to highlight is that when I reviewed the book, I found a set of rules that still makes a lot of sense, so much so that it could be taken as "Common Sense", but I know that this is the least frequent of senses.
Rick Ferri, in The Five Laws Of Gold, published on the Forbes Magazine site, cited these laws and gave a simple summary of them in a very concise paragraph:
Here are The Five Laws of Gold, as Clason wrote them:

Gold cometh gladly and in increasing quantity to any man who will put by not less than one-tenth of his earnings to create an estate for his future and that of his family.
Gold laboreth diligently and contentedly for the wise owner who finds for it profitable employment, multiplying even as the flocks of the field.
Gold clingeth to the protection of the cautious owner who invests it under the advice of men wise in its handling.
Gold slippeth away from the man who invests it in businesses or purposes with which he is not familiar or which are not approved by those skilled in its keep.
Gold flees the man who would force it to impossible earnings or who followeth the alluring advice of tricksters and schemers or who trusts it to his own inexperience and romantic desires in investment.

Save at least ten percent of all you earn. When investing these savings, seek out those who are most knowledgeable and have solid reputations. Don't invest in things you don't understand, and when the return seems too high, it should be a signal to walk away. These logical ideas, diligently applied, are the key to saving and growing wealth, and ultimately enjoying the good that it brings.
Also, for people who tend to be more of mind maps, I found an interesting one when I was browsing to find support for this post, it was published by user mannixdeduque on the site Biggerplate: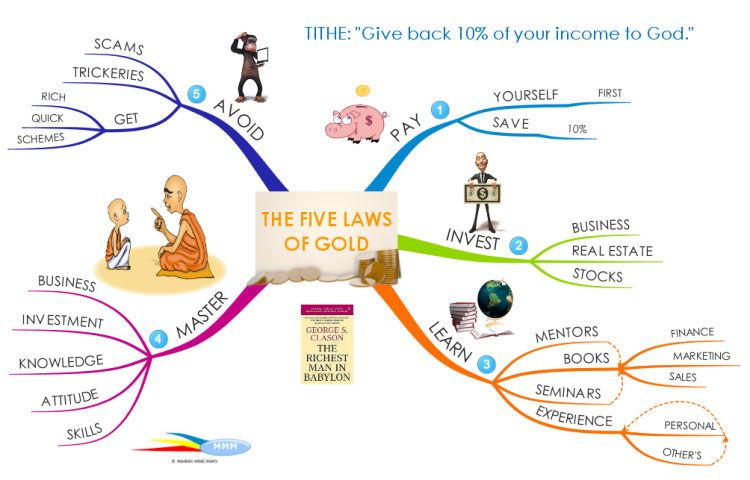 I was thinking that at present, although much of our ways have changed and in particular I am more focused on the development and investment in cryptocurrencies than in traditional investments, well, I have been wondering if these old rules still have in currently a validity that makes them stand out.
I think that if they do, in fact, even with the changes we have had and in the technological advances that we have, I believe that the essence of making and multiplying capital has not changed as much as one might think, but, I would like to know what you think and if after reading these old laws you can consider them as a help or good advice for your own activity.
---
Post published for the @project.hope community - https://beta.steemit.com/created/hive-175254
20% of this Post is intended to support @project.hope - Project #HOPE Community

Project #HOPE Website