The content of this post was originally published in Spanish and now I buy a translation to give it greater diffusion.
---
For some time, I have been working for classes on the scientific research methodology materials generally applied in Social Sciences and humanistic research, because of this I have compiled a series of notes in which I have been summarizing what I have reflected on them, these materials They have been useful in classes and I would like to spread them.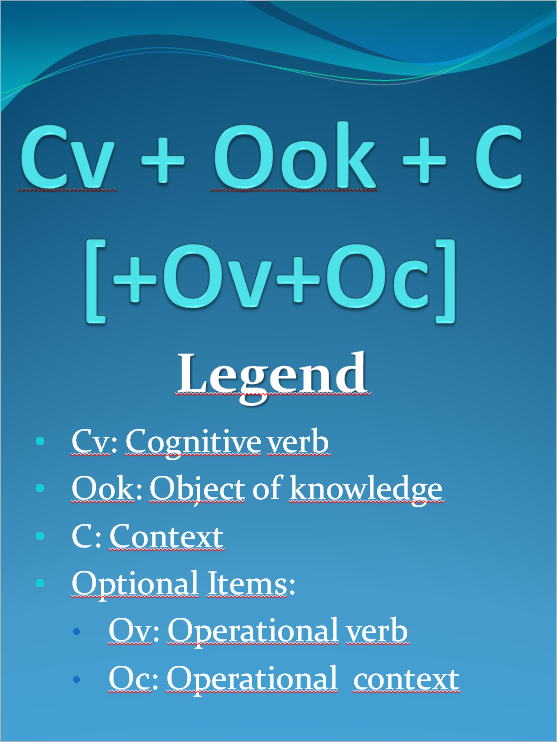 He trusted that the legend of the formula is quite clear, but for security I will complement it with some comments.
Cognitive Verb
What I am referring to is that every research objective begins by indicating the knowledge action to be developed, it is what indicates the degree, type or level of knowledge that we consider as necessary to respond to the research problem that we have previously formulated.
It is written in infinitive because it is a goal to be fulfilled, more specifically, it is a cognitive goal.
It must be in perfect coherence with what is required by the problem and must not contradict or be discordant with the methodology proposed in the investigation.
Object of Knowledge
We have to indicate what "thing" or "entity" of the world we intend to achieve some knowledge, that is, we have to indicate the "WHAT" we are investigating. We must take care to be clear that what we are treating as an object is not strictly a physical entity, but that it is the problematic object that we have defined at some previous time in the investigation.
Context
Although it looks like a single word, this part of the formula may be the one that takes most of the words we use in the wording of the objective, since it is about giving the unequivocal location of "WHERE" there is the problem with regarding space, time, theoretical support (Authors, Theories, Currents or others) and everything that makes it possible to clarify the delimitation of the field of work in which we will pursue and develop knowledge about the object, in order to respond to the problem We have raised.
Optional Elements
These are things that we will not usually see, in general they are not used in the specific objectives of an investigation, in addition, it is rare to have to use them even in cases of general objectives of the investigation. In certain cases, related to research that pursues knowledge applied to reality and the creation of an additional material product to the final report or research report, then in those exceptional cases if it makes sense and useful to use these elements.
Operational verb
Let's start by remembering that many books, guides and methodology authors indicate that an objective CAN ONLY HAVE 1 VERB.
Sorry for the capital letters, but it's something I have to highlight. Well, that maxim is true, but it has one detail, it only refers to the verb that corresponds to the search for knowledge, but it does not leave out that we can clarify to our readers the "FOR THAT" or the purpose of the knowledge that we pursue, is that is, in the case of an investigation that will generate an additional product to the report (example: proposal for a marketing plan, a proposal for a radio program, copy 0 of a print magazine, etc.)
It happens that we can write a general objective that establishes the knowledge that we pursue and also indicates the "for what" we pursue it, that is, it allows us to indicate the purpose of the knowledge achieved that we will reflect in the elaboration of a specific professional product.