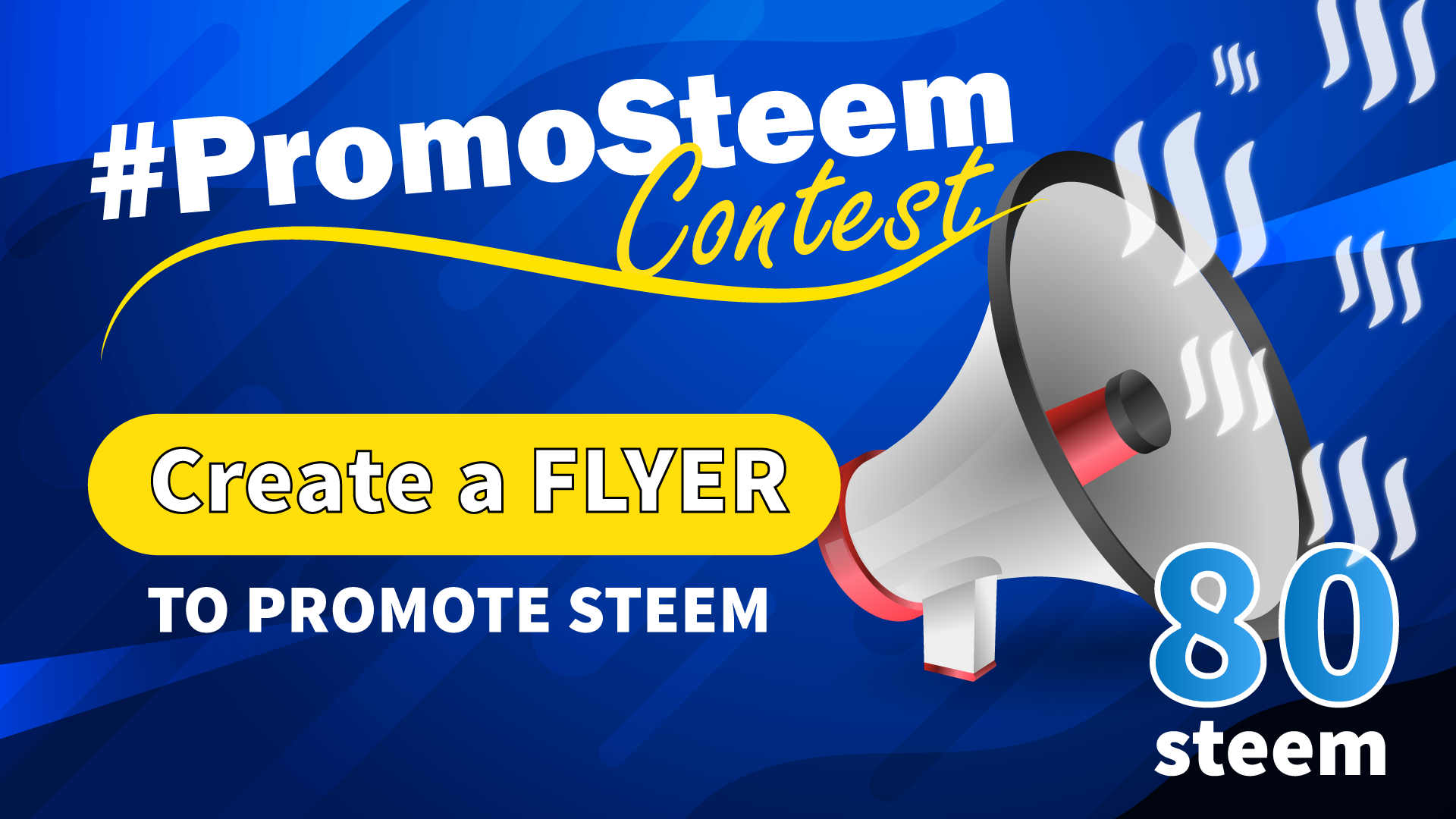 We continue with the contests to promote Steem, this time the contest is about Design a flyer featuring you promoting Steem. See the example below for more information. 80 Steem in prizes. Please be original, Good luck.

Example: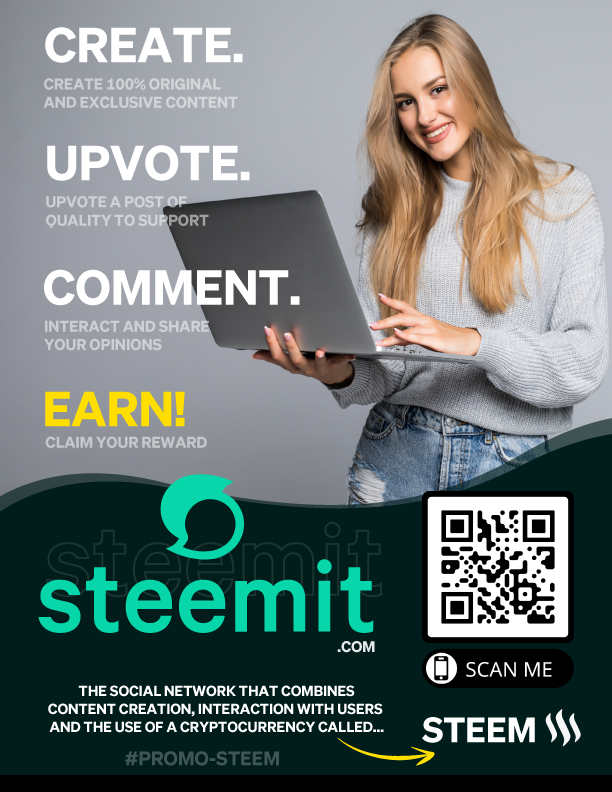 Own Flyer design
RULES

Please read the following rules carefully:
Title
The title of the post should be:
PromoSteemContest 📣 Design a Flyer with your image to promote Steem. by @youruser
Note: Please change "Youruser" to your username.
Tags
- Include the tags:
#promosteemflyer #contest #promo-steem #steemexclusive #yourcountry
Note: Please change yourcountry, and write the country where you reside.
Share on social media
- You need to share your participation on social media with the tags:
#steem #steemit #promosteem #yourcountry
- Take a screenshot of your promotion on social media and post it in your contest entry to verify your participation.
- Give this post a reestemd and invite 3 friends to participate.
Steem
|
Includes the Steemit Logo
|
|-|
|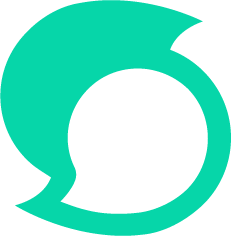 |
Source
Additional rules:
- Make sure that you post your entry in the
PromoSteem
community.
- Copy the link of your entry in the comments of this contest.
- Only one entry per user.
- If you use a reference image please leave the source link.
- If any type of plagiarism is discovered, the user will be disqualified.
- If you do not comply with any of the rules, you will not enter the list of participants.
- Language: spanish and english.
- Please resteemd this post to reach more Steemians.
Aspects to evaluate:
|
Quality
|
Originality & Creativity
|
Information
|
|-|-|-|
---
Prizes
|
1st place🏆
|
2nd place🏅
|
3rd place🏅
|
| :------------: | :------------: | :------------: |
|
30 STEEM
|
18 STEEM
|
12 STEEM
|
|
4th place🏅
|
5th place🏅
|
6th place🏅
|
|
9 STEEM
|
7 STEEM
|
4 STEEM
|
---
We are calling on all Steem blockchain artists to participate!!
This contest ends on Saturday, July 31 at 23:59 (Venezuelan time) and the winners will be announced the next day.
---
Steem on! 🚀
---
15% of the rewards from this post go to @promosteem.com
PromoSteem Team:
@arie.steem , @pojan , @ponpase

Alternative links delegates to @promosteem.com

|50|100|200|300|400|500|
|-|-|-|-|-|-|
|1000|2000|3000|4000|5000|10000|